Should I Attend the Virginia Homeschool Convention?
Homeschooling your child can be the best learning experience for the whole family. Parents acting as homeschool teachers actively participate in and shape the education of the child.
If you're considering this method, you need to understand different aspects of the process to teach your child at home effectively. To get as much information as possible about state laws, available curriculums, the required hours, and subjects you need to teach, you should attend state and local homeschool conferences.
If you're thinking about attending the Virginia Homeschool Convention, DoNotPay explains what you can expect from this event.
Where To Get Information About Homeschooling
Most parents need support and advice from more experienced homeschool families. If you're only starting with homeschooling, you should seek guidance:
In homeschool associations, co-ops, and groups—Most organizations are active on social media, and you can join the community easily
At homeschool conferences and conventions—As homeschooling is legal in all U.S. states, most homeschool associations organize support events every year to present changes and offer support to new homeschoolers
Why You Should Attend the Virginia Homeschool Convention
Virginia Homeschool Convention is an annual event organized to support new and experienced homeschool families. The following table outlines some benefits of this convention:
Go to the Virginia Homeschool Convention To
Details
Listen to knowledgeable speakers
You can get valuable information on Virginia:

Additional requirements you must meet to homeschool your kid in the Old Dominion

Connect with homeschool parents
This event is an excellent opportunity to:

Meet face to face with other fellow homeschoolers
Exchange good practices, resources, and ideas

Find out about new curriculums
You can explore different ways of creating a curriculum that is suitable for you and your kid
Meet the exhibitors
Since different companies and organizations present their materials at the Virginia Homeschool Convention, you can learn about new methods and maybe even cut costs
How To Take Part in the Virginia Homeschool Convention
The Home Educators Association of Virginia (HEAV), the group behind the convention, is the most prominent organization in the state. You have two options to benefit from their experience and expertise:
Join this homeschool association
Follow HEAV's activities
Become a HEAV Member
You can get relevant data and keep track of all events organized across the country by joining HEAV. Here's how to do that:
Open the HEAV Join Form
Select the membership level and payment options in the drop-down menus
Type in your household information
Click on the Next Page button to finalize the process
Follow HEAV To Find Out About the Virginia Homeschool Convention
To keep track of available changes, options, and conferences, you can follow the Home Educators Association of Virginia on their website or social media.
If you want to attend the Virginia Homeschool Convention, pay attention to the Events section on their website but also on the HEAV's social media profiles:
How To Start Homeschooling in Virginia
While Virginia is not on the list of the easiest states to homeschool in, you can go through the process smoothly if you collect all the necessary information.
Here are the steps to take once you decide to homeschool your child in VA:
Get familiar with state and local regulations—You can teach your homeschooled student according to three different Virginia statutes
Create a Virginia notice of intent to homeschool— to draw up and file this document in compliance with legal requirements
Withdraw your child from their current school—Once you've filed the notice of intent to your school district, you should also inform the principal of your kid's school of your intent to homeschool
DoNotPay Can Assist in Preparing a Notice of Intent To Homeschool
To start homeschooling your child hassle-free, you should turn to DoNotPay's efficient Notice of Intent to Homeschool product.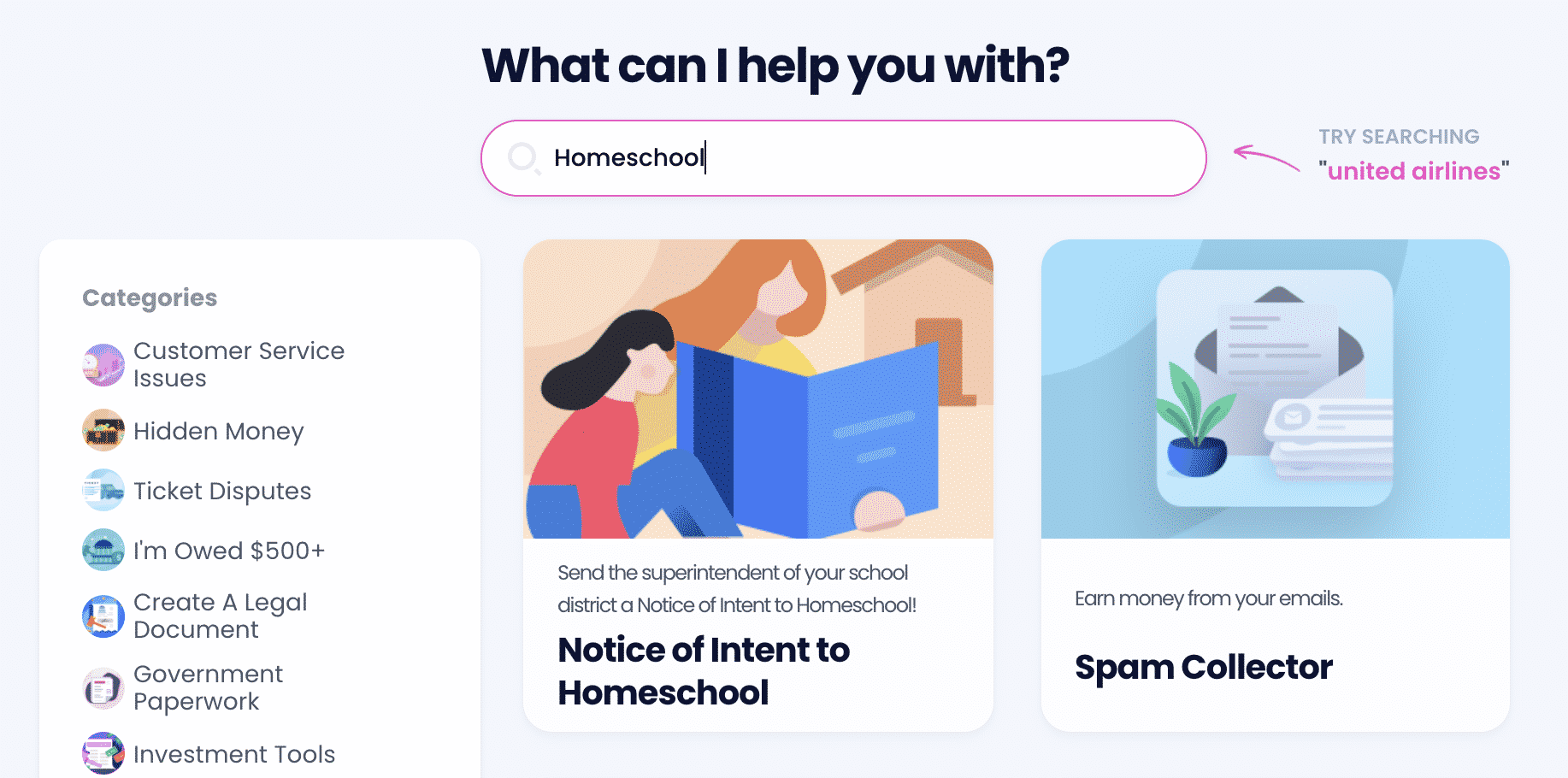 The process is quick and straightforward. and:
Pick the Notice of Intent to Homeschool feature
Provide data about your student and yourself
Let us know if we should:

Have your letter notarized before filing it
Submit the notice of intent in your stead
Send you a PDF file to print and file it yourself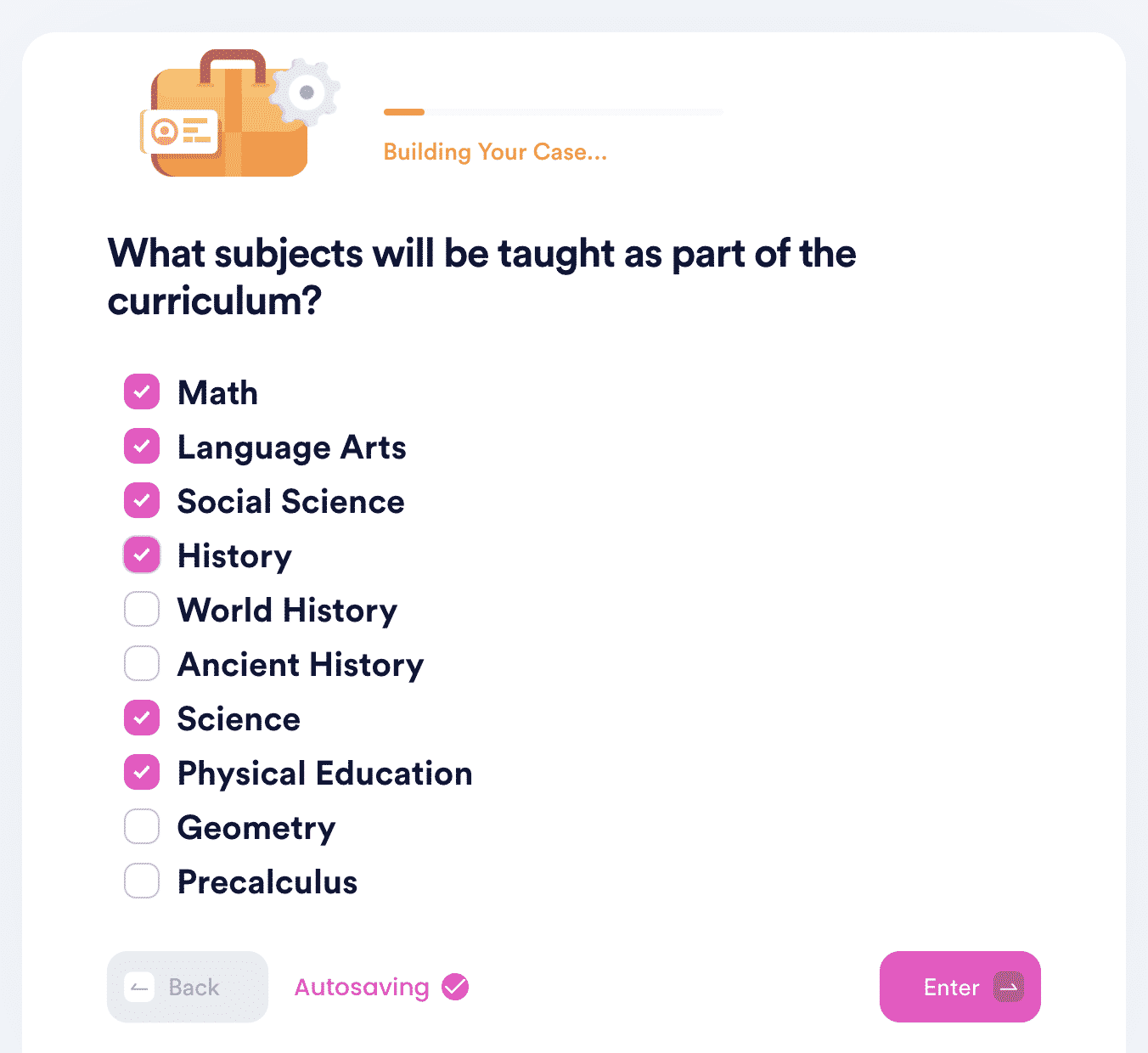 Find Out More About Homeschooling With DoNotPay
If you'd like to prepare for your homeschooling adventure, you should consult our learning base to resolve some of your dilemmas. Here are some common questions we answer:
Can DoNotPay Help Me With Any Other Admin or Legal Issue? You Bet It Can!
DoNotPay's robust products can assist you in fighting companies, individuals, and institutions that have wronged you in any way. Once you subscribe to our platform, we'll ensure that you never have to deal with any of the following again:
Our Product Range Offers So Much More
Subscribing to DoNotPay will bring you peace of mind as you won't have to go through tedious task completion on your own anymore. With our AI-powered app, you can get what's rightfully yours in the blink of an eye.
If you want to claim warranty or insurance, find your missing assets, get compensated for a canceled flight or a violent crime that you were a victim of, track your missing parcel, or draw up a child travel consent form, divorce settlement agreement, power of attorney, or any other legal document, you can count on us to lend you a helping hand.
Sign up today to get access to the entirety of our product range and forget about dealing with time-consuming and energy-draining chores!