Locating a Verizon Fios Store Near Me To Return Equipment
If you are planning to cancel your Verizon Fios service or you've already done it, make sure you keep reading our step-by-step guide for returning the accompanying equipment. After terminating the service, you may pay certain fees if you don't return everything on time.
If you're asking yourself, "where can I find a Verizon Fios store near me to return the equipment," you're in the right place! We will explain everything you need to know about sending your items back to any retailer.
All About the Verizon Fios Return Policy
If you want to avoid being billed for the Verizon Fios equipment that you haven't returned, you should do it within 30 days of canceling the service. If you fail to do that within the specified period, Verizon will charge you a fee for each day you delay the return.
You will also have to pay additional fees if the returned equipment is damaged.
What Verizon Fios Equipment Do I Need To Return?
The items you must return differ depending on the type of Verizon Fios service you used.
Check out the types of rented equipment that must be returned along with penalties in the table below:
| | |
| --- | --- |
| Equipment That Must Be Returned | Fees for Unreturned or Damaged Equipment |
| Set-Top Box—SD Digital Video Recorder | $ 330 |
| Set-Top Box—Standard Definition (SD) | $ 160 |
| Fios Extender | $ 145 |
| Set-Top Box—Fios TV One Mini | $ 115 |
| Broadband Home Router | $ 100 |
| Set-Top Box—HD Digital Video Recorder | $ 260 |
| Digital Adapter (DCT700) | $ 90 |
| Set-Top Box—High Definition (HD) | $ 190 |
| Set-Top Box—Video Media Server | $ 375 |
| Fios Network Extender | $ 99 |
| Set-Top Box—Fios TV One Mini | $ 115 |
| Cable Card | $ 70 |
| Set-Top Box—Video Media Client | $ 115 |
How To Return Verizon Fios Equipment
Verizon is known for its strict return policy. You should follow the return process carefully if you want to avoid penalty charges.
Once you have canceled your Verizon service, you can decide whether you want to start the return procedure by:
Taking the equipment to the nearest Verizon store
Shipping it to the company
Returning the Equipment to the Nearest Verizon Fios Store
Making in-store returns is a tedious and time-consuming process. If you want to go for the in-person approach despite that, you can locate the nearest Verizon Fios store and go there once you check whether it accepts equipment returns.
You can find Verizon stores in the following U.S. locations:
Delaware
District of Columbia (DC)
Maryland
Massachusetts
New Jersey
New York
Pennsylvania
Rhode Island
Virginia
You can check out the address of every store on Verizon's website. To find out whether the one nearest to you accepts Fios equipment returns, contact Verizon's customer support:
Through chat on the company website
Through Facebook Messenger
Via phone at 1-800-VERIZON (1-800-837-4966).
Shipping the Equipment to the Company
If there is no Verizon store that accepts Fios equipment near you, sending the equipment by mail is the best option. To do that, you should take the following steps:
Contact Verizon's customer support
Pack the equipment tightly and safely in the original boxes
Print the shipping label from My Verizon
Attach the shipping label to the box
Make sure you keep a copy of the shipping label because it will act as proof of shipment if any issue occurs during the return process.
You can track the return process with My Verizon.
Does this whole process sound like too much of a hassle to you? That's because it is. If you want to avoid lengthy return procedures, and let us do everything in your stead!
Return Verizon Fios Equipment Without Breaking a Sweat—Using DoNotPay!
Since initiating and completing any return process is a mundane task that often requires going back and forth with the company, you should use DoNotPay to relieve yourself of the unnecessary stress.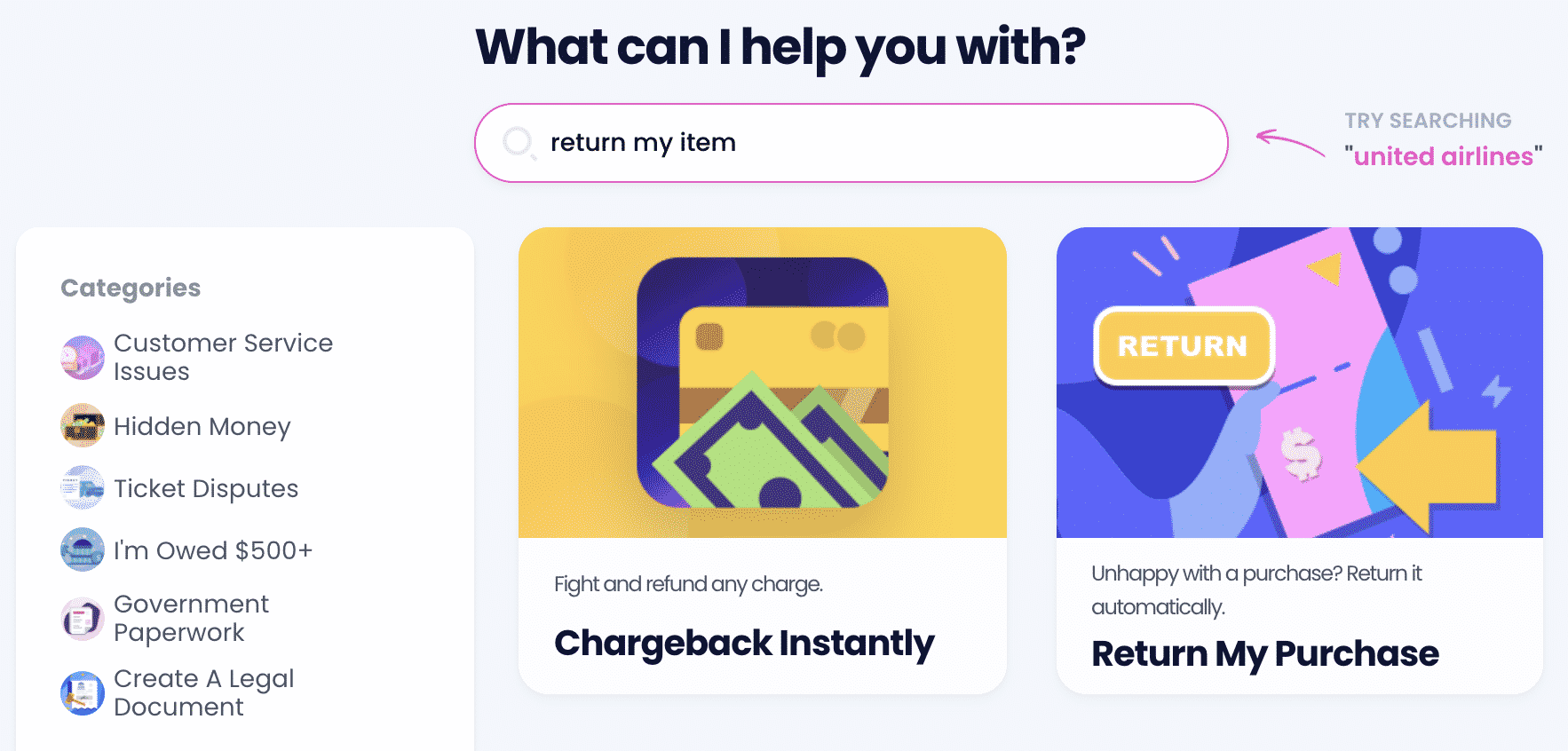 Our app will ensure a smooth and fast procedure, and all you have to do is:
Navigate to the Item Return Request section
Input the required details
Submit the request
After completing these steps, DoNotPay will generate a custom return request letter and send it to the company in question. The request will also include a deadline for the seller so that your request gets processed as soon as possible. Sending a written request can help dispute any potential arguments further down the line.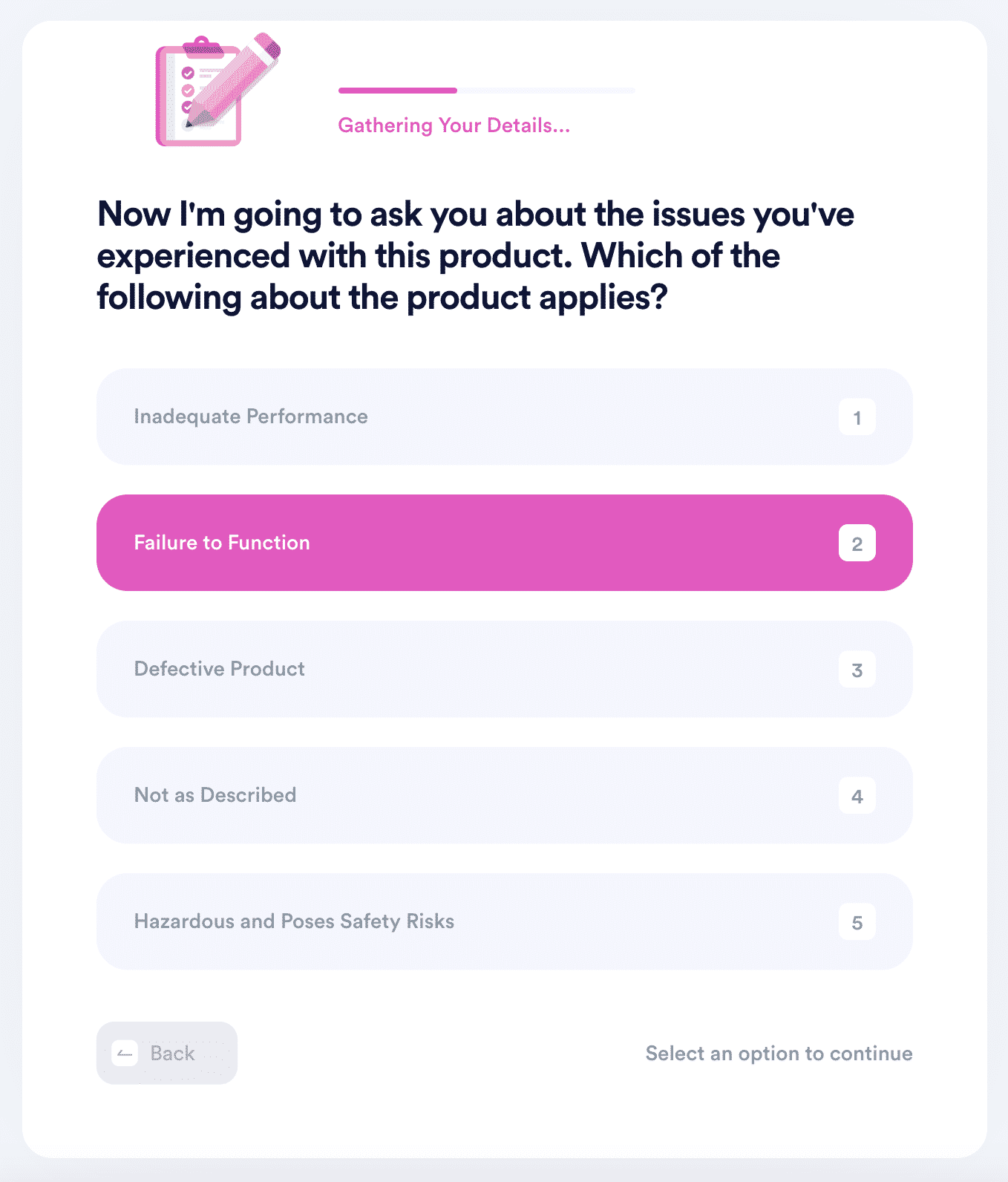 Use DoNotPay to generate return requests for numerous retailers and companies, including:
Having Issues With Verizon? Get Justice With Our Assistance!
If you feel like Verizon has wronged you by providing you with low-quality equipment and by imposing unjust penalty charges on you, you can sue it in small claims court. DoNotPay—the world's first robot lawyer that was also recognized by the American Bar Association—will help you with:
Writing a demand letter
Completing all court forms
Gathering all of the required paperwork
Filing your complaint
Compiling a script with the most suitable argumentation you should use in court
Want Your Money Back? Rely on DoNotPay!
The world's first robot lawyer can help you get your hard-earned money back in several ways. Are you dissatisfied with a product or service you paid for and want to request a refund? Do you want to request a late delivery refund? No problem—DoNotPay will do that in your stead! Do you think that you may have missing money and want to claim it? We can assist you in finding it!
No matter the issue, DoNotPay is your shortcut through bureaucratic hurdles. Our AI-driven app can help you dispute your parking tickets, get refunds and compensation from airlines, cancel any subscription service in a flash, and so much more!
What Else Is DoNotPay Capable Of?
Being your personal AI-powered assistant, DoNotPay can help you get rid of:
Are you sick and tired of big companies not taking their customers seriously? Our app will lend you a helping hand in the process of suing them in small claims court.
Do you want to skip waiting in lines at the DMV, jump the phone queue when reaching customer service, get help with paying your bills, or get copyright protection for your work? Sign up for DoNotPay to complete these tasks and so much more!