The USPS Tracking Says Delivered but No Package From Amazon in Sight
You've searched for your parcel, and the USPS tracking says delivered, but no package by Amazon was delivered to you? This article will show you what to do to find out where your package is. If your package is lost, late, or damaged, to file your complaint and get a refund!
What To Do if Your Package Is Not Delivered
Before you start making angry phone calls or filing complaints about your late or missing package, you should make sure it wasn't delivered. If at least 48 hours have passed after the expected delivery date, here's what you should do:
Verify your shipping address in Your Orders—you may have put a different address or made a small mistake, so your parcel ended up at the wrong address
Search for a notice of attempted delivery in your mailbox and around your house or apartment—perhaps you weren't home when the parcel was delivered, and you can't find the notice
Look for the package thoroughly—your mailbox could be too small for the package, or the delivery person put it in a safe place around your home (e.g., the porch, garage, or the back door)
Check whether someone else accepted your parcel—ask your roommates, family members, and neighbors if a package was delivered for you
In case your parcel is still nowhere to be found, you can try tracking it using all the available methods—both USPS and Amazon.
USPS Says Delivered but No Package (Amazon)
If your package is marked as delivered by USPS, you can check all the tracking info to ensure the delivered status is not a mistake. Here are all the ways you can track a USPS parcel:
Tracking Method
Details
Phone call

1-800-275-8777
1-800-877-8339—for people with hearing and speech impairments
1-800-845-6136—for persons with hearing and speech impairments who only speak Spanish
1-866-377-8642—for hearing persons with speech impairments

Text message
Send a text with your tracking number to 28777 (2USPS) to receive updates
Online

Visit the USPS website
Tap on Track a Package under Quick Tools
Enter your tracking number
Hit Track

You can also click on Text and Email Updates to receive tracking info for two weeks

USPS mobile app
Download the USPS mobile app to your Android or iPhone and locate your Amazon package
Amazon Package Says Delivered but Not Here (USPS)
Besides checking the USPS tracking info, you can also turn to Amazon and check the delivery status online or by contacting customer service:
Tracking Option
Details
Online

Sign in to your Amazon account
Click on Returns & Orders
Find your item under Your Orders
Tap on Track Package

Customer Service
Call 1 (888) 280-4331 and tell the customer support rep that the tracking info states your parcel is delivered, but you haven't received it
DoNotPay Comes to the Rescue—File a Claim for Your Missing Package
With DoNotPay's Late Delivery Refund product, you'll save both time and money! Once you find out whether your package is lost or late, you can go about filing your complaint. There's no need to deal with customer service or wait in line—our app will forward your claim in a few clicks.
Here's all you need to do:
Type in Late Delivery Refund
Select USPS as your shipping service
Provide a few details regarding your package
Our AI-driven app generates your complaint and a refund claim and sends it to USPS automatically.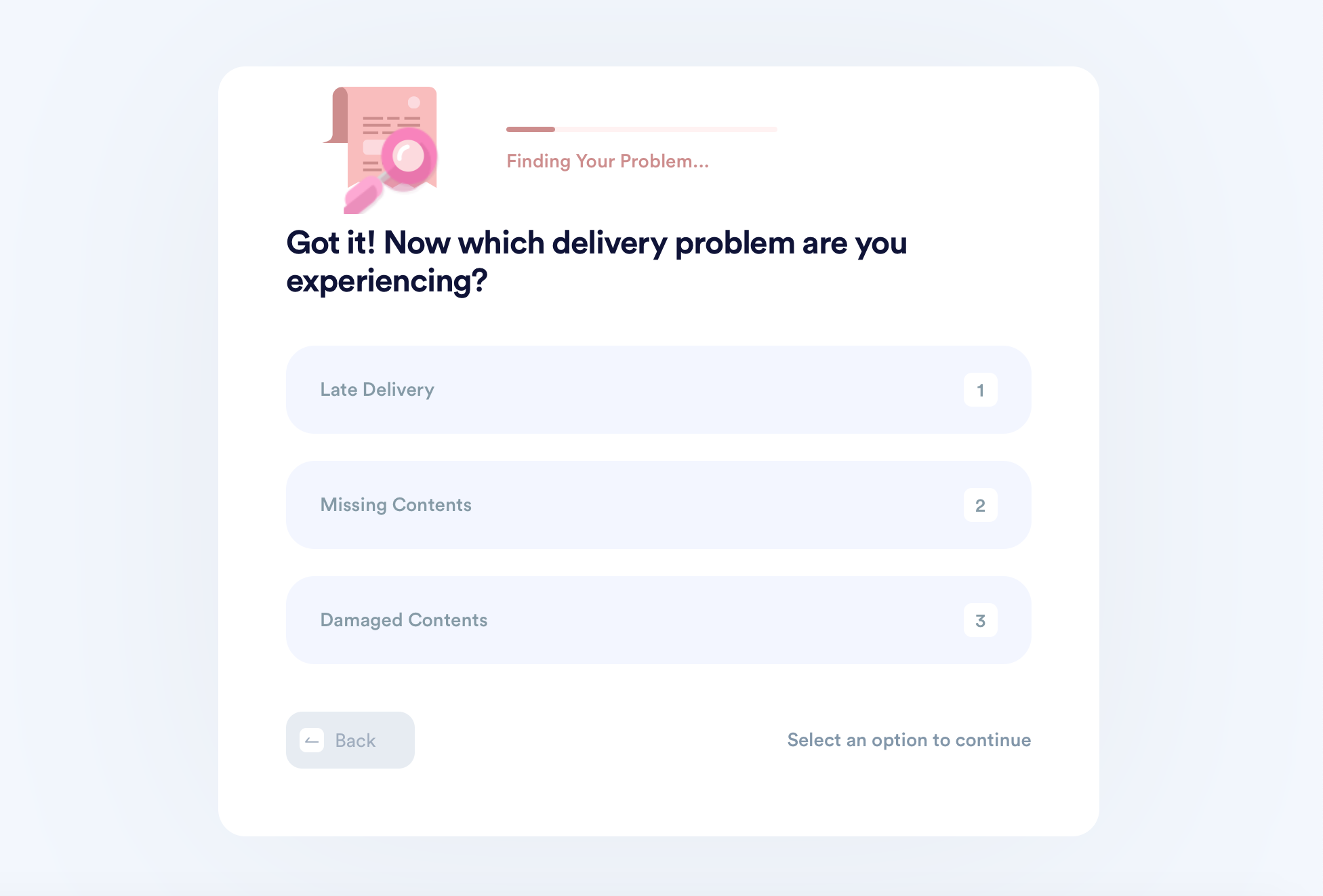 If your parcel arrives at some point and is damaged, you can count on our help. In case you want to return the damaged shipment, navigate to our Item Return Request product, and we'll assist you throughout the process.
Is Amazon, USPS, or Any Other Courier Service Giving You a Headache? We Know What To Do
DoNotPay helps with all sorts of delivery-related issues. Check out the table below and find the solution you need:
Browse our learning center to get the tips and tricks you need to handle your parcel problem. You can come across the following articles:
How Else Can DoNotPay Help With Delivery Problems?
If your package is insured, you can use DoNotPay's Insurance Claims feature to file your insurance claim quickly. Here's how to go about it:
Access your DoNotPay account
Search for the insurance type
Enter a few details (e.g., your contact info and policy number)
State why want to file a claim
If you have any questions, check out how USPS and FedEx insurance works.
Find Hidden Money With DoNotPay Effortlessly
Our app can do more than request delivery refunds for you. We can help you identify all your hidden expenses and save your money for more relevant matters. If you use DoNotPay, you can:
Earn Some Extra Cash With DoNotPay's Help
Not only can we eliminate all hidden expenses you have, but we can help you put more money in your pocket! We don't let you forget the smaller but meaningful gains you can make from gift card cash backs, raffle ticket wins, or warranty claims. Our nifty app can also assist you in getting some serious cash by way of chargebacks, insurance claims, airline compensation, college fee waivers, paid clinical trials, or crime victims compensation. We can also show you how to sue any company or individual for compensation in small claims court.