Have an eBay USPS Lost Package Problem? Don't Worry—DoNotPay Can Solve It!
What should you do in case of an eBay USPS lost package? Who to turn to first—the online retailer or courier company—and how?
We answer and offer the most convenient solution to your delivery issues. You can request a refund via DoNotPay in a matter of minutes!
Facing an eBay USPS Lost Package Situation—What Now?
If you have not received your eBay order by the expected delivery date, you should do the following:
Steps To Take
Additional Tips
Check the delivery details
You can access the details in your eBay account within the Purchase history section. Make sure the delivery address is correct and complete, and check the estimated delivery date
Get in touch with the seller
If you spot any delivery information irregularities, contact the seller to inquire whether they could:

Modify the delivery address
Cancel your current order and make a new one (unless they have already dispatched the package)

In the latter case, you could try picking up your shipment at the listed address

Contact eBay
If the seller does not get back to you in three days, you could get a hold of eBay directly and ask them to step in
If you would like to inform the seller or eBay about your missing package, make sure you meet the appropriate time requirements. You should notify:
The seller up to 30 days after the expected delivery date
eBay between three and 21 days after you informed the seller of the issue
An eBay Package Lost by USPS Can Be Tracked Down
A USPS lost package does not have to be a cause for distress. You might have to be patient as the shipment could be late, especially if it is coming from a foreign country like China.
Another action you could take before contacting USPS or filing a claim is to look for the package. If the shipping status indicates that the package has been delivered, you should start with the following:
Inspect your mailbox and the area around your home since couriers can leave a parcel somewhere safe, including your:

Side or back door
Garage area
Backyard
Porch

Visit your neighbors to check whether your package was delivered to them. This can happen if you:

Were not at home
Entered an incomplete address
If your package does not turn up, you should file a claim with USPS.
Request a Refund for a USPS Missing Package From eBay
You can file a claim with USPS using:
Mail
Online form
DoNotPay's Late Delivery Refund automated tool
Love a Pen and Paper? Start a Claim via Mail
USPS can send you their claim form by mail if you prefer the paper version. Initiate the procedure by contacting USPS customer service at 1-800-332-0317 and asking for a paper Domestic Claim Form.
The representatives are available Monday–Friday, 6 a.m.–6 p.m. CT. Once you get the form, you should:
Fill it out
Provide any supporting documentation
Send everything to the address listed on the form
USPS Lost My Package From eBay—Is an Online Claim a Good Way?
You could submit your claim with USPS for priority, insured, and registered packages by taking the following steps:
Open the File a claim page
Check the filing period, which depends on the type of the missing package. You will have to wait between seven and 75 days before filing your claim
Gather the necessary details and documentation, such as:

The label and tracking number
Printed electronic label record
Purchased insurance and original mailing receipts
Proof of value, e.g., sales receipts, settled invoices, card billing statements, etc.

Submit the claim via your USPS account
Access DoNotPay to get valuable information about how late USPS deliveries can be, what you should do to receive an eBay or USPS refund, or how to claim USPS insurance, to name but a few related topics.
Requesting a Refund From USPS Is Not Complicated if You Choose DoNotPay
Consider DoNotPay when you want to avoid:
Looking for courier information and contact details
Trying to reach customer service time and time again
Waiting forever for a response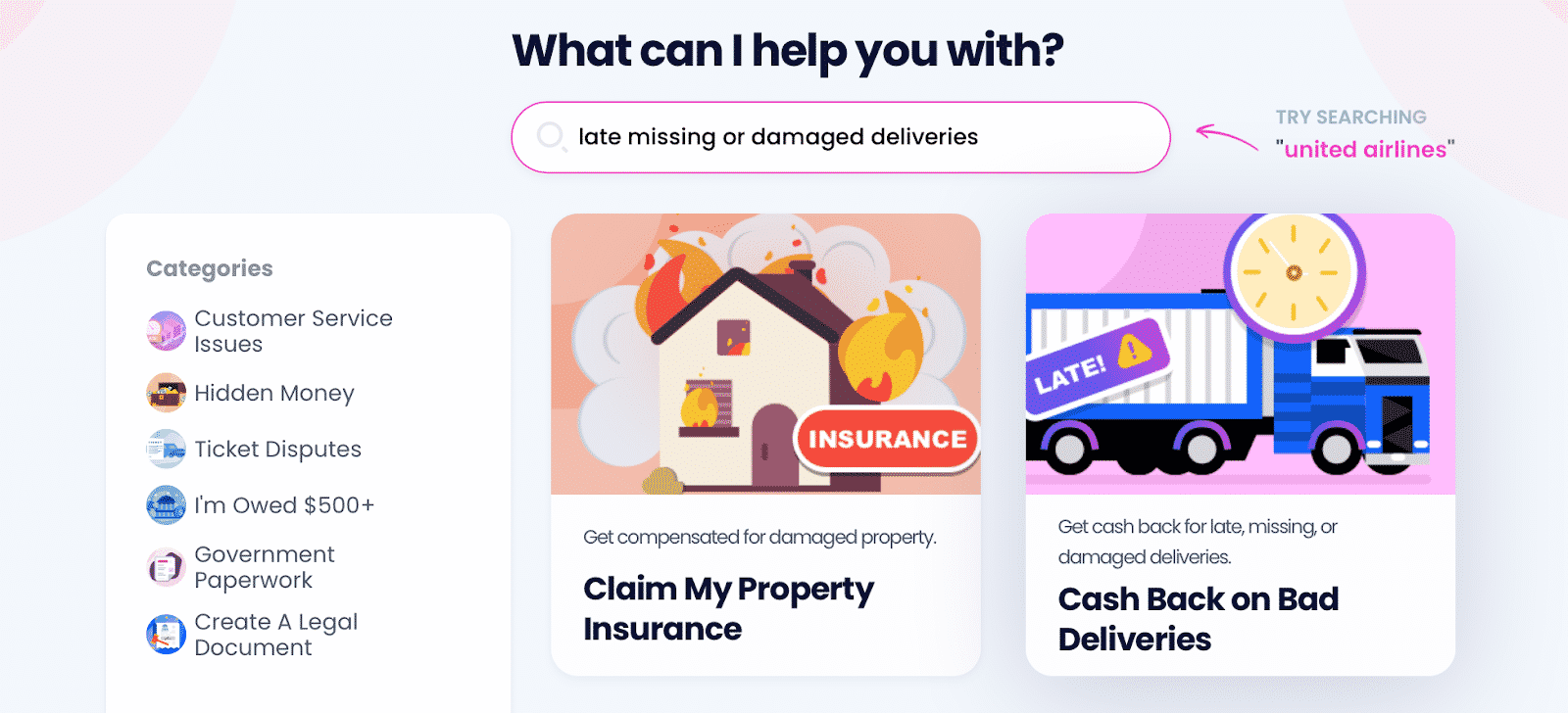 Subscribe to DoNotPay and follow these straightforward instructions:
Go for our Late Delivery Refund product
Select the courier company, i.e., USPS
Provide the necessary details regarding your shipment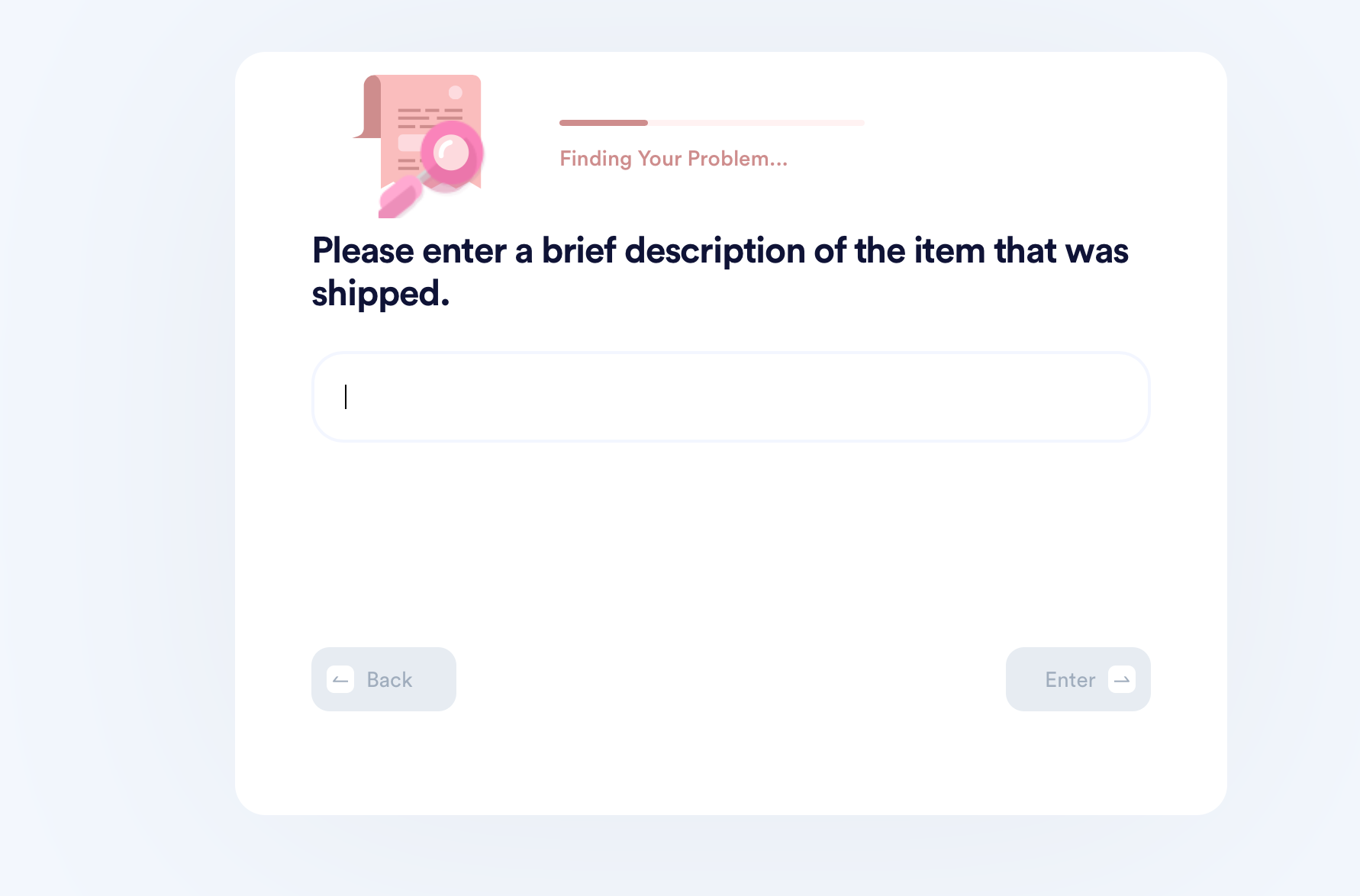 DoNotPay will automatically send a lost package claim to USPS on your behalf.
Have Other Shipping Issues? DoNotPay's Reliable Knowledge Base Helps You Build Your Case
DoNotPay can help you file a late delivery refund request with numerous shipping companies. As we also provide useful advice on various delivery matters, you might want to find out:
How Else Can DoNotPay Be of Assistance?
DoNotPay will help you take care of your item delivery problems and send a delivery refund request in your stead, but we can do so much more along the way. Use our app to find out how you can return an unwanted item to any company or get a refund for any service.
Not only can we clear a path to your rightful refunds, but we can get you the cash that's left on your gift card balance and secure any compensation you deserve. Use our app to get compensation for:
How To Use DoNotPay the Right Way
Many companies start spamming you with unwanted correspondence as soon as you start using their products or services, but our app can put a stop to that. If you use DoNotPay's Burner Phone and Virtual Credit Card products, you'll never have to supply your real info to random companies again. We'll make sure that you can subscribe to any free trial risk-free or cancel a service you don't use in a matter of minutes!
We'll also help you do boring tasks quicker or take care of them entirely on your behalf. Use our app to draft documents and contracts, get them notarized, or send them using an online fax functionality of our app. We'll schedule a DMV appointment for you, help you get access to public records, or find out what property tax exemptions you qualify for and how to apply in record time.