Why Is My Shipment on Hold, DHL? I Need It ASAP!
Why is my shipment on hold in DHL? What should I do next? Who to contact—the sender, DHL, or both?
We provide answers and helpful information about how to solve the problem without a headache. Besides tips, DoNotPay offers an automatic claim feature you can access from any place and at any time!
Why Is My DHL Package on Hold?
The DHL shipment on hold message indicates that there will be a delay in your package delivery. Different events can cause these delays, including the following:
Port congestion or route changes
Incorrect or incomplete delivery address and contact details
Natural causes, such as bad weather conditions, natural disasters, or pandemics
The sender or receiver needs to confirm the required custom duty-related activities
The package does not have correct or complete documentation required by the U.S. Customs
In all these scenarios, DHL will typically get a hold of the sender or receiver to obtain additional confirmations or paperwork to solve the pending issues.
What To Do When My Shipment Is on Hold in DHL
If your DHL shipment is on hold, you should do the following:
Steps To Take
Additional Info
Wait for a week or two
While DHL issues should be resolved in seven days in most cases, there can be unexpected events causing longer delays. These events may include natural disasters, such as:

Fire
Earthquakes
Heavy storms

Contact the sender
You could inform the sender of any delays if you believe they can assist you. Keep in mind that in most cases, only the payer can file a claim for lost or damaged packages
Get in touch with DHL customer service
Contact customer service if you would like to find out:

Why your package is on hold
When you can expect the delivery
Whether you could change the delivery address
How To Deal With DHL Customer Service
To get more details about your package being on hold, you should contact DHL customer service. You have three available options:
Online
Via mail
By phone
Complete a DHL Online Form
One of the most convenient ways to get feedback on your shipment is by filling out an online form. Here is what you should do:
Open the DHL contact page
Click on the Tracking link in the How Can We Help? section
Enter as much information as possible in the pop-up form
Click on the Submit button
You might need to wait for a response for a while. In the meantime, you can keep tracking your shipment to check if the status changes.
Prefer Writing to DHL Customer Service?
If you would like to send a letter, use the following address:
DHL Express
Executive Office Contact
1210 South Pine Island Road
Mail Stop #44
Plantation, FL 33324
Why Is My DHL Shipment on Hold? Call Customer Service
Don't mind waiting for a representative to answer your call? In that case, you should call 1-800-225-5345 to find out why your shipment is on hold and whether you can do anything to speed up the process.
When and How Can You File a Claim?
You can file a claim with DHL in the following situations:
Your package does not arrive or is damaged
You're dealing with a late delivery of DHL Express Time Definite shipment
Here are some requirements you need to meet to file a claim:
The party with the claim right (usually the shipper) can file a claim for damage
The direct-billed party or DHL account holder—i.e., the person or company that was billed for the shipment—can file a claim for late delivery
You can file a claim:

For cargo within 30 days of the pickup date
For DHL Express Time Definite shipments within 14 days of the date when DHL picked up the shipment

You should provide the following when you inform DHL of any issues:

Shipment date
Waybill number
Receiver information
Account number (if possible)
You should be aware that delays beyond DHL's control are not covered. These might include:
Customs procedures
Non-standard clearance activities
Incomplete or incorrect shipment details
Receiver:

Asking for delay
Refusing to accept the package or settle the required taxes and duties
For the specifics of your rights and obligations, you should consult DHL's Money Back Guarantee.
If you would like to save time and nerves, to get assistance with your package delivery issues.
DoNotPay Can Help You Request a Refund From Various Courier Companies
The refund procedure does not need to be nerve-racking. DoNotPay has come up with the Late Delivery Refund product to help you deal with any package delivery problems easily.
Our AI-powered app is at your disposal once you decide to request a refund from a courier company. We create and send a claim for you automatically!
and take the following steps:
Select the Late Delivery Refund feature
Enter the necessary details about your shipment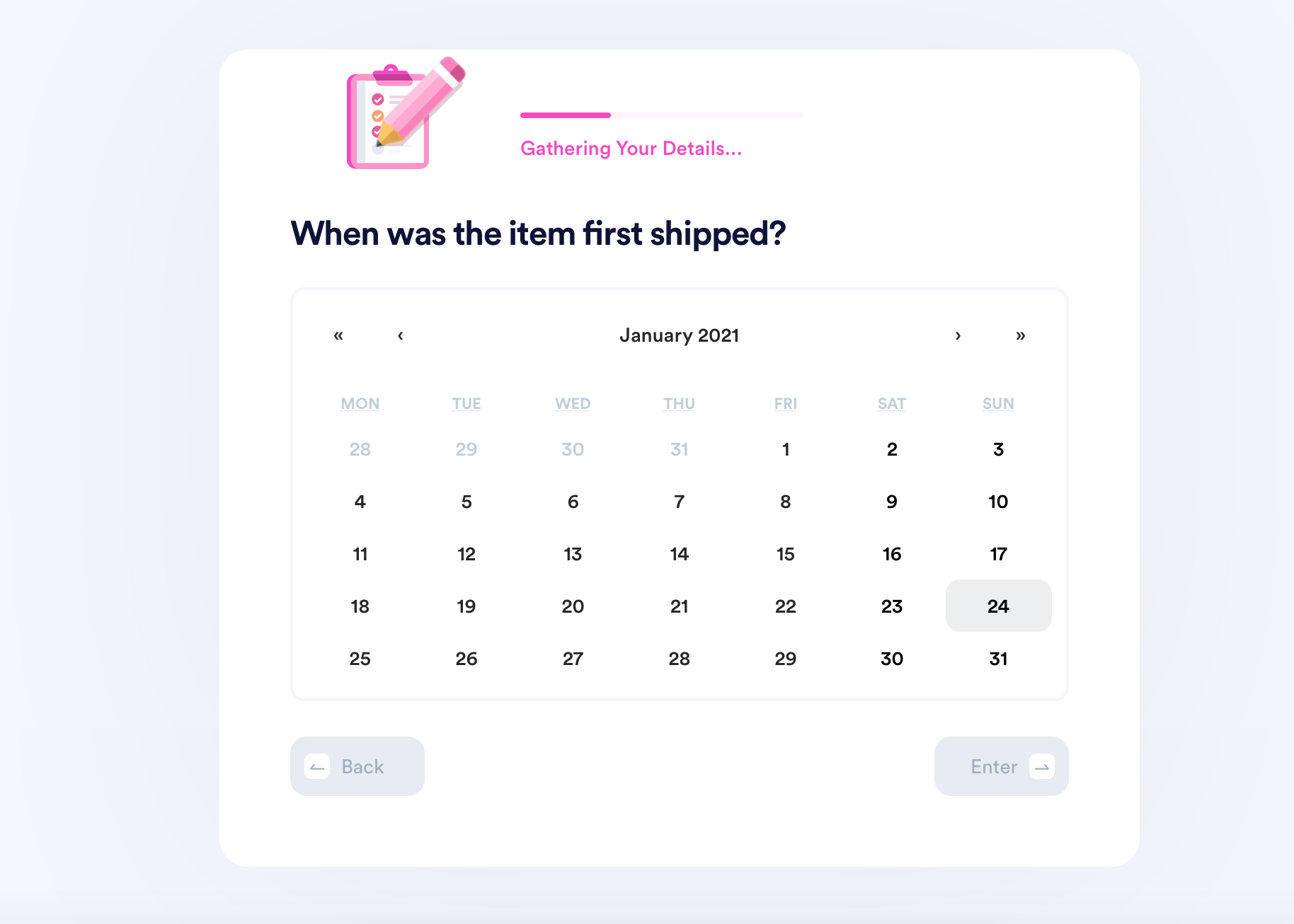 Once you finish, DoNotPay will file your claim with the select courier in a flash.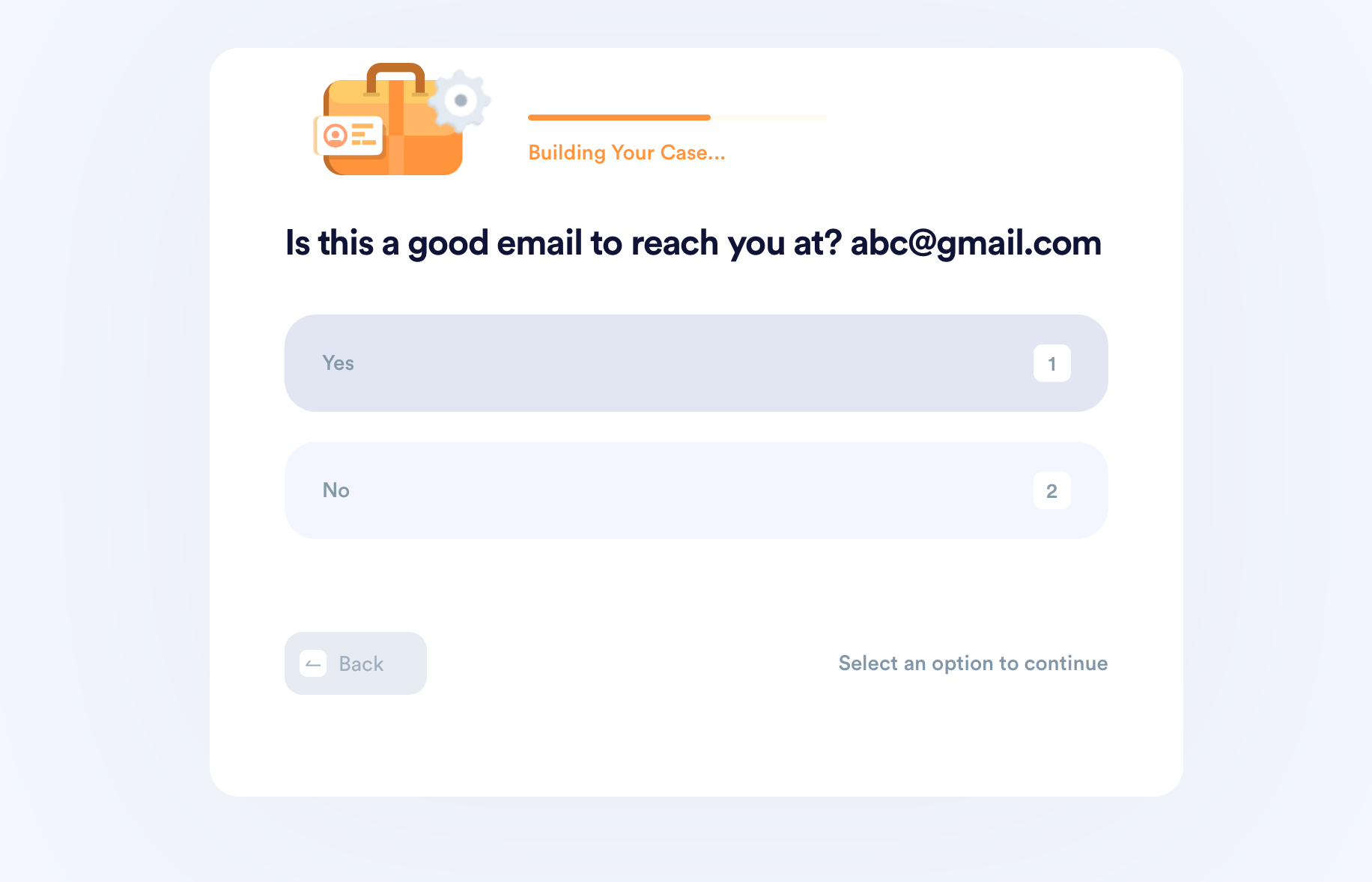 We can also help you handle UPS, USPS, FedEx, or Amazon late deliveries efficiently. DoNotPay provides valuable advice on various shipping matters, including what you could do in case your package is delivered to the wrong address, you do not receive your eBay order, or you have no idea where your package is.
Find Hidden Money With DoNotPay Effortlessly
Our app can do more than request delivery refunds for you. We can help you identify all your hidden expenses and save your money for more relevant matters. If you use DoNotPay, you can:
Earn Some Extra Cash With DoNotPay's Help
Not only can we eliminate all hidden expenses you have, but we can help you put more money in your pocket! We don't let you forget the smaller but meaningful gains you can make from gift card cash backs, raffle ticket wins, or warranty claims. Our nifty app can also assist you in getting some serious cash by way of chargebacks, insurance claims, airline compensation, college fee waivers, paid clinical trials, or crime victims compensation. We can also show you how to sue any company or individual for compensation in small claims court.