USPS Package Going the Wrong Way—What Should You Do?
Is your USPS package going the wrong way? In case the status of your parcel states the wrong address, is late, or says 'delivered in mailbox' but is nowhere to be found, the delivery may be going (or has already gone) wrong.
Luckily, there are ways to solve such problems. We will explain what steps you should take to locate your parcel and fix the issue with minimal stress. Learn how will help you report problems with your package and request a refund from the courier in a matter of minutes!
How Can I Check the Status of My USPS Parcel?
The easiest way to track your USPS package is using an online tracking app on the official USPS website. You will need a tracking code—a unique ID number that can be found on your:
Sales receipt
Mailing receipt
Online label record
Self-service kiosk e-receipt
Here's how you can locate your order:
Visit the USPS website
Find the Search or Track Packages option
Input the tracking code and hit the Search button
The tracking status should show the estimated delivery time and all updates from the acceptance of the package to the given moment.
Why Is My USPS Package Going in the Wrong Direction?
Your parcel may go the wrong way for various reasons, some of which are listed in the table below:
| | |
| --- | --- |
| Reason | Explanation |
| Wrong shipping address | If you are expecting a parcel from another person (the sender), they may have put the wrong ZIP code or address on the parcel. You may have also entered the wrong information in case you ordered the goods from a specific retailer |
| Employee human error | At times, mail must be classified manually, which leaves room for mistakes. It usually happens if the parcel has a damaged barcode or the computer can't scan the handwriting. The employees can also accidentally throw the package in the wrong container and never notice it |
| Paired mail | Smaller packages or envelopes can stick to each other without anyone noticing it because of a peel-away seal. In such cases, only one of the items gets scanned, but both items are sent to the same address |
| Misclassification by a machine | Machines and computers can also make mistakes when they classify mail. Envelopes and packages may fall into the wrong container, just like when they are sorted manually. The good news is that there are big chances that the employees will realize it in later stages and correct the mistake before the parcel goes out for delivery |
What Can I Do if I Realize That My Parcel Is Going the Wrong Way?
Don't despair if you realize that the shipping address is incorrect or your delivery is on its way to another address. There are ways to solve the matter in both cases:
If your package isn't out for delivery yet, you can use a special service provided by USPS—Package Intercept. This feature enables you to immediately reroute or stop the delivery by submitting an online form via your USPS account. You must make sure that the parcel is eligible for this service, i.e., that it's:

Sent by domestic USPS mail services
Not larger than 108 inches
The price is $15.25 plus any potential additional fees depending on the postage
How To Request a Refund From USPS
Requesting your money back is possible only if your parcel was shipped with Priority Mail Express. You can demand a refund in two ways:
Online
By visiting one of the local USPS facilities
Demanding a Refund Online
The first option for requesting a refund is filling out an e-form. Here's how you can do it:
Go to the official USPS website
Click on the Help tab and pick the option Requesting a Refund
Select Request a Refund under the section Apply Online
Log in to your USPS account
Complete the form and submit it
Demanding a Refund in a USPS Office
If you believe you may negotiate with USPS better in person, visit a local facility and talk to a representative. The official USPS website has a special office locator that can help you find the nearest office. The employees will ask you to request a refund manually by completing the Form 3533.
Make sure you have the tracking code and the mailing receipt, as the staff will probably need additional information to check if you are eligible for a refund.
Whichever method you opt for, ensure that you demand your money back within 30 days after the mailing date.
DoNotPay Requests a Refund in Your Stead Swiftly and Efficiently
Regardless of whether you want to inform the courier about the lost, late, or damaged USPS parcel, rely on DoNotPay and avoid contacting customer care services! With our app, you can inform the courier about the mistake you have encountered and file a complaint in only a few clicks! You don't need to do any grunt work. Provide us with a few basic shipment details, and we will raise a refund claim in your name!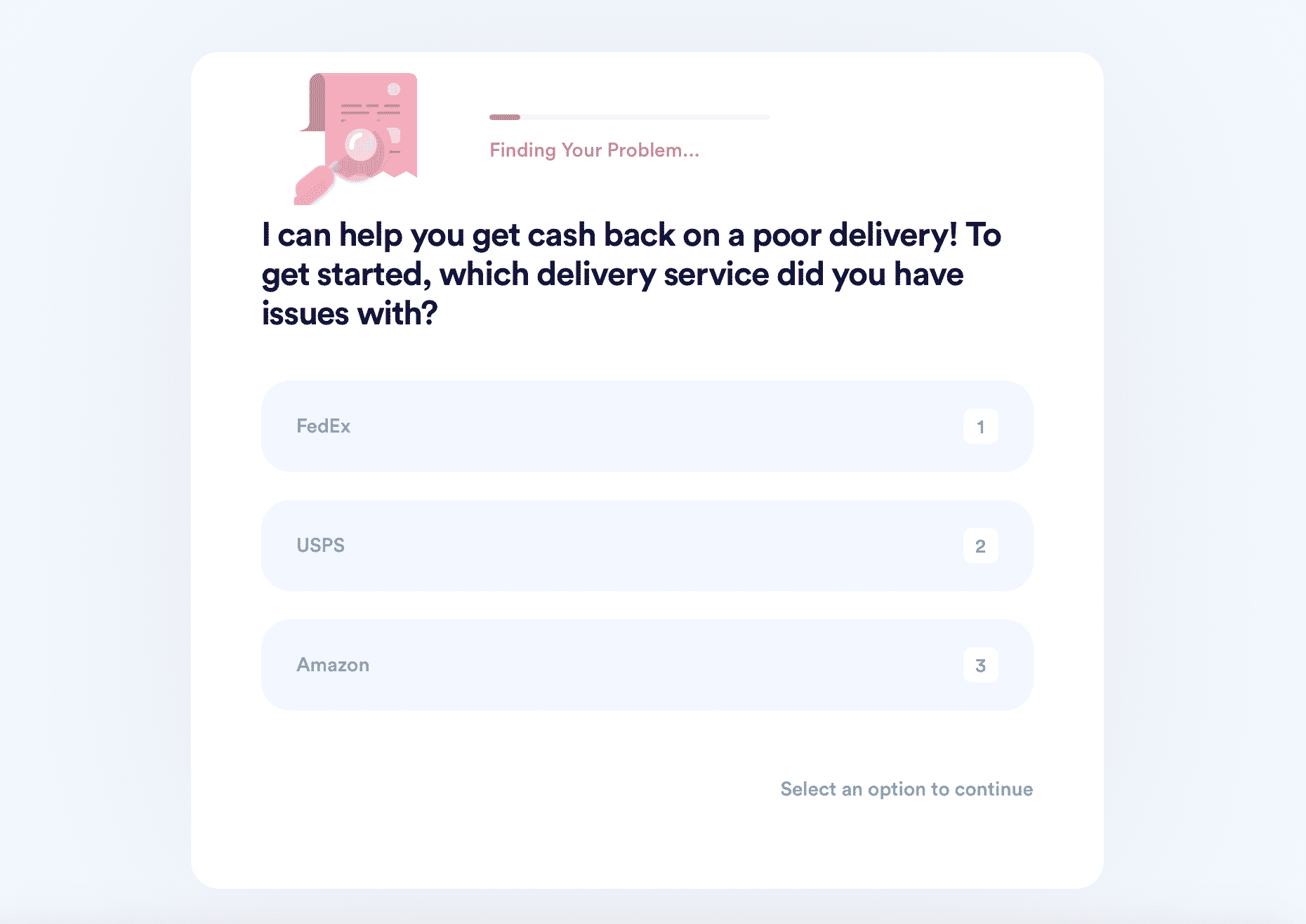 To use this service, follow the instructions below:
and log in to your account
Choose Late Delivery Refund
Pick the courier responsible for your delivery and the problem you are facing
Give us more details to help us create a claim on your behalf
Not only can you request a refund from USPS, but you can also file a refund claim with UPS, FedEx, or Amazon. This way, we can help you report delayed Amazon packages, late, lost, and damaged FedEx parcels, as well as missing and delayed UPS packages.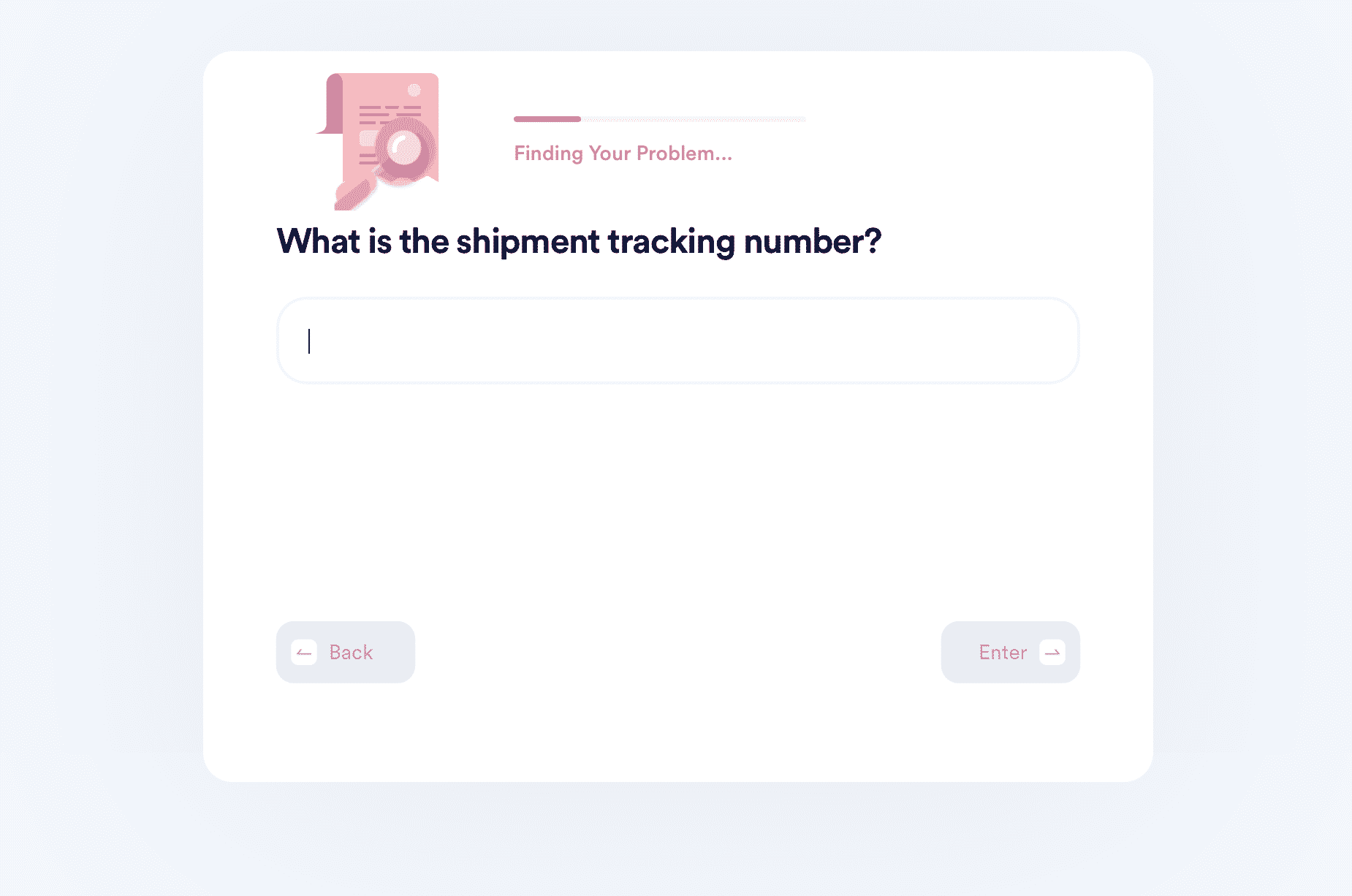 DoNotPay Takes Care of Your Consumer Rights
Whether the products you ordered are late, missing, or faulty, you can ask for your money back through the DoNotPay app. We can help you get refunds from any delivery service or company you purchased from, and we can also digest any seller's return policy so that you can both send the product back and get a refund!
DoNotPay is an advocate of consumer rights and can help you bypass time-consuming and tedious processes when dealing with small-time sellers and multinational retailers alike! Check out some of what we can do for you in minutes:
Use Our AI-Lawyer App to Your Advantage!
Apart from protecting your consumer rights, DoNotPay can break down and fast-track many legal procedures for you. Use our app to do any of the following and more: