Amazon Package Damaged? Fret Not Because DoNotPay Will Help
There's nothing worse than ordering an item online, patiently waiting for it to arrive, and receiving it in a defective state. The process is not only overwhelming, but it's tedious as well because you'll have to follow various steps to return the damaged item and get a refund.
If your Amazon package is damaged and you want to file a claim, we'll explain all the options you have and provide you with the easiest solutions!
You can forget about dealing with customer service and filling out forms because DoNotPay will do it all in your stead. With our Late Delivery Refund product, you'll get your money back in no time!
What Should I Know About Returning an Item to Amazon?
Amazon requires you to return the damaged item within 30 days of reception. Sending it after the deadline means that you'll be charged for both the replacement item and the original one. The company will cover the postage costs and the Import Fees Deposit once it processes your request and confirms that the package is indeed damaged.
In case you received a damaged mobile phone, camera, or a similar device, make sure to remove any passwords and personal data before returning it. You also shouldn't send any separately purchased accessories, such as memory cards or phone cases.
Ways You Can File a Claim for a Damaged Amazon Package
Here are all the ways in which you can file a claim for your damaged Amazon package:
| | |
| --- | --- |
| File a Claim Via | Yes/No |
| Phone | Yes |
| Letter | No |
| Email | No |
| Website | Yes |
| DoNotPay | Yes |
How To Return the Damaged Package Using the Amazon Website
To file a return request, you can visit the website and explain your issue to the chatbot, or:
Log in to your Amazon account
Go to Your Orders
Click on Return or replace items (located next to the item you want to replace)
Find the Reasons for return menu and choose a reason for replacement
Send the damaged item using the return label provided to you
It will take Amazon up to one week to review your request. Once it's done, the company will inform you via email.
If you want to check the status of your refund, you can:
Go to Your Orders
Find your order
Select Problem with order
Report and Return the Damaged Amazon Package via Phone
You can return the damaged package by calling Amazon's customer service, which is available 24/7. To do so:
Call 00 1 206-922-0880
Explain the issue you're facing
State whether you want the item returned or refunded
Return the Damaged Package to Amazon the Easy Way—With DoNotPay
If you want to return the damaged item to Amazon but don't want to waste time contacting customer support, use DoNotPay! Our Item Return Request product enables you to return the damaged package in a matter of minutes.
Here's how it works:
Find the Item Return Request product
Provide the details about your purchase and add any photos you have of the item
Submit your request
We will create a custom return request letter for you and send it to Amazon. In it, we will explain that you received a damaged package and add a deadline so that they process your request faster.
Use DoNotPay and Get a Late Delivery Refund in a Snap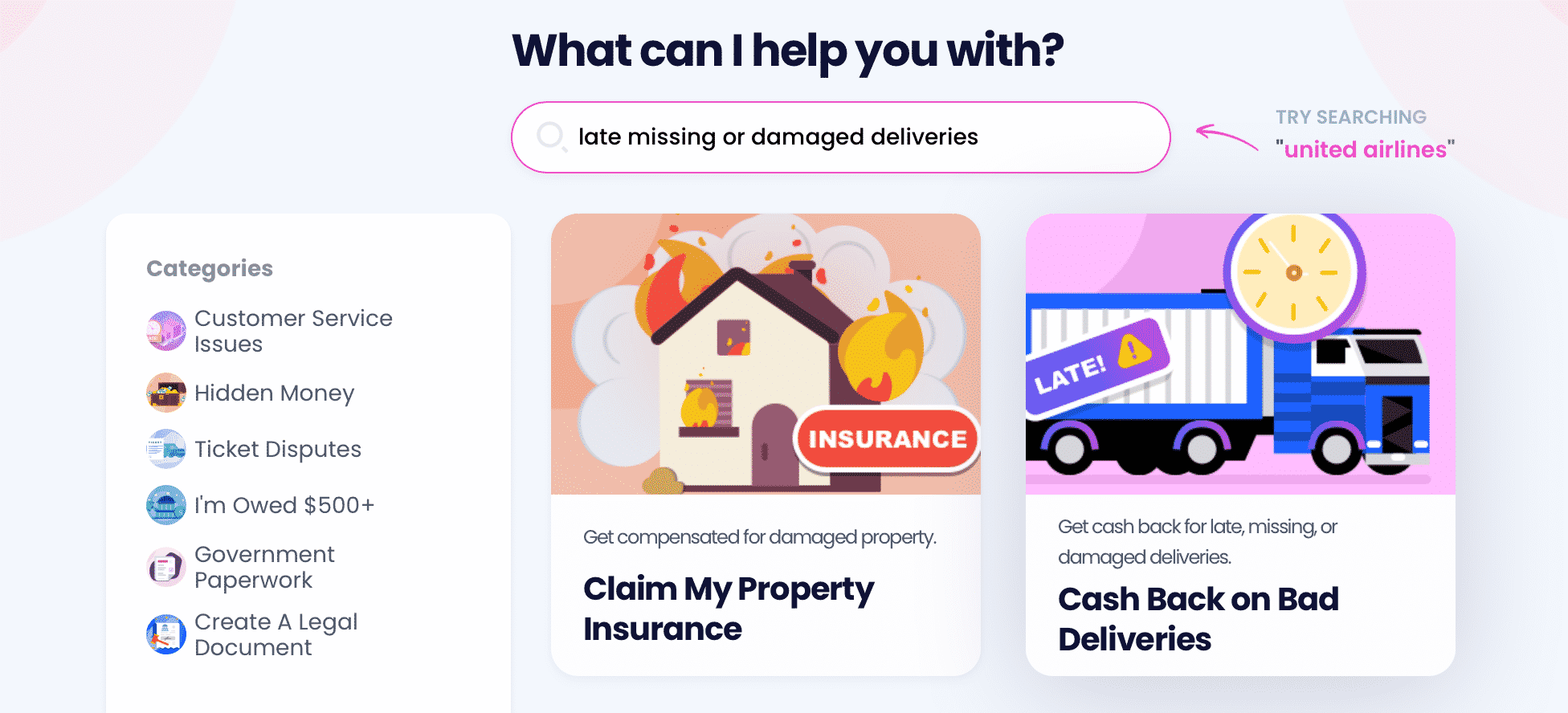 In case you decide to file a refund request, DoNotPay offers a perfect solution. We have developed the Late Delivery Refund product to help you submit a complaint in a flash. All you have to do is:
from your preferred browser
Select the Late Delivery Refund product
Provide details about the damaged package and include pictures
Our AI-powered app will automatically send a complaint and compensation claim in your stead to the courier's claims department, saving you both time and nerves.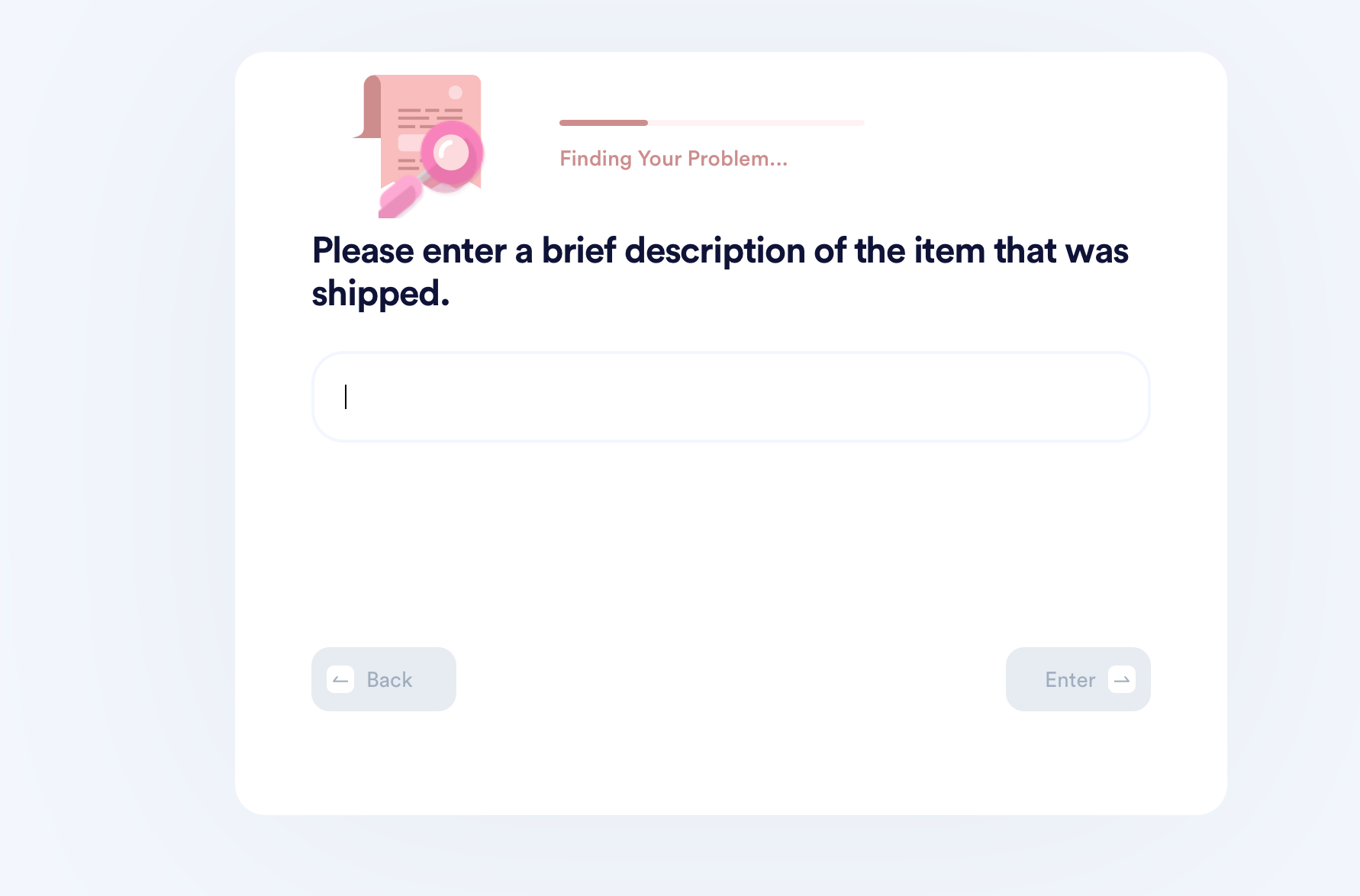 DoNotPay Helps You With Other Delivery-Related Problems
If you ever face any other issues regarding Amazon's deliveries, you can check out DoNotPay's helpful articles, including:
We also have helpful guides on other delivery companies, such as:
DoNotPay Has Your Back Every Step of Your Customer Journey
Helping you apply for a late, damaged, or missed delivery refund is only a fragment of what we can do for you. If you aren't satisfied with the service you've received or an item you've purchased, all you need to do is fire up your DoNotPay app.
We can bypass any company's customer service, draft a refund demand letter, or initiate a chargeback process in your stead. Our app can also digest the company's return policy and help you send the faulty product back. You won't have to lift a finger as our app does everything automatically after you answer several essential questions related to your purchase. If you decide to mail a letter to the company yourself, we'll tell you how you need to draft it to get exactly what you need.
It doesn't matter whether you bought a package for an incarcerated loved one, expected an insured mail delivery, or made a purchase to redeem a gift card but still have a few bucks left on it—we'll help you make the most of the situation. Our app can get your gift card cash back, file an insurance claim, and connect you with the loved one in jail.
How Far Do DoNotPay's Services Go?
Our app can prove handy in a variety of other situations, such as:
Reducing your property taxes

Writing legal documents and contracts
Visit our learning center for a full range of our services.