Ordered From Amazon, Received an Empty Package? Resolve the Issue Without a Tissue!
We did not have to stop buying the things we needed even during the COVID-19 pandemic, thanks to e-commerce platforms like Amazon, eBay, and many others. Unfortunately, certain unpleasant situations can diminish the joy of shopping.
These often include a package being late, lost, or stolen. Have you ever received an empty package from Amazon? We present available options for handling this situation in the best possible way.
My Amazon Package Arrived Empty—What Should I Do?
Given the number of orders Amazon processes every day, it is normal to come across some delivery problems. Not only can a package be delayed or missing, but it can also contain products you have not ordered or nothing at all—an empty box delivered to your door.
If this happens, you should take the following steps:
Steps To Take
Extra Tips
Check the status
To make sure your order has been delivered—or that you have not received someone else's package by accident—you should log in to your Amazon account and confirm where your package is
Get in touch with the seller
If the status says delivered and you have got an empty package in front of you, you should notify the seller first
Get ahold of Amazon
Once you have exhausted the previous two options, you can file a delivery complaint to Amazon directly
Contact the carrier
Another sensible course of action is to get in touch with the courier company that has delivered the package to you. If the process seems complicated, turn to DoNotPay to handle the communication with the carrier for you
Use DoNotPay
to request a refund from the shipping company and skip:

Filling out lengthy claim forms
Waiting for the carrier's customer service to answer your phone call
We will walk you through each of the above-listed steps in the following sections.
Determine the Package Status—Make Sure the Delivered Empty Package Is Your Amazon Order
To make sure your Amazon order has been delivered (and that you have not received an empty package from some other retailer or another person's package), you should sign in to your Amazon account and:
Select Returns & Orders
Confirm the status of your order
Choose Track package if you would like to access details
Copy the tracking number
Open the shipping company's website
Find their tracking tool
Paste the tracking number to obtain delivery information
If you see that the package was successfully delivered, proceed with the following steps.
Received an Empty Package From Amazon—Contact the Seller
When purchasing from a third-party seller on Amazon, you should contact them first (and not Amazon) if any issues arise. Here is how:
Go to Your Orders in your Amazon account
Choose the problematic order from the list
Select Problem with order
Click on an appropriate topic from the offered list
Choose Contact seller
Arm yourself with patience since it will probably take a few days until you hear back from the seller.
Contact the Shipping Company
Since Amazon and third-party sellers often use outsourced couriers for delivery, you may need to communicate with the shipping company handling your package.
To learn more about these companies' procedures, go through the following helpful guides to find out what steps to take if your package has been:
Should You Ask Amazon To Step In?
You can contact Amazon customer service if a few days have passed and the seller has not:
Contacted you
Provided a satisfactory solution to your empty package problem
Besides submitting a delivery complaint, you could also file a refund claim to Amazon directly. Here is how to do it:
Select Your Orders section in your account
Locate your order
Choose Problem with order
Check the problem from the list
Choose Request refund
Provide any additional comments
Click Submit
Keep in mind that Amazon may take up to a week to process your request. In the meantime, you could:
Check your inbox or spam folder as you should receive a response via email
Follow the status of your request in the Problem with order section of your account
Stop Wasting Time—Use DoNotPay's Late Delivery Refund Product
Would you be interested in a simple yet efficient way to request a refund from the courier? No need for the hassle because we deal with your delivery issues!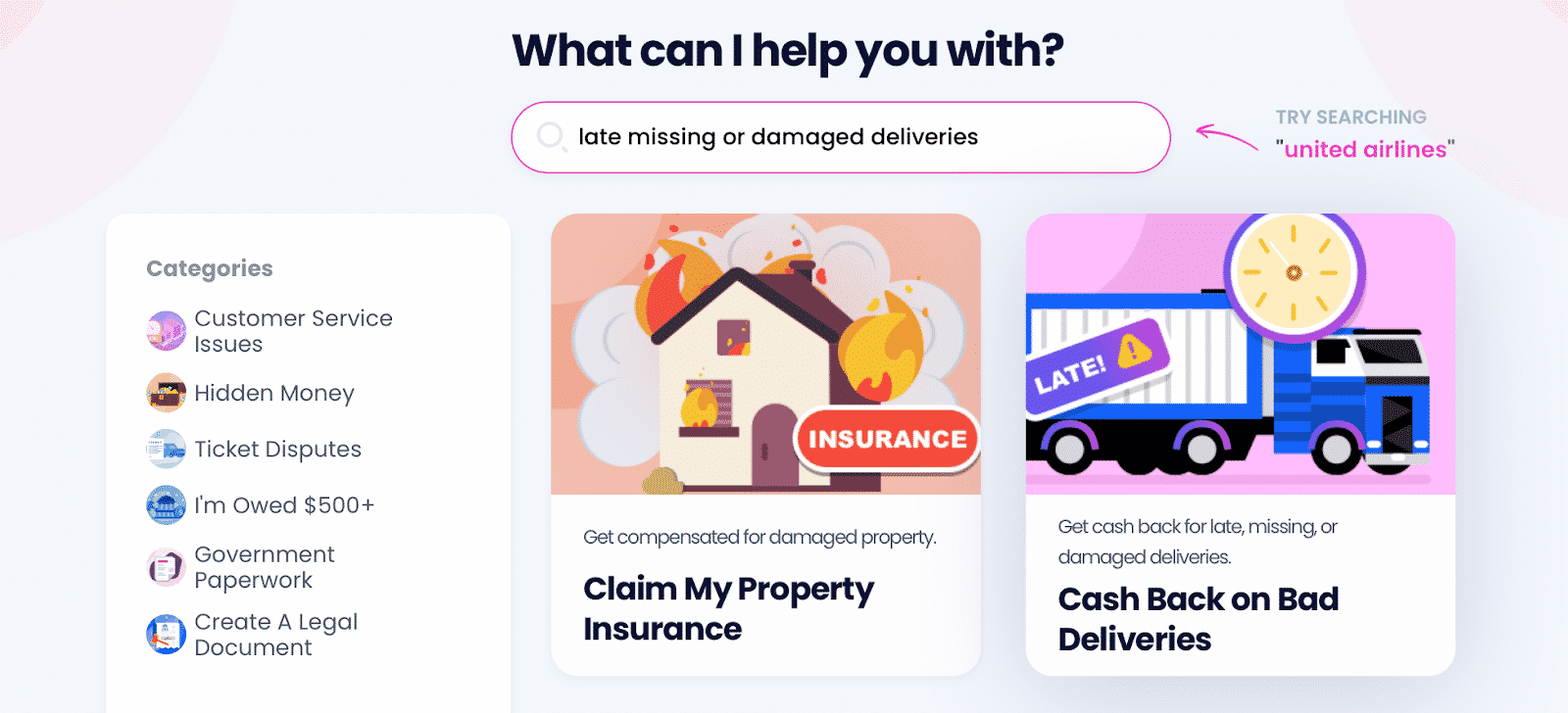 and click through the following steps:
Select our Late Delivery Refund feature
Choose the courier
Provide relevant information about your shipment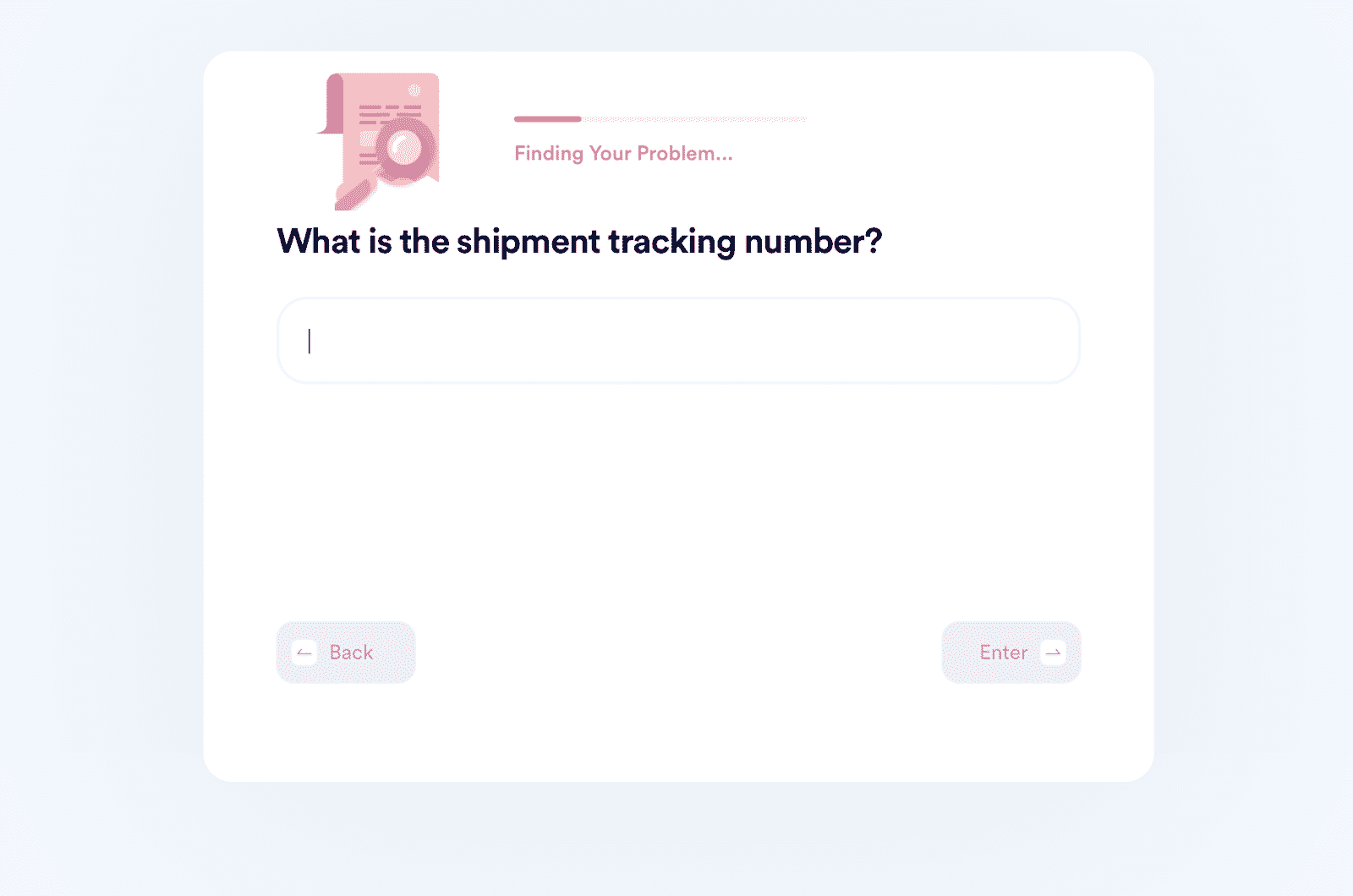 It will take you but a few minutes to complete this easy procedure, and DoNotPay will automatically submit your claim to the shipping company.
DoNotPay Takes Care of Your Consumer Rights
Whether the products you ordered are late, missing, or faulty, you can ask for your money back through the DoNotPay app. We can help you get refunds from any delivery service or company you purchased from, and we can also digest any seller's return policy so that you can both send the product back and get a refund!
DoNotPay is an advocate of consumer rights and can help you bypass time-consuming and tedious processes when dealing with small-time sellers and multinational retailers alike! Check out some of what we can do for you in minutes:
Use Our AI-Lawyer App to Your Advantage!
Apart from protecting your consumer rights, DoNotPay can break down and fast-track many legal procedures for you. Use our app to do any of the following and more: