What To Do if USPS Says Delivered, but No Package Arrived
Are you worried that your USPS package has been lost? It often happens that USPS says delivered, but no package is sitting on your porch. If that happens to you, you don't have to stress! We can show you how to track your missing package, file a complaint, and request a refund in only a few clicks!
Sign up for DoNotPay to file a complaint and request your refund instantly!
USPS Hasn't Delivered My Package—How Can I Track It?
If you're wondering where your USPS missing package is and why your delivery is late, tracking it can help clarify the confusion. You can track your missing package using several different methods. Check out the table below for the specifics:
Tracking Method
Explanation
USPS website
If you want to track your package online, you have to follow these instructions:

Go to the USPS website
Type in your tracking number
Hit Enter

In case you don't have your tracking number, you should reach out to the shipper and ask them for it

Text message
You can send your tracking number to 28777 (2USPS) and track your package that way
USPS mobile app
Download the official USPS app for Android or iOS and use it to see where your missing package ended up
Phone
To track your package over the phone, you have to:

Call 1-800-222-1811
Explain your request to a rep

Keep in mind that the reps don't have any additional info apart from what they can find on the official USPS website
USPS Tracking Says Delivered but Package Not Received—Can I File a Claim?
The protocol and requirements for filing claims differ depending on the company in question. USPS allows you to file claims for missing or damaged packages, but not for late deliveries. You have to wait to see if the shipper can locate your insured package. Only if they don't manage to locate the package, you'll be able to file a claim for a lost package, and you would have to do so within 60 days from the mailing date.
Can I Request a Refund if My USPS Package Never Arrived?
USPS permits refunds if your items are sent with Priority Mail or Priority Mail Express. The items sent using Priority Mail are considered delayed if they don't reach you in five or more days from the mailing date. For the items sent with Priority Mail Express, you can file a complaint if they're not delivered in more than two days.
If you want to request a refund on your own, you should gather the following documents:
Your photo ID
The tracking number
The purchase receipt
USPS will need the above-listed documents as proof of purchase and may refuse your refund request if you don't submit all of these documents.
There are two ways to request a refund:
Online
In person
Requesting a Refund Online
To request your refund online, you have to access/create a USPS account. Once you sign in to your account, provide all the required info and explain your request in detail.
Requesting a Refund in Person
Visit the nearest USPS location and speak to their representatives about your request. Elaborate on the reasons you want a refund, and follow the additional instructions they provide.
You will likely need to fill out certain forms on the spot.
File a Claim and Request Your Refund With DoNotPay in a Snap!
The never-ending waiting in lines and time-consuming phone calls with customer support will become things of the past once you start using DoNotPay! We developed a feature that helps you file claims and request refunds for late, missing, or damaged parcels in a few minutes! The best part is that we do most of the work!
All you need to do is provide us with the necessary info, and we'll use it to file a claim on your behalf instantly! Here's how to get started:
Select the Late Delivery Refund feature
Pick the courier responsible for your package and answer a few simple questions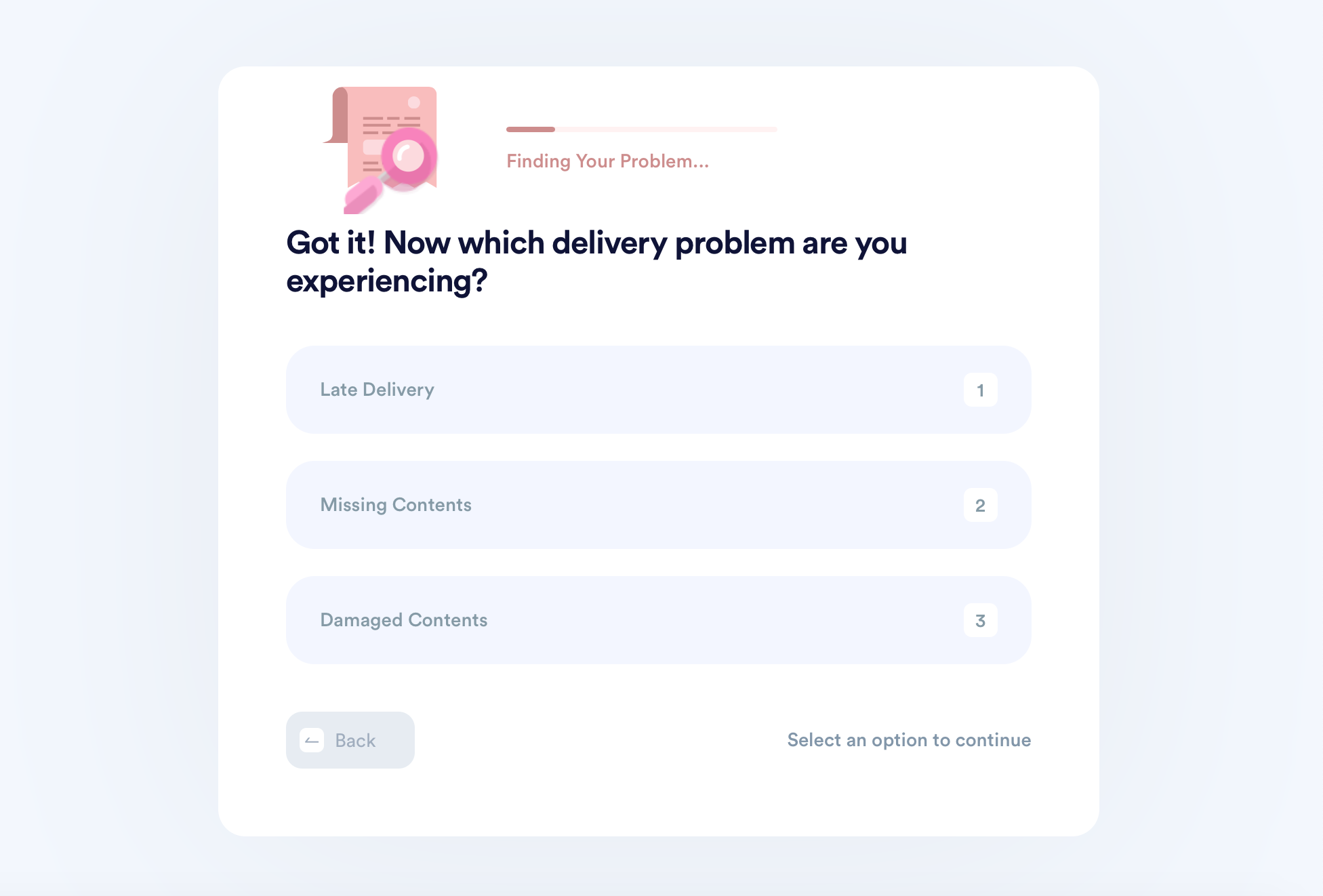 After you complete the steps explained above, DoNotPay will send your claim to the courier's claims department in your stead.
DoNotPay also helps you file insurance claims! If you decide to file a USPS insurance claim, sign up for our app to avoid the hassle and do it in a few clicks!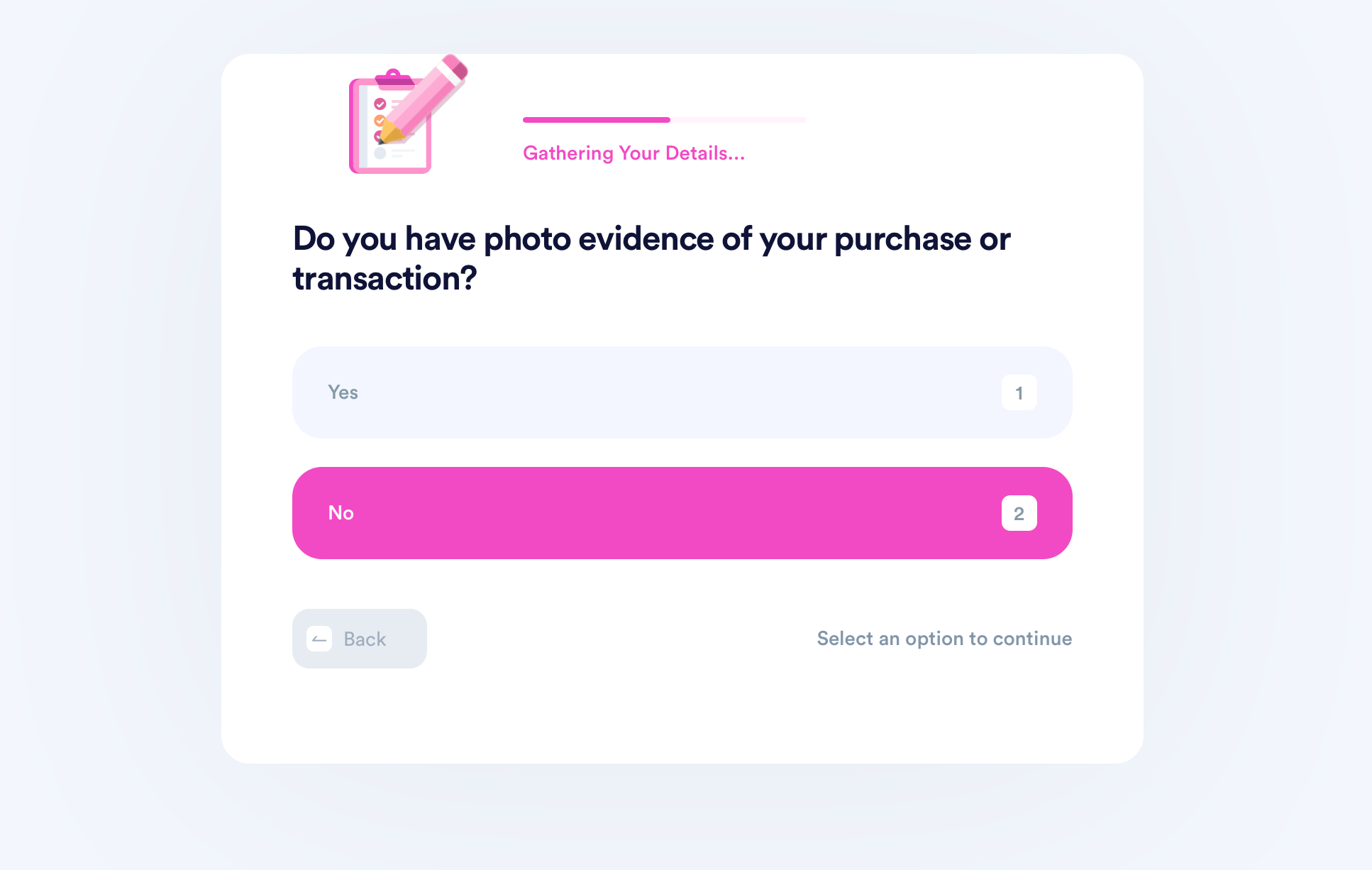 If you have additional concerns regarding missing packages and late deliveries, DoNotPay can help by answering the next questions for you:
DoNotPay Has Your Back Every Step of Your Customer Journey
Helping you apply for a late, damaged, or missed delivery refund is only a fragment of what we can do for you. If you aren't satisfied with the service you've received or an item you've purchased, all you need to do is fire up your DoNotPay app.
We can bypass any company's customer service, draft a refund demand letter, or initiate a chargeback process in your stead. Our app can also digest the company's return policy and help you send the faulty product back. You won't have to lift a finger as our app does everything automatically after you answer several essential questions related to your purchase. If you decide to mail a letter to the company yourself, we'll tell you how you need to draft it to get exactly what you need.
It doesn't matter whether you bought a package for an incarcerated loved one, expected an insured mail delivery, or made a purchase to redeem a gift card but still have a few bucks left on it—we'll help you make the most of the situation. Our app can get your gift card cash back, file an insurance claim, and connect you with the loved one in jail.
How Far Do DoNotPay's Services Go?
Our app can prove handy in a variety of other situations, such as:
Visit our learning center for a full range of our services.