Your USPS Package Didn't Arrive on the Expected Delivery Date? Use DoNotPay and Get a Refund Fast
You ordered an item online, but your USPS package didn't arrive on the expected delivery date? If that's the case, you needn't worry because DoNotPay can help!
We'll break down the tedious process of getting a USPS refund and show you how to get your money back easily with our Late Delivery Refund product. It's simple and fast, and you won't have to deal with customer support or file requests yourself!
Reasons Why Your USPS Package Didn't Arrive on the Delivery Date
Before tackling your late-delivery problem, you should understand why your package is late. Here are some of the common reasons:
Unpredictable weather—Winter storms, heavy rains, and similar weather conditions are the most common reasons for USPS delivery delays. If your area is struck by such conditions, you should check the USPS Mail Service Disruptions website for the latest info regarding weather-related delays
COVID-19—Since the beginning of the global pandemic, there's been an increase in online shopping, so USPS has to deal with an excessive amount of deliveries
Lost package—USPS packages tend to get lost mainly because of the courier's error
Incorrect address—Mistyped addresses are often the reason why USPS delivery is late. To prevent this from happening, double-check your address or use the Package Intercept services
Missed package delivery—Oftentimes, the courier cannot deliver because no one is home. In that case, they will leave the package at the nearest post office and a pickup notice at your location
How To Track Your USPS Package
Tracking your USPS package is the first step to take if your delivery is late because it allows you to see its status and check for updates. You can do so in the following ways:
| | |
| --- | --- |
| Tracking Via | Yes/No |
| Website | Yes |
| Email | Yes |
| Phone | Yes |
| Letter | No |
Tracking Your Package on the USPS Website
To track your package on the USPS website, you'll need to find your tracking number. It's in the confirmation email or on the shipping or sales receipt.
Once you find the tracking number, follow these steps:
Go to the USPS Tracking page
Find the Search or Track Packages box
Enter your tracking number in the search field
Hit Track
How To Track Your USPS Package Without a Tracking Number
If you lost your USPS tracking number, you could track your package by:
Calling 1-800-275-8777 and explaining your issue to USPS customer support. You will have to provide all the details, including the address, phone number, etc.
Emailing USPS customer support via the online form
My USPS Package Was Supposed To Be Delivered Today—Can I Get a Refund?
You could get a refund for a late USPS delivery only if your package was shipped with the Priority Mail or Priority Mail Express service. Your parcel is considered delayed if it doesn't arrive within:
Five or more days since the mail was sent via Priority Mail
One or two days from the sending date in case you used Priority Mail Express
How To Get a Refund for a Late USPS Package
Once you've decided to apply for a refund, you will have 30 days from the date your package was mailed to do so. You can file a claim in the following ways:
E-form—Applying for a refund online requires you to create a USPS account, describe the problem in detail, and add the necessary shipping info
In-person—Requesting a refund in person entails:

Visiting the nearest USPS location (find one with the Locator)
Filling out two copies of Form 3533
Submitting them with your original customer copy of Label 11
Get Your Money Back in a Few Clicks With DoNotPay
DoNotPay turns the process of getting your late delivery refund into a piece of cake! Using our app, you can get your money back without filing unnecessarily long forms or talking to various customer service representatives.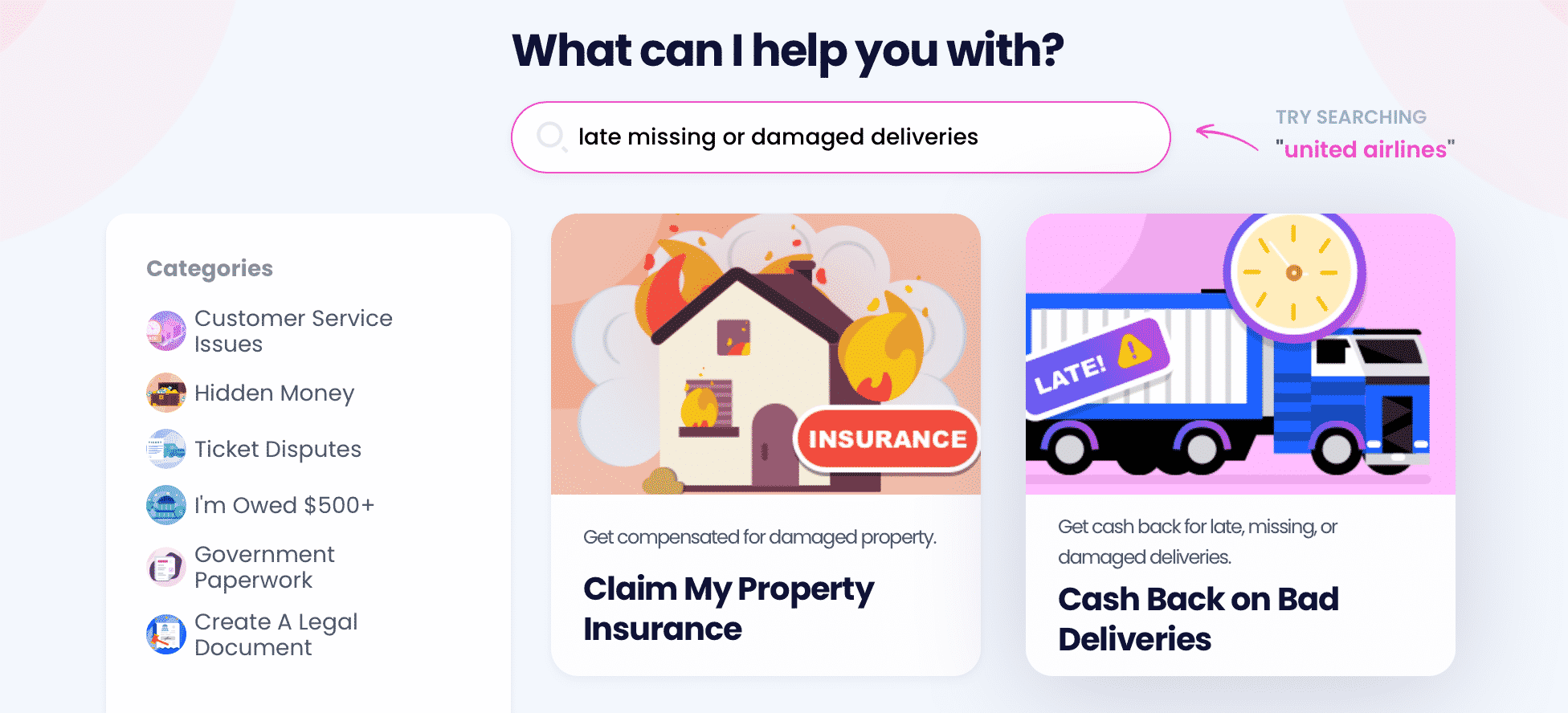 All you have to do is:
Choose the Late Delivery Refund product
Select USPS
Provide shipment details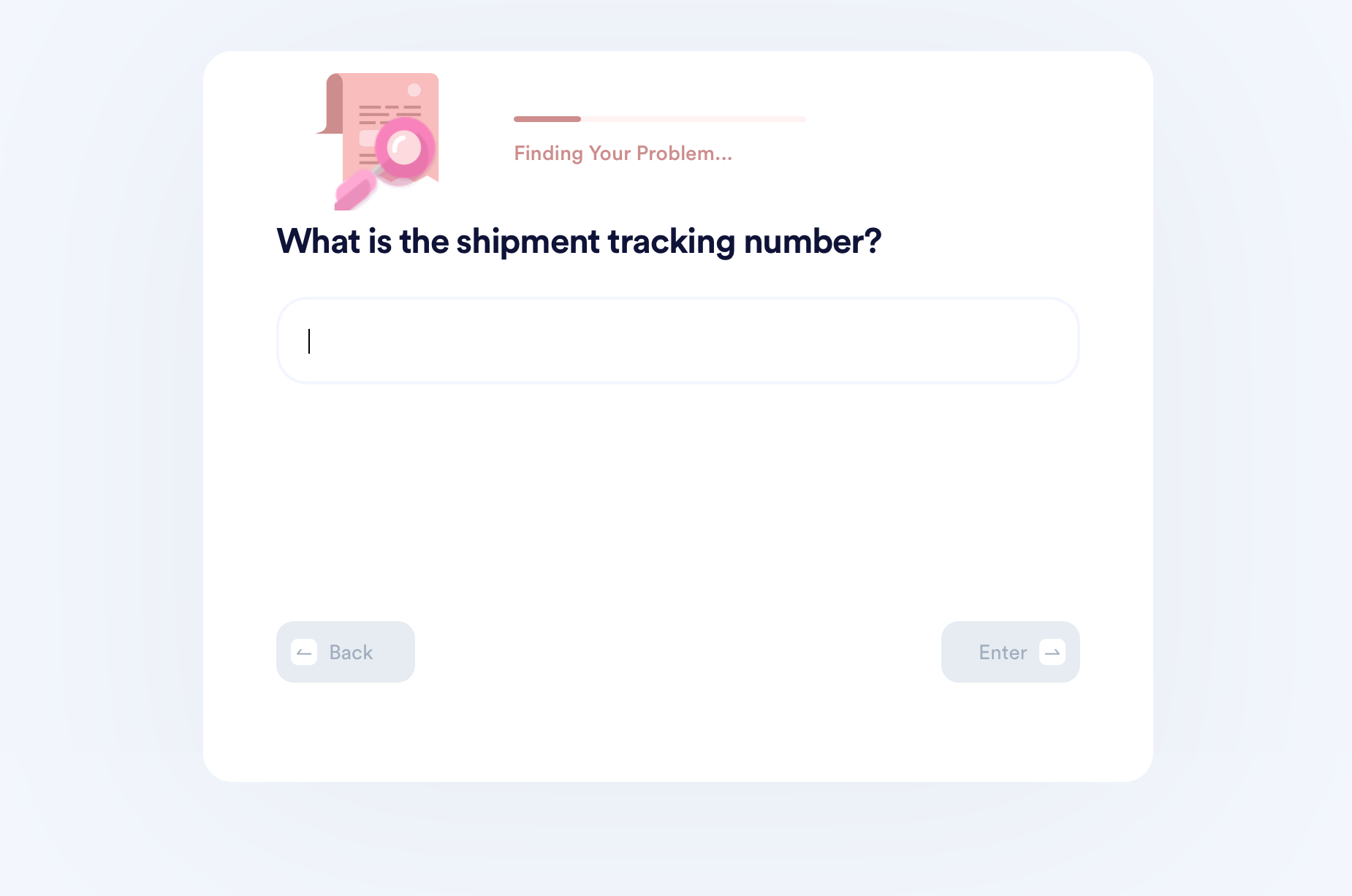 Once you submit all the necessary information, DoNotPay will automatically file a complaint to the courier's claims department in your stead.
DoNotPay Can Help You With Other Delivery-Related Issues
If you ever find yourself having problems with courier services, these comprehensive DoNotPay articles might come in handy:
Sign up now to resolve any issue in a matter of clicks!
How Else Can DoNotPay Be of Assistance?
DoNotPay will help you take care of your item delivery problems and send a delivery refund request in your stead, but we can do so much more along the way. Use our app to find out how you can return an unwanted item to any company or get a refund for any service.
Not only can we clear a path to your rightful refunds, but we can get you the cash that's left on your gift card balance and secure any compensation you deserve. Use our app to get compensation for:
How To Use DoNotPay the Right Way
Many companies start spamming you with unwanted correspondence as soon as you start using their products or services, but our app can put a stop to that. If you use DoNotPay's Burner Phone and Virtual Credit Card products, you'll never have to supply your real info to random companies again. We'll make sure that you can subscribe to any free trial risk-free or cancel a service you don't use in a matter of minutes!
We'll also help you do boring tasks quicker or take care of them entirely on your behalf. Use our app to draft documents and contracts, get them notarized, or send them using an online fax functionality of our app. We'll schedule a DMV appointment for you, help you get access to public records, or find out what property tax exemptions you qualify for and how to apply in record time.