The Crucial Info About the University of Washington Financial Aid
Getting into your dream university can prove challenging when faced with the enormous cost of tuition and other expenses. Don't despair! With our help, you won't have to spend a huge amount of money! If you want to apply for the University of Washington, you should learn all about how you can make it more affordable. We're here to break down what you need to know about the University of Washington financial aid and guide you through the application process.
and appeal a rejected or low financial aid offer if necessary!
What Are the Available UW Seattle Financial Aid Types?
When it comes to financial aid types, you can choose from more than one. The University of Washington offers a variety of financial aid types, including:
Scholarships
Grants
Work-study
Student loans
Childcare Assistance Program
Veterans benefits
Financial Aid Type
Programs
Scholarships

Academic Scholarships
UW Undergraduate Academic Excellence Awards
The Purple and Gold Scholarship

Grants

Federal Pell Grants
Federal Supplemental Grants
Tuition Exemption and University Grants
Tuition Reduction for Children and Surviving Spouses of Law Enforcement Officers, Firefighters, and Highway Workers
Washington College Grants
Teacher Education Assistance for College and Higher Education (TEACH) Grant Program

Work-Study

The federal and state Work-Study programs

Student loans

Federal Direct Subsidized Stafford Loans and Nursing Student Loans
Unsubsidized Stafford/Ford Loans and Federal Direct Graduate PLUS (GPLUS) Loans
Federal Direct Parent Loan for Undergraduate Students (PLUS)
Unsubsidized Stafford/Ford Loans and Federal Direct Graduate PLUS (GPLUS) Loans
Private Loans
Parent Loans
Short-term Loans
Applying for University of Washington Financial Aid
If you aren't certain when to apply for financial aid, it's best to do it when applying for admission. That way, you'll have enough time to file an appeal in case the university makes a low financial aid offer.
To apply for the University of Washington financial aid, you will first need to complete either the Free Application for Federal Student Aid (FAFSA) or the Washington Application for State Financial Aid (WASFA), depending on the program.
Once you send your application, you will get an email to access Student Aid Report (SAR) info. In case you failed to provide an email address, you will receive SAR in paper form. If you find any errors, make sure to correct them and send back the corrected version.
Who Is Eligible for University of Washington Financial Aid?
Not everyone is eligible for every financial aid type. You have to meet certain criteria to apply for the University of Washington financial aid. You must:
Be a U.S. citizen, permanent resident, or eligible noncitizen
Provide financial information
Be making academic progress toward a degree (depending on the specific year of studies)
Not have loans in excess of the aid programs aggregate limits
Register with the Selective Service (if required)
Not be disqualified because of a drug-related offense while you were enrolled and getting federal student aid
Be admitted to the school in an approved degree or certificate program
If you need additional info about the eligibility criteria, you can visit the University of Washington's official website or contact its representatives.
How To Contact the University of Washington Financial Aid Office
If you want to reach out to a customer support agent and inquire about your financial aid application, you can do so by choosing one of the following methods:
Online form—Complete the required form on the official University of Washington website
Mail—If you want to inquire about your financial aid application via mail, you can do so by mailing your letter to the following address: Office of Student Financial Aid, University of Washington, Box 355880, Seattle, WA 98195-5880
In person—You can also visit the University of Washington financial aid office in person and ask an employee to provide you with info about your application. Visit this location to do so: 105 Schmitz, 1410 NE Campus Parkway, Seattle, WA 98195-5880
DoNotPay Helps You Appeal a Low University of Washington Financial Aid Offer
If the University of Washington rejects your financial aid application or the financial aid sum it offers is too low, use DoNotPay to appeal the decision with ease! You don't even have to waste time composing an appeal letter on your own! With our neat feature, you can relax and let us do most of the work! All that's needed on your part is to complete a few steps:
Select the Appeal for More Financial Aid feature
Provide us with info about the college you're planning on attending and your financial situation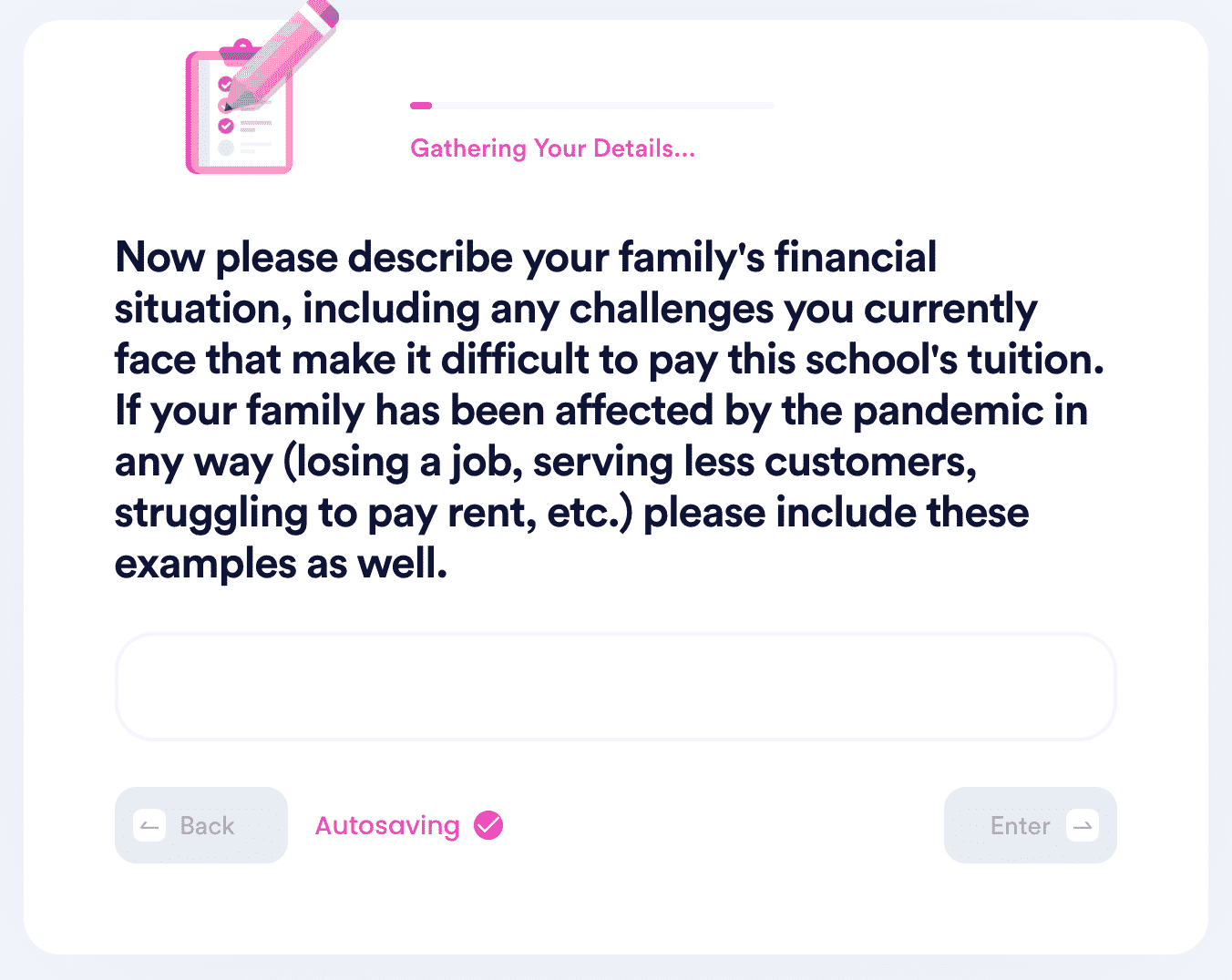 DoNotPay will create your appeal letter right away, but that's not all! We'll also mail it to the financial aid office of the university or graduate school you want.
If you're not satisfied with the financial aid the University of Washington has to offer, don't worry! You can consult the table below to learn how to get more financial aid from other universities:
Tackling Administrative Issues Has Never Been Easier
DoNotPay was created to help you deal with burdensome everyday tasks you would rather skip. The features we offer will make sure you can:
Dealing With Legal or Security Issues? DoNotPay Will Make Them Go Away
Has a company refused to issue a refund you are entitled to? Sue it in small claims court and get your money back with the help of the world's first robot lawyer! You can also turn to us if you want to protect your work from copyright violation, prevent stalking or harassment, or get virtual credit cards to avoid disclosing your credit card info.
Besides assisting you in seeking justice and security, DoNotPay can help you arrange DMV appointments, contest parking tickets, prepare divorce settlement agreements, and compose various legal documents.