The Essential Info About Applying for Duke Financial Aid
Duke University, established in 1838, is one of the most popular universities in the U.S. Enrolling at this private research university can cost you around $58,031. If you're looking for a way to avoid this whopping amount, we're happy to show you how! By applying for Duke financial aid, you can make your education less expensive.
In case your financial aid application gets rejected, register to DoNotPay and appeal the decision in minutes!
Duke University—Financial Aid Types
Before applying for aid, you should get informed and learn all there is to know about the different types of financial aid available.
There are several financial aid types Duke University offers to both undergraduate and graduate students. Consult the list below for more details:
Grants
Loans
Scholarships
Work-Study programs
Financial Aid Type
How It Works
Programs
Grants
You can borrow money to cover the expenses of your studies without having to repay it later. The money you borrow is either federal, institutional, or state-funded support

Federal Grants
Pell grants
Other federal grants

Loans
Loans are the money you borrow but have to repay after a certain period of time

Student loan aid
Federal student loans
Other student loans

Scholarships
Duke University awards scholarships to:

Students who make a satisfactory academic progress
Students in financial need who are eligible

State/local government scholarships
Institutional scholarships

Work-Study
Work-Study programs allow students who apply to work part-time jobs while studying. That way, they can use the money they earn to pay the college expenses
Duke University determines the amount of a student loan based on students' family income. Check out the table below for the specifics:
| Income | Loan Amount |
| --- | --- |
| $40,001 & $55,000 | $2,000 |
| $55,001 & $70,000 | $3,000 |
| $70,001 & $85,000 | $4,000 |
| Over $85,001 | $5,000 |
Duke Financial Aid Eligibility Criteria
To be eligible for Duke financial aid, students have to meet certain general eligibility criteria, such as:
Being a U.S. citizen or an eligible non-citizen
Making satisfactory academic progress toward their degree
Enrolling in classes each semester
There is a specific number of courses students have to complete to keep receiving financial aid. Undergraduates have to complete a minimum of three courses per term to stay eligible for university scholarships. To stay qualified for federal aid, Federal Work-Study, and Federal Direct loans, students have to enroll in at least two-course units. As for The Federal Pell Grant program, students will have to complete three courses to receive a full-time grant.
How To Apply for Duke University Financial Aid
Both undergraduate and graduate students have to fill out and submit the Free Application for Federal Student Aid (FAFSA) to apply for aid. Duke University will use the application to see student's financial circumstances and decide who is eligible for financial aid and how much aid a student should receive.
Undergraduate students are also required to submit the following when applying for financial aid:
Tax and other financial info
Depending on the financial aid type you want to apply for, you may need to provide additional paperwork. For the most accurate info, visit the Duke University official website and look for the details you need. While you're there, you can also check when to apply for financial aid and how long you can keep getting aid, depending on the program you choose.
How Can I Contact the Duke University Financial Aid Office?
If you have any questions about financial aid or your application, you can contact the Duke financial aid office in one of several ways. Reach out to Duke financial aid office via:
Phone by dialing (919) 684-6225
Mail by sending a letter to the following address: The Karsh Office of Undergraduate Financial Support, Box 90397, Durham, North Carolina 27708
Fax by composing and sending a fax to (919) 660-9811
Email at finaid@duke.edu
Learn How To Appeal a Rejected Duke Financial Aid Application With DoNotPay
Wondering what to do if Duke University offers you an insufficient financial aid sum or rejects your application? We provide the answer!
With our nifty app, you can appeal the decision in a few quick steps! We'll even compose a financial aid appeal letter in your stead to save you the trouble of doing it yourself! The process is also streamlined to a tee—complete the following instructions to get started:
Choose the Appeal for More Financial Aid feature
Provide the necessary info about the college you want to enroll at and your family's financial situation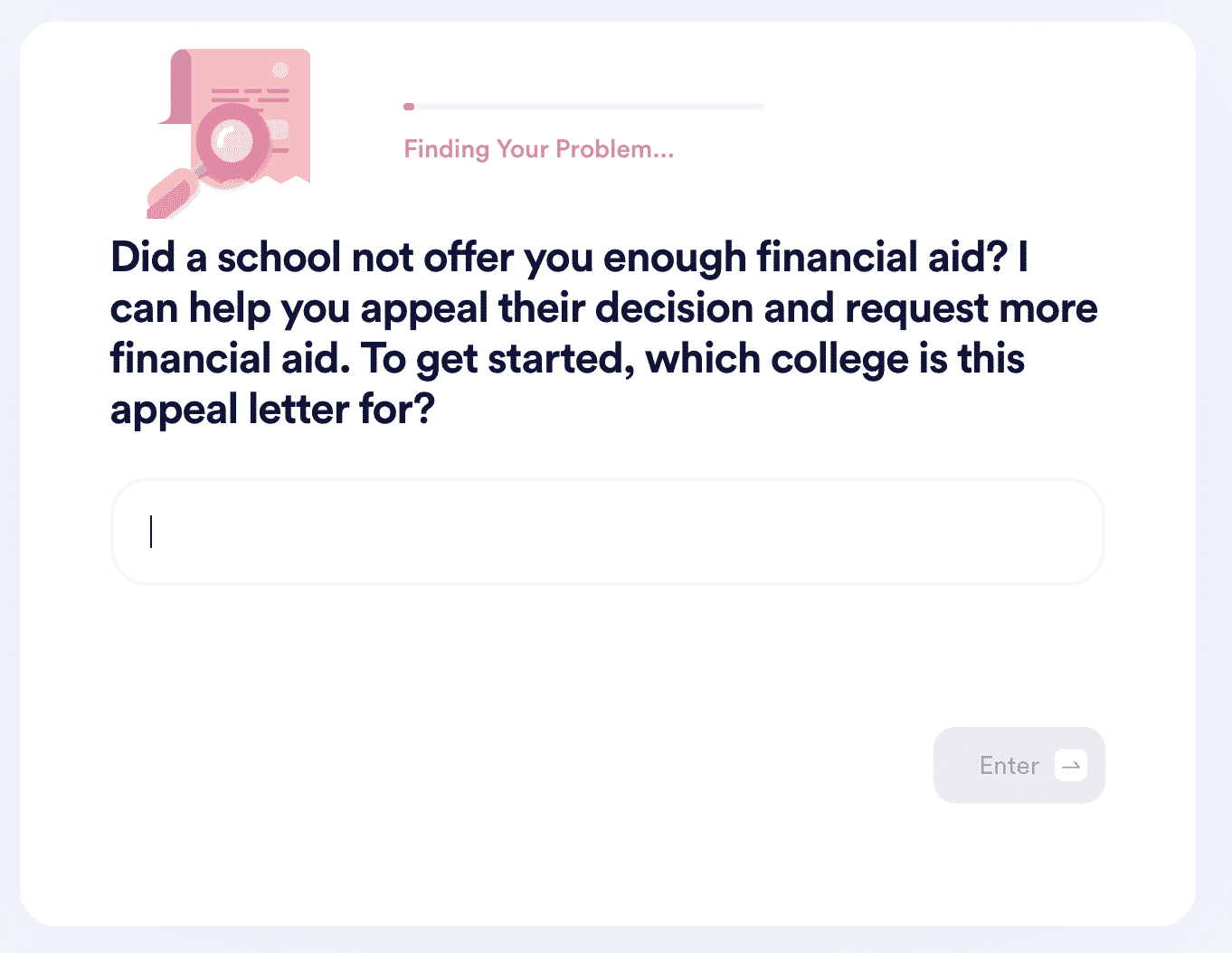 We'll create your appeal letter promptly and send it to Duke University financial aid office right away!
If you aren't happy with the amount offered by Duke, or you want to check out what other schools have to offer, we can help! DoNotPay provides you with simplified guides to how to get more support money from the following schools:
Explore DoNotPay's Vast Database To Handle Administrative Issues Head-On
Dealing with administrative issues is never a fun experience, but you can save yourself from unnecessary hassle with our app! Once you sign up for DoNotPay, there is little you can't do. Aside from helping you deal with everyday tasks, such as reaching customer services, you can also use our app to:
Make Your Legal Troubles Disappear
Is a company giving you a hard time? Don't fret! DoNotPay can walk you through the process of suing it in small claims court and help you get the justice you deserve!
The best part is that assisting you take companies to court isn't all our app can do! We can also help you with: