The Ins and Outs of the University of Pennsylvania Financial Aid Program
University of Pennsylvania (Penn) was established in 1740, and it is America's first university. Attending this Ivy League school located in Philadelphia, Pennsylvania, is a dream come true for many ambitious students. If you are one of them, sky-high tuition may be a reason to give up on your dream. What you should know is that Penn offers plenty of financing options to help you pay for your education.
Check out this easy-to-read guide and find out everything you need to know about the University of Pennsylvania financial aid program—including how many years you can receive financial aid.
If you've already applied for aid but got a disappointing offer, and let us help you appeal the University's decision.
What Types of Financial Aid Can You Apply for at the University of Pennsylvania?
The University of Pennsylvania offers five basic types of financial aid to its students, and those are:
Grants and Scholarships
Student and Parent Loans
Work-Study
Summer Funding
Emergency Funding
Grants and Scholarships
As an undergraduate student, you can apply for the programs listed in the table below:
Type of Aid
Individual Programs
Grants

Penn Grant
State Grant
Federal Supplemental Educational Opportunity Grant (SEOG)
Federal Pell Grant

Scholarships

Named Scholarship
Mayor's Scholarship
Maguire Scholarship
Outside Scholarships
Keep in mind that Penn undergraduate aid is completely need-based—the University does not award scholarships based on athletic or academic achievement.
When it comes to graduate students, each of the twelve graduate and professional schools at the University of Pennsylvania administers its own financial aid program. Some schools award grants based on demonstrated need, while others award them based on academic or professional achievement.
Student and Parent Loans
Both undergraduate and graduate students can apply for loan programs to finance their education. Some of these programs are based on need, and others are based on a credit check.
Check out for which loans you can apply as an undergraduate or graduate student:
Undergraduate Students
Graduate Students

Federal Direct Loan
Federal Direct PLUS Loan
Nursing Student Loan
Student Aid Loan
Private Alternative Loans

Federal Direct Loan
Federal Direct Grad PLUS Loan
Health Professions Student Loan
Private Alternative Loans
Bear in mind that loans are a primary source of financial aid for graduate students.
Work-Study
While Federal Work-Study is available only for U.S. citizens and permanent residents, the Penn Work-Study program is available for other students who may not qualify for federal funds.
Students taking part in work-study programs can work either on- or off-campus. The income they earn helps them pay for indirect costs of attendance (travel, personal expenses, and course materials).
Summer Funding
To qualify for federal aid during the summer, you must be enrolled at least half-time. If you want to attend a summer course, you should fill out the application available on the Financial Aid Forms page. You can also apply for a summer internship at a variety of offices across campus.
Emergency Funding
If you have a financial emergency that affects your ability to pay for your studies, notify Student Financial Services about it as soon as possible. You may be able to request a reevaluation or even receive an emergency loan or grant.
How To Qualify for Financial Aid
To qualify for federal funds, you must:
Complete a FAFSA application
Maintain satisfactory academic progress
Not owe a refund on a Federal Supplemental Educational Opportunity Grant (FSEOG) or Federal Pell Grant
Not be in default on any federal loan
Note that International students are not eligible for federal funding.
To be eligible for institutional aid, you must:
Complete a CSS Profile
Complete the Penn Financial Aid Supplement (PFAS)
Submit the federal income tax return information
How To Apply for the University of Pennsylvania Financial Aid
Both undergraduate and graduate programs have their own requirements for completing a financial aid application.
Undergraduate students are divided into three groups:
Prospective students

U.S. Citizens and permanent residents
Canadian students
International students
Undocumented U.S. residents/DACA recipients
Accelerated Nursing Program students

Current students

U.S. Citizens and permanent residents
Canadian students
International students

LPS students

Degree candidates
Non-degree students
To find out what the application procedure looks like for each of the three groups and their subgroups, visit the Applying for Financial Aid page.
To apply for financial aid, graduate students need to check out the rules for the school they attend:
Annenberg School for Communication
College of Liberal and Professional Studies (LPS)
Graduate School of Education
Law School
Perelman School of Medicine - MD Program
Medical Master's and Certificate Programs
School of Arts and Sciences
School of Dental Medicine
School of Engineering and Applied Science
School of Nursing
School of Social Policy & Practice
School of Veterinary Medicine
Weitzman School of Design
Wharton School
The Awarded Amount Is Too Small—What Now?
If Penn awarded you a ridiculously small amount of money or even declined your request for aid, don't give up straight away. You have the right to ask for more aid!
Avoid wasting your time on the tedious task of writing an appeal letter, and let DoNotPay do it for you in minutes!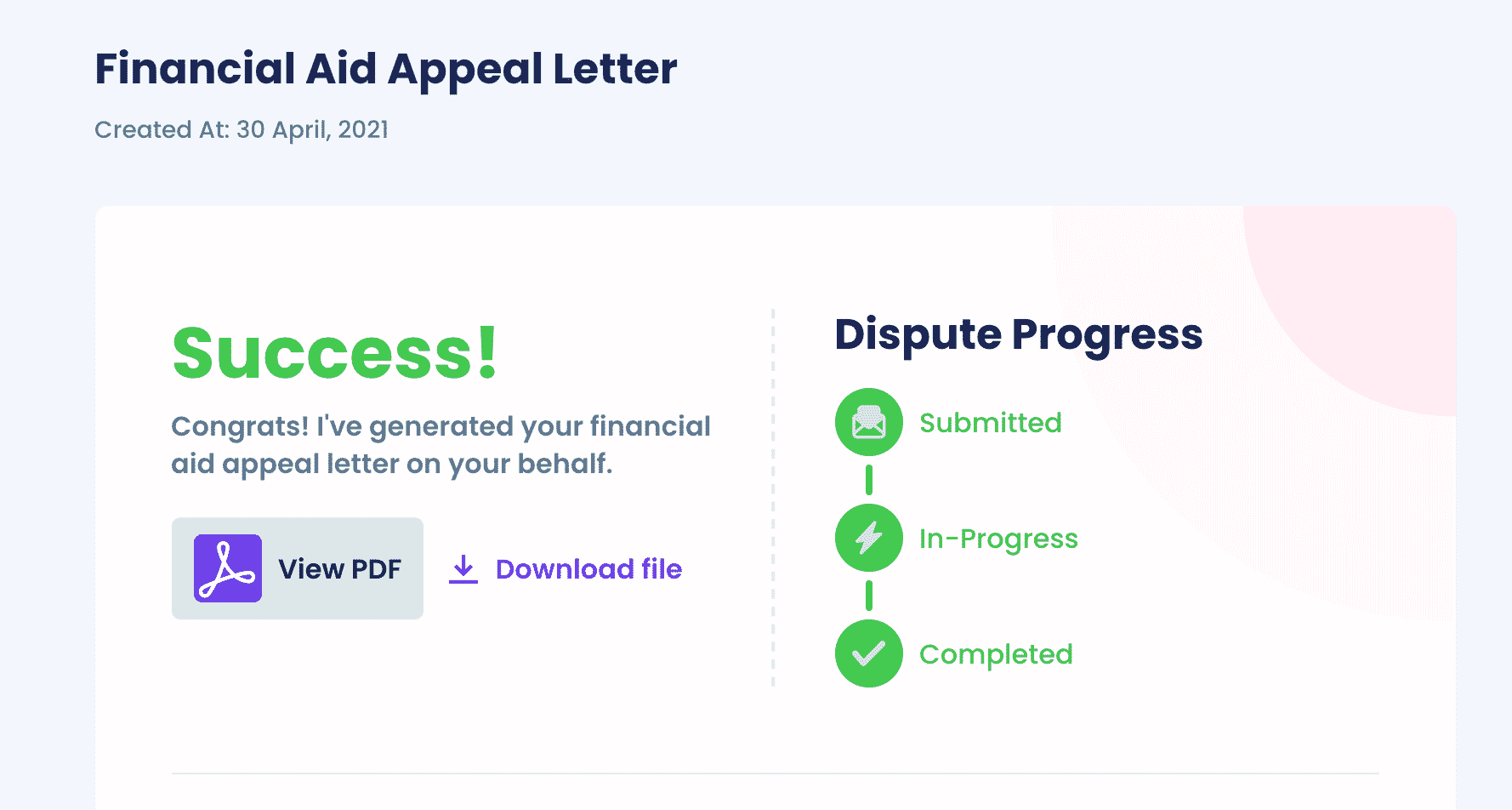 All that's left for you to do is complete these three simple steps:
Choose the Appeal for More Financial Aid product
Answer a few questions from our chatbot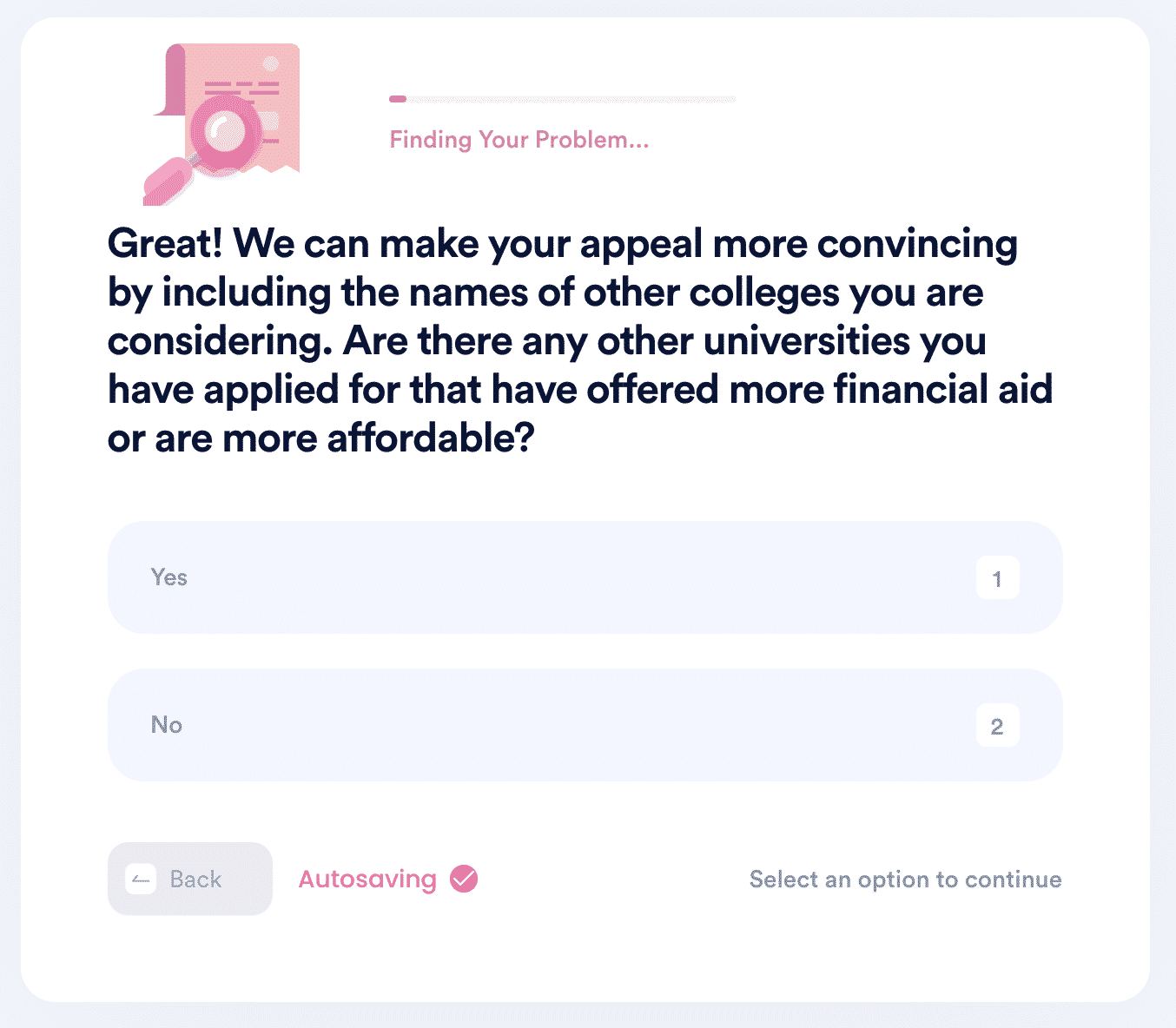 Once you've provided us with all the important information regarding your application, we will generate a personalized financial aid appeal and send it to the University of Pennsylvania Financial Aid Office.
Are you interested in multiple colleges? Check out their financial aid programs!
We have prepared numerous guides that provide you with important information, such as when to apply for financial aid and how much aid you can get at a variety of universities and grad schools, such as the ones below:
DoNotPay's Vast Collection of Features Keeps Expanding
Determined to simplify bureaucratic procedures and help you with various daunting items on your to-do list, we created DoNotPay—the world's first robot lawyer! With us, you can:
Streamline Different Tasks by Using DoNotPay's Practical Features
Are you looking for an efficient way to gain back your unclaimed money or get a refund from a company? Do it with DoNotPay without lifting a finger! Our app provides excellent money-saving features that will increase your budget and make all unnecessary expenses disappear.
We can assist you in terminating unwanted subscriptions, recovering your unused gift card funds, reducing your bills, and requesting late delivery refunds. You don't even need to hire lawyers to write a financial aid appeal letter, an HR complaint, or a child travel consent form in your stead—our app can do all this!