How To Use DoNotPay To Land University of Miami Scholarships
Around 17,000 students attend the University of Miami (UM) as this institution offers almost 350 different educational programs. Those numbers sound great, but what puts a bad light on the University is that the cost of attendance can be as high as $79,000 per year, not to mention other education-related expenses like application fees.
The majority of students struggle to keep up with these financial demands, so they seek some type of financial aid. DoNotPay is here to help you with University of Miami scholarships and grants by showing you:
What types of scholarships exist
How to use DoNotPay to secure a scholarship in a couple of minutes
Types of University of Miami Scholarships
Miami University students can look forward to two types of scholarships:
Need-based grants and loans
Merit-based scholarships
Need-Based University of Miami Scholarships
Need-based programs focus on financially challenged students who don't have the necessary requirements to compete for merit-based programs.
To be eligible for need-based programs, students need to prove the need for financial aid. They can do so by filling out the Free Application for Federal Student Aid (FAFSA) form. Students become eligible if the Estimated Family Contribution (EFC) and any other rewards (if the student receives them) are below the required minimum determined by the scholarship program.
In that case, they can receive financial help that covers some of their tuition fees. Depending on the type of aid, students may or may not have to return it in the future.
Merit-Based University of Miami Scholarships
Merit-based scholarships are more popular among students because they offer better awards, some of which cover the full cost of attendance at UM.
They are more difficult to obtain as most of them are competitive, and students need to show a high level of academic excellence. In most cases, even if someone fulfills the minimum requirements, it's unlikely they will receive the award as other applicants will probably have better scores.
Scholarships' commissions look at various aspects to judge one's excellence, including:
GPA levels
SAT and ACT scores

Essays

Volunteer work
Involvement in projects
Optimizing Your Search for University of Miami Scholarships
Miami University scholarships are hard to come by, not because there are too few of them, but because the research process is time-consuming and complicated. Students have to scour the Internet to find information about various programs, and they miss out on many scholarships they qualify for. To ensure this doesn't happen to you, you should look to some of these options:
Your school's financial aid office
University of Miami website
DoNotPay
Your School's Financial Aid Office
Most schools—including UM—have financial aid offices students can turn to. When you go there, you can ask for guidance about which scholarships you can apply for based on your academic performance. They can help you prepare for the application process and give you an idea of which programs you can realistically secure.
This isn't strictly restricted to college students. High school seniors who have intentions to enroll at the University of Miami can talk to their high school's financial aid guidance counselor.
University of Miami Website
The UM website has a page with a list of scholarship programs for undergraduate, graduate, and doctoral students with which they are partnered. These programs are dedicated to UM students exclusively. The University splits programs into three categories, as follows:
First-year students

Transfer students
There is also a section called "Other scholarships" in which the University presents athletic, music, and National Merit scholarships, as well as sources for scholarships not offered by the University.
Here's a table with information about scholarships for the University of Miami to see what requirements they set:
Scholarship Name
Application Requirements
Award Amount
George W. Jenkins Scholarship

U.S. citizen
Resident of:

Alabama
Florida
Georgia
South Carolina
North Carolina
Tennessee
Virginia

Minimum GPA of 3.75
History of overcoming adversity

The full cost of attendance
President's Scholarship

At least 12 credit hours in each semester
Minimum GPA of 3.0
$70 nonrefundable application fee
250-word essay
Submitted FAFSA
One letter of recommendation
College transcripts

$28,000
Transfer Academic Scholarship

Minimum GPA of 3.5
At least 12 credit hours in each semester
$70 nonrefundable application fee
250-word essay
College transcripts

$15,000
Marta S. and L. Austin Weeks Endowed Scholarship

U.S. citizen
Resident of:

Alabama
Florida
Georgia
South Carolina
North Carolina
Tennessee
Virginia

Minimum GPA of 3.0
$70 nonrefundable application fee
250-word essay
Submitted FAFSA
One letter of recommendation
College transcripts

The full cost of tuition
DoNotPay
Our goal is to help you avoid the process of searching aimlessly around the Internet for financial aid programs. With , you can get a personalized list of all University of Miami scholarships you're eligible for within minutes!
We can help you find programs that come from private funds and companies. They offer scholarships for various fields of study—be it engineering, creative writing, or teaching—and focus on specific groups of students, including:
By using DoNotPay, you can find awards that are not mentioned on the UM website.
What You Need To Apply for University of Miami Scholarships
The answer depends on the program you're applying for. Scholarships ask for different paperwork and have different requirements. To make sure you apply the right way, you always have to:
Make sure you're eligible
Respect the deadlines
Attach all the necessary documents, including essays, cover letters, resumes, transcripts, etc.
Obtaining a University of Miami Scholarship With DoNotPay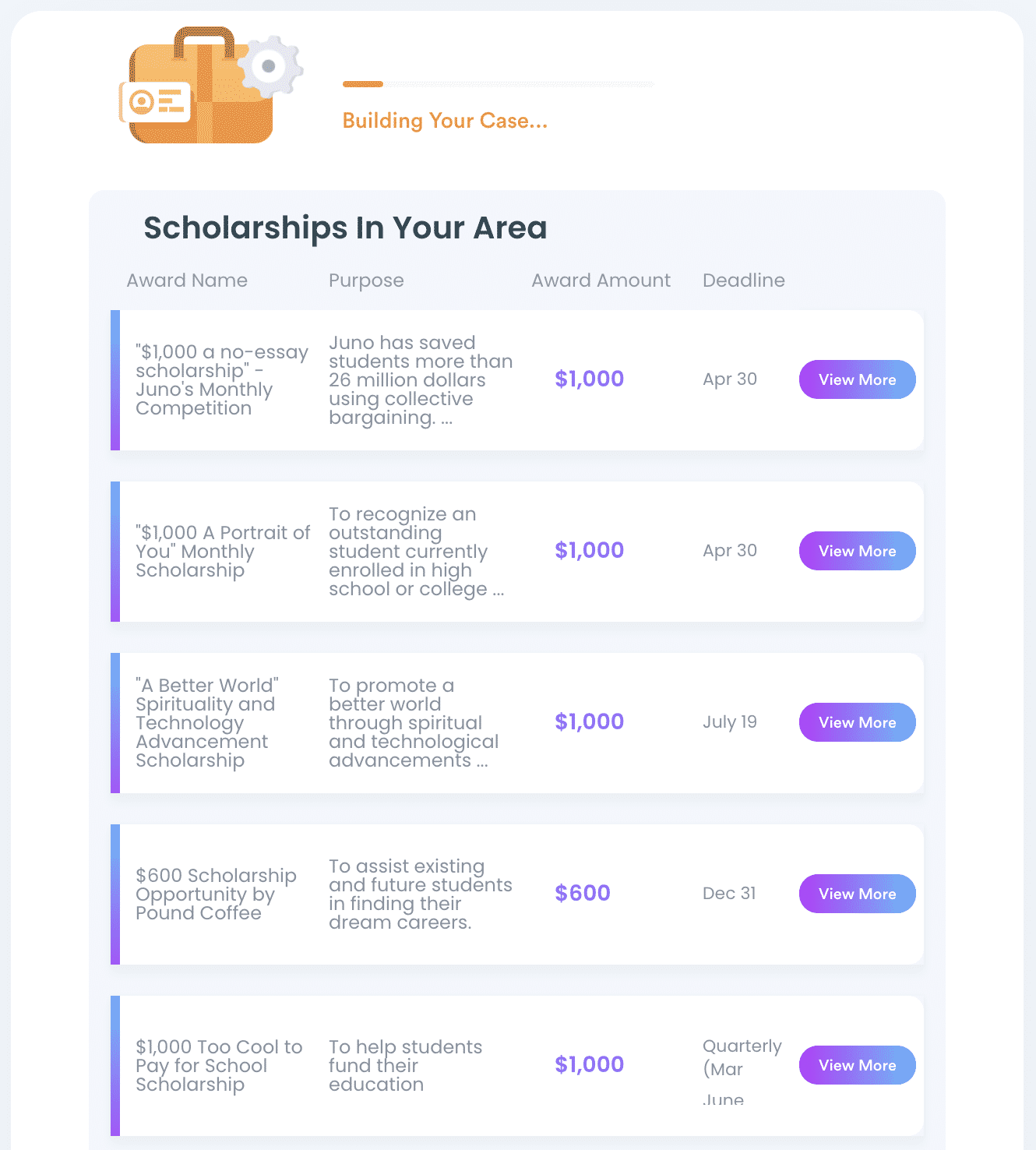 Your best bet for securing a scholarship is to learn about all the various programs that suit you. That's not an easy job unless you use DoNotPay. In under five minutes, you can get a list of all programs that accept students of your profile, and you can apply for no-essay scholarships within the app by letting us do it on your behalf.
All you need to do is complete the following three steps:
Use your browser to
Select the Apply for Scholarships feature
Answer a few questions about your academic performance and level of study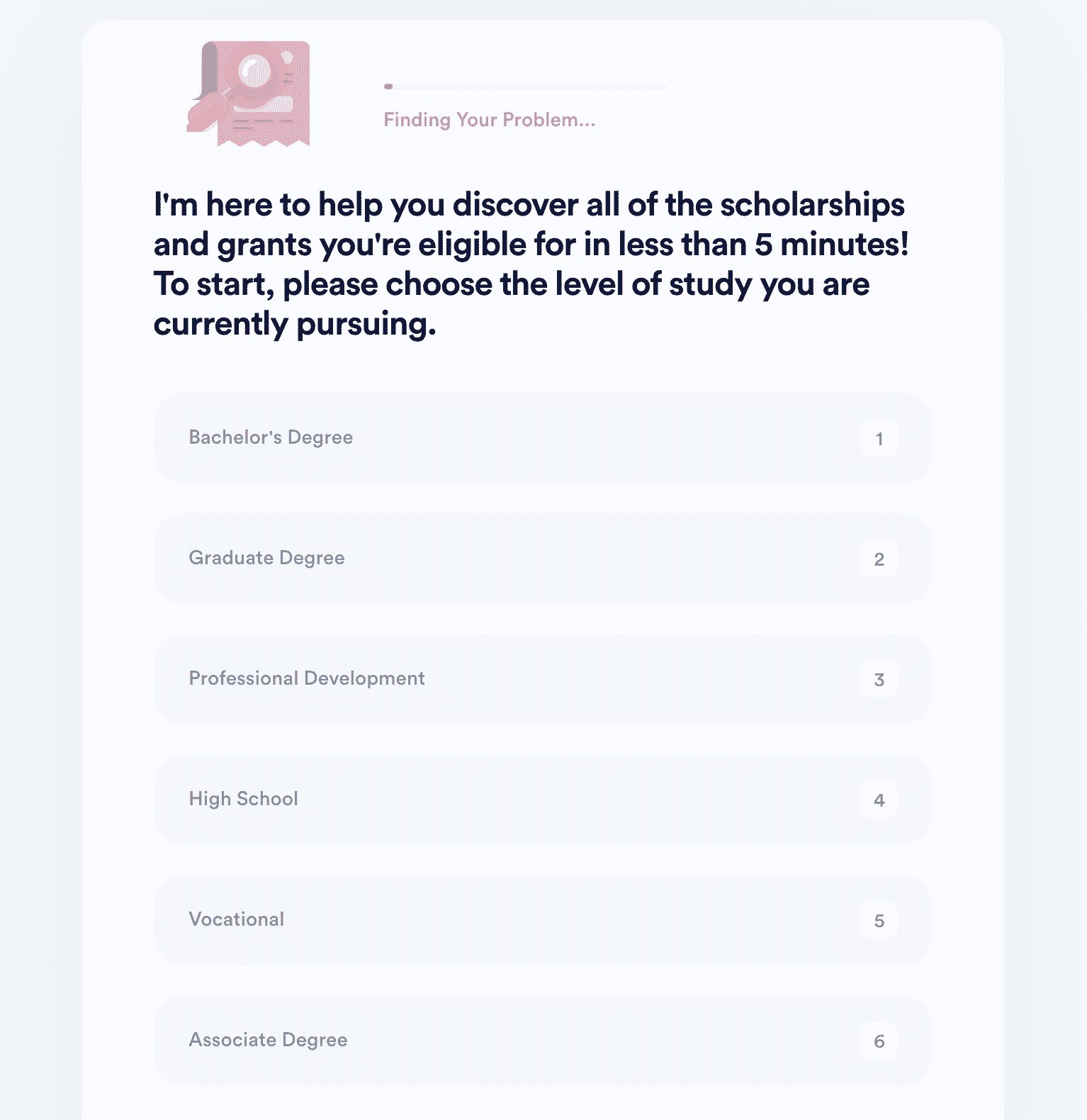 Managing Everyday Tasks With DoNotPay Is a Breeze
Completing mundane tasks doesn't have to be a nightmare! With our help, you can relax and finish them in a few taps! All you need to do is register for DoNotPay and let us help you with:
Have Your Documents Drafted and Notarized With Our Help!
If you need to draft a legal document, such as a divorce settlement agreement, power of attorney, or a child consent form, hiring a lawyer to assist you is probably the first thing that comes to mind. What if we told you that spending hundreds of dollars on services is unnecessary? Not only can DoNotPay draft contracts and agreements in a few minutes, but it is also your most affordable and effortless option!
The benefits our app provides don't stop there! After we generate your document, we'll connect you with a remote notary and show you how to get it notarized online without leaving the comfort of your home! You can even fax the document online and skip dealing with outdated fax machines.