Get the Facts on University of Miami Financial Aid
Attending the University of Miami (UM) is a dream come true for many students. Luckily, this private research institution offers generous financial aid to students who struggle to afford an education.
Do you want to know all relevant information regarding University of Miami financial aid—including deadlines, eligibility requirements, and available types? DoNotPay will fill you in on all the details and assist you in getting all the aid you need to afford this and any other college!
Choose a Type of Financial Aid at the University of Miami
The University of Miami offers different types of financial aid to its potential students, mainly in the form of:
Scholarships
Grants
Loans
Financial aid at UM is divided into six sections, and those are:
Donor scholarships—Students with financial difficulties can apply for one of these gift donor awards. Eligibility standards differ depending on the scholarship but typically require you to:

Be a full-time student at the UM
Demonstrate financial need
Maintain an appropriate academic achievement
Complete the necessary eligibility forms, including a Free Application for Federal Student Aid (FAFSA) and a CSS Profile

Incoming student scholarships—They are typically merit-based awards. Students who apply to UM are automatically considered for these scholarships (no separate application is needed)
Additional scholarships—You can get an athletic, music, or national merit scholarship if you're a first-year or transfer student
Florida Aid Programs—They consist of state-funded grants and scholarships that can be both merit and need-based. Eligibility requirements vary depending on the type of aid you're applying to
Loans—UM offers students the possibility to borrow money from federal or private sources that they have to repay:

With interest
Within a specific time limit after graduation

Veterans Yellow Ribbon Programs—University of Miami offers Yellow Ribbon Grants for the upcoming academic year to its qualified:

Undergraduates
Law and medical students
Apply for Financial Aid at UM Easily
Particular steps of the application process at UM differ depending on the type of student you are. The general procedure requires you to:
Complete the FAFSA form—Don't forget to enter the school code (5815) in the required field. If you're a dependent student, your parents should fill out specific sections of the form
Fill out the CSS Profile—Enter the following school code (001536) and make sure all data in the form is correct
Provide the required paperwork to your College Board's IDOC service—This mainly refers to tax documents from two years prior to the academic year you're applying for and include:

W2 papers
Federal tax returns
Copy of corporate tax returns (if you or your parents submitted an IRS 1065, 1120, or 1120S corporate tax return)
K-1 documents and all statements
Note that you have to fill out eligibility forms every year you want to receive financial aid, but no later than February 1.
University of Miami Financial Aid Deadline
Currently applicable due dates for prospective and transfer students are the following:
Prospective Students
Spring 2022 transfers
November 1, 2021
Transfer Students
Fall 2022 transfers
April 15, 2022
Spring 2023 transfers
November 1, 2022
If you want to know the early or regular decision deadlines for the 2022–2023 academic year, you should check the University of Miami financial aid web page regularly.
Note that you can apply for financial aid at UM even if you miss the deadline, but with a significant disadvantage.
The University of Miami Financial Aid Office Has Denied My Request! Now What?
Unfortunately, some students might not get the desired aid or are awarded a smaller amount than expected. Luckily, you can appeal the college's decision, especially if:
Your financial situation has changed since you last applied for aid
You made a mistake on your eligibility form that may have influenced the outcome
A backup college offered you higher aid, and you want UM to match its offer
All you have to do is write a persuasive appeal letter, asking the university to reconsider. If you don't feel up for the task, we offer an easier way. Register for DoNotPay, and we will draw up the letter for you in a matter of minutes!
DoNotPay Is a Sure Way to Getting Financial Aid
Most students with financial difficulties apply for a grant, a non-repayable form of financial aid. If your first try at getting a suitable award has failed, you shouldn't risk getting rejected again. DoNotPay can generate a letter that any college will take seriously!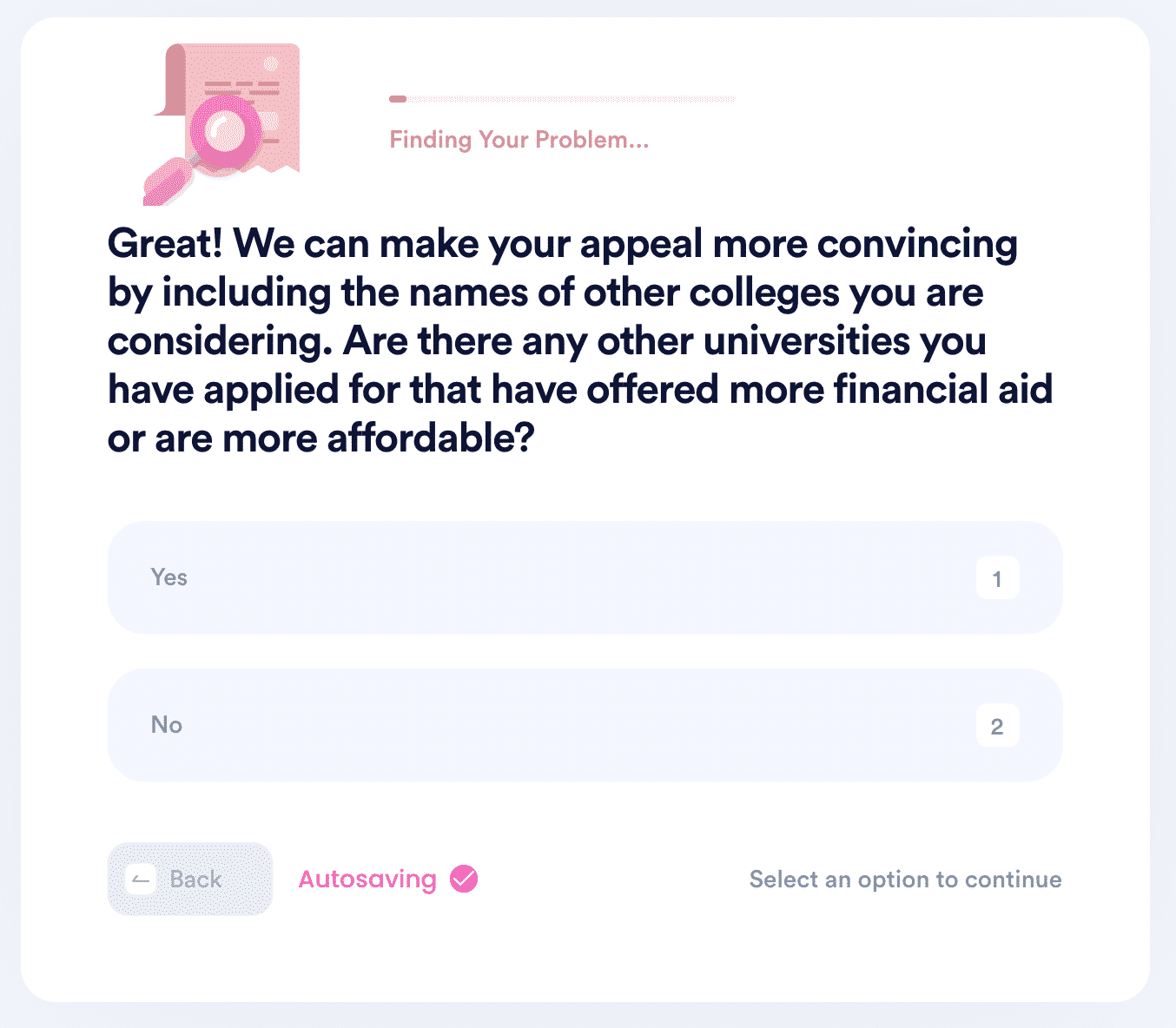 Our Appeal for More Financial Aid product will:
Incorporate your personal details
Follow a specific structure
Describe your circumstances in detail
Make a request using a humble yet assertive tone
You have to perform the following steps first:
Select our Appeal for More Financial Aid tool
Inform us of your financial situation
Once we create the letter, we'll also send it to UM on your behalf.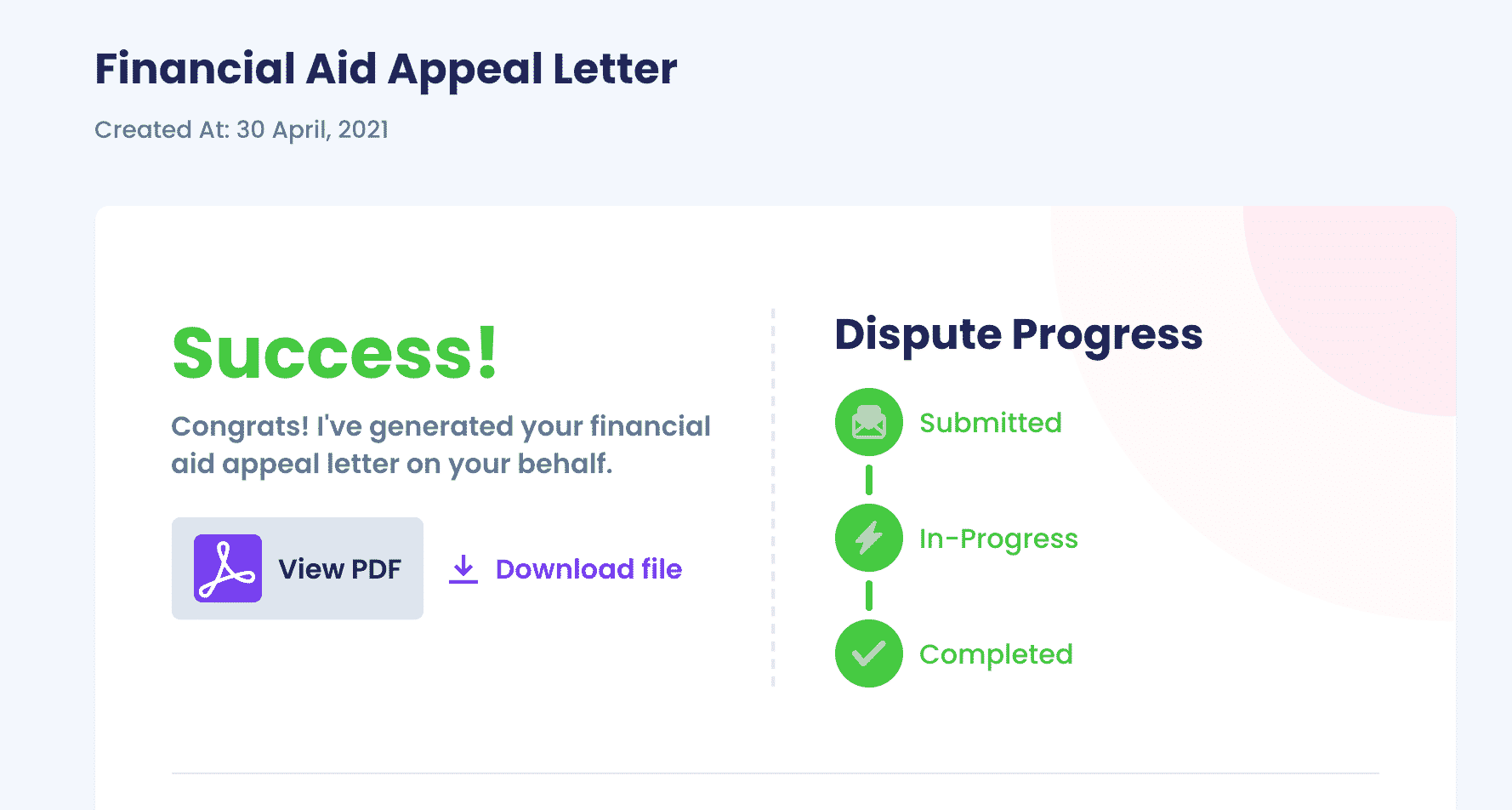 Have you applied for more backup colleges? You can use our app to send as many appeal letters as you wish for the same monthly subscription price! Here are some of the top-notch U.S. universities we can help you with:
Get an Extra Buck or Two With DoNotPay
Besides being able to assist you with almost any legal issue, DoNotPay can also help you get some extra money! We can cancel any unused memberships and prevent you from being charged after free trial periods are over with our virtual credit card.
Can't claim a warranty or get cash back for a gift card? Subscribe for DoNotPay and consider it done! We can also help you return items to almost any company or even help you get a refund in a few clicks!
Helping you jump the customer service queues is also not a biggie for us, as well as taking the company that wronged you to small claims court!
No Problem Is Unsolvable for DoNotPay
By subscribing to our platform, you get access to a plethora of handy features that can help you with: