The Best Way To Get a University of Miami Application Fee Waiver
The University of Miami (UM) is a private research university based in Coral Gables, Florida, and it offers 132 undergraduate, 148 master's, and 67 doctoral degree programs. It encompasses 11 schools and colleges serving both undergraduate and graduate students.
If you are thinking about applying to the University of Miami, you should consider requesting a fee waiver to evade or minimize the application fee.
What Is a College Application Fee Waiver, and Why Do I Need It?
Application fees for colleges and universities can be quite expensive, especially when paired with additional costs such as tuition, travel expenses, and costs of other tests. If we take into consideration that students apply for more than one college and have multiple application fees stacking up to hundreds of dollars, fee waivers can be their only salvation.
Fee waivers are forms that students fill out and submit to wanted schools requesting them to remove or reduce the fee of application. You can speak with your school counselor about the process of waiving application fees and ask them to provide you with fee waiver forms to complete.
The Usual Qualifying Criteria for Getting Fee Waivers
In general, students who are in financial need or meet certain qualification guidelines are allowed to get college fee waivers. To find out if you are eligible for fee waivers or not, check out the list of common criteria for obtaining a college fee waiver down below.
You are eligible for application fee waivers if you:
Meet the

Income Eligibility Guidelines

Are a ward of the state, homeless, or an orphan

Get public assistance

Live in a foster home

Are involved with programs that provide help for students who come from low-income families, like Upward Bound

You're qualified for the

Federal Free or Reduced Price Lunch program
Look at the table below to see the exact Income Eligibility Guidelines:
| | |
| --- | --- |
| Number of Household Members | Average Yearly Income |
| One member | $23,606 |
| Two members | $31,894 |
| Three members | $40,182 |
| Four members | $48,470 |
| Five members | $56,758 |
| Six members | $65,046 |
Am I Qualified for an Automatic College Fee Waiver?
If you are a student who already got an ACT or SAT fee waiver, you are eligible for college application fee waivers automatically. You can also use Common App or the Coalition App to apply for one if you think you are qualified. The easiest and most efficient way to save time when requesting fee waivers is with DoNotPay. We streamlined the process of obtaining college fee waivers to make it quicker for you to get one each time when applying to a school.
How Much Is the University of Miami Application Fee?
The University of Miami has a $70 nonrefundable application fee. The university does not provide fee waivers, but you can try to have your application fees waived if you are a student in financial need or you meet other criteria we mentioned above.
Ways To Get a University of Miami Fee Waiver
Considering that the University of Miami does not offer application fee waivers, you should speak to your school counselor about obtaining a fee waiver from:
National Association for College Admission Counseling (NACAC)

College Board

American College Testing (ACT)
Applying for a UM Application Fee Waiver With NACAC
To request your UM fee waiver via NACAC, you should follow the next five steps:
Download the

form

to your computer

Write The University of Miami in the top line

Finish the

Student section

and check every box that applies to you in the

Economic need

section (if none of the boxes apply to you, choose

Other request

and explain your financial situation in short)

Get a school counselor to complete the

Authorized Official

section and confirm your economic eligibility

Send this form to the University of Miami admissions office
Getting a UM Application Fee Waiver With College Board
You can apply for college application fee waivers with College Board in four steps. This is how it works:
Go their

website

Tap the

Get your college application fee waivers

feature

Examine the provided options and sign your waiver

Send it to the University of Miami
Applying for a UM Application Fee Waiver Using ACT
If you want to request your fee waiver via ACT, you should visit the ACT website to check whether or not you are an eligible candidate. Once you determine that you are, speak to your school counselor and ask them to explain the process of applying for fee waivers in detail, along with any additional information you are curious about. After that, send your fee waiver in.
Use DoNotPay To Obtain Your UM Application Fee Waiver Promptly
To get the UM fee waiver the easy and efficient way, opt for DoNotPay! With our nifty features, you can get any application fee waived in a matter of minutes! The best part is that we help you throughout the whole process, so you won't have to worry about making a mistake or forgetting anything. Our College Application Fee Waiver tool is easy to navigate, and it takes almost no effort at all to get the results you want.
This is how it works:
Go to DoNotPay in your

and click on

College Application Fee Waive

Decide what fee you wish to waive

Pick the college that you are applying to and answer a few short questions concerning your financial state

Say whether or not you want us to obtain a counselor's signature for you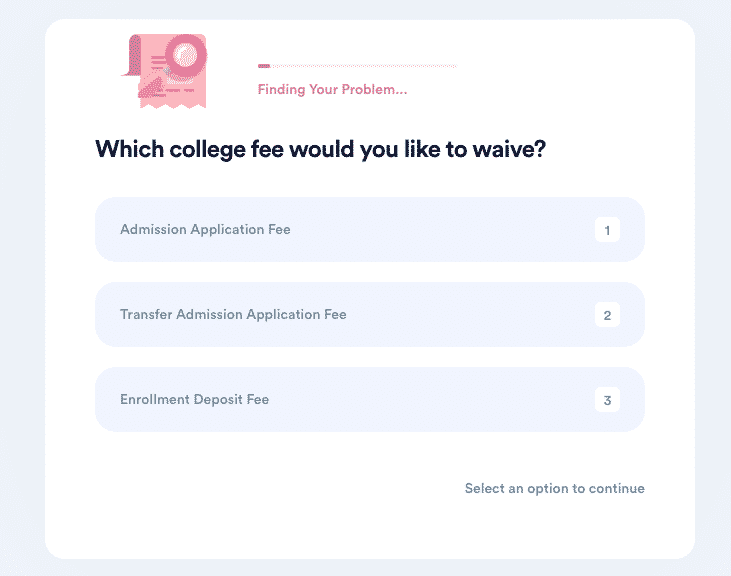 DoNotPay doesn't stop there! We give you three types of fee waivers to choose from:
New Student Application Fee Waiver

Transfer Student Fee Waiver

Enrollment Deposit Fee Waiver
Our app can also:
Complete the form in your place

Send the form to the University of Miami financial aid office

Apply for college application fee waivers (for undergrad and grad studies)

Help you request test fee waivers (all except for the SAT and ACT)
If you are looking for a way to improve your application by obtaining a school counselor's signature and, in that way, boost your chances of getting a fee waiver, we offer you a tool you can use to accomplish that. DoNotPay will fill out the form and email it to the University of Miami financial aid office or your school counselor in your stead.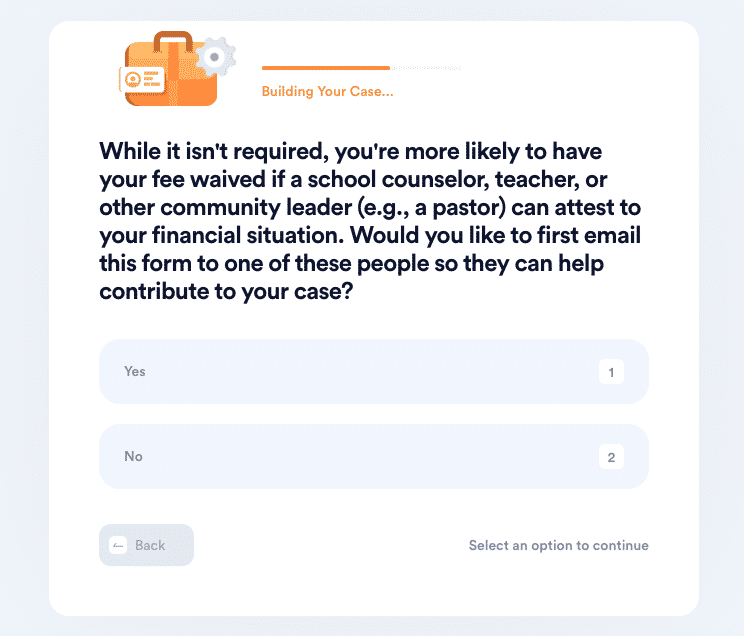 Use DoNotPay To Ease All Your Troubles!
Explore DoNotPay's numerous features you can use to tackle any pesky task that comes your way! You can skip the line when making a DMV appointment or learn a few tips on how to pass your Florida DMV practice permit test. We can also help you renew your driver's license, deal with medical bills, or stop the persistent robocalls nobody likes!
If you want to check out the ways to apply for application fee waivers regarding other colleges, we offer you assistance with Georgetown, NC State, George Mason, Harvard, Fordham, and any other college.
Open DoNotPay in your and see how we can help you:
Dispute traffic tickets

Fight speeding tickets