University of Cincinnati Financial Aid—How To Apply and Get the Best Offer
If you've set your heart on the University of Cincinnati and that's the school you want to enroll at, you should first get acquainted with all the ways you can make studying there less expensive. The biggest expense when enrolling is tuition, and the best way to make it more affordable is by applying for financial aid.
We're here to provide you with the info on how to apply for the University of Cincinnati financial aid with ease! You'll also learn how to appeal a low financial aid offer in no time!
A Guide to the University of Cincinnati Financial Aid Types
Financial aid comes in more than one form. The University of Cincinnati offers undergraduate and graduate students the following financial aid types:
Scholarships
Loans
Grants
Work-Study programs
Financial Aid Type
Programs
Scholarships

Cincinnatus Scholarship Program
Phi Theta Kappa Scholarship
Darwin T. Turner Scholarship
UC Community College Transfer Scholarship
Cincinnati Pathways Scholarship
Choose Ohio First Scholarship
UC National Outreach Award
Christos P. Demakes Legacy Scholarship
College Scholarship
Ohio War Orphans Scholarship
Graduate Incentive Award (GIA) and Graduate Assistant Scholarship (GAS)

Loans

Federal Direct Subsidized
Loan
Federal Direct Unsubsidized Loan
Health Professions Student Loan
Nursing Student Loan
Federal Direct Graduate PLUS Loan
Federal Direct Parent PLUS Loan
Alternative loans

Grants

Federal Pell Grant
TEACH (Teacher Education Assistance for College and Higher Education) Grant
University Need Grant
Federal Supplemental Educational Opportunity Grant (SEOG)
Ohio College Opportunity Grant (OCOG)
Cincinnati Pride Grant

Work-Study programs

Federal Work-Study
Federal Work-Study—Summer
Who Can Apply for the University of Cincinnati Financial Aid?
Not everyone is eligible for the University of Cincinnati financial aid. To apply, you have to meet its qualifying requirements that typically include:
Being a U.S. citizen or an eligible non-citizen with a valid Social Security number
Completing Loan Entrance Counseling and Master Promissory Note
Being aware of federal loan limits
Having a high school diploma (or a recognized equivalent)
The eligibility criteria aren't the same for every financial aid program. The safest course of action would be checking the University of Cincinnati website and seeing the specific requirements for each program. Besides seeing the eligibility criteria, you can find other useful information by visiting the university's website.
A Guide to Applying for the University of Cincinnati Financial Aid
Applying for the University of Cincinnati financial aid requires you to submit the Free Application for Federal Student Aid (FAFSA). FAFSA will be used to determine the amount of financial aid you can receive based on your financial circumstances.
Are you uncertain when you should apply for financial aid? Early applications receive priority consideration for financial support, so it's best to apply as soon after October 1st as possible every year.
How To Contact the University of Cincinnati Financial Aid Office
You can contact the University of Cincinnati financial aid office in case you have any dilemmas regarding your application. The table below shows the available contact options:
Contact the University of Cincinnati Financial Aid Office Via
Instructions
Phone

Dial 513-556-1000
Tell the support agent about your request

Email

Compose an email providing details about your request
Email it to onestop@uc.edu

Fax

Create a fax explaining your dilemma
Send it to 513-556-9171

Mail

Write a letter
Mail it to the following address: University of Cincinnati, PO Box 210125, Cincinnati, OH 45221-0125

In person

Go to this address: 2nd Floor University Pavilion-Clifton Campus, 150 Muntz Hall-UCBA, 100 Student Services Bldg-UC Clermont
Inquire about your financial aid application
Appeal a Low University of Cincinnati Financial Aid Offer With DoNotPay Easily!
Having your financial aid application rejected isn't pleasant, and neither is getting an insufficient amount offered. Thankfully, you don't have to put up with this! With DoNotPay, you can learn how to appeal the decision without breaking a sweat! We'll compose a financial aid appeal letter for you!
All that you should do is sign up for our app and complete our quick guide to initiate the process:
Pick the Appeal for More Financial Aid feature
Provide us with the necessary info about the college you want to enroll at
Tell us about your family's financial situation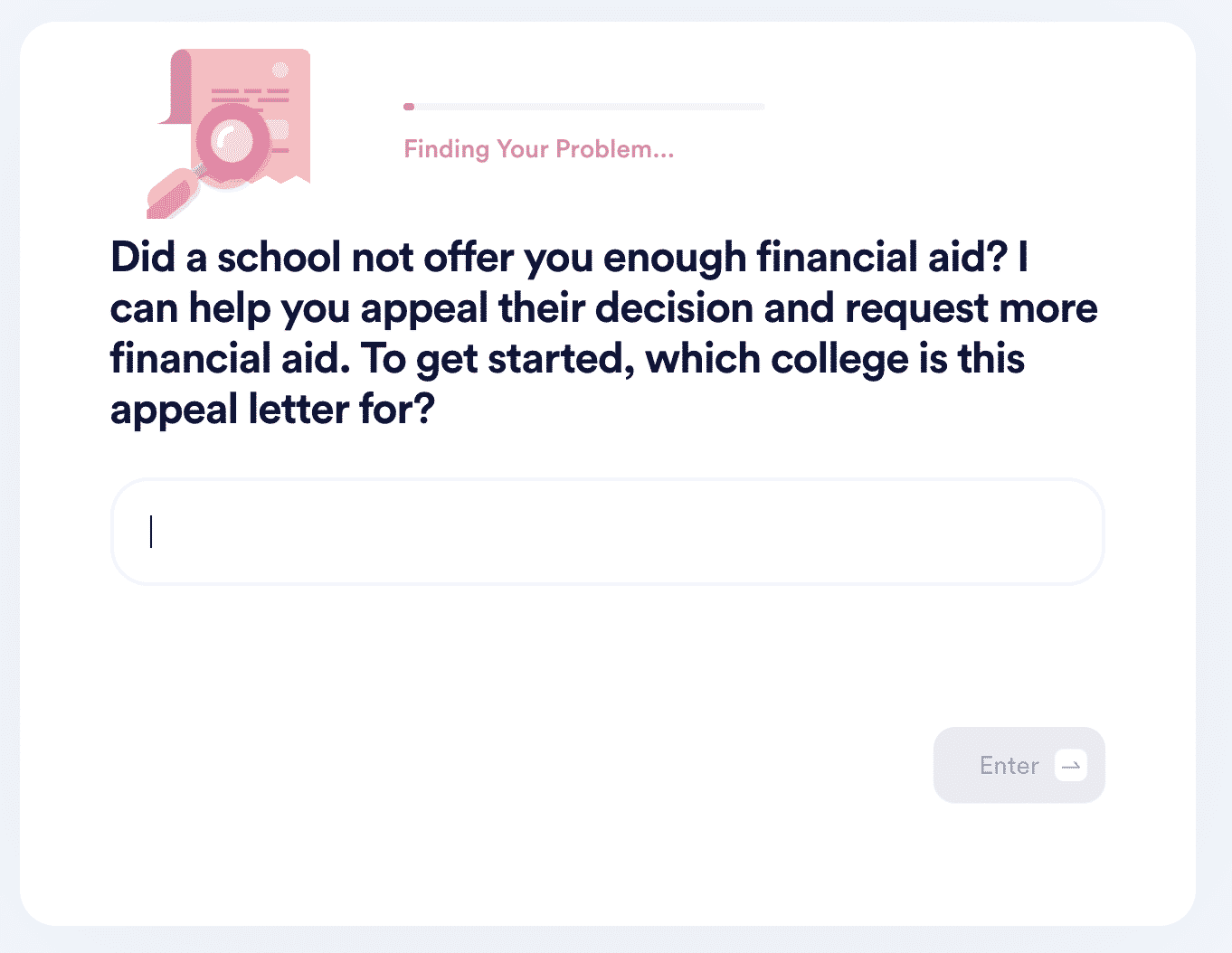 Once you complete our questionnaire, we will generate your appeal letter! DoNotPay will also make sure your letter reaches the University of Cincinnati financial aid office. Why waste time sending the letter yourself when you can let us do all the work?
Are you disappointed with the financial aid sum the University of Cincinnati provides? If you want to look for more financial aid money, you can check out other schools and see what they have to offer! The table below shows you only some of the universities and colleges DoNotPay can help you with:
DoNotPay's Features Are Here To Make Your Life Easier
To simplify confusing bureaucratic procedures, we developed a number of features you may find super useful. Sign up for our app and let us assist you in:
DoNotPay Doesn't Stop There!
Assisting you with bureaucratic tasks is only a fragment of what DoNotPay can do—we have a lot more nifty features to offer! We can show you how to:
Struggling to draw up a financial aid appeal letter, an HR complaint, or a child travel consent form? DoNotPay is here to do it in minutes!