Learn All About the University of Chicago Financial Aid and Ways To Apply for It
Although researching your favorite school should be fun, realizing the astronomical amounts you would have to pay for tuition can ruin the experience.
Tuition for the University of Chicago is around $60,000—an amount of money not everyone can set aside. Luckily, you can make your tuition more affordable by applying for the University of Chicago financial aid!
What if you are unsatisfied with the proposed offer? and discover all there is to know about appealing a low financial aid offer with ease!
University of Chicago Financial Aid Types
Wondering what kind of financial aid you can apply for? We're happy to provide you with all the info!
Financial aid at the University of Chicago comes in several forms. Consult the table below for more details:
Financial Aid Type
Programs
Grants

Federal Pell Grant
Federal Supplemental Educational Opportunity Grant (SEOG)
Illinois MAP Grant

Scholarships

Merit scholarships
Outside scholarships
Odyssey scholarships
The Chicago Commitments scholarships

Student loans

Federal Direct Subsidized Loan
Federal Direct Unsubsidized Loan
Public Service Loan Forgiveness Program
Federal Direct Parent PLUS Loan
Federal Loan Repayment
Alternative loans

Federal work-study and employment
Who Is Eligible for the University of Chicago Financial Aid?
The University of Chicago offers both undergraduate and graduate financial aid. The best way to check whether you're eligible for a specific type of financial aid is to visit the university's official website. You can check the requirements for the financial aid type you want and see whether you meet the criteria.
Besides information about the financial aid eligibility, you can also find other relevant details, such as the approximate amount the first year at the university would cost you or how long you can keep getting financial aid. You should note that this is not the actual amount but only a rough estimate.
How To Apply for the University of Chicago Financial Aid
Applying for the University of Chicago can get a bit confusing if you aren't familiar with the protocol and don't know what forms to complete. We're here to simplify the procedure by breaking it down step by step.
To apply for the University of Chicago financial aid, you have to gather the following documents:
Once you gather the necessary forms, you should submit them online or by mail. You can submit most of your paperwork through your uChicago account, but the FAFSA application needs to be completed through the FAFSA official website.
To send your material by mail or fax, follow these steps:
Download the required document cover sheet
State your first and last name, email address, and date of birth on the top of the first page of any document you submit
Mail your material to the following address: The Office of College Aid,
1101 E. 58th Street, Chicago, IL 60637
Fax your material to: 773.702.0744
University of Chicago Financial Aid Deadline
If you aren't sure when to apply for financial aid, we'll provide you with the answer. First-year students can apply for financial aid at any time, but it's best to do it when applying for admission. That way, you will receive the answer about financial aid in time and won't have to worry.
Check out the table below to see the priority deadline for Financial Aid document submission:
| Action Plan Type | Deadline |
| --- | --- |
| Early action & early decision I | November 15 |
| Early decision II | January 15 |
| Regular decision | February 15 |
| Transfer | April 15 |
DoNotPay Helps You Appeal a Rejected or Low Financial Aid Offer!
If the University of Chicago rejects your application or makes a low financial aid offer, you don't have to worry! We can help you appeal the decision and assist you in writing an appeal letter with ease! Why spend hours trying to write an appeal letter by yourself when you can have the world's best Al-powered app do it for you? All you need to do is complete the following instructions:
Click on the Appeal for More Financial Aid tool
Provide the required info about the school you want to enroll in and your family's financial situation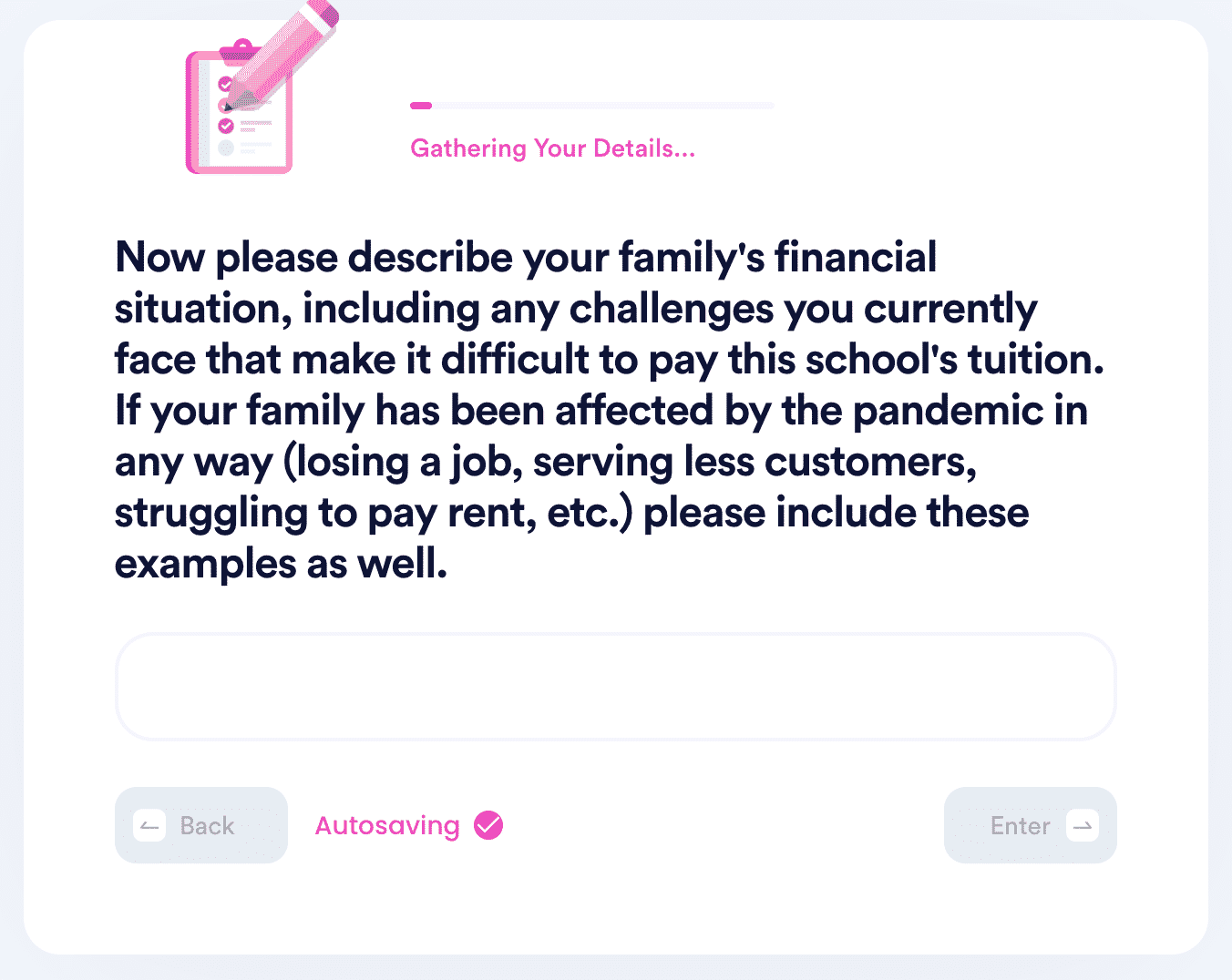 After you complete the necessary steps, we'll create your appeal letter and mail it to the University of Chicago promptly!
We will also show you how to get more financial aid money from other universities in case the University of Chicago isn't offering enough. Check out the table below to see some of the other schools you can apply to get financial aid from:
Tackling Administrative Issues Has Never Been Easier
DoNotPay was created to help you deal with burdensome everyday tasks you would rather skip. The features we offer will make sure you can:
Dealing With Legal or Security Issues? DoNotPay Will Make Them Go Away
Has a company refused to issue a refund you are entitled to? Sue it in small claims court and get your money back with the help of the world's first robot lawyer! You can also turn to us if you want to protect your work from copyright violation, prevent stalking or harassment, or get virtual credit cards to avoid disclosing your credit card info.
Besides assisting you in seeking justice and security, DoNotPay can help you arrange DMV appointments, contest parking tickets, prepare divorce settlement agreements, and compose various legal documents.