University of Central Oklahoma Financial Aid—All You Need To Know
The tuition at the University of Central Oklahoma (UCO) may be more than some students can afford. Still, the school has established a solid financial aid system, enabling them to cover the attendance price stress-free.
Do you want to apply for a University of Central Oklahoma financial aid package? If so, you must know all the crucial info about deadlines, eligibility requirements, and the procedure itself.
Learn how DoNotPay can help you write an appeal letter to this and any other college if you get rejected or receive a disappointing award!
Am I Eligible for Receiving Financial Aid at the UCO?
Financial aid at the University of Central Oklahoma can come from:
Federal
State
Private sources
UCO imposes strict eligibility requirements for all students (undergraduate and graduate) who wish to apply for financial aid. To be considered, applicants must meet the following criteria:
Be U.S. citizens or eligible non-citizens
Own a high school diploma or a GED certificate
Demonstrate financial need (except for specific types of loans)
Be accepted as a regular student working towards a degree or an eligible certificate program
Mustn't owe a repayment to any federal program
Meet UCO satisfactory academic progress requirements
Guarantee that the financial aid will be used for educational purposes only
Follow the Selective Service Registration criteria
Note that specific types of financial aid at UCO may require you to fulfill additional requirements.
Potential students with a federal or state drug conviction may be disqualified from applying for federal student aid during a certain period, as explained below:
Sale of illegal drugs:

First offense—one year from conviction
Second offense—three years from the date of conviction
Third offense—indefinitely

Possession of illegal drugs:

First offense—one year from the date of conviction
Second offense—indefinitely
What Types of Aid Can I Apply for at UCO?
The financial aid offered at the University of Central Oklahoma is versatile. Take a look at the table below for more details:
Programs
Details
Grants

Federal Pell Grant—available only for undergraduate students
Federal Supplemental Educational Opportunity Grant (FSEOG)—aimed to help undergraduate students with exceptional financial needs
Teacher Education Assistance for College and Higher Education Grant (TEACH)—awarded to students working towards a career in teaching at schools that serve low-income students
Iraq and Afghanistan Service Grant—available for students whose parent served in the U.S. Army and was killed in Iraq or Afghanistan after September 11th
Oklahoma Tuition Aid Grant (OTAG)—aimed at eligible Oklahoma residents who attend school in Oklahoma

Loans

Stafford loans, including:

Subsidized (require financial need)
Unsubsidized (don't require financial need but can't exceed the cost of attendance)
PLUS (for parents of dependent students)

Private loans—for students ineligible for federal loans or those who need more than the federal budget can supply

Tuition assistance for non-resident students

Tuition waiver program known as the Broncho Advantage, aimed at eligible students from:

Arizona
Arkansas
California
Iowa
Kansas
Mississippi
New Mexico
Texas

Oklahoma's promise

Program funded by the state of Oklahoma that pays college tuition for any student whose parental income doesn't exceed $50,000
Applying for Financial Aid at UCO—All You Need To Know
Have you decided to apply for financial aid at UCO? Your first step is to fill out the Free Application for Federal Student Aid (FAFSA) form. The purpose of completing this form is to determine how much and what types of aid a student should receive.
The application procedure requires you to:
Respect deadlines—The FAFSA form has to be submitted between October 1st and June 30th for the following term
Apply for financial aid annually—You must file the form every year you want to receive financial aid. Processing the application is free
Provide correct information on your FAFSA form—If you're applying for financial aid at UCO, the FAFSA form must contain the school code (003152). Bear in mind that any incorrect information on the FAFSA form may influence your award. Make sure to review the data carefully and make necessary corrections and updates if needed
Once the UCO financial aid office revises your application, you may:
Receive the appropriate award
Get rejected for financial aid
Get an insufficient offer
If the last two options happen, you can appeal the university's decision and ask for a higher award. The best way to do it is by and letting us draw up an appeal letter in your stead!
DoNotPay Is a Reliable Way to Financial Aid Appeal Letters
Have you applied for a grant at the UCO and got a disappointing answer? We can swoop in by creating a comprehensive appeal letter!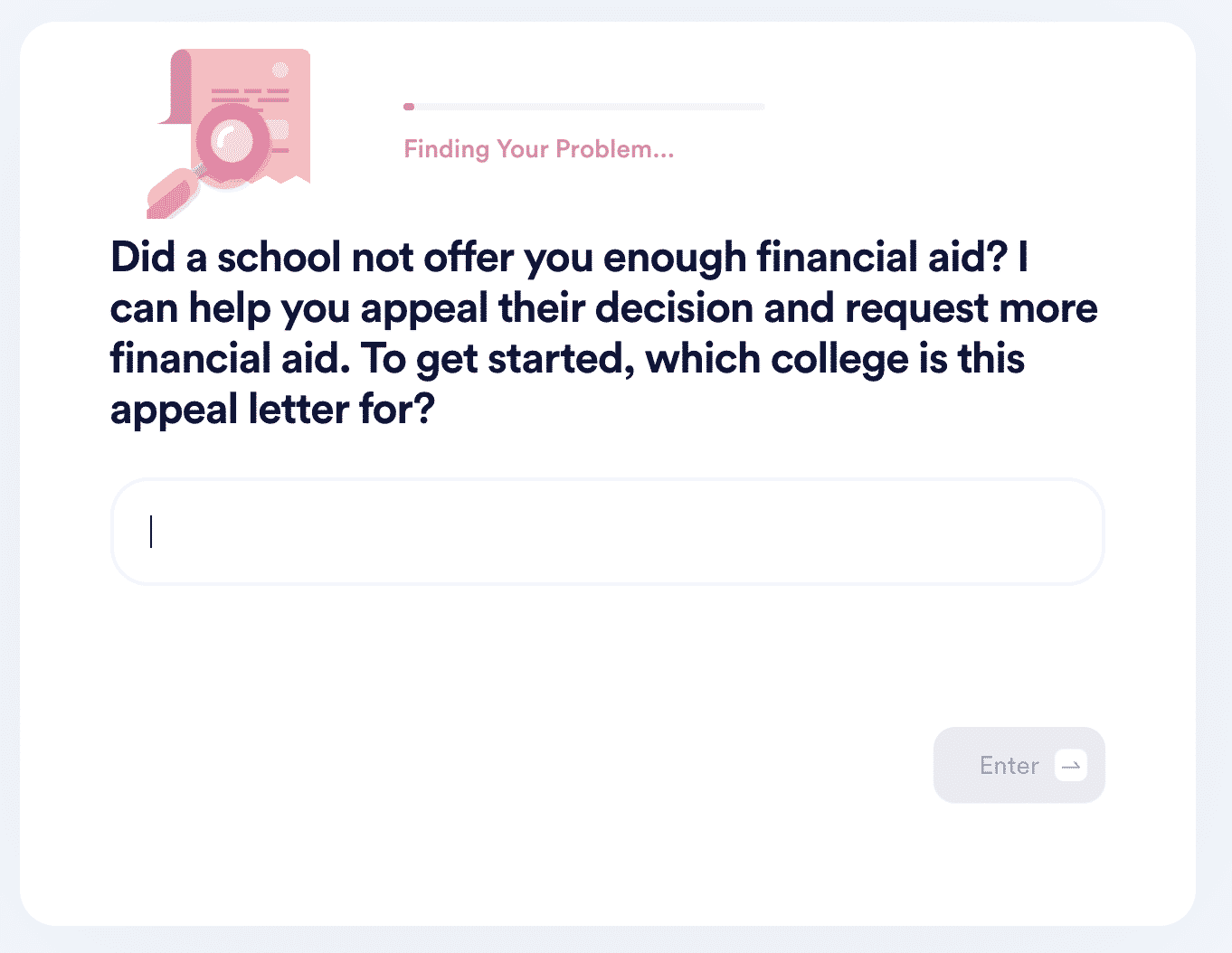 To get your appeal letter in a flash, you need to perform a few simple steps:
from any web browser
Find our Appeal for More Financial Aid tool
Answer our chatbot's questions to help us personalize the letter
Once we tailor the letter to fit your situation and send it to UCO, we guarantee the university will consider granting you more financial aid!
You can use our app to send more appeal letters to your backup colleges as well! Check out some of the other schools we can assist you with: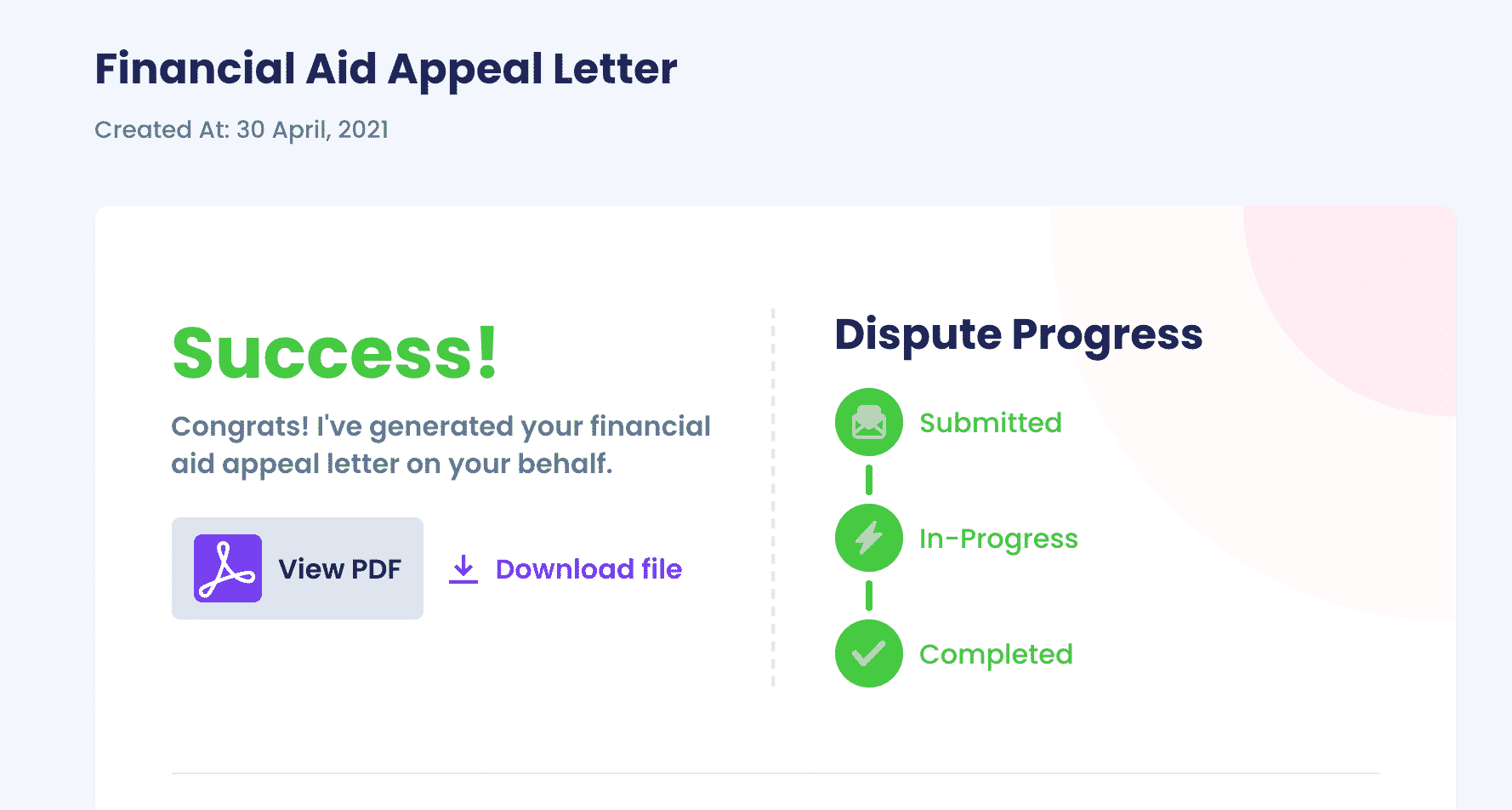 DoNotPay Is an App for Everyone
Whether you need help with drafting paperwork, searching through government databases, or managing your bills, DoNotPay has a feature that'll make your life easier. The number of features keeps growing, and you can check out a table showcasing some of them:
Get More Done With Our Do-It-All Platform
DoNotPay can take care of any daily hurdle you come across. For a small yearly subscription fee, you get access to various features that you'll find handy on a daily basis. Besides everyday chores, signing up for DoNotPay will help get you:
The list could go on for days. You can even get in touch with an inmate or fight for discrimination at your workplace!