How Does University of Alaska Fairbanks Financial Aid Work?
The cost of attending the University of Alaska Fairbanks may be too high, especially if your family has many members or your income is low. Luckily, this doesn't mean that you must give up on your preferred college and look for other options. This article will introduce you to all available University of Alaska Fairbanks financial aid programs and decipher the application, deadlines, and other significant details. We will also explain how to to appeal the college's decision if you don't get a sufficient amount!
Who Can Receive Financial Aid at the University of Alaska Fairbanks?
There are specific requirements you must comply with to qualify for any active financial aid program. You must:
Complete a Free Application for Federal Student Aid (FAFSA) to be considered for most financial support schemes
Be a U.S. citizen or an eligible non-citizen
Have a high school, GED, or any other equivalent diploma
Attend an eligible degree or certificate program at the university
Possess a valid Social Security number
Be a Selective Service registree if you are male and older than 18
Repay all your debts related to previous loans if there are any
Once you obtain financial support, you need to reapply annually and keep up the good work with your academic progress. This means you have to:
Complete at least 67% of total reported credits for the current academic year
Have a 2.00 cumulative grade point average if you are an undergraduate or 3.00 if you are a graduate
What Is the Financial Aid Time Frame at the University of Alaska Fairbanks?
FAFSA forms become available for completion on October 1st every year.
The priority application time frame for any academic year at this university is February 15th. You can apply after the predetermined date, but you may not be considered for certain scholarships or grants in this case.
What Financial Support Programs Are You Eligible For?
Depending on your needs and repayment preferences, you can apply for the following:
Scholarships, including:

Nanook Pledge Scholarships
University of Alaska Scholars Program
Alaska Performance Scholarships
UAF Privately Funded Scholarships
Army ROTC Scholarships
Bureau of Indian Affairs and Native Corporation Scholarships
Student Support Services Scholarships

Grants, such as:

University of Alaska Grants
Pell Grants
Federal Supplemental Educational Opportunity Grant

Graduate assistantships:

Western Undergraduate Exchange Award
Student loans, including:
Federal Stafford Subsidized Loans
Federal Stafford Unsubsidized Loans
Federal Parent Loans for Undergraduate Students
Alaska Supplemental Education Loans
Alaska Family Education Loan Program
Win Brindle Scholarship Loans

Student employment programs
Veteran Services Educational Benefits
How Does the University Financial Aid Office Calculate the Amount You Should Receive?
Once it receives your FAFSA form containing all income and family details, the university's financial aid office calculates your Expected Family Contribution (EFC). It's a sum your family can pay for your studies without financial support. The smaller it is, the better chances of getting more financial aid.
This amount is then subtracted from the total Cost of Attendance (COA) at the University of Alaska Fairbanks. COA involves your tuition and other college-related expenses, such as:
Books
Housing
Supplies
Transportation
Personal costs
Additional schooling fees
The difference between these two amounts represents your financial need and determines how much money you can receive.
Whom Can You Contact if You Have Financial Aid-Related Questions?
Besides determining your financial support eligibility, the University of Alaska Fairbanks financial aid office can provide assistance and counseling. The table below includes the available contact details and communication methods:
Method
Contact Details
Phone

Regular phone number: (907) 474-7256
Toll-free phone number: (888) 474-7256

Email
uaf-financialaid@alaska.edu
In-person visit
Office of Financial Aid

University of Alaska Fairbanks

107 Eielson Building

P.O. Box 756360

Fairbanks, AK 99775-6360
Do I Have To Apply for the UAF Financial Aid Only?
No, you don't. When completing your FAFSA, you can list all the colleges/graduate schools you are interested in as possible alternatives. If you want to know what you can expect from other institutions' financial aid programs, check out some of the guides below to find more info:
How Can DoNotPay Help if You Didn't Get as Much Aid as You Expected?
If you get disappointed by the financial aid amount UAF offered to you but still want to enroll, there's a solution! Why not try once again by appealing the college's decision with DoNotPay?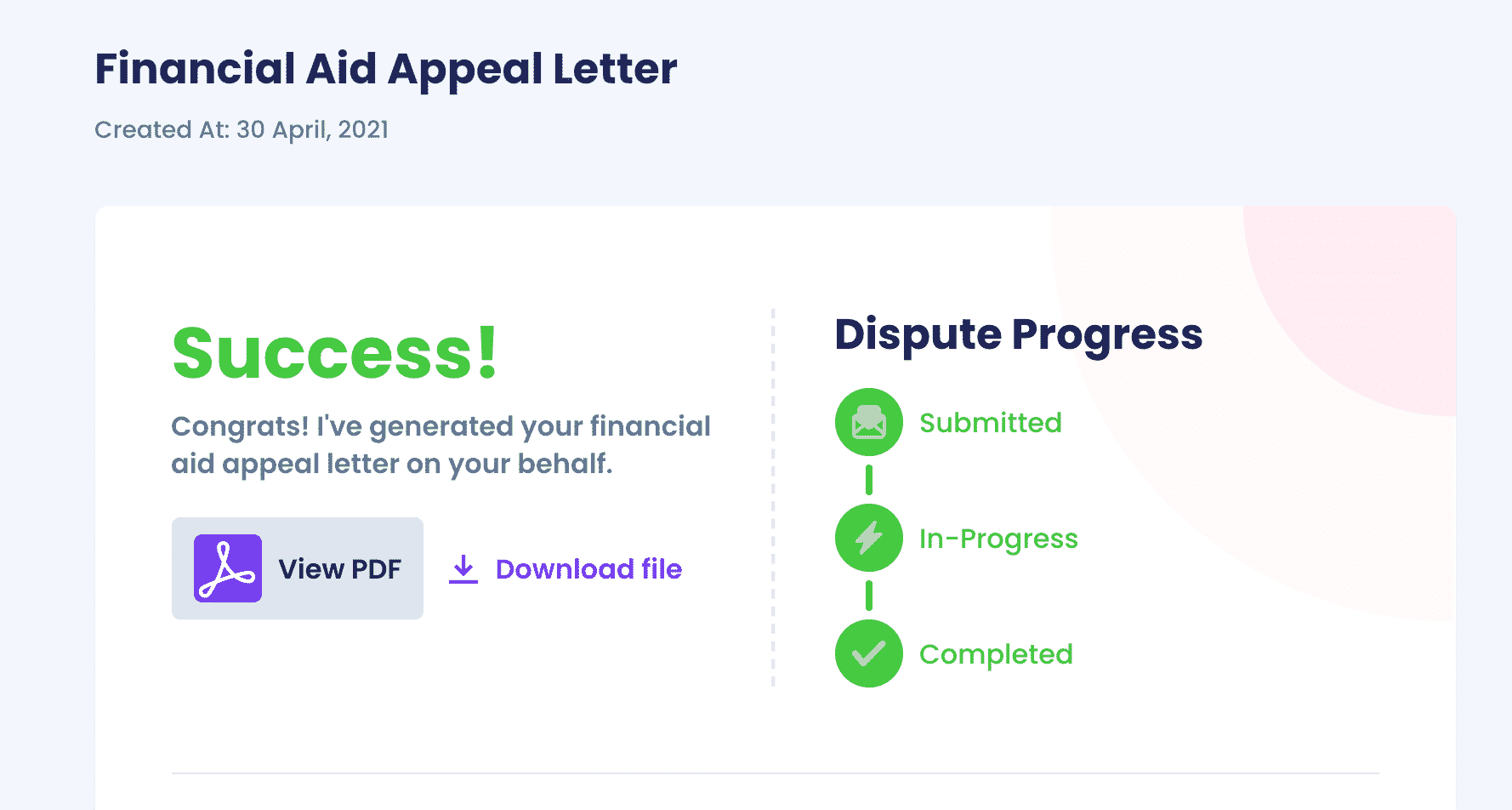 We can create an appeal letter on your behalf and send it in your name before you know it! All you should do is follow the prompts below:
and log in
Choose Appeal for More Financial Aid
Tell us what college you want to attend
Enter the names of other colleges you applied to and their offers
Give us more finance-related info by answering our chatbot's questions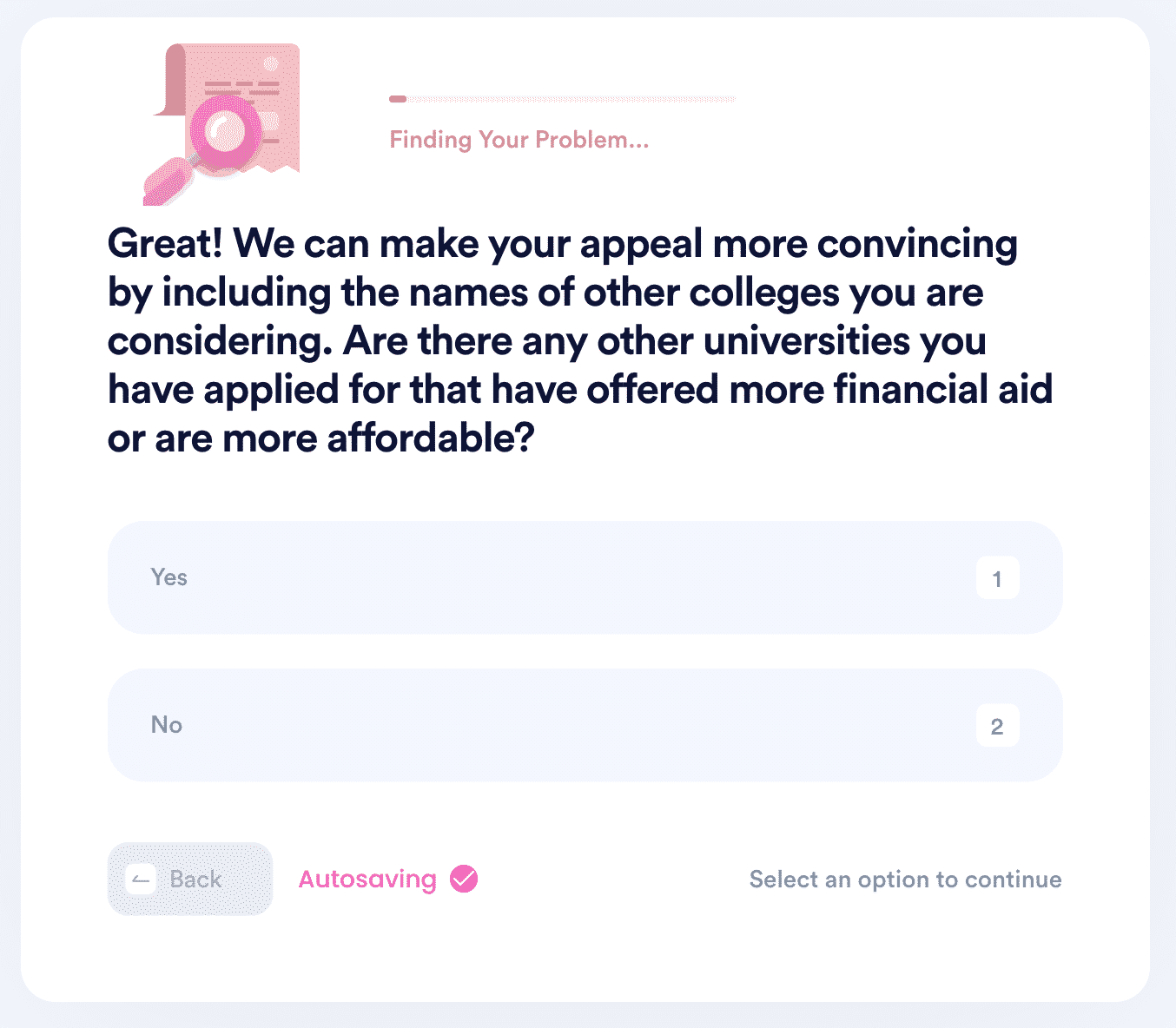 DoNotPay Crosses All Your Tasks Off Your List
Whether you need help with preparing for government tests, online faxing, or getting your documents notarized—DoNotPay will be able to help! Whatever problem you're facing, we'll turn it into a breeze!
Sign up now if you want an easy solution to stop email spam, cancel unneeded subscriptions, schedule DMV appointments, and draw up agreements from the comfort of your home.
We can also help you reduce property taxes, pay bills, appeal parking tickets, and find any unclaimed money.
Improve Your Quality of Life With DoNotPay
The beauty of our platform is that besides bureaucratic issues, it can also assist you with numerous other struggles! To name a few, we can help you:
The list could go on for days!