All the Info About Filing a UNCG Financial Aid Appeal
Even though the University of North Carolina at Greensboro (UNCG) is not among the State's most costly universities, its tuition is still sky-high for most students. Unless they qualify for a certain form of financial help, they typically cannot afford to pay for their education.
If you are in the same position, read this guide and find out how to make an appeal and get more financial aid.
if writing a UNCG financial aid appeal letter seems like too much hassle, and let our app take care of everything for you! We can even help you figure out how much financial aid you can get and for how many years!
What Financial Aid Types Can You Get at UNCG?
Students at UNC Greensboro who need help paying their tuition can apply for a variety of financial aid options:
Federal student loans
Federal grants
State grants and scholarships
Federal work-study
UNCG scholarships
Outside scholarships
Emergency aid
Private loans
Check out the category details in the table below:
Type of Aid
Explanation
Available Programs
Is FAFSA Required?
Federal student loans
They are determined based on the student's FAFSA report and have to be repaid

Federal Direct Student Loans (subsidized and unsubsidized)
Federal Direct Plus Loans (for parents and graduate students)

Yes
Federal grants
In general, this type of aid doesn't have to be repaid. The majority of grants are given to students who demonstrate financial need on their FAFSA

Federal Pell Grants
Federal Supplemental Educational Opportunity Grant (SEOG)
Federal Teacher Education Assistance for College and Higher Education Grant Program (TEACH Grant)

Yes
State grants and scholarships
Intended specifically for North Carolina State residents

Aubrey Lee Brooks Scholarship
Forgivable Education Loans for Service Program (FELS)
Golden Leaf Scholarship
Incentive For Native Americans
Transforming Principal Preparation Program
NC Reach

Yes
Federal work-study
Undergraduate students may be eligible for this type of support as part of their overall financial aid package
Yes
UNCG scholarships
Institutional scholarships designed for students that are enrolled in a certificate or degree program at UNC

Freshmen and Transfer Scholarships
Continuing Student Scholarships

In most cases
Outside scholarships
Scholarships from an outside entity
Reputable outside scholarship sources:

Fastweb
Peterson's
Sallie Mae
College Board
Niche

In some cases
Emergency aid
For true financial emergencies

Emergency loans
Student Assistance Fund For Emergencies (SAFE)
Spartan Open Pantry

No
When it comes to private loans—which are credit-based and provided by private lenders—they don't require a FAFSA application.
Who Is Eligible for UNCG Financial Aid?
To qualify for most types of aid at UNCG, students must fill out the Free Application for Federal Student Aid (FAFSA). To be considered for financial aid through the FAFSA, students must:
Be enrolled in an eligible certificate program or degree
Take up courses that are necessary for them to complete their certificate or degree
Make good progress toward earning a certificate or degree
Be a U.S. citizen or an eligible noncitizen
Noncitizens who qualify for financial aid at UNCG are:
Permanent aliens lawfully residing in the U.S.
Aliens that were granted refugee or asylum status in the U.S.
Conditional resident aliens with an authorized admission stamp and an I-551 card or MRIV in an unexpired foreign passport
Cuban-Haitian immigrants
Victims of human trafficking
Battered immigrant-qualified aliens
Aliens paroled into the United States who aim to become citizens or permanent residents and stay in the country for more than a temporary reason
Not all types of students are offered the same aid options. Those eligible for financial aid are divided into the following categories:
Graduate and undergraduate students
Students in certificate and licensure programs
Online students
Returning students
Beyond academics students
Military-affiliated students
To find out more about eligibility for financial aid for each of the student categories mentioned above, visit UNCG's Eligibility For Student Types page.
How To Apply for the UNCG Financial Aid
To apply for financial aid at the University of North Carolina at Greensboro, you should take the following steps:
Create an FSA ID
Complete the FAFSA application each academic year (the deadline is October 1–January 15)
Receive your award notice
Accept or decline your award
If you were offered an amount that is not sufficient for your needs, don't forget you have the right to appeal.
How To Appeal for More Financial Aid
If you want to appeal for more financial aid or you faced unforeseen circumstances that resulted in the loss of your financial support, you can submit an SAP appeal that consists of:
Appeal Form and Success Plan
Official Documentation
Explanation Letter
Graduation Plan Template and Grad Plan 101 instructions (only for juniors and seniors)
Let DoNotPay Compose an Appeal Letter in Your Stead
If the appeal procedure seems too complicated, you've come to the right place. Sign up for our service and avoid all the hassle. DoNotPay will generate and send a personalized appeal letter in minutes!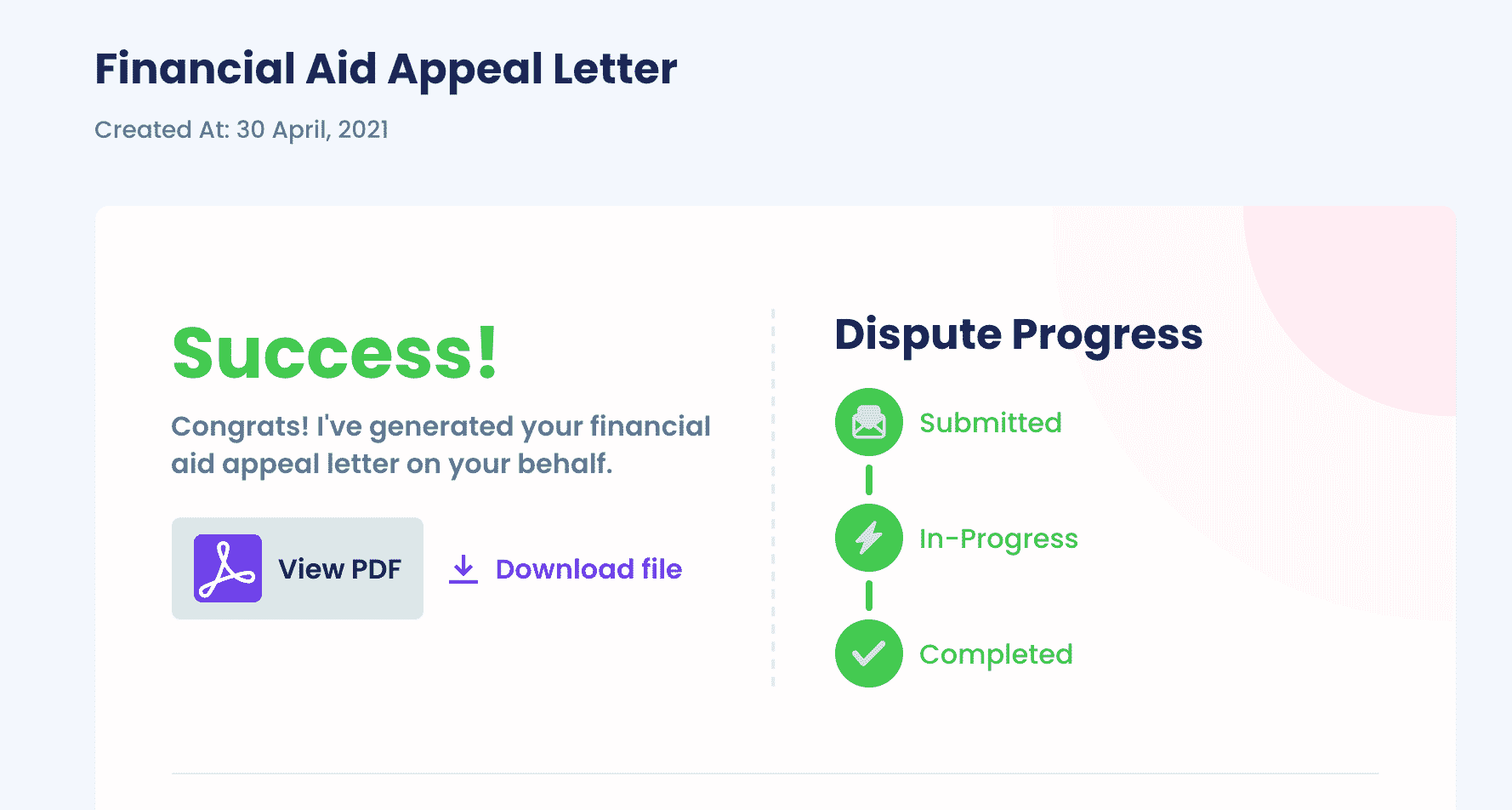 All you have to do is:
Select the Appeal for More Financial Aid option
Tell us which college you want to attend and list other institutions that offered you a higher amount of support (if applicable)
Provide the required details about your family and finances
If you'd prefer to send the appeal letter yourself, make sure you specify that when completing the questionnaire.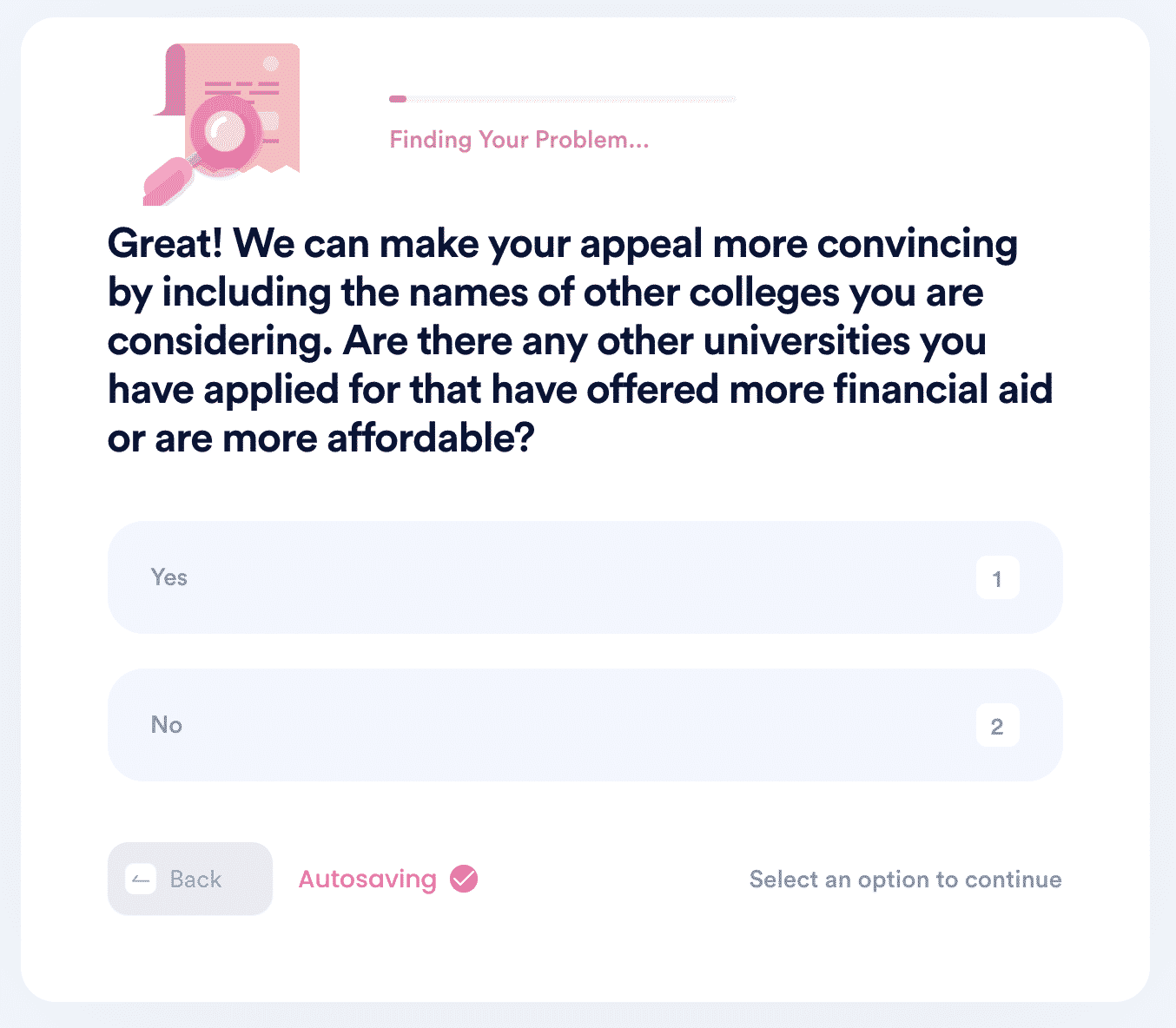 DoNotPay answers any financial-aid-related question you may have, including whether you can get monetary support as a grad school student. Make sure you also check out our financial aid guides for other universities, such as:
DoNotPay Is the Robot Lawyer You Need!
Dealing with the law and understanding legal protocols is difficult if you're not used to doing it on a daily basis. That's why DoNotPay comes to the rescue!
Assisting you in drafting legal documents, creating a neighbor complaint letter, and suing companies in small claims court is what we do best.
That's not all! With us, you can tackle any legal task head-on, no matter how big or small, including:
Deal With Companies Hassle-Free
If you love to shop and you want to make the experience as easy and enjoyable as possible, you're in the right place! DoNotPay provides you with various features that allow you to accomplish just that.
You don't have to struggle trying to reach customer support or figuring out how to claim a warranty or file an insurance claim by yourself. You can cancel any subscription, sign up for free trials, and discover how to use every last penny from your gift cards in minutes!
In case you made a purchase, but your package is missing, don't fret! Finding your missing parcel is only a few clicks away.