Learn Everything About UNC-Chapel Hill Financial Aid Options
The University of North Carolina at Chapel Hill goes by many names—UNC, Chapel Hill, North Carolina, UNC-Chapel Hill, but students and alumni call her Carolina. It's a public research university with around 30,000 students. The tuition costs $8,980 (in-state) or $36,159 (out-of-state).
If you can't set aside that much money, you can apply for UNC-Chapel Hill financial aid. DoNotPay will guide you through your options and help you file an appeal if Carolina rejects your application or doesn't offer enough money.
How To Apply for Chapel Hill Financial Aid
To be considered for a recipient of financial aid at Chapel Hill, you need to complete the:
Take a look at the table below for additional info about the two forms:
FAFSA Instructions
CSS Profile Instructions

Use UNC-Chapel Hill's FAFSA school code—002974
Get your FSA ID to sign electronically. Keep this info safe because you will need it in the future
Go to the federal website to learn which parent's financial information to use on the FAFSA

Use UNC-Chapel Hill's school code—5816
Enter the income to see if you are eligible for a CSS Profile fee waiver from the College Board
Complete the CSS Profile to see whether you qualify for the CCI laptop grant because all Carolina students must own a laptop
The University of North Carolina at Chapel Hill—Financial Aid Options Available
UNC-Chapel Hill offers financial aid from federal, state, and University sources to full-time students. You can apply for these types of aid:
Grants
Academic scholarships
Loans
Work-study programs
Grant Options at the University of North Carolina at Chapel Hill
Grants are need-based, applied directly to college costs, and don't require repayment. At Carolina, you can apply for:
Federal Pell Grant
Federal Supplemental Educational Opportunity Grant (SEOG)
University Grants
CCI Laptop Grant
Named Grants and Need-Based Scholarships
Scholarships Available at the University of North Carolina at Chapel Hill
Scholarships are also non-repayable. The criteria for academic scholarships include:
Academic achievement
Leadership qualities
Commitment to service and potential for success at the University
At the University of North Carolina, you can apply for the following scholarships:
Blue Sky Scholars
General Alumni Association Scholarships
Carolina Scholarship
Pogue Scholarship
Wood Family Scholarship
Innovation Scholarships
Johnston Scholarship
College Fellows and Tar Heel Merit Scholarships
Colonel Robinson Scholarship
Old Well and Founders Scholarships
Student Loans You Can Apply for at UNC-Chapel Hill
Loans require repayment with interest. The eligibility criteria are easier to meet compared to grants and scholarships. Here are your options:
Federal Subsidized and Unsubsidized Loans
UNC Institutional Loans
Federal Parent PLUS Loans
Private Loans
What You Should Know About Work-Study Programs at Chapel Hill
Work-Study is funded by the federal program of the U.S. Department of Education and through Carolina Works (funded by the University).
These programs allow students to earn college money by working part-time on campus or at community service agencies. You can always find a program that matches your skills, interests, and career plans.
Important Deadlines You Should Keep in Mind
Keeping up with deadlines is an essential part of the financial aid application process. Here are the dates to mark in your calendar:
Financial Aid Applications (FAFSA and CSS Profile)—March 1
University Aid Consideration (students starting in Fall)—June 15
University Aid Consideration (students starting in Spring)—February 19
Note that you only need to complete the CSS Profile for your first year at Carolina unless you:
Have had a drastic change in finances
Leave school for more than one academic year
Depending on the type of financial assistance you get, you can receive aid for a predetermined period.
Got More Financial Aid Questions? Contact Carolina's Financial Aid Office
The Office of Scholarships and Student Aid is at your disposal for any questions about the financial aid application process. You can get in touch with the advisors in the following ways:
Phone—919-962-8396
Email—aidinfo@unc.edu
The staff is available from Monday to Friday between 9:00 a.m. and 4:00 p.m. EST/EDT.
Not Satisfied With Carolina's Decision? Use DoNotPay To File a Financial Aid Appeal
In case you get an underwhelming offer and need more funds or the school rejects your application, send an appeal letter! DoNotPay is here to help you with the process. You only need to follow these steps:
Search for the Appeal for More Financial Aid product
Inform us about the financial aid offers you got from other universities (if you applied to more than one)
Provide the essential information about your family's income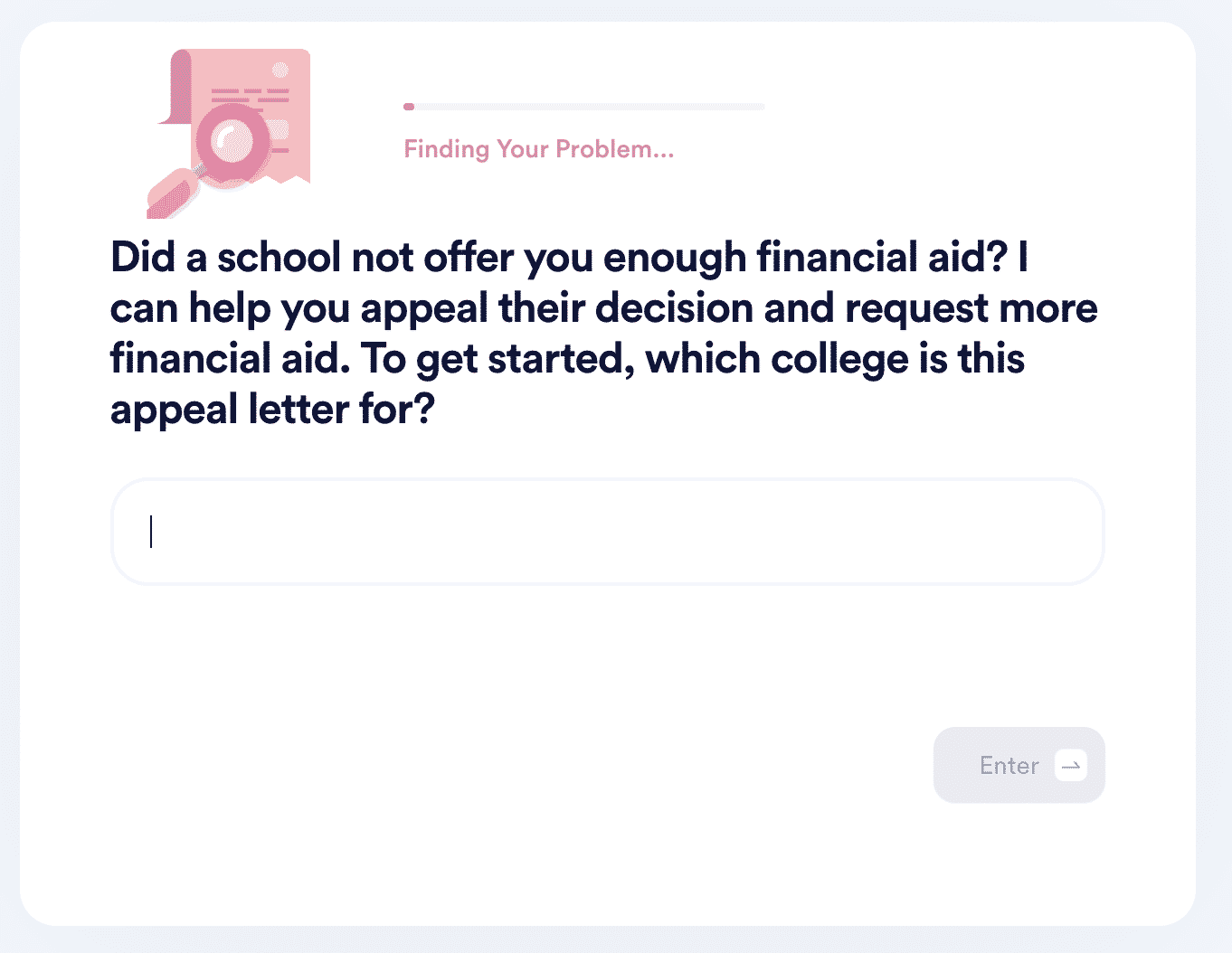 In case you are looking for information about financial aid for graduate schools, DoNotPay can also help you out!
Check out what other schools have to offer:
Work Smarter, Not Harder!
Although there are certain tasks that are a pain but can't be avoided, such as paying your property taxes, you don't have to do them the hard way. There is always a way to make the overbearing bureaucratic procedures a bit easier. DoNotPay can find a loophole and help you cut through the red tape!
Reducing your property taxes is only one in the sea of tasks our app will make super easy to do! You can also use DoNotPay to:
Explore DoNotPay's Other Neat Features
DoNotPay offers a plethora of useful products to make your day-to-day life easier and enjoyable! Consult the list below to see what you can do using our app: