All the Info About the UIC Financial Aid Program You Will Need
Even though the University of Illinois Chicago (UIC) doesn't belong to the list of the most expensive ones in the state, its tuitions are still too high for most students. They usually can't afford to pay their education expenses unless they apply for a certain type of financial aid.
Find out how to request UIC financial aid and how can help if your application gets rejected or brings a sum that is too small for your needs!
What Makes You Eligible for Financial Aid at UIC?
The following table shows student categories who are or aren't eligible for applying for financial aid at UIC:
Eligible for Financial Aid
Ineligible for Financial Aid

U.S. citizens
Eligible non-citizens, including:

Refugees
Asylum Granted
Permanent U.S. residents (green card holders)
T-Visa Holders
Parolee
Human Trafficking Victims
Cuban-Haitian Entrant

All other non-citizens (international students)
Incarcerated students
Students facing conviction related to the possession and use of drugs
Besides being an eligible student, you must comply with a few other requirements, such as:
Filling out a Free Application for Federal Student Aid (FAFSA) each year to keep your financial aid
Having a high school or a GED High School Equivalency degree
Being registered with Selective Service—for male students
Enrolling in an approved degree or certificate program at least five credit hours for graduates and six credit hours for undergraduates
Completing all degree requirements
Paying your existing student loans on time and being debt-free
What Financial Aid Types Can You Get at UIC?
If you meet the prescribed criteria, you can proceed with applying for one of the offered financial aid programs. UIC offers numerous support categories, including:
Grants
Scholarships
Student loans
Student employment opportunities
Grants
Grants are specific awards that don't have to be repaid unless you drop out of the university. They come from various sources, and the most prominent categories include:
Federal grants

Federal Pell Grant
Federal Supplemental Educational Opportunity Grant (FSEOG)
Federal Teacher Education Assistance for College and Higher Education (TEACH) Grant

State grants

Monetary Award Program (MAP)

Institutional grants

Tuition Award
UIC Completion Grant
UIC Opportunity Grant
Student-To-Student Grant (STS)
UIC Housing Assistance Grant
Scholarships
Scholarships are given to students as an award for satisfying academic performance, special talents, or other abilities related to their field of study. Like grants, they are non-repayable. At UIC, you can apply for:
Chancellor Fellows
Golden Apple Scholars of Illinois
Special Education Teacher Tuition Waiver Program
Minority Teacher of Illinois
Loans
A loan is an amount of money you can borrow to cover your college costs. You must repay the entire sum with interest after graduating. Available student loans at UIC include:
Graduate and Undergraduate Subsidized and Unsubsidized Loans
Graduate PLUS Loans
Parent PLUS Loans
Campus-Based Loans

Federal Nursing Student Loan (NSL)
Health Professions Student Loan (HPSL)

Alternative Loans
Stafford Loans
Student Employment Programs
The UIC student employment program is another option for simplifying college financing for students. This method allows them to earn for all university necessities by having a part-time job on-campus. Here are the programs that belong to this group:
Federal Work-Study (FWS)
America Reads
Additional Financial Aid Types
Other available financial support programs at UIC include:
Study Abroad financial aid packages
Veterans Financial Aid

Illinois Veteran Grants
Illinois National Guard Grants
MIA/POW Scholarships
Children of Veterans Tuition Waiver

Prepaid tuition program
What Does the Application Procedure for UIC Financial Support Look Like?
Submitting a FAFSA form qualifies you for most financial aid programs available through UIC. It's a mandatory and the most important part of the application process. Below is the table listing all the steps you should complete before, during, and after the procedure:
| | |
| --- | --- |
| Steps | Details |
| Check application deadlines | Each FAFSA must be submitted within a specified time frame. Find the latest information for the current/next year on the official Federal Student Aid (FSA) website |
| Find the necessary information in various documents | Prepare your ID, driver's license, or your green card if you are a permanent resident, as you will need specific details from these documents. Make sure you also have your Social Security Card, tax paperwork, and financial statements with you |
| Answer the FAFSA questions and send the form | Complete the entire form with the correct information and submit it: |
| Check your Student Aid Report (SAR) | SAR is a paper or electronic document listing all the particulars stated in your FAFSA. Re-check it and make sure there's no incorrect info or any other errors |
| Appeal an insufficient financial aid offer | UIC will send you a letter stating the exact financial aid amount they can provide for you. If you are unhappy with it, you can file an appeal. Explain why they should reconsider the decision they made and give you more money |
No Time To Write an Appeal Letter? Let DoNotPay Compose It!
Are you too busy to write a personalized appeal letter to UIC? We hear you—rarely does anyone have time for that, and it can be quite a challenging task. This is why you should rely on DoNotPay and file an appeal with the institution without contacting their financial aid office directly!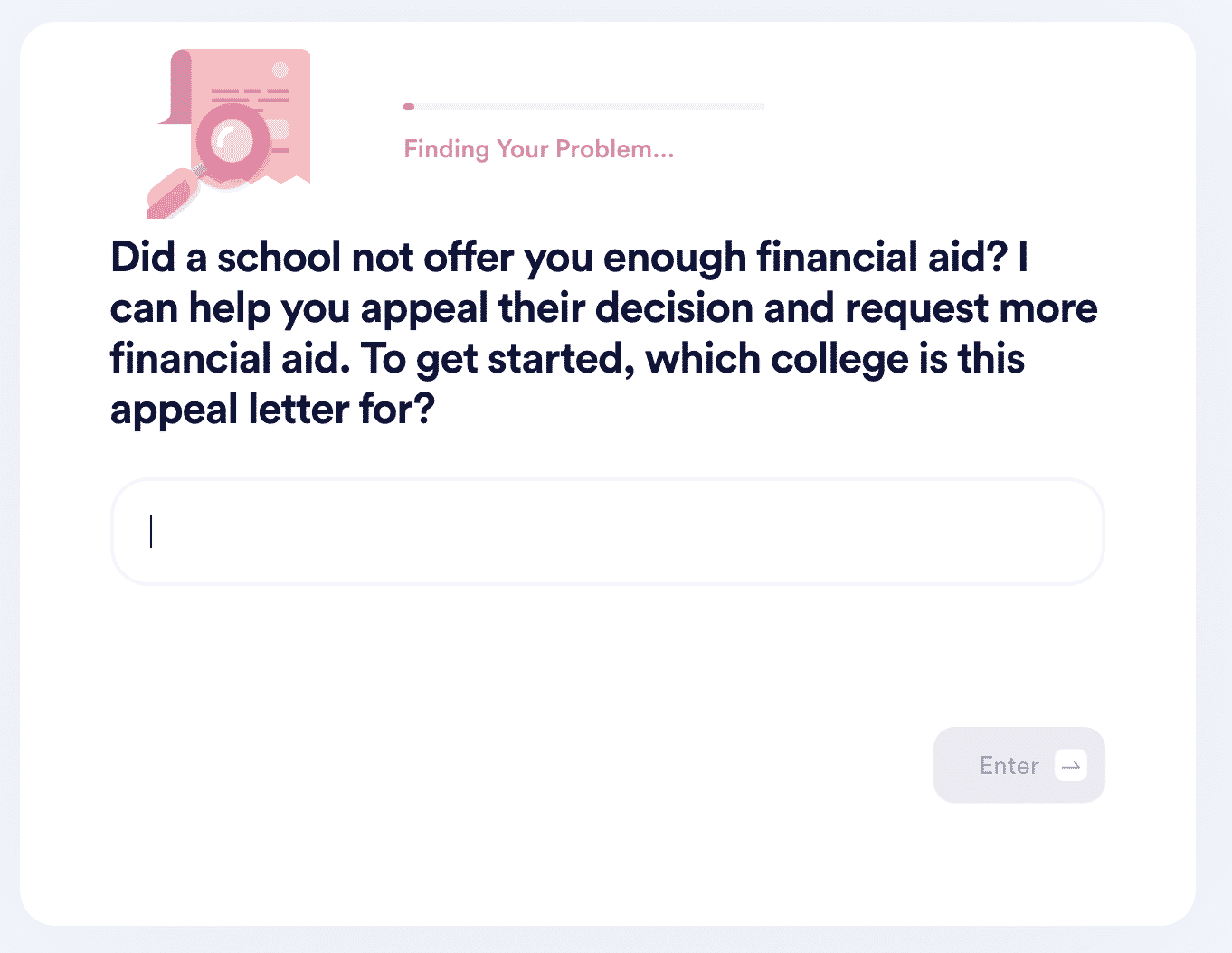 To do it, follow the steps below:
Click on Appeal for More Financial Aid
Tell us to which college you want to go to and which other universities offered you better financial support
Disclose a few required details about your family and finances
We will generate a customized appeal letter within minutes and send it in your name!
Check out other guides from our knowledge base explaining how to apply for financial aid at numerous universities or grad schools. Some of them are listed below: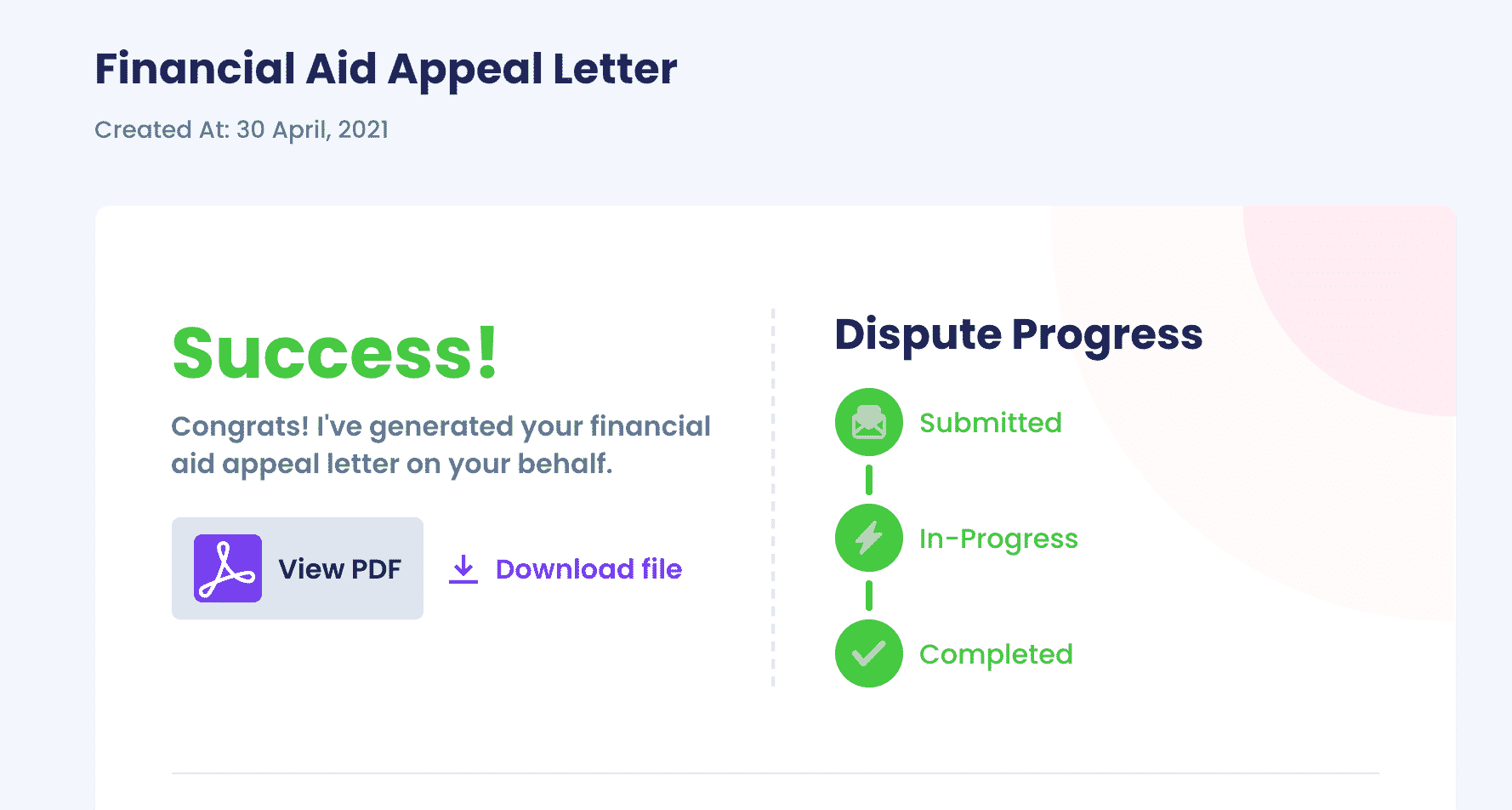 Only the Sky Is the Limit for DoNotPay
DoNotPay has an insane number of features that keeps growing. Our platform can help you:
Say Goodbye to Spam Mail With DoNotPay
DoNotPay has designed a feature that will put a stop to the flood of junk and spam mail into your inbox! We can help you join a class action against a spammer or take any person or company that's wronged you to small claims court!
Need a virtual credit card number or a fake phone number to protect yourself from scammers? We've got you covered! We can help you fight text spam or even assist you in sending mail without any chance of error.
Our users' safety is our number one concern, so we've developed a feature that will protect you from cyber stalking or harassment!