UCI's Financial Aid Program From A to Z
It's no wonder that students consider the University of California-Irvine (UCI) the best-value option among public universities when:
72% of students receive grants and scholarships
57% of students don't pay tuition
For not-so-fortunate students, though, a year at UCI means spending between $13,000 and $43,500 annually on tuition. Are you applying for UCI next semester and need financial aid? Have you already applied, but the amount of support the University offers is not enough, or you got rejected? This guide covers everything from how to apply for UCI's financial aid program to how to !
To get started, check out all types of financial aid the University of California-Irvine offers:
Scholarships
Loans
Grants
UCI Financial Aid—Scholarships
UCI offers the following scholarships:
Community Leadership Scholarships
Innovation Scholarships
Academic Excellence Scholarships
Anteater Scholarships
UCI Distinguished Scholarships
UCI Financial Aid—Loans
UCI accepts federal and private student loans, and you can contact the UCI financial aid office if you need advice.
UCI Financial Aid—Grants
Grants are usually a go-to choice for students because, in most cases, they don't have to repay them. Applying to UCI means you're eligible for:
Federal government grants
State grants
School-specific grants
Federal Government Grants
Federal government grants include:
Grant Name
The Grant Is For
Aid Amount
More Details
Federal Pell Grant

Undergraduate students with exceptional financial need and without a degree
Students enrolled in a postbaccalaureate teacher certification program (in some cases)

Up to $6,495

You can receive a Pell Grant for a maximum of 12 semesters
You are eligible for a larger Pell Grant if you lost a parent that served the military or was a public safety officer

Federal Supplemental Educational Opportunity Grant (FSEOG)
Undergraduate students with exceptional financial need and without a degree
Up to $4,000 a year
This grant prioritizes Pell Grant recipients and depends on your school's available funds
Teacher Education Assistance for College and Higher Education (TEACH) Grant
Students enrolled in programs that prepare them to teach on an elementary- or middle-school level
Up to $3,772
Students agree to spend four years teaching in a school that enrolls low-income students, and they must do so within eight years of completing their program
Iraq and Afghanistan Service Grant
For students whose parent or guardian died serving the U.S. military in Iraq or Afghanistan after 9/11
Up to $6,124.79
Students must:

Be ineligible for a Pell Grant
Have been younger than 24 at the time they lost their parent or guardian
State Grants
The State of California offers the following grants:
Grant Name
The Grant Is For
Aid Amount
Cal Grant
Depending on the award category:

Transfer students
Current high school seniors, recent graduates, etc.

From $4,000 to $6,000
Chafee Grant for Youth
Students that are 16–18 years old and spent at least one day in foster care
$5,000
Middle Class Scholarship
Students and undergraduates pursuing a career in teaching with a total annual family income of up to $184,000
Up to $184,000 per scholarship
California Military Department GI Bill Award Program
Members of the:

Naval Militia
State Military Reserve
California National Guard

Up to 100% of tuition and fees
Law Enforcement Personnel Dependents Grant Program
Spouses and dependents of employees who died or became disabled while serving:

Firefighters
Law Enforcement
Tribal Firefighters
Department of Corrections and Rehabilitation
Department of Corrections and Rehabilitation, Division of Juvenile Justice

$12,192
John R. Justice (JRJ) Program
Nonelected prosecutors and public defenders
Up to $10,000 per year but not more than $60,000 in total
Golden State Teacher Grant Program
Students currently enrolled in a teacher preparation program who agree to commit four years to teaching within five years of program completion
Up to $20,000
School-Specific Grants
UCI offers grants to students for a maximum of five years, and the amount varies depending on the specific case. You do not have to repay a UCI grant under any circumstances.
Do I Have To Repay Other Grants?
While you usually don't have to repay grants, you may have to if you:
Quit school before you finish the enrollment period
Receive a TEACH grant and breach the Agreement to Serve
Change your enrollment status in some way that influences your need for financial support—for example, going from full-time enrollment to part-time
Receive other scholarships and grants that lessen your need for financial aid
How To Apply for UCI Financial Aid
To apply for financial aid, you need to complete a FAFSA form. The form contains information regarding your family income, marital status, and more and serves as criteria to determine whether you need financial aid and how much.
The financial aid application deadline at UCI is March 2.
Check out our guide to see who qualifies for financial aid.
Did UCI Reject You or Reply to Your Application With a Low Offer? Write a Financial Appeal Letter With DoNotPay!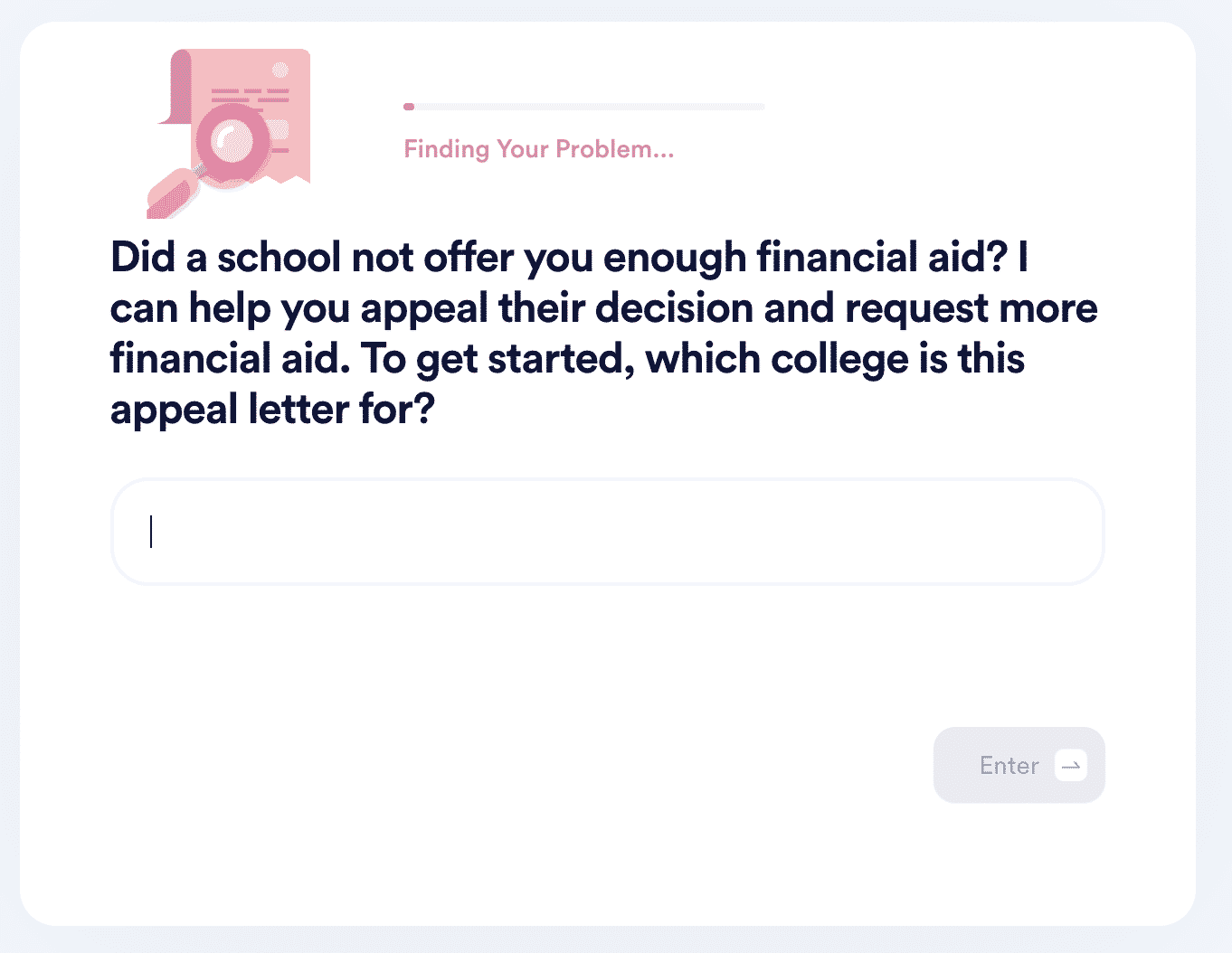 If you feel like UCI's response wasn't adequate, you can complain and negotiate to try and get more financial aid by writing a financial aid appeal letter. We can help you generate one in two minutes! To get started:
in any web browser
Type in Appeal for More Financial Aid in the search bar
Answer a few questions about your financial aid application, such as the college you're planning to attend, your financial situation, and any difficulties you're experiencing
Submit your request
We will generate a custom appeal letter that we can mail to UCI directly or send the letter to you via email to print out and submit yourself.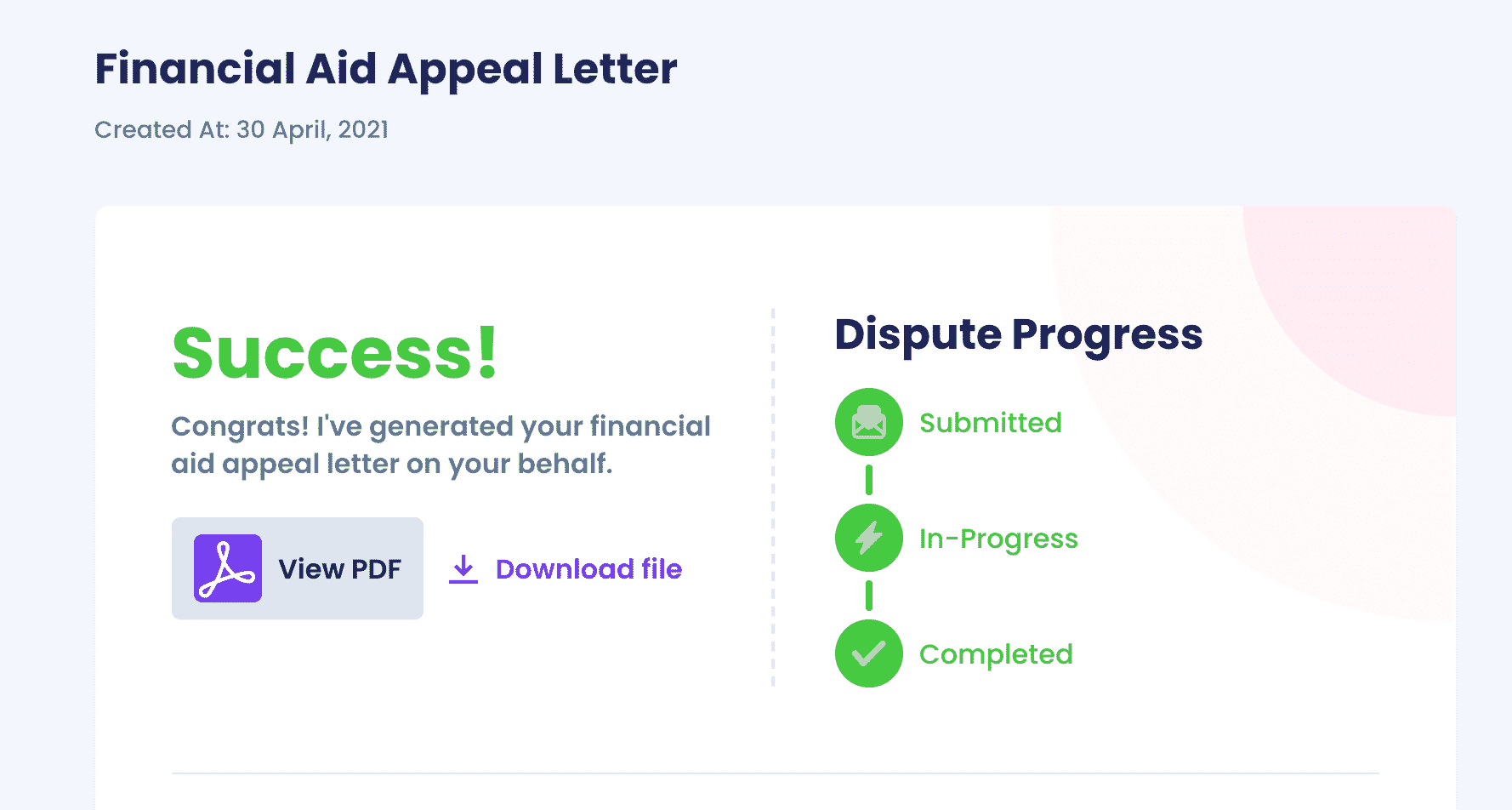 Learn more about how financial aid works with our guides on:
Looking for Other Options? Check Out Other Universities We Wrote About
If UCI rejects your application or negotiation doesn't bear fruit, you can always explore other options. Some of them are:
Solve All of Your Bureaucratic Issues With DoNotPay
Do you need to file an insurance or warranty claim? Need help with setting up DMV appointments or appealing parking tickets around the U.S.? Don't worry because your AI-based helper can step in!
We can help you get professional powers of attorney and divorce agreements, so you don't have to waste money on expensive lawyers! Once we draw up these documents for you, we'll set you up with an online notary, and you can get them notarized in no time!
Subscribe to Various Services Hassle-Free With DoNotPay
Did you ever get charged by a subscription service after using their free trial? DoNotPay can put a stop to that once and for all! We can get you a virtual credit card or a burner phone number, which you can then use to subscribe to any service stress-free! When you want to cancel a subscription, turn to your virtual assistant for help, and we'll do it for you in seconds!
If the company is giving you a headache, we'll hook you up with their customer support or even sue them in small claims court. Possibilities with DoNotPay are endless!
DoNotPay can also turn mailing into a piece of cake and save your inbox from email and text spam!