Shedding Light on the Tulane Financial Aid Programs
Whether you are a freshman or a year or two away from graduation at Tulane University, finding enough money to finance your education may be quite challenging. Applying for financial aid programs provided by this institution is one of the available ways to obtain the necessary funds, but how can you do it?
Skip the hassle and use our guide to learn how to request Tulane financial aid following all the necessary steps! We will teach you all about:
Existing Tulane University Financial Aid Programs
You can apply for one or more financial aid types and even combine them to obtain enough funds to pay for the entire academic year. There are three categories of support:
Gifts
Loans
Employment programs
What Gifts Does Tulane University Offer?
Gifts are grants and scholarships provided by state, federal, and institution sources that don't have to be repaid after finishing your higher education. These include:
Merit-based gifts

Paul Tulane Award
Dean's Honor Scholarship
Community Service Scholarship
Partial Tuition Merit Scholarship

State awards

Louisiana GO Grant
Mayoral Scholarship
Legislative Scholarship
Louisiana Tuition Opportunity Program for Students
Tulane's Louisiana Promise Financial Award No Loan Assistance Scholarship

Need-based scholarships

Federal Pell Grant
Federal Supplemental Educational Opportunity Grant
Tulane Need-Based Scholarship
Tulane's No Loan Assistance Scholarship

Outside scholarships
Athletic scholarships
Veteran's education benefits
Faculty and staff tuition waivers
What Loans Does Tulane University Offer?
Loans enable you to borrow the money you need to finance your education and repay it later. You can choose from:
Graduate/Undergraduate Subsidized Loans
Graduate/Undergraduate Unsubsidized Loans
Federal Graduate PLUS Loans
Private Alternative Loans
Parent PLUS Loans
What Student Employment Options Does Tulane University Offer?
If you have some spare time between classes, work-study programs may be a perfect way to earn money to pay your educational costs. Employment opportunities include:
Federal on- and off-campus work-study programs
Non-federal on- and off-campus work-study programs
What Are the Phases of the Tulane University Financial Aid Application?
The following table shows each step you must go through before finalizing your financial aid application:
Phase
Explanation
Check your eligibility for FAFSA submission
The first step involves filing a Free Application for Federal Student Aid (FAFSA). To be eligible for completing the form, you must:

Have finished high school or obtained a GED diploma
Enroll at Tulane University as a regular student
Have a valid Social Security number
Keep up the good work with your academic progress
Repay any federal loan debts you have
Be a U.S. citizen, green card holder, or belong to other eligible non-citizen groups

Look for the current application deadlines
Like all other colleges, Tulane University has specific deadlines for FAFSA submission. Make sure you search for the newest updates to avoid being late with your application
Complete your FAFSA and your CSS Profile
Fill out the forms with accurate information. You won't need to submit a CSS Profile if you don't apply for need-based awards. In case you are interested in federal financial aid only, FAFSA will be enough. You must do it every year to renew your financial support
Revise the information disclosed in your FAFSA
Student Aid Report (SAR) is a document that sums up all your answers in your FAFSA form. Examine it closely and try to notice any potential errors and fix them before your application gets processed
Accept or appeal your financial aid offer
You will receive an official letter from Tulane University containing an award offer as soon as your request is assessed. If you like the amount provided, all that remains is to accept the offer. Should you be dissatisfied with the sum, submit an appeal letter to the Tulane University financial aid office or and let us do it for you
Can the Tulane Office of Financial Aid Help Me With My Application?
Yes, it can! If you are looking for a more detailed explanation of the application procedure, get in touch with the financial aid support office staff via:
Phone—by dialing (504) 865-5723 or (800) 335-3210
Email—by writing to finaid@tulane.edu
Have Your Appeal Letter Composed in a Snap With DoNotPay
Why spend hours writing your appeal letter when you can get a personalized one in under five minutes with our help? DoNotPay can generate a claim containing all the important information about your financial circumstances and send it to the college!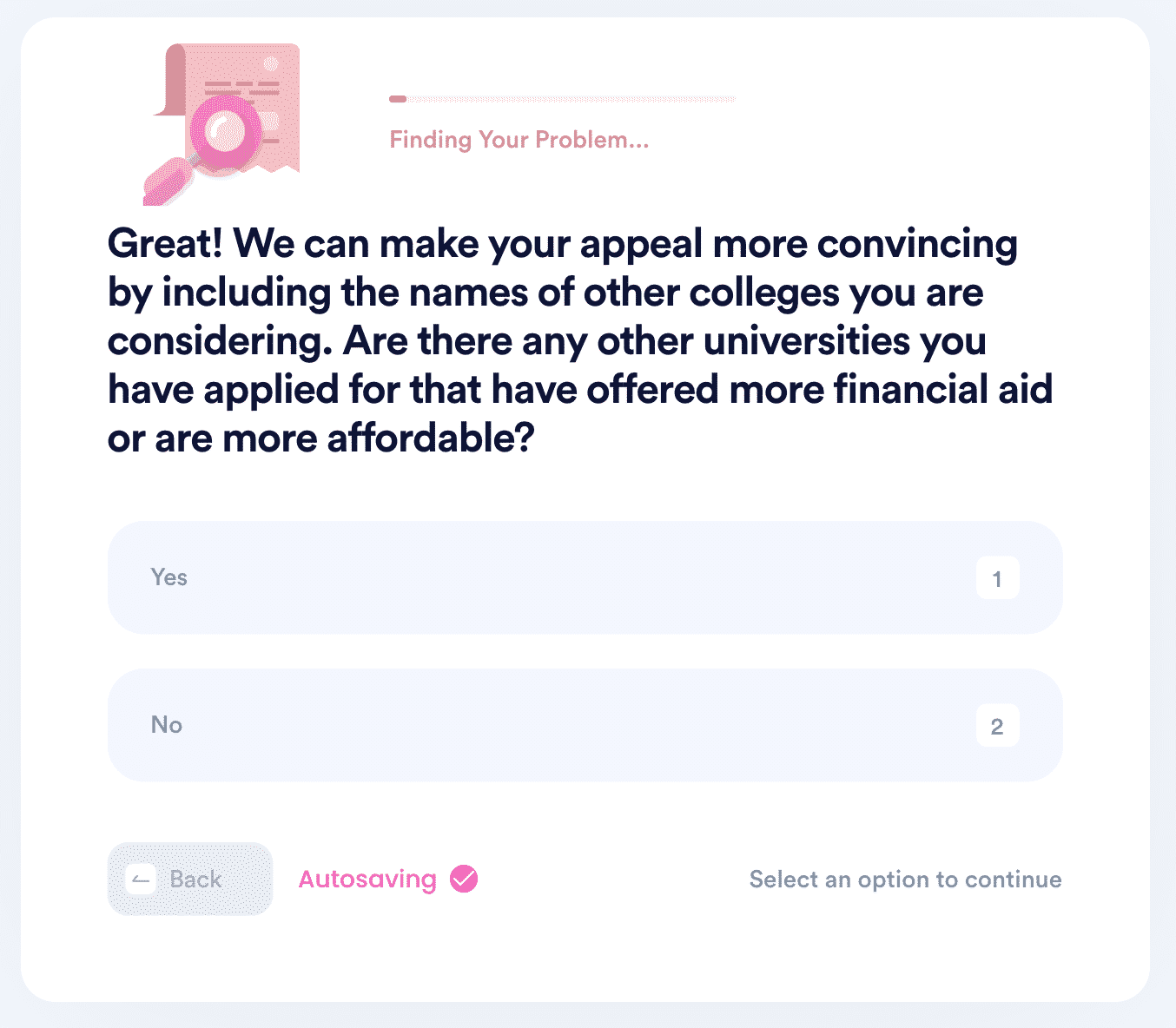 To get a tailor-made letter, do the following:
Type Appeal for More Financial Aid in the search field
Go through our chatbot's quick questionnaire
Customized appeal letters aren't the only perk DoNotPay offers! Our learning center also features numerous guides explaining financial aid programs at other institutions, be it a specific college or a graduate school. Some of them are listed in the table below: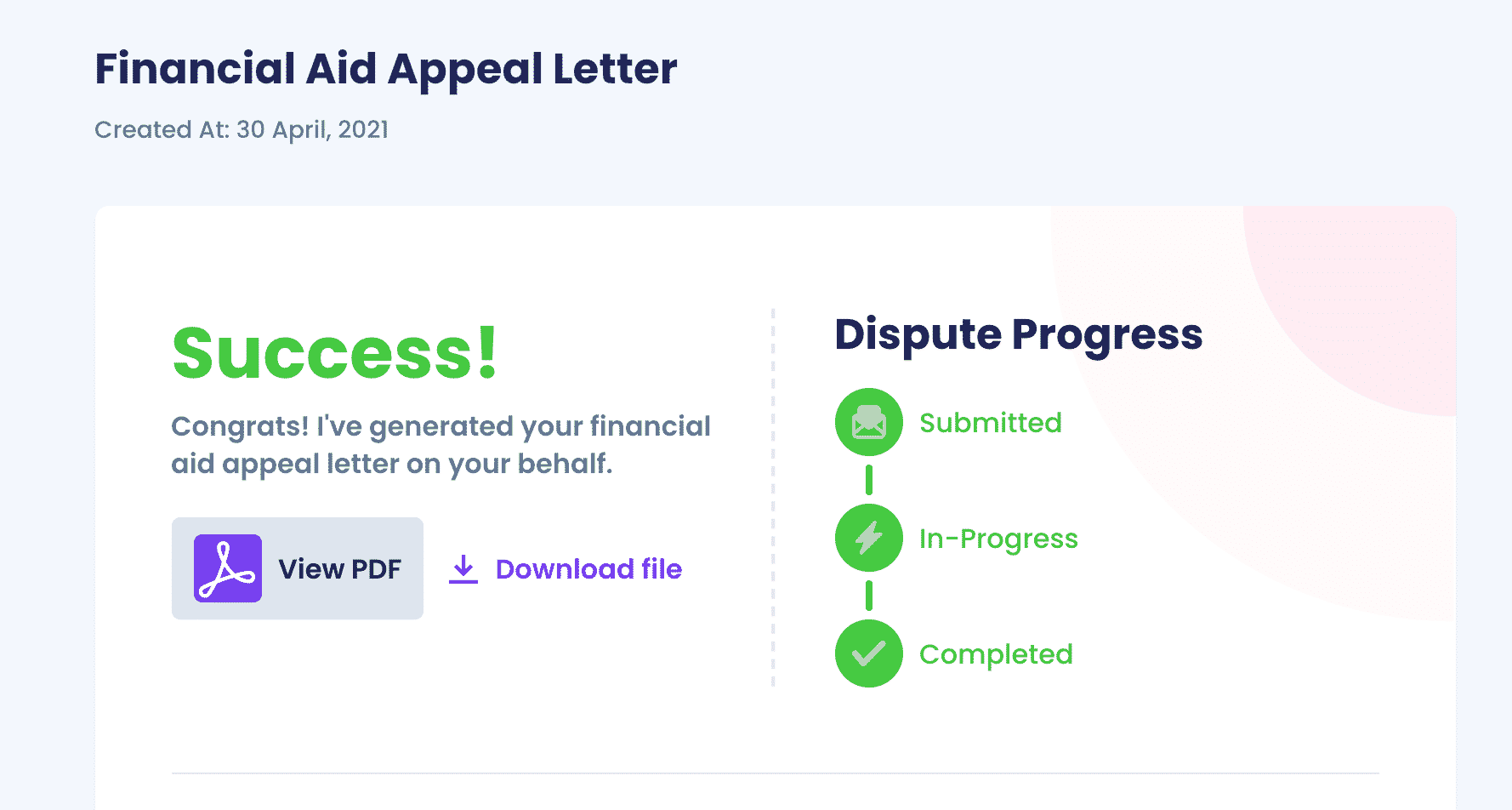 Is Bureaucracy Giving You a Headache? DoNotPay Can Help!
Bureaucracy is a big part of our lives that we can't escape. We understand the struggle over at DoNotPay—that's why we've created various features that can help you out! The world's first robot-lawyer app can assist you with:
DoNotPay's Arsenal of Features Doesn't Stop Growing
DoNotPay's number of handy features keeps growing by the day. Our platform can help you with various issues ranging from filing insurance claims to finding clinical trials. Want to save money on unused subscriptions? DoNotPay has got your back! We can help you cancel them and fight any subscription spam email that you get. Your AI assistant can also get you free raffle tickets or find any missing money in no time!
With DoNotPay, you'll have access to countless features that grow in numbers by the day! You'll be able to block robocalls, deal with tedious neighbors, and much more!