Can a Temporary Cell Phone Protect Your Privacy?
Would you like to purchase a temporary phone number, but your phone has a SIM lock? One of the solutions you have is to buy a temporary cell phone. While a burner phone with a temporary number can help you avoid robocalls, spam texts, and target advertising, this option is not the most affordable one.
Continue reading our article to find out more about temporary cell phones and why you should rely on DoNotPay instead of buying a burner phone.
What Are Temporary Cell Phones?
A temporary cell phone—also known as a burner phone—is a prepaid device mostly used with a prepaid number. Since you don't have to sign a contract when purchasing prepaid phones and phone numbers, you can rest assured that your privacy will be protected. 
While burner phones are usually older, affordable phone devices, you can also buy a newer model if you plan to continue using the phone.
Why Do People Use Temporary Phones?
Most services require you to provide your phone number or email address upon registration so that they can verify your account. People usually don't mind revealing their email addresses because it's easy to make a separate email for registration purposes only. 
When it comes to phone numbers, internet users are more careful. That's why people prefer getting a temporary phone number to bypass phone verification when registering for:
Social media 

Dating apps

Service subscriptions

Free trials

Online

surveys
Postpaid phones are widely popular because of their convenience, but most providers lock the phones so that you can't use other SIM cards. Since it's nearly impossible to insert a temporary SIM card into your postpaid device, many people choose to purchase a temporary cell phone.  
How To Get a Temporary Cell Phone
You can purchase a temporary cell phone from any phone, department, or convenience store, including:
Once you buy the device, you'll also get a prepaid phone number that you should activate according to the provided instructions. The SIM card will probably come with free minutes, data, and text messages. If you want to continue using the temporary cell phone, you should consider investing in one of the numerous temporary cell phone plans.
Best Temporary Cell Phone Plans
Prepaid phones can become expensive if you don't choose the right plan. Here's a short overview of the most affordable prepaid plans on the market:
Best Prepaid Plan for:
Carrier
Price
What's Included
Data

Boost Mobile

$50 a month

Unlimited data, minutes, and text messages

T-Mobile

$40 a month

Unlimited texts and minutes

10GB of data

Families

Boost Mobile

$140 a month for four lines

Unlimited:

Texts

Data

Minutes

Music streaming

12GB mobile hotspot

Cricket

$100 a month for four lines

Unlimited data, texts, and minutes

No Data

Republic Wireless

$15 a month

Unlimited texts and minutes 

Ting

$12 a month

Pay-As-You-Go

T-Mobile

$3 a month + three cents per MB or minute over the limit

100 minutes

100MB 4G data

100 texts

$2 per day of use

Unlimited texts and minutes
Register for Any Service Without a Phone Thanks to DoNotPay
Even though buying a temporary phone might be a decent solution, not everyone wants to spend too much money on prepaid plans each month. Thanks to DoNotPay, you'll get a fake phone number whenever you need it for a small subscription fee. Our feature will help you protect yourself from robocalls and spam texts on Android and iPhone. 
DoNotPay has created the best fake phone number app that will provide you with a temporary number in a few clicks, and here's how:
Open

DoNotPay

Choose our

Burner Phone

service

Enter the name of the company you need the

fake number

for

Click on

Create a Temporary Phone Number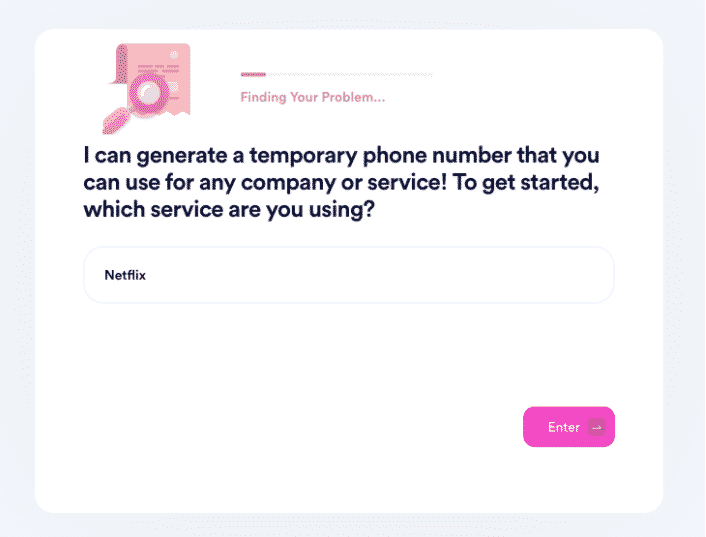 The provided number will be valid for 10 minutes. Once the number expires, DoNotPay will deactivate it, and the data you've received will be deleted. 
With us, you can safely register for any service, dating app, or social media network, including:
Take Your Privacy Protection One Step Further With DoNotPay's Virtual Credit Card
A credit card number is another detail that many people don't feel comfortable sharing when signing up for a service. DoNotPay has a solution for that, too. Our virtual credit card feature will generate a fake credit card number and expiration date for you to use upon registration.
Besides protecting your personal info, our free virtual credit card can come in handy if you want to register for a free trial. Our credit card doesn't contain any money, which means that you won't be charged for the subscription even if you forget to cancel the free trial. You will be unsubscribed automatically once the free trial is over.
More of What We Can Do for You 
Our multifaceted app can call and record the conversation with the customer service of the company that just won't let you go! If you are having trouble canceling an unwanted service via the traditional channels, use DoNotPay to get it over and done with!
We can help you stop the persistent robocalls and robo texts from the nagging company and request a refund for unused services in a matter of minutes.
We'll also lend a helping hand in stopping spam mail—whether it's electronic or paper. Our Spam Collector product unsubscribes you from unwanted emails and cleans up your physical mailbox too!
DoNotPay Can Do Your Paperwork for You! 
Feeling like you're in bureaucratic hell? Our app will draft the paperwork you need and get you out of any hurdle before you know it! 
We can compose most of the documents that you require for any administrative purpose in your jurisdiction, most notably: