Smart Hack That'll Help You Bypass Any Phone Verification
People look for ways to avoid phone number verification for various reasons, but it mostly has to do with protecting private information. Are there ways to bypass this authentication step when signing up for a service? We'll explore all the available options and help you choose the best one.
What Is Phone Number Verification and Why Is It Required?
Most apps and companies require you to provide them with your phone number when applying for their services. The process goes like this:
You enter your phone number in the required field

The company sends you a text message with a verification code

You enter that code when signing up to prove it is really you
This way, they make sure you are who you say you are. Two-step verification is another popular way companies allow you to sign in to your account from a different device. Every time this happens, you'll have to use your phone to enter a verification code, so other people won't be able to access your account easily.
Phone verification is also used in case you forget your password and need to recover it. The service will allow you to access your account by entering a verification code from your phone.
The idea behind phone number verification seems reasonable, but are there any risks that come with it? Is it safe to share your phone number with all the apps and websites that ask for it? Most likely not because personal information such as phone numbers can be abused in various ways, and it is wise to avoid this step if you don't trust the company. There are a few ways to achieve this.
Popular Ways To Bypass Phone Verification
If you don't feel like leaving your phone number everywhere, you can use one of the popular options to avoid phone verification. Take a look at the table below and see what the most common ways to bypass this safety measure are:
| | |
| --- | --- |
| Can You Try To Avoid Phone Verification By Using | Yes/No |
| Burner Phone | Yes |
| Fake Phone Numbers Found on Google | Yes |
| Phone That Belongs to Someone Else | Yes |
| Google Voice | Yes |
None of these options is an ideal choice, and they all come with various downsides.
Using a Burner Phone to Bypass Phone Verification
A burner phone is a device that comes with a prepaid number. People turn to this option because they get a number without a contract that cannot be traced. It sounds like a good idea if you are trying to avoid using your real number when signing up for dating apps, social media, or online chat rooms, for example.
If you decide to use this option, it comes with a cost. You'd have to give around $50 for the device, and you only get one number. If you decide to use this number to actually make phone calls, you should know that the free minutes you get have an expiration date—definitely not the best option.
Using Google Search To Find Fake Numbers and Avoid Phone Verification
This option sounds fishy from the start. Is it really possible to get anything that works for free? Most likely not, and searching for fake phone numbers can only lead to a possible scam. Fake phone number apps rarely work, so it is best to avoid using this method to bypass phone verification.
Using a Phone That Belongs To Someone Else To Bypass Phone Verification
Remember why you are trying to avoid phone verification in the first place:
Sharing your personal information

Avoiding annoying robocalls

Avoiding spam texts

Making sure no one abuses your information
If you can relate to any of the abovementioned statements, then why would you want anyone you care about to deal with any of it? Most likely, they won't agree to help you in the first place. Another thing to bear in mind—many companies and services allow just one number per account. If your friend or family member already has an account there, you cannot use their phone number as verification proof for yours.
Using Google Voice To Avoid Phone Number Verification
Google Voice is meant to provide you with a phone number you can use to forward calls to your existing number. That's the main purpose of the app, but some people believe it is a good idea to use that number when trying to sign up for other services.
The problem is that you'll need a phone number to sign up for Google Voice. Isn't that what you were trying to avoid in the first place? It is better to skip this way of bypassing phone number verification as well.
How To Get Around Phone Verification With DoNotPay

There is a simple solution that guarantees results when trying to bypass phone number verification—DoNotPay! You won't have to worry about effectiveness, jeopardizing someone else's privacy, and, most importantly, the price!
This is how the feature works:
Open DoNotPay in any

Find and click on the

Burner Phone

feature

Enter the name of the company you need the number for

Tap on

Create a Temporary Number

Get the number DoNotPay generated

Select

View My Text Message
You'll see the verification code that's yours to use for verifying any account. The temporary phone number and code will disappear after ten minutes, so make sure to use it within that time frame. This ensures that a company cannot contact you after the signup since that number won't exist anymore, and you won't have to worry about spam messages or robocalls.
Use DoNotPay's Virtual Credit Card To Stay Protected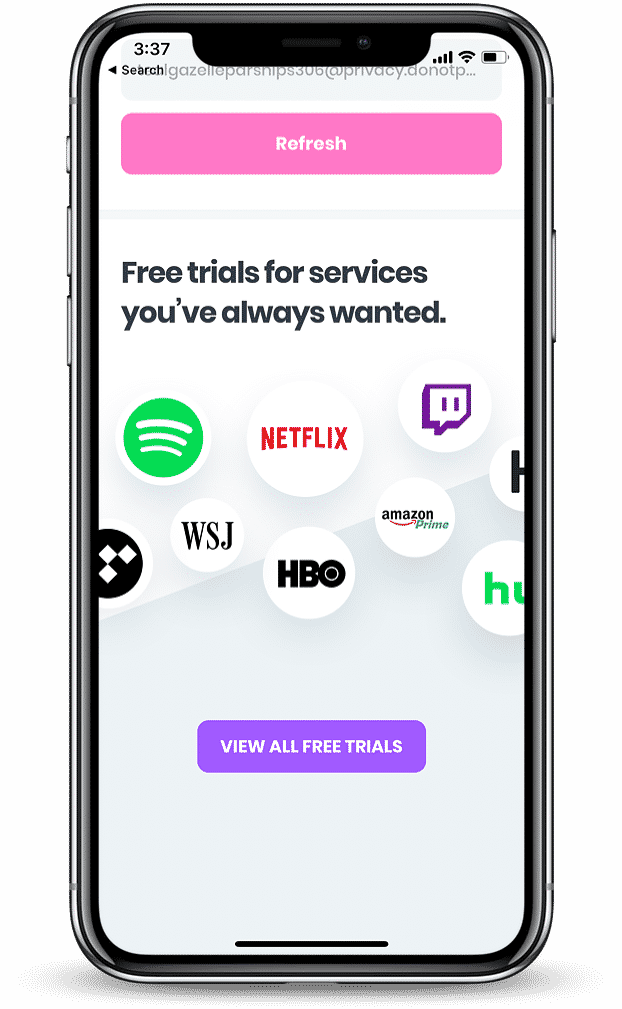 In case you need a credit card number to sign up for a service, you can use DoNotPay's virtual credit card and avoid leaving additional personal info to companies. This feature is especially handy when applying for free trials because it ensures that you won't have to pay for the service in case you forget to unsubscribe before the trial ends.
It is a simple process that includes generating a number that will resemble a real credit card number in every way. It will even be linked to a fake name and email address.
The only difference between this number and a real card is that DoNotPay's card has no funds on it, so the company won't be able to use it to charge you. Once the trial ends, they'll have no other choice but to cancel the service themselves. Enjoy free trials without worrying about potential charges!
Let DoNotPay Lead the Way to a Stress-Free Life

DoNotPay can help you sign up for free trials with any company, such as HBO, Hulu, Netflix, Spotify, or YouTube. We can also help you with other tedious and complicated tasks. Open our app in any and choose an issue you need help with:
Fighting speeding tickets

Disputing traffic tickets