How To Work Around Venmo's Verify Phone Step at the Signup
As a mobile payment service, Venmo requires that you connect a phone number to your account to verify it. If you already have an account but want to create more, you probably don't have any extra numbers to spare. 
Don't worry, because DoNotPay can step in and provide you with a fake phone number to sign up for Venmo. You won't have to buy an expensive burner phone or use someone else's number to create a Venmo account. Our app keeps it simple and lets you sign up for any service that requires phone number verification. We can even help with the ones that ask for credit card details.  
How Does Venmo Text Phone Verification Work?
You can sign up for Venmo without providing them with a valid phone number, but you won't be able to use the app. You must verify your account before you can start receiving payments. 
Once you sign up with a number, you'll be sent a verification text to your phone. When you input the verification number, your account will be ready to use. 
If you signed up without a number, you can add a number in the app's Settings section. 
How Do I
Bypass Venmo Phone Verification?
If you're wondering how to verify a phone on Venmo without disclosing your real number, there aren't many solutions that are practical and cheap. You can try a few different methods to acquire a valid number:
Method
Benefits
Drawbacks

Buying a burner phone

Lets you sign up for most services

Available at most larger stores such as Walmart or Target

Costs a lot of money 

Expires after 30–90 days

Googling fake phone numbers

Using someone else's phone

Guaranteed to work when signing up

The other person might have already signed up for Venmo or other services

They might not want to share their personal info and receive spam
Why Do I Have To
Verify My Phone at Venmo
?
The company's policy for signing up is clear—you have to use your phone number to verify a new account. There are valid reasons for this policy:
It reduces the number of spam accounts, as phone numbers aren't easy to come by

It helps track potentially fraudulent accounts

It allows you to use your phone for two-factor authentication
DoNotPay Will Help You
Verify Venmo Without a Phone
Number

Studies have shown that consumers don't trust big corporations with their information anymore. It's become common knowledge that companies such as Facebook and Venmo collect and sell every bit of personal information they have on their users to different businesses. If you don't have a number to spare or don't want to share your number with Venmo, you should use DoNotPay's Burner Phone feature. 
We can help you skip the verification process by generating a temporary phone number that you can use to verify Venmo or any other service. Follow these steps to easily gain access to any service that asks for a phone number:
Access DoNotPay from your

web browser

Navigate to the

Burner Phone

tab

Enter the name of the company that requires phone verification

Press

Create a temporary number
You'll receive a temporary phone number that you can use to verify your Venmo account without disclosing your real details. The phone number is operational for ten minutes, which gives you ample time to receive and type in the verification code you receive from Venmo. 
DoNotPay will provide you with a temporary phone number multiple times per month, which beats having to buy a new burner phone any time you want to sign up for a new service. 
What To Do if
Venmo Can't Verify a Phone
Number?
A common issue for Venmo users is that their phone isn't recognized by the app's verification system. This can happen if you use a VOIP line, which Venmo doesn't support. If you switch your number from a VOIP to a non-VOIP line, it might take some time for Venmo to process the change. In case you want to activate your account as soon as possible and skip the wait, use DoNotPay's Burner Phone feature. 
If your phone is on Do Not Disturb or Airplane Mode, you won't receive a confirmation text from Venmo. Make sure you enable messages from unknown numbers and disable DND and Airplane Mode before you request a confirmation text. 
To send the verification text again, you should:
Check if you have short code messaging enabled with your provider

Text

Start

to

86753

, which will check if you allow text messages from Venmo on your phone

Press

Resend Code
If none of these methods work, consider logging into Venmo from another device. 
The Best Part About DoNotPay's Fake Phone Number Is Its Versatility
Plenty of apps and services require phone number verification. While two-step authentication is a great way to ensure that nobody else can log into your account, you may not always feel comfortable giving something as private as your phone number to big corporations. 
If you want to test out the service, but are reluctant to provide your actual phone number, you can use DoNotPay's randomly generated phone number instead. Here are some instances in which DoNotPay can help you bypass phone verification: 
Use DoNotPay's Virtual Credit Card for Free Trials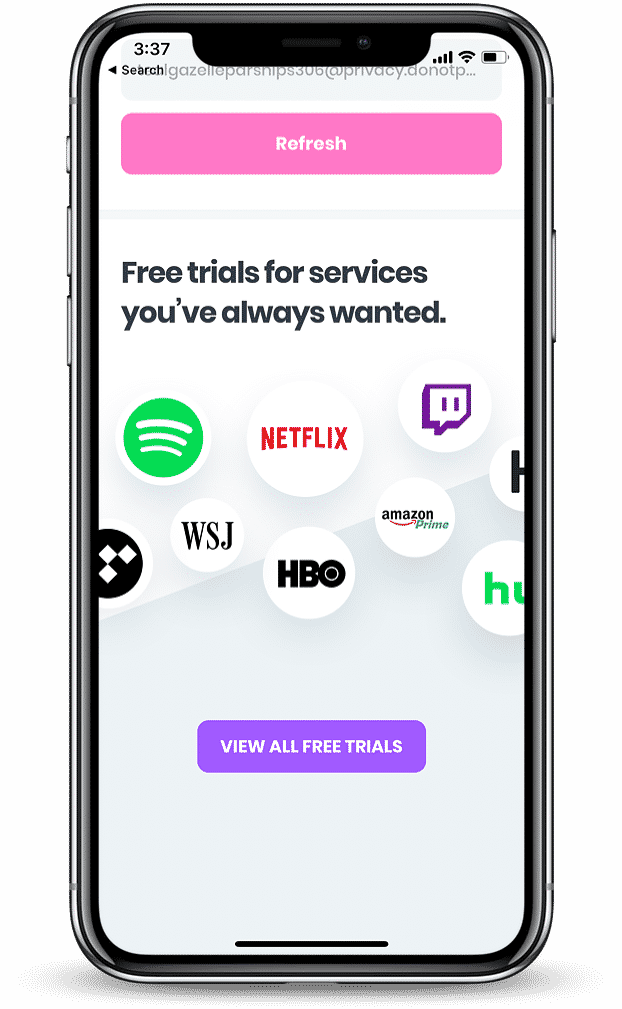 Online services often demand either a valid phone number or credit card upon signup. Giving away the latter can feel even more daunting than disclosing your phone number. Companies that offer free trials are notorious for trying to get you to sign up for free, then charging you once the trial is over. If you forget that you signed up and the trial expires, you'll be charged because it auto-renews into a paid version. 
DoNotPay offers a clever workaround that will keep your credit card safe from unwanted charges—a free virtual credit card generator. The way it works is simple:
We generate a credit card number 

You use it to sign up for a free trial

Once the trial runs out, you're unsubscribed because there are no funds on the card
This way, you avoid risking your money, and the company doesn't get your credit card information. 
DoNotPay Provides More Than Just Burner Phones

Our robot lawyer app can help you generate virtual phone numbers for a variety of services. If you need a new number to verify Snapchat, Reddit, or MeetMe, our Burner Phone feature has you covered. 
We'll show you how to bypass phone verification for any service and give you some pointers for finding burner phones in Target and Walmart.
DoNotPay can help you deal with other administrative tasks. We'll show you how to appeal parking tickets in Oakland, Austin, New York, or any other city in the U.S. If you don't know how to sue someone for harassment, ask the world's first robot lawyer to jump in.
Take advantage of useful features once you access DoNotPay in your web browser. Here's a list of tasks we can help you with:
Fighting speeding tickets

Disputing traffic tickets