Tips on Finding a
Fake Phone Number for Google Verification
More and more companies require a phone number upon registration. Even the few services that don't ask for it right out of the gate eventually demand your phone number. Some online platforms like Twitter and Instagram may even lock you out of your account until you verify it by adding a phone number.
People fight this intrusive demand by acquiring fake phone numbers. If you are in need of a number for Google verification, DoNotPay can weigh out the pros and cons of every option and suggest the best one!
Why Does Google Need
Phone Numbers for Email Verification
?
Under the excuse that it's for our safety, many companies ask us to provide our phone numbers incessantly. Google is no exception. It may be free, but it comes with a price. These are some of the reasons Google is asking for your number:
Resetting your password more easily

Providing proof that you are not a robot

Preventing hacking and suspicious activities

Helping you recover a compromised account

Stopping spammers from creating multiple accounts
Can I Register on Google Without a Phone Number?
Yes, you can. Google does ask for your phone number, but you can skip this part and register anyway. Follow these steps to create a Google account without sharing your phone number:
Go to Google's

sign-up page

Enter your first and last name

Come up with a username and fill in the username box ending with

@gmail

Type in your password twice to confirm it

Tap on

Next

Skip adding a phone number

Add a recovery email address if you want to

Finish creating your account
You are safe for now. Not long after setting up your account, a notification may pop up with a message "Security issues found," and it will ask you to verify it's really you by adding your phone number.
Where Do I Find a
Fake Phone Number for Gmail
?
Finding a fake phone number for Google verification is no easy feat. How do you discern the scams from the ones that will actually work? 
Don't worry—DoNotPay will give you all the details about the possible methods of finding a fake phone number:
Methods
Pros
Cons

Google fake phone numbers

Typing "fake phone numbers" into Google will immediately show numerous websites offering fake numbers

Searching fake numbers on most of these websites by state, city, and area code

The numbers are not guaranteed to work

Google may have blocked most of these fake number websites

Buy a burner phone

You have to purchase an additional device and a prepaid plan

Burner phones can be expensive

You could still receive spam calls and text messages

Use Google Voice

Getting a Google Voice number is free

Google gets your real number anyway because you have to provide a phone number to Google Voice

Phone scammers

are known to use Google Voice

Download fake phone number apps

Having these apps is useful for phone verification, online dating, business calls, and traveling

Fake phone number apps require your phone number so they could reroute the calls and texts

They offer subscriptions that auto-renew, which makes it easy for them to charge you indefinitely
Use DoNotPay's
Virtual Phone Number for Gmail Verification

None of the fake phone number methods is perfect, especially if all you need is a temporary phone number to verify your Google account and move on with your day. 
Luckily, there is a solution! All else pales in comparison to DoNotPay. Thanks to our AI-powered technology, we can provide you with a working fake number without the need to take your real phone number. 
Take advantage of DoNotPay's Burner Phone feature without actually buying a burner phone. No bells and whistles here—just a foolproof way to Google verification.
Other benefits of using DoNotPay's fake number are:
How Does DoNotPay's Fake Phone Number Work?
DoNotPay streamlines phone verification in a few clicks. This is all you need to do:
Open DoNotPay in your

web browser

Select the

Burner Phone

feature

Type in

Google

Click on

Create a Temporary Number

Tap on

View My Text Message

once you get the phone number
When you click on the text message, you'll get the verification code for Google so that you can enter it right away. After ten minutes, this number gets deactivated, and you won't have to think about it ever again. 
If you need a number for another account, such as YouTube, Snapchat, or Facebook, we'll gladly provide you with one in the same manner. With our temporary number, you are as protected as possible.
The Best Part About DoNotPay's Fake Phone Number Is Its Versatility
Plenty of apps and services require phone number verification. While two-step authentication is a great way to ensure that nobody else can log into your account, you may not always feel comfortable giving something as private as your phone number to big corporations. 
If you want to test out the service, but are reluctant to provide your actual phone number, you can use DoNotPay's randomly generated phone number instead. Here are some instances in which DoNotPay can help you bypass phone verification: 
Get DoNotPay's Virtual Credit Card and Enjoy Free Trials Risk-Free!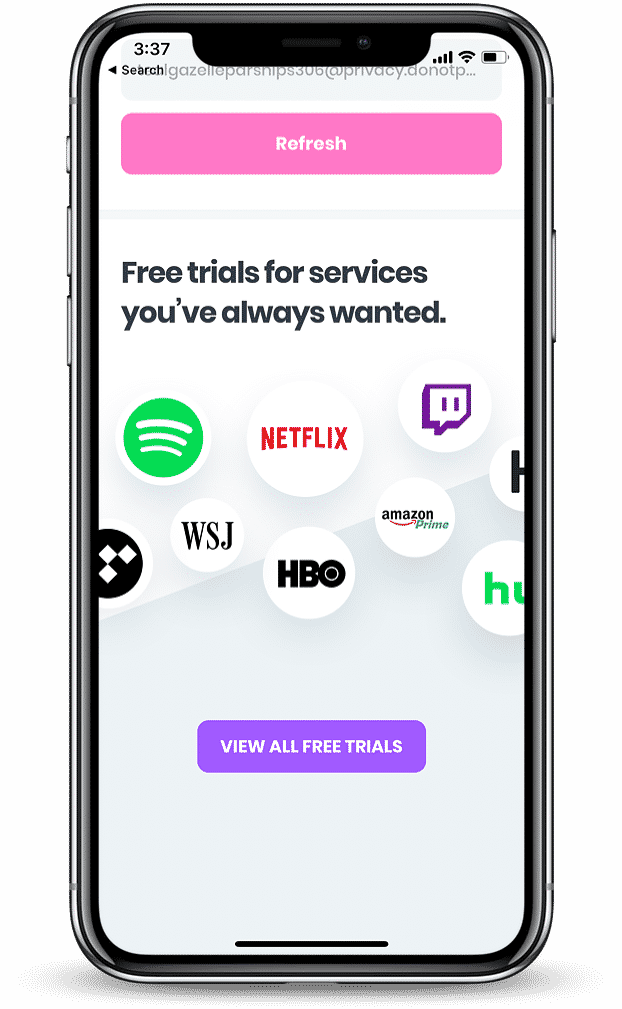 Besides keeping their privacy, consumers face having to reveal their credit card info for free trials. If all you want is a free trial, why do you have to provide your credit card? 
Companies count on you forgetting about them so that they can renew your subscription and keep charging you until you cancel. 
Who has time to keep track of every free trial? DoNotPay!
We can whip up a free virtual credit card for you. Our virtual credit card generator creates fake credit card numbers, names, and email addresses, so you can actually enjoy a free trial for free. 
Our virtual credit card isn't linked to you in any capacity and has no funds. So how does it work exactly? You can use it to sign up for a trial the usual way. When the trial turns into a paid subscription and a company tries to charge you, they won't be able to do it. This way, the company will cancel the subscription and leave you alone. Not only do we ensure you don't lose money, but we also make sure the company cannot trace you.
Say Goodbye to Googling Your Problems—Let DoNotPay Take Care of Them!

Do you have any other Google-related issues? We may be able to help! We can show you how to deal with Google spam emails, report a suspicious email to Google, get a Google Play refund, or cancel Google Play altogether.
DoNotPay is the future of solving problems. Our learning center is a multifaceted knowledge base. 
Access DoNotPay in your web browser and see for yourself. Our useful features include:
Contesting your speeding tickets

Overturning your traffic tickets