The King of Fake Phone Number Apps
Are you tired of unsolicited cold calling, scammy robocalls, and text message spam full of links that lead to shady websites? Do you want to have more control over your privacy and online security? 
If the answer to these questions is yes, you will benefit from fake phone number apps. Most Americans lose sleep over concerns about online privacy that go beyond the fears about their financial details and include passwords, phone numbers, and email accounts.
This article will help you navigate the market for apps with fake phone numbers and identify the best burner phone app for your needs. 
Why Do You Need a
Burner Phone Number App
?
Apps that create burner phone numbers are the latest response to the rising concerns about user privacy. We spend increasing amounts of time on our phones, and various apps keep asking for our phone numbers for different purposes.
In most cases, companies require users' phone numbers for identity verification, but what they do with such valuable information afterward remains a mystery. Maybe they keep it safe or sell it to advertising agencies. 
Even if they claim that the protection of sensitive data is their priority, we are witnesses to numerous reports of data leaks. In 2019, 267 million names and phone numbers from Facebook leaked online, and the Cambridge Analytica scandal is still the talk of the town. 
Installing a burner phone number app on your smartphone seems to be a necessity as it can help you with: 
Bypassing SMS verification systems when signing up for new services

Avoiding unpleasant calls and texts after unsuccessful dates

Preventing dangerous spam

Protecting yourself from data leaks
Alternatives To
Burner Phone Apps
Fake phone number apps are not the only way to keep your real phone number away from abuse, but they are the most convenient. The table below shows the most common alternatives to temporary phone number apps, including the pros and cons for each method:
Method
Pros
Cons

You have to pay more for it than for burner phone apps

It can be burdensome to take care of another device—charge it, pay the bills, etc. 

Work Phone

It usually comes as a free benefit of your employment 

It is probably more up to date than a cheap supermarket burner phone

You will need to return the device if you change jobs

It is not a good idea to use your work phone number for personal needs—setting up

Tinder

, for example

It is free to sign up for and use within the U.S.

You don't have to own a separate device

It may not work for bypassing SMS verification for all services

You still need an actual cell phone number to sign up for Google Voice
Where To Find
Apps for Fake Phone Numbers
Depending on what kind of smartphone you use, your best bet is to check out the official app stores for iOS and Android devices. You may be able to find a free app that creates fake phone numbers, but their functionality is usually questionable. 
Most fake phone number apps on the market give free trials of different durations. After the free period expires, they offer various payment options:
Pay to download

Get charged for each burner phone number

Pay for the used minutes 
Before you make a commitment, research the app's features in detail and decide whether the price is worth it in the end.  
DoNotPay Is the
Best Fake Phone Number App
on the Market

Many fake phone number apps promise numerous bells and whistles, yet they fall short of basic functionalities. DoNotPay's Burner Phone feature keeps it simple but highly efficient. It does what it's supposed to do—provides you with a temporary phone number that you can use for new account registrations on various apps and websites or other one-time uses.
The best part is that DoNotPay doesn't charge you extra for additional burner phone numbers. You can create and access as many numbers as you like, whenever you need them. 
How To Get a Burner Phone Number
With DoNotPay
The process of getting your first burner phone number with DoNotPay is easy. You don't need any in-depth knowledge of the technology we use—just follow these user-friendly instructions:
Set up your DoNotPay account in your default

web browser

Sign in and choose the

Burner Phone

option

Type in the company name and hit

Create a temporary number

Type in the DoNotPay burner phone number in the registration form on the company's website
Our burner phone numbers last ten minutes. When you receive a text message, DoNotPay will display it, so you can easily see and copy any verification codes needed to proceed with a signup.  
Make Free Trials Stress-Free With Our Virtual Credit Cards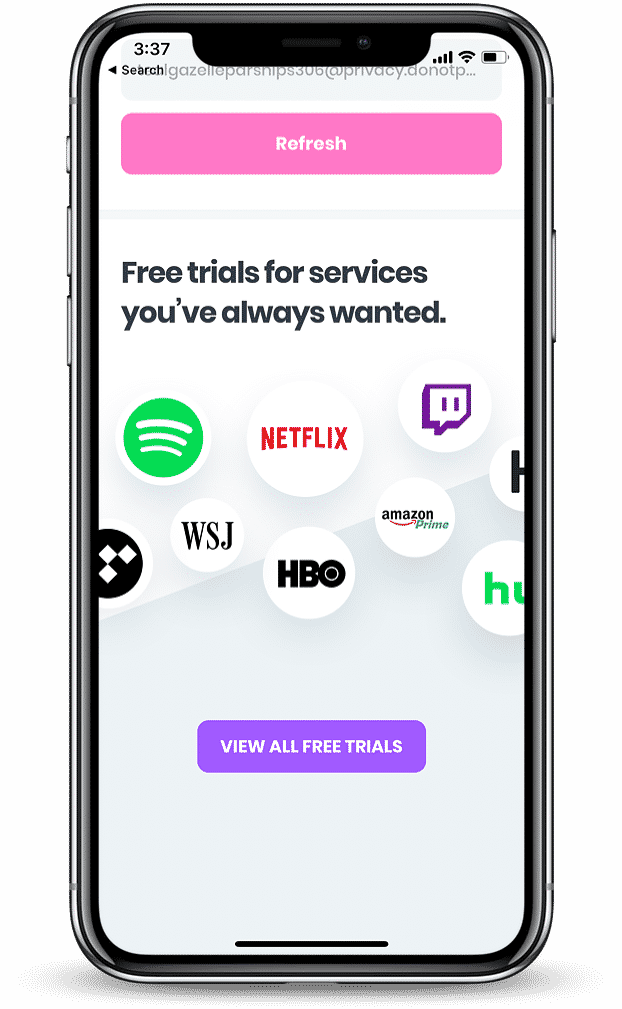 Free trials are a great way of testing a new service before you officially subscribe and start paying those recurring charges. 
Many companies try to lure you in with a few weeks of free service but request your contact details and credit card information upfront when you try to sign up. This procedure is common since they count on your busy lifestyle or bad memory to charge you for at least one month after the trial expires.
To help you avoid this trap, DoNotPay integrated another useful feature—the Free Trial Card—into our Burner Phone system. After you get a burner phone number, your AI assistant will ask you whether you wish to create a free virtual credit card as well. 
If you're signing up for services like Tinder Gold or Spotify, you can use your virtual card details to get access to all premium features but with no risk of getting charged since DoNotPay's virtual credit cards are not connected to your bank account.
With this two-in-one method, you will be able to protect your privacy by hiding your real phone number and your finances by outsmarting the paywall! 
DoNotPay Always Goes the Extra Mile

Need a fake phone number for a pesky online survey? Want to bypass Uber's phone verification? Wondering how to create a Gmail account without phone number verification? You can accomplish all these tasks with DoNotPay and then some!
The world's first robot lawyer treats your rights and safety as a priority. We have developed various other solutions to your daily bureaucratic struggles that consume time and money without a good reason. 
You can explore everything that DoNotPay offers when you sign up in a web browser of your choice. Our platform is brimming with useful resources that will help you:
Dispute traffic tickets

Fight speeding tickets