The Best
Burner Phone Amazon
Has To Offer
Are you interested in buying a burner phone on Amazon, but you don't know how to choose the right one? DoNotPay can take it from here! 
We'll go over some of the best burner phones on Amazon and suggest other options that provide a temporary phone number.
Why Do People Need Burner Phones?
Around 80% of Americans are overwhelmed with how much of their personal data is online. More and more websites and online platforms require users' phone numbers, so people turn to burner phones to protect their privacy. Other reasons we could need a burner phone include:
Bypassing phone verification

Feeling safer on dating websites

Escaping unwanted calls and texts

Avoiding giving our real number to strangers
The Pros and Cons of Amazon Burner Phones
Before you decide to spring for a burner phone, weigh out the drawbacks and benefits:
Pros
Cons

You don't have to sign a contract to purchase it

It helps you sign up for services and online platforms without revealing your main phone number

It does not reroute calls and messages to your real phone

It could be expensive

You end up with an additional device

It keeps the spam away from your main phone, but you still get it on the burner phone

You may need to buy a SIM card separately
What Burner Phones Can I Find on Amazon?
Amazon has a vast selection of burner phones. You can find flip phones and smartphones, those with a SIM card and without. Take a look at some of the cheapest burner cell phones Amazon has to offer. Be aware that the prices may change.
How To Buy an
Amazon Burner Phone
If you want to buy a burner phone on Amazon, you could try typing "burner phone," "burner cell phone," or "prepaid phone." Once you find a phone you like, do the following:
Click on

Add to Cart

on the right side of your screen

Tap on the shopping cart icon

Select

Proceed to Checkout

Follow the prompts

Hit

Place My Order
Where Else Can I Buy Burner Phones?
You can find burner phones in other shops, not just Amazon. Check out burner phones in cell carrier stores such as AT&T and T-Mobile, or Target, and Walmart.
Why Do Companies Ask for Phone Verification?
One of the main reasons people want a burner phone is to bypass phone verification when they sign up for services. More and more companies require signing up with a phone number or adding it later if you want to keep using their services. They claim it's for your own good and that it will:
Prove you are not a robot

Help you reset your password faster

Stop spammers and suspicious accounts

Help you find your contacts on a platform like

Twitter
Other Ways To Bypass Phone Verification
When all you need is a fake phone number to register on a dating website or verify your account on social media, burner phones may be too much trouble. How else can you get a temporary phone number? 
Check out some other options:
Option
Benefits
Drawbacks

Is free

Gives you a fake number

Requires you to put in your phone number when you register

Used by

phone scammers

May not work on every service

Redirect phone calls and text messages to your main phone

Have multiple phone numbers at the same time

Require your real phone number upon registration

Can be blocked by websites, services, and social media apps

Are expensive

Have auto-renewing subscriptions

Somebody else's phone

Works on every service because it's a real phone number

Don't have to spend money

Could already be used for a different account on the same service

Reveals a real person's phone number
Amazon Burner Phones Have Got Nothing on DoNotPay

You don't have to go to great lengths to secure your privacy. You don't need another device or a fake phone number app. 
Unlike those apps, DoNotPay doesn't require your phone number. Sit back, click a few times, and you'll bypass any phone verification like a pro.
Once you use our fake phone number to bypass phone authentication, the number will be deactivated in ten minutes. Whenever you need another one for a different service, we'll provide it with ease. 
DoNotPay is the most convenient and affordable solution to a one-time phone number!
How To Get DoNotPay's Temporary Phone Number
Getting a temporary phone number on DoNotPay is a fast and easy process. Take the following steps to create a number:
Visit DoNotPay in your

web browser

Find the

Burner Phone

feature

Type in the name of the company that's requesting your phone number

Tap on

Create a Temporary Number

Select

View My Text Message
When you tap on the message, it will show you the verification code that you can enter to verify your account.
DoNotPay's Virtual Credit Card Protects Your Privacy and Money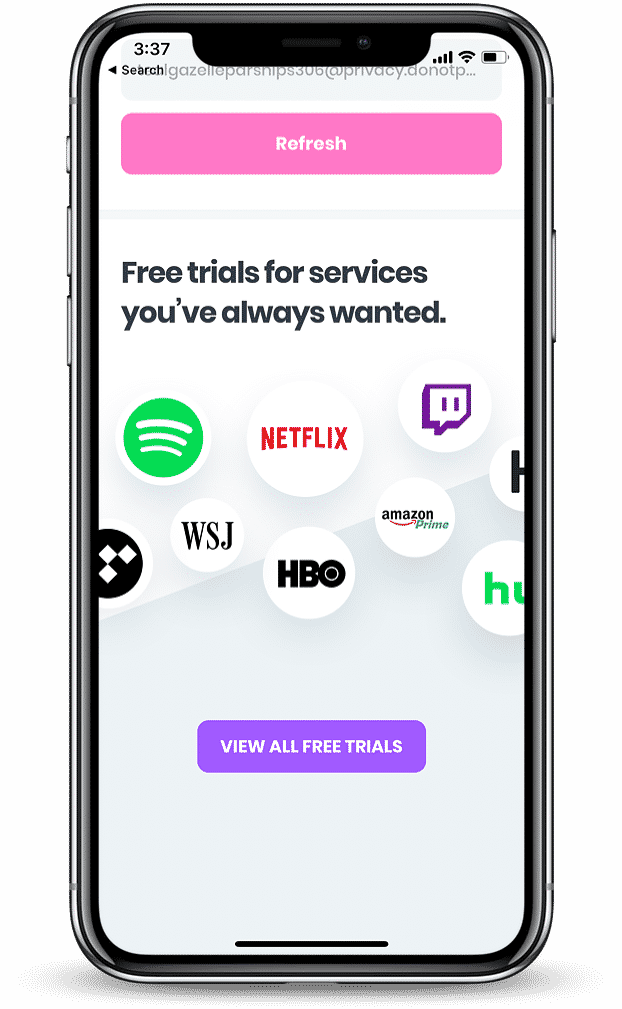 A temporary phone number isn't the only way DoNotPay can help you protect your personal data. Kill two birds with one stone and get our free virtual credit card. You can use this card to save both time and money. Next time you want to sign up for a service or subscription offering a free trial, use DoNotPay's virtual credit card instead of your own.
Thanks to our virtual credit card generator, we can provide you with a set of random numbers that make up a fake credit card. If you use our virtual credit card with no deposit, a company won't have access to your credit card info. When it tries to charge you, it won't be able to, so it will cancel the subscription or service. 
With DoNotPay's free card, you'll never have to worry about losing money or revealing your credit card info again!
Amazed With DoNotPay's Features? We Have Even More!

Instead of buying a burner phone on Amazon, add DoNotPay's fake phone number on your Amazon account, avoid revealing your phone number, and purchase other fun items. 
Why stop there? Add a fake number on your YouTube, Tinder, and Instagram accounts.
We can also help you protect yourself from Amazon spam email, contact Amazon for a refund, and find out if Amazon refunds shipping.
DoNotPay takes care of other issues, too! We have an array of versatile features available at your fingertips. 
Access DoNotPay in your web browser and let us help you:
Overturn your speeding tickets

Contest your traffic tickets