Hold the Phone! How To Use a Fake Phone Number
There's nothing fake about fake phone numbers—they're real numbers purchased from providers that can be used to make calls, send and receive texts, and start voice calls. It would be more apt to call them temporary phone numbers. They last a limited time but come in handy in various situations:
Getting an annoying person off your back

Verifying an account

Publishing contact information on public websites

Contacting job applicants

Calling or texting someone temporarily

Setting up numbers without contacting a phone company

Avoiding the costs of a

burner phone
Fake phone number apps are abundant online, and they can generate a temporary number within minutes. 
What Is a
Fake Phone Number
?
Fake phone numbers are temporary, virtual numbers generated by various apps and online forwarding services. Calls to a fake number are forwarded to the phone it's assigned to. The number is functional for a predetermined amount of time before it gets deactivated.
Here's an overview of many things you can do with a fake phone number:
| | |
| --- | --- |
| Can I Use a Fake Number For | Yes/No |
| Phone verification | Yes |
| Texting | Yes |
| Calls | Yes |
| Two-factor authentication | No |
| Maintaining contact for longer periods | No |
How Do I Obtain a
Valid Fake Phone Number
?
There are many ways to get a functional fake phone number:
Buying a burner phone

—You can head down to the nearest

Walmart

or

Target

and purchase a burner phone. They are expensive but provide you with a functional phone and number you can use for different purposes

Googling "fake phone numbers"

—The simplest way to get a functional fake number is to look one up online. You won't be able to use it to make calls or send texts, but it might come in handy if a service asks you for a valid number. Keep in mind that the numbers might have been used if they're posted online

Using a fake phone number app

—

There are thousands of fake phone number apps available online, each having benefits and downsides

. They tend to be cheaper than burner phones but lacking in effectiveness
Take a look at some of the benefits and downsides of using these methods:
Method
Benefits
Downsides

Burner phones

Guaranteed to work for phone verification

Can be set up to last for months

Googling fake numbers

Fake number apps

Work on most phone verification systems

Cheaper than burner phones

Don't always work

Require subscriptions or payments per number
Why Should I Use a
Fake Phone Number Generator
?
Americans are more reluctant to share their personal information than ever before. Over 80% are worried that their information may be leaked or accessed during a hack. Providing a fake number to people or businesses helps keep your info safe. 
Another benefit of using a temporary phone number is the ability to sign up for services that require phone verification. Online payment services, such as Venmo and PayPal, require verification, and some users require multiple accounts. Unless you have multiple phones to spare, a temporary phone number would be the most effective solution.
DoNotPay Can Generate a
Fake Phone Number for Verification
Within Minutes

To avoid paying lots of money for burner phones or ineffective fake number generators, you should use DoNotPay to create temporary phone numbers. Our app provides you with the quickest and most convenient phone number generator that will work for any app's verification process. 
Follow these steps to get a temporary phone number:
Open DoNotPay in your

web browser

Navigate to the

Burner Phone

section

Enter the name of a service that asked you for phone verification and press

Create a temporary number

Use the number to receive a confirmation text or code
The number lasts for ten minutes. Even though it gets deactivated after that, you can keep using the service. Unlike burner phones that come with only one number, we provide our users with multiple temporary numbers per month. 
Is There a
List of Fake Phone Numbers
Online?
If you prefer not to use an app to generate a phone number, you can search for a fake number online. There's no single list that contains every fake phone number. Multiple websites list numbers that should be usable, but there's no guarantee that they work. People use them to maintain their privacy or put them in works of fiction to avoid revealing a real person's number by accident.
Can I Use a
Fake Phone Number for Texting
?
You can create a fake phone number and receive texts from any real or temporary number. As long as the number is still active, it will function the same way as a real phone number. Once it's deactivated, you won't be able to send or receive texts from that number. 
The Best Part About DoNotPay's Fake Phone Number Is Its Versatility
Plenty of apps and services require phone number verification. While two-step authentication is a great way to ensure that nobody else can log into your account, you may not always feel comfortable giving something as private as your phone number to big corporations. 
If you want to test out the service, but are reluctant to provide your actual phone number, you can use DoNotPay's randomly generated phone number instead. Here are some instances in which DoNotPay can help you bypass phone verification: 
DoNotPay's Virtual Credit Card Helps You Sign Up for Various Services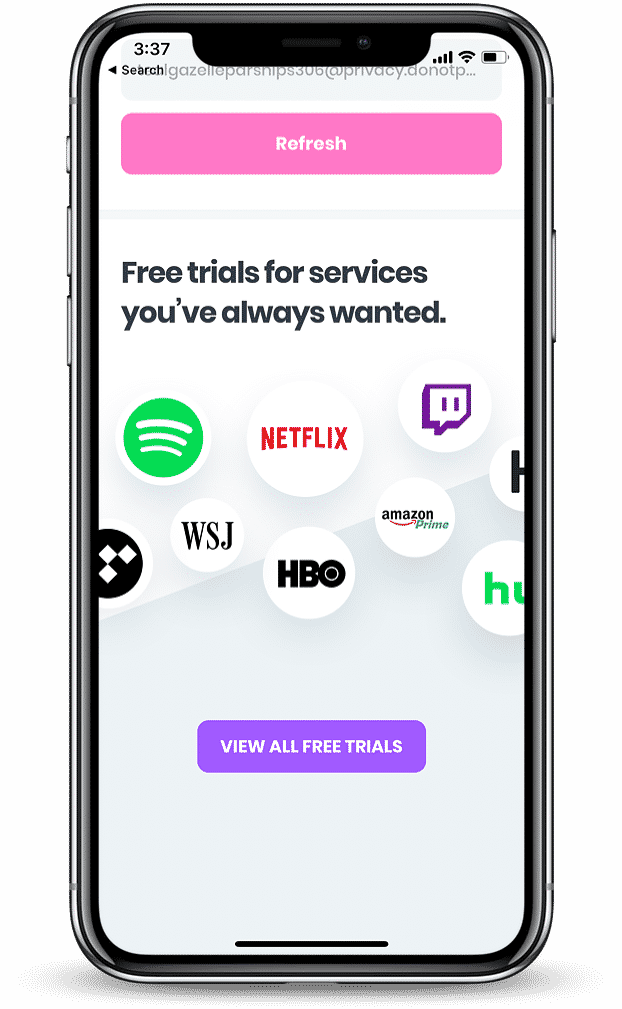 Fake phone numbers and virtual credit cards are used for similar reasons. If you don't want to provide your real credit card number or need a fake one to sign up for a service, a virtual credit card is an ideal solution. 
Many free trials request credit card info before they let you sign up. Once the trial runs out, the subscriptions auto-renew, and you're stuck with a paid version. 
DoNotPay can help you avoid this situation with our free virtual credit card generator. The process is simple:
We generate a virtual credit card

You use it to sign up for a free trial

The service recognizes the card and lets you use the free trial

The trial ends, and you're unsubscribed automatically once they detect that there are no funds on the card
Similar to the Burner Phone feature, the virtual credit card generator keeps your info safe by generating a fake card that will let you sign up for any service. 
Where Can I Find a
Free Fake Phone Number
?
Getting a fake or temporary number for free can be challenging. Googling fake numbers comes at no cost, but the numbers you get aren't reliable. 
If a service offers you free numbers, the chances are that they won't work for most phone verification systems. DoNotPay is an affordable option and provides you with multiple temporary phone numbers at no additional cost. 
Other Tasks DoNotPay Can Help You With

You can use our handy robot lawyer to generate a fake phone number for Facebook, Discord, Yahoo, or any other service. If you need to get an ATT burner phone or a fake California number, we've got your back!
DoNotPay doesn't keep all its eggs in one basket—we help users with a bunch of other mundane, daily tasks. We'll show you how to dispute a parking ticket in any city in the U.S., request Spotify refunds, and even help you lower your bills. 
Start using our diverse array of features after accessing our app in your web browser. Take a look at the day-to-day tasks we can simplify:
Disputing traffic tickets

Fighting speeding tickets