You Need a Fake Phone Number for Twitter? DoNotPay Can Help!
In a world where almost everything is available online—even what our friends had for lunch—it has become difficult to keep our privacy. More than 80% of Americans worry about revealing too much private information, but most importantly, about not having control over what they disclose.
One of the reasons is that many companies, services, and online platforms like Twitter, require our personal data, such as our phone numbers. This is why a lot of people turn to burner phones and fake phone numbers.
DoNotPay knows a better way! We'll help you get a foolproof fake phone number for Twitter verification.
Why Does Twitter Ask for Your Phone Number?
Like many other social media platforms, Twitter claims it needs your phone number for your own benefit. Some of the reasons for requiring users' phone numbers are:
Verifying your identity

Proving you are not a robot

Keeping your account secure

Resetting your password easily

Helping your friends find your account

Connecting with your phone contacts on Twitter

Accessing security features like two-factor authentication

Making it difficult for spammers and suspicious accounts to remain active
Create
a
Twitter Account Without Phone Verification
If you want to register on Twitter, you don't have to give them your phone number just yet. Check out how to create a Twitter account without using your phone number:
Go to Twitter's

signup page

Type in your name

Click on

Use Email Instead

under

Phone

Enter your date of birth and tap

Next

Tap on

Sign Up
Twitter then sends a verification code to your email address instead of your phone. You enter the code, click on Sign Up, and you're all set.
Unfortunately, this may not be the end of Twitter's attempt to get a hold of your phone number. Many users who haven't put in their number complain about Twitter locking them out of their accounts and phone number requests popping up relentlessly.
Not to worry—we'll guide you through all the options to avoid revealing your phone once and for all.
How
Else
To Bypass Twitter Phone Number Verification
If Twitter keeps asking you to add your phone number to continue using your account, you can give Twitter what it wants without compromising your privacy.
Here are some of the methods to bypass Twitter phone number verification, as well as their benefits and drawbacks:
Method
Pros
Cons

Buying a burner phone

It can be expensive

You need to buy a prepaid plan

You end up with an additional device apart from your main phone

Using Google Voice

You need to reveal your phone number to sign up

It's used by

phone scammers

Downloading fake phone number apps

They can reroute phone calls and messages to your real phone

You can have multiple phone numbers at the same time

They require your real phone number

They could be blocked by Twitter and similar online platforms

Those apps have pricy auto-renewing subscriptions

Using somebody else's phone

This works without a doubt since it's a real phone number

The number could already be used for a different account on the same platform

This option reveals someone's real phone anyway
Bypass Twitter Phone Verification
With DoNotPay

Every method to bypass phone authentication has some drawbacks. The most important detail is not to reveal your phone number in any way. If you use Google Voice to sign up for Twitter, Twitter won't know your phone number, but Google Voice will.
Another major issue is the commitment that almost every burner app requires. You have to subscribe to a monthly or yearly service to get multiple phone numbers and features you don't necessarily need.
Is there a way to get a verification code and forget about the fake phone number immediately? Yes, there is—DoNotPay!
Benefits of Using DoNotPay To Get a
Fake Phone Number for Twitter
No need to go out and buy a burner phone like a movie criminal—you can bypass any phone verification using DoNotPay from the comfort of your own home.
Other benefits of using DoNotPay include:
Not dealing with

robocalls

Being protected from

stalkers

Feeling safe on dating websites

Being safe from phone number leaks

Forgetting about

spam text messages

Not revealing your real phone number

Not worrying about

harassing calls

or

texts

Bypassing phone authentication for numerous services and online platforms
When all you need is a temporary phone number to get past phone verification, we've got your back! DoNotPays can provide you with a fake phone number whenever you need one.
How DoNotPay's Temporary Phone Number Works
With a few clicks, DoNotPay will generate a fake phone number and give you the verification code straight away. This way, you can go back to your tweets in no time! Do the following to generate a temporary phone number:
Open DoNotPay in a

Choose the

Burner Phone

feature

Enter

Twitter

Tap on

Create a Temporary Number

Hit

View My Text Message

once you get the phone number
As soon as you click on the message, you'll see the verification code that you should use to verify your Twitter account.
DoNotPay's temporary number can be used for ten minutes. After that, it gets destroyed. This happens because we want to make you feel as safe as possible, stop any spam, and not make you commit to a fake number you only need for a second.
Twitter is not the only social media website you can use our fake number for. Check out how we've helped people bypass phone verification for Tinder, YouTube, and Instagram.
The Best Part About DoNotPay's Fake Phone Number Is Its Versatility
Plenty of apps and services require phone number verification. While two-step authentication is a great way to ensure that nobody else can log into your account, you may not always feel comfortable giving something as private as your phone number to big corporations.
If you want to test out the service, but are reluctant to provide your actual phone number, you can use DoNotPay's randomly generated phone number instead. Here are some instances in which DoNotPay can help you bypass phone verification:
Use DoNotPay's Virtual Credit Card To Hide Your Credit Card Info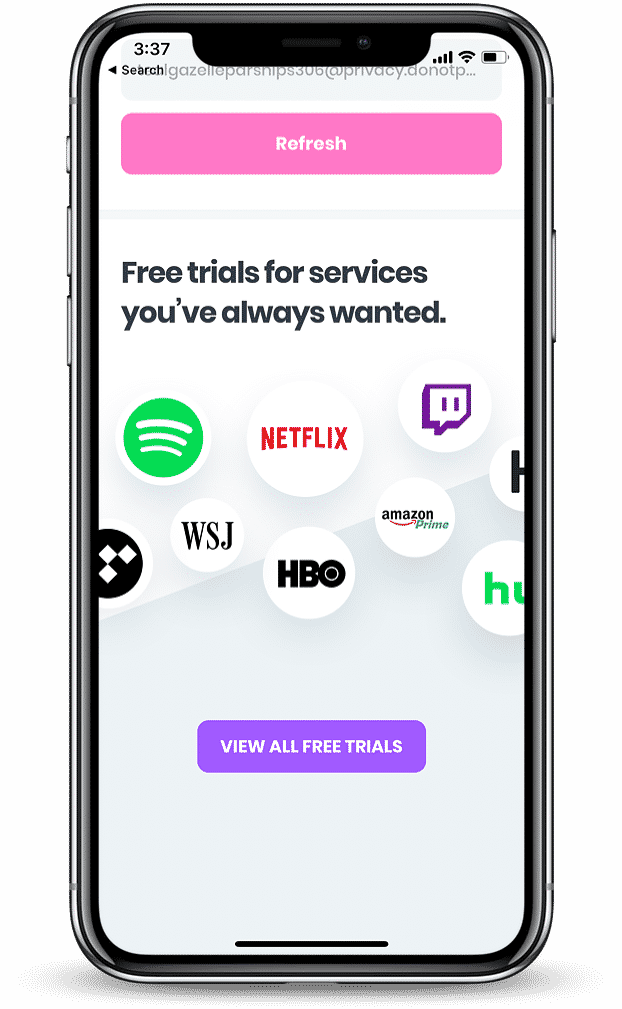 We take privacy seriously and are always coming up with new ways to make consumers feel safe and protected.
Apart from providing you with a fake number, DoNotPay can generate a free virtual credit card. If a service asks for your credit card info for a free trial, it most likely automatically turns into a paid subscription. Your subscription will keep renewing until you cancel it, and the company will charge you without notice.
Use our virtual credit card generator to escape this greedy practice.
DoNotPay forms a virtual credit card that includes random numbers mimicking real credit card digits. Our Free Trial Card is connected to a fake name and email address, and it has no funds.
When you use it to sign up for a company's service, the company will not be able to trace you or charge you. When it tries to take money from your account, it will be impossible, so it will cancel your subscription immediately.
Solving Problems With DoNotPay's Help Is Definitely Worth Tweeting About

Is social media getting on your nerves? DoNotPay may have just the solution you need! We know how to stop emails from Twitter, deal with Instagram copyright infringement, report a social media stalker, and fight online sexual harassment.
All you have to do is access DoNotPay in your and let us help you:
Overturn your speeding tickets

Contest your traffic tickets