Discord Phone Verification Bypass Explained
Discord is an instant messaging platform that enables its users to create communities and use various communication methods, such as video and voice calls, file sharing, and more. It was founded in 2015, but it already has more than 100 million users, with four billion minutes spent in chats and calls daily. 
Like various other similar services and social networks, Discord might also request its users to verify their accounts via phone. In this article, we explain how this type of authentication works on this platform and how you can do it by using a temporary phone number instead of a personal one.
Why Does Discord Ask for Phone Verification?
Discord users can create special communities called servers within which they can communicate with their friends, family, or fellow gamers. If groups like these are set up as public, there's a chance they could end up being full of spammers that can spoil the fun and overflow the channel with irrelevant content. 
This is the main reason why Discord decided to introduce several types of security checks, such as two-factor authentication and phone verification. Performing such control is crucial for making sure that new users aren't robots, as their appearance increases text scams and puts users at risk. 
How Does Discord Phone Verification Work?
There are two cases of phone authentication on Discord:
Occasional phone authentication

Phone Verification Level
Occasional Phone Authentication
Occasional phone authentication is a preventive step the platform admins take at times to confirm your identity if there are any strange or suspicious activities on your account. Discord may ask you to verify your phone number several times per week/month or never. It all depends on how you use the platform.
Highest Verification Level
Highest (Phone) Verification Level is a special section on your Discord account where you can choose to verify your phone number to join someone's community. The server owner can set the security level for everyone who wants to join. If they set up this level as Highest, you will need to request an authentication code and enter it in the required field to become a member of the server.
Whether you encounter an occasional authentication or you want to set your security level to the Highest, this is what the verification procedure looks like:
You will be asked to enter your phone number so that you can receive a text message with a verification code

Once you receive the message, you need to enter the code from it in the required field on the platform and confirm
Potential Issues During the Discord Verification Process
At times, you may get a notification from Discord saying that your phone number is invalid. This can happen when:
You choose the wrong country code for your number

The system detects a burner number and blocks it

You don't use a mobile phone line—landline or VOIP numbers won't work

Another account on Discord has already been verified with the same phone number

You don't enter the verification code correctly (you leave caps lock on, input a wrong number or letter, etc.)
How To Avoid Discord Phone Verification
You can't avoid entering the necessary details once you receive a notification that you need to verify your account. What you can do is try to verify your account with a fake phone number or use some possible solutions for bypassing phone verification on Discord from the table below: 
Method
Benefits

DoNotPay

Simple to use

User-friendly platform

Easy to create multiple phone numbers at a given price

Google Voice

Free

Available anywhere in the USA

Burner Phones

No contracts

Easily accessible

Someone Else's Phone Number

Fake number purchase or using other services is unnecessary
How To Bypass Discord Phone Verification With DoNotPay's Burner Numbers

Instead of wasting your money on multiple pricey apps that won't give satisfying results, you can take advantage of an outstanding feature DoNotPay offers you—the Burner Phone product. Our app creates a unique temporary phone number that you can use to verify not only your Discord account but any other service that comes to your mind! Using temporary numbers will keep you safe from spam texts and make sure no one can discover or misuse your real contact info.
Here's how our feature works:
Log in to your DoNotPay account using your

web browser

Find the

Burner Phone

section and enter the name of the company or service you need to verify

Select

Create a temporary number

Click on

View My Text Message

once you request a verification code on the platform
Make sure to have the verification code sent within ten minutes after the fake phone number was generated—when that time is up, the number will be deleted, along with the text message you received from Discord.
The Best Part About DoNotPay's Fake Phone Number Is Its Versatility
Plenty of apps and services require phone number verification. While two-step authentication is a great way to ensure that nobody else can log into your account, you may not always feel comfortable giving something as private as your phone number to big corporations. 
If you want to test out the service, but are reluctant to provide your actual phone number, you can use DoNotPay's randomly generated phone number instead. Here are some instances in which DoNotPay can help you bypass phone verification: 
Enjoy Free Trials With No Fuss With Our Virtual Credit Cards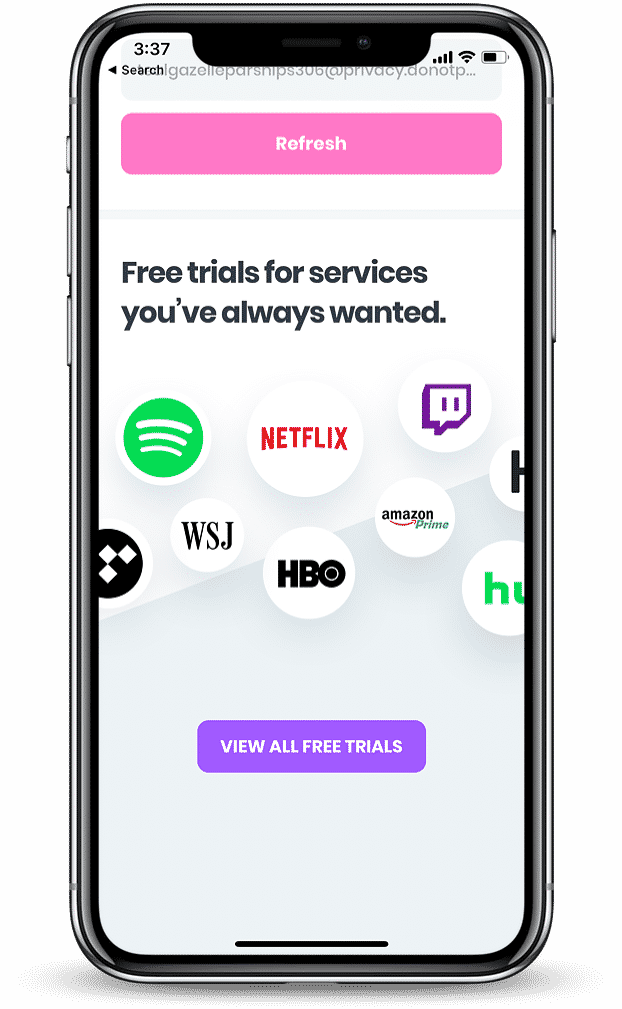 Phone authentication isn't the only situation where you are required to leave personal data on the internet. Numerous companies ask you to enter your credit card number and your security code as a guarantee when you wish to sign up for a certain free trial. 
If you don't remember to terminate the trial before the monthly charges start, it turns into a paid membership, and you get charged. If this happens regularly to you, you end up feeling both disappointed and frustrated. 
DoNotPay's Free Trial Card helps you avoid unwanted transactions during or after free trial periods and prevents companies from tricking you. This is how this feature works:
DoNotPay generates a unique credit card number and security code linked to a fake email address

You enter them as your bank information when starting your free trial

When the trial period ends, your subscription can't be renewed, nor can you be charged as

your virtual credit card number has no funds
You can enjoy trying out new services with zero stress by using DoNotPay by generating as many card numbers as you wish.
What Else Can DoNotPay Do?

Apart from teaching you how to bypass Discord phone verification and keeping your info safe, DoNotPay also has practical tips for verifying Google, Twitter, MeetMe, Snapchat, Facebook, and many more services. If you are eager to give new free trials a go, we suggest you check out our tips for enjoying Epix, GameFly, Twitch Prime, or Tinder Gold trials completely risk-free! 
You can find all this and much more by accessing DoNotPay from any web browser. Here's the entire list of other issues we can assist you with:
Disputing traffic tickets

Fighting speeding tickets