Create a Gmail Account Without Phone Number Verification in No Time
The era of smartphones has made it a social norm for us to leave our personal information to various websites. If you want to use the services of any company, you will need to sign up. To achieve that, you will need to provide them with certain personal info.
Companies usually make it necessary for you to enter your full name, birthday, and phone number. Google has similar requirements if you want to create a Gmail account.
Why Do Companies Ask for Phone Number Verification?
Companies ask for a phone number verification for various reasons, the most common ones being:
Proving you are not a robot

Having easy access to contact you if there is some suspicious activity happening with your account

Providing you with a simple way of logging into your account in case you forgot your password
Apps and various service providers require your phone number for your protection. Gmail, for example, uses your mobile phone number to verify it's you and not someone else whenever it detects a login attempt from an unknown device.
In case you haven't used your email account in a while and forgot your password, Gmail cannot send the 'reset your password link' to your mail as this email service does for other apps. In this case, it is useful to have a phone number as a backup.
Not everyone is happy about sharing something as personal as a phone number. You can avoid this step in several ways, but not every option is equally efficient.
How To Create a Gmail Account Without Phone Verification
Gmail requires you to provide them with your full name and date of birth, but it is your decision whether you want to share your phone number as well. Creating a Gmail account without phone verification involves these steps:
Visit the

Create your Google Account

page

Enter your first and last name

Create your email by typing whatever you wish before

@gmail.com

Enter your new password and confirm it

Click

Next

Enter your birthday

Fill out the optional fields

if you wish

(phone number, recovery email, and gender)

Click on

Next

Agree

with their terms and conditions to create an account
If you click on the Why We Ask For This Information link, Gmail says all the info is necessary to improve your safety.
How Many Gmail Accounts Can You Verify Using One Phone Number?
If you decide to verify your Gmail account by providing them with your phone number, you might wonder how many times you can use the same one for the same action. You can use one number for a few different accounts—six to be precise.
Remember, you don't have to give them your phone number at all, but if you'd like to have a safety net and not get locked out of your own account, you can provide them with that personal info.
Ways To Avoid Phone Number Verification
In case you wish to sign up and create an account with other companies, but would rather not share your phone number with them—you may do so in a few ways. These are some of the most popular ones:
What You Need
Requirements and Downsides

You will need to spend money buying a burner phone

Someone Else's Phone Number

If you use a friend's or family member's phone number, you're putting them in an awkward position

They will be the ones receiving text spam

Fake Phone Numbers From Google

Googling fake phone numbers will hardly provide you with the one you can actually use

There aren't many

fake phone number apps

that work
DoNotPay Can Help You Sign Up for Any Service Without a Phone Verification

A study proved that as much as 80% of Americans don't feel safe sharing personal data with apps and various service providers. In case you are one of those people who would rather not share every little personal information with companies, you can use DoNotPay to help you solve this issue without trouble.
Find and access our Burner Phone feature to get a temporary phone number and skip the phone verification step for numerous subscriptions and services. You will only need to:
Open DoNotPay in your

Find the

Burner Phone

section

Enter the company's name you wish to use this service for

Click on

Create a Temporary Number
We will provide you with a temporary phone number you can use to sign up for any service. You will also receive a text message with a verification code for that service. Bear in mind that you can use the number you receive only once. It will be deactivated, and the message will be deleted after ten minutes.
The best part is that you can get a different temporary phone number a few times a month within our monthly subscription. Any other option is more expensive—for example, you'd have to give around $50 for a burner phone, and you get just one number for that price.
You can also use our Free Trial Card feature if the company requires your card number as well.
The Best Part About DoNotPay's Fake Phone Number Is Its Versatility
Plenty of apps and services require phone number verification. While two-step authentication is a great way to ensure that nobody else can log into your account, you may not always feel comfortable giving something as private as your phone number to big corporations.
If you want to test out the service, but are reluctant to provide your actual phone number, you can use DoNotPay's randomly generated phone number instead. Here are some instances in which DoNotPay can help you bypass phone verification:
Use DoNotPay's Virtual Credit Card To Apply for Free Trials Without Risk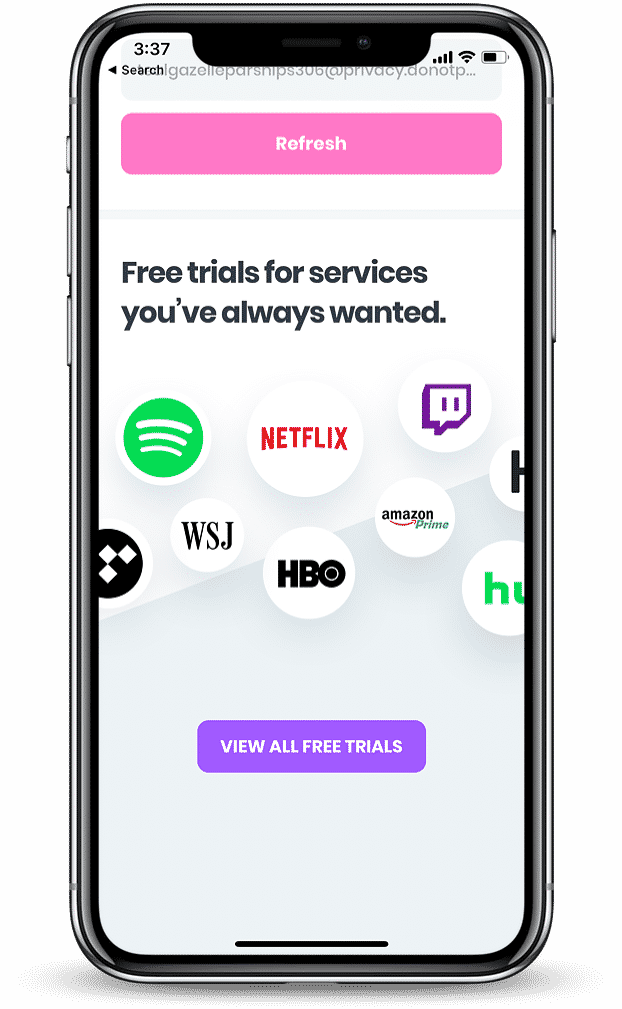 DoNotPay can help you avoid getting charged after a free trial ends with our virtual credit card. The procedure works in a similar way as our Burner Phone option. When you wish to sign up for a free trial and the company asks for your credit card number, you can use the one we generate for you instead.
They won't know the difference between the fake and the real number, so you can apply for the service without any issues. When the free trial runs out, you will get unsubscribed from the service because the company can't charge you if there's no money on the card.
Avoid giving various companies sensitive information, such as your credit card number that can easily be abused. With DoNotPay's virtual credit card you can enjoy your free trials without unnecessary stress. You can use DoNotPay's virtual credit card generator to quickly create a new credit card you can use once and forget about those pesky unwanted charges.
Need Help With Other Administrative Tasks? DoNotPay Can Help You Out

If you are having other issues with Gmail, DoNotPay can offer its assistance. Perhaps you'd like to get rid of spam emails or block emails on Gmail? We know the easiest way to declutter your inbox.
We can explain why your emails keep going to the spam folder and tell you how to check if an email has been delivered in Gmail.
If you no longer want to use Boomerang for Gmail, we can make the subscription to this browser extension go away in a matter of minutes.
DoNotPay has many other ways to help you deal with daily tasks. Open our app in your and pick any of the issues you need help with:
Disputing traffic tickets

Fighting speeding tickets