The Verizon Burner Phone For Protecting Your Sensitive Information
A Verizon burner phone is just like any other burner device, except that it's locked for Verizon use. The company sells prepaid packages to use with your temporary phone. Many other temporary cell phones are unlocked, and you can use them with the service of your choice. What can a temporary Verizon phone offer, and how does it differ from other devices?
Why Are You Looking For a Burner Phone?
A Verizon temporary cell phone can help protect your identity when making transactions online. Many companies require you to provide a phone number to verify your identity, and there are several reasons why you may not want to do so, including:
Avoiding endless spam messages and calls on your phone

Preventing harassment from individuals

Keeping subscriptions private

A desire to keep your information private and not share your number online
With a burner device from Verizon, you can provide a number for verification purposes without anyone being able to contact your primary device.
Wondering Why Companies Ask for Verification?
Verification using a cell phone number is not just limited to online subscriptions or transactions. Many companies ask for your personal details when you sign up for services. There are various reasons:
Security

Marketing

Possible profit
Security
Verifying your identity through two-step verification adds an extra layer of security to an account. If you log in from a new device, companies like Google can verify that it was you and not someone that hacked your account. Similarly, if you make a transaction through your bank, a text verification can help prevent fraud on your account.
Marketing
Once a company has your personal information, they can send marketing material to your phone. On the users' side, this often results in annoying spam messages and robocalls.
Possible Profit
Some companies sell your personal information to data brokers. This is how telemarketers usually get a hold of your details.
Where Can I Use a Temporary Number?
If you sign up for something online and you're required to give personal information, you can use a fake number. The services you can sign up for include:
Dating apps

Social media

Free trials

Subscription to various services
You can also use a temporary phone if you're traveling overseas to cut costs. Roaming can be expensive to activate on most plans. With a burner phone, you can buy prepaid packages, often in the countries that you visit. Make sure that you do the necessary research before you travel with a burner device.
A temporary number can help if you're starting a business. It gives you the use of a dedicated business number but is more cost-effective than getting a contract package.
It's always a good idea to have a back-up phone in case something happens to your primary device. You can get a Verizon temporary device and keep it at home for emergency use.
Verizon Prepaid Devices
Verizon offers different handsets that you can buy from multiple outlets.
| | | | |
| --- | --- | --- | --- |
| Phone Model | Average Price | Connectivity | Operating System |
| Motorola Moto E5 Play | $50 | 2G, 3G, 4G, LTE | Android 8.0 Oreo |
| Samsung Galaxy A01 | $80 | 2G, 3G, 4G, LTE | Android 10 |
| Samsung Galaxy A11 | $130 | 4G, LTE | Android 10 |
| Apple iPhone 7 | $300 | 4G, LTE | Apple iOS 10 |
How Can You Avoid Verification?
Apart from purchasing a Verizon burner phone, there are a few other ways that you can try to avoid verification:
Use fake number apps

Rely on Google Voice subscription

Try one of the fake number servises

Open an account with your real number and then turn off the verification process
Use Fake Number Apps
There are plenty of fake number apps to choose from in app stores. Many fake number apps ask for payment to use the services, and companies are catching on to the use of apps and sites to generate fake numbers. There's no guarantee that it will work, even if you make the payment.
Rely on Google Voice Subscription
Many users feel like Google Voice is the safest option, but you should still be careful if you use it. The company has had problems with scams — hackers found ways to hijack your Google Voice number to scam others. The hacker can do their virtual magic and remove you from your own account, access your data, and even use the account to scam other people. This scam is generally successful because people are so used to getting verification codes on their phones that they don't think it strange to receive one from Google Voice.
Try Fake Number Sites
Fake number sites are similar to the apps. There are plenty to choose from, but none of them come with guarantees that it will work. Companies have started catching on to the use of these sites and can block numbers generated from them.
Open an Account With Your Real Number and Turn Off the Verification Process
You can use your real phone number to sign up for a service and then change your settings to turn off verification. This works well for many sites, but the downside is that the company still has your number, and this can elicit unwanted marketing.
Buying a burner phone from Verizon only to avoid verification through your primary device is an expensive solution. While some burner phones are cheap, the ones that work well are not. You also have to keep in mind that you'll need to purchase minutes and data since you don't sign a Verizon contract when you buy a burner.
Use the DoNotPay Fake Number Service To Verify Accounts

DoNotPay offers a convenient method to bypass verification with your real number. The service allows you to choose the company you are signing up with and generates a temporary fake number. The verification message goes to the temporary number and will display on your phone, making it easy and convenient. After ten minutes, DoNotPay automatically disconnects the number and erases the message from your account, leaving no trace of the subscription confirmation on your phone.
You can look at this step-by-step guide on how to use the service:
Open the

on your phone

Select the

Burner Number

service

Indicate the company that you're going to receive the text from

Click on the

Create a Temporary Number

button

Wait for the text to come through
DoNotPay includes this service in your monthly subscription. It's a quick, convenient, and cost-effective way to verify information without having to buy an actual burner phone.
Using Virtual Credit Cards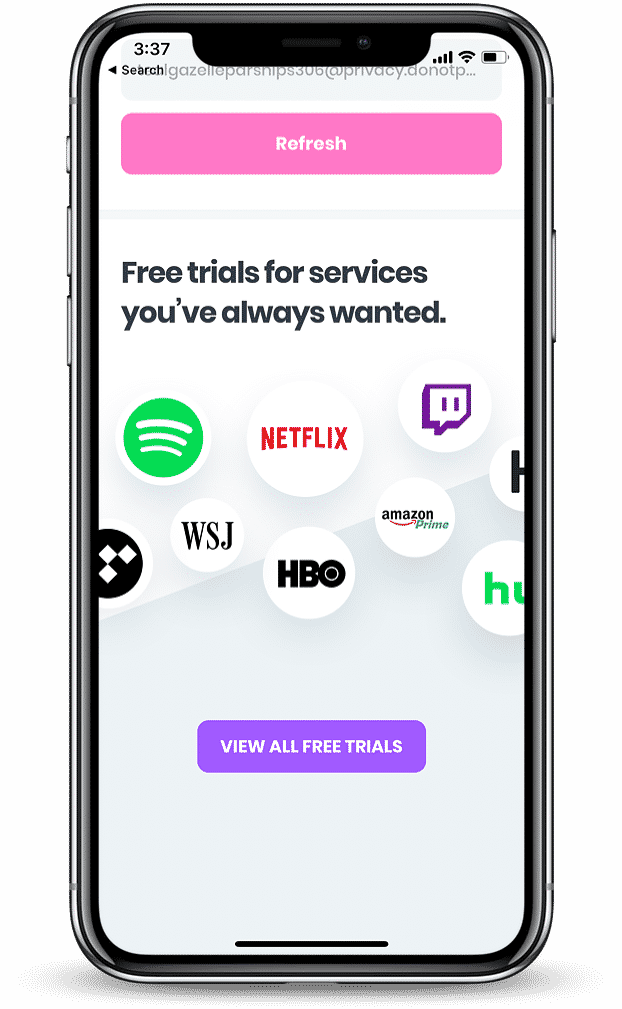 Another method to keep your information safe is through the use of a virtual credit card. DoNotPay generates a temporary card number so that you can sign up to free trials safely. If you use the virtual credit card service together with the DoNotPay temporary number app, you ensure that none of your sensitive information is available on the internet.
What Else Can DoNotPay Do?

DoNotPay can solve any number of problems that you may experience. The app can help you to quickly cancel subscriptions to various companies, including Grammarly, Amazon Music, and Adobe Creative Cloud.
DoNotPay cares about your rights and can help get you refunds. Whether it's from a store like eBay or Chipotle, your virtual lawyer can sort it out. You can even get refunds from Kickstarter.
If you've been traveling, DoNotPay can look into refunds for canceled or delayed flights. It can also help you to cancel your traveler's insurance.
There are many other things that the DoNotPay virtual lawyer can help you with:
Fighting traffic tickets

Disputing speeding tickets