How To Get an AT&T Burner Phone
Protecting privacy is getting more difficult nowadays. Many websites require your email, and a variety of them ask for your private number as well. You are probably one of many Americans that don't feel safe about sharing this kind of information online. Fortunately, you don't have to—burner phones and fake phone number apps can protect your privacy.
DoNotPay has one of the most inexpensive and easy-to-use features for generating temporary phone numbers. Use our app to protect your privacy and avoid spam text messages.
Why Do People Use Burner Phones?
Americans are using burner phones and fake numbers more and more because around 80% of them are worried about their privacy. It is a common misconception that only criminals use burner phones. With the development of technology, anyone can have a burner phone now.
The main reasons someone would want to buy a burner phone are to:
Keep their private information safe

Use it for dating apps

Buy and sell products online

Apply for jobs

Keep business separate from private life

Lower the cost of roaming if traveling
Does AT&T Sell Burner Phones
?
Despite their benefits, burner phones are somewhat old fashioned and have limited features. AT&T sells burner phones, but they don't refer to them as such—AT&T offers prepaid phones.
When you opt for a prepaid sim card, you can avoid signing a contract and leaving your personal information to the company. AT&T is more focused on its postpaid phone selection, so the prepaid phone offer is not as diverse.
The company has a "bring your own phone" option, which will make this purchase more affordable. Buying burner phones is more expensive than you'd think.
With AT&T prepaid phone plans, you'll get unlimited phone calls and texts, but the plans don't include data—you have to purchase it separately. If you buy your prepaid phone plan online, you won't have to pay an activation fee.
Here are some of the most affordable phones you can purchase at AT&T:
| | |
| --- | --- |
| Device and Model | Price |
| AT&T Radiant Core | $34.99 |
| Samsung Galaxy A11 | $74.99 |
| AT&T Radiant Max | $64.99 |
| Samsung Galaxy A01 | $57.49 |
| LG Phoenix 4 | $39.98 |
How To Get an
AT&T Temporary Phone
Buying a prepaid phone plan at the AT&T online store is the easiest and most affordable way. AT&T encourages its customers to shop online by relieving them of the $15 SIM card activation fee. It also offers free shipping and free return shipping.
You can buy your prepaid phone number by contacting AT&T's customer service.
Purchasing
AT&T Temporary Cell Phone
Number Online
Here's how you can purchase an AT&T prepaid phone plan online:
Go to AT&T's website

Click on the hamburger menu at the top right corner

Select

Prepaid

Click on

Mobile Plans

Choose the phone plan that works best for you

Tap on

Shop Now

Choose the device or pick the option to bring your own

Tap on

Select

Click on

Check Out
Once you checkout, you will be redirected to the billing page. Enter the required information and select the Submit Order button. AT&T might call you to verify your order. If they do, be sure to ask them how long they will take to deliver your phone.
Buying an AT&T
Burner Phone
and a Fake Number Over the Phone
Follow these steps to purchase your burner phone and prepaid phone plan via AT&T's customer service:
Call the AT&T customer service at

800-901-9878

Tell the agent you want to buy a prepaid phone and a temporary number

Follow their instructions on what you need to do
Use DoNotPay To Avoid Revealing Your Personal Phone Number to Any Company

Using your personal phone number for surveys, dating apps, and social media websites can go from being slightly frustrating to downright dangerous. In the 21st century, information is easily accessible, especially because people leave their email and phone numbers without reading the Privacy Policy document.
What if you could leave a fake phone number on the service you're applying for? With DoNotPay's Burner Phone feature, you can!
Burner phones are not the cheapest option, so our app enables you to use a temporary phone number. Create an account on DoNotPay's website in any and do the following to create your new burner number:
Click on the

Burner Phone

feature

Tell our app which company you need the number for

Tap on

Create a Temporary Number
DoNotPay will generate a new fake number, which will be active for 10 minutes. After 10 minutes, it will deactivate automatically. This temporary number is intended for one-time use, but DoNotPay allows you to create multiple numbers per month.
Our app is not like other services that charge more than $50 annually.
We don't charge extra for the Burner Phone service—it comes with your subscription.
If the company is requesting your credit card, DoNotPay has the right feature for you! You can use our virtual credit cards for almost any service.
Generate a Virtual Credit Card With DoNotPay and Sign Up for as Many Services as You Like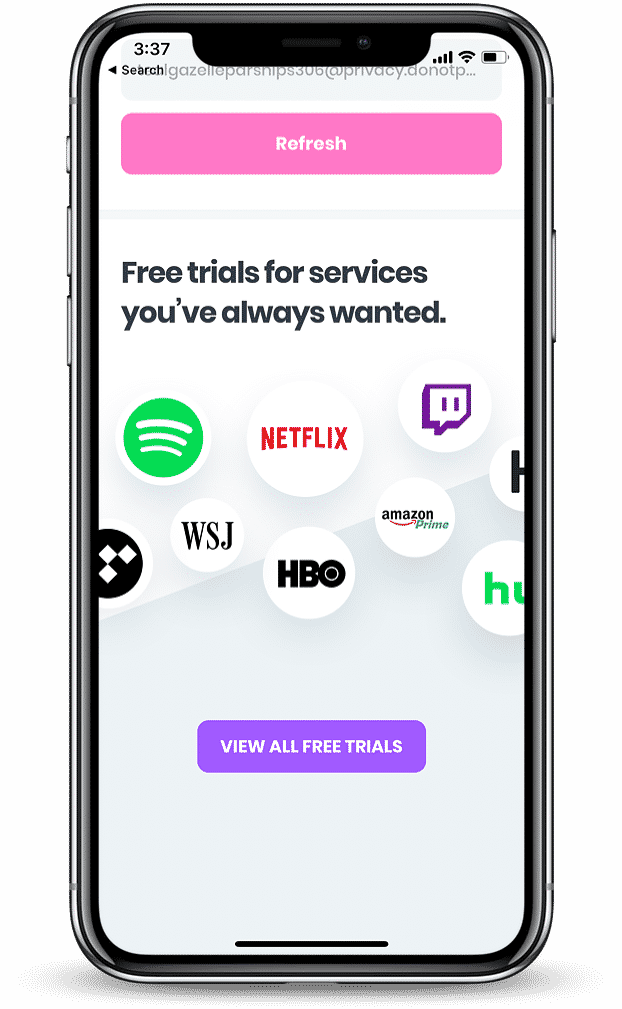 What is DoNotPay's free virtual credit card? It is a unique card number with a legitimate expiration date that gets instant approval because it seems authentic to the merchant. Your virtual credit card isn't connected to your real bank account, so your money's safe.
Here's what will happen when you sign up for DoNotPay's free trial card:
You'll get a randomly generated card number

The vendor will approve your credit number

The service will try to bill you at the end of the free trial but won't succeed because your virtual credit card holds

no deposit

The company will cancel your membership automatically since they can't charge you
DoNotPay Solves Your Administrative Issues in the Blink of an Eye

Aside from protecting your privacy, DoNotPay protects your consumer rights too. We can help you request an AT&T refund and sue AT&T in small claims court if they breach your rights. We can also cancel your AT&T subscription in under three minutes.
Check out some of our resourceful guides on AT&T robocall blocking, AT&T fraud reporting, and blocking spam texts with AT&T's help.
DoNotPay was honored with the ABA Brown Award for Legal Access because we've helped numerous clients get justice in small claims court. We even helped some earn money off robocalls.
If you want to learn more about what our app can do for you, open it in any . Here's what we'll assist you with:
Disputing speeding citations

Appealing traffic citations