How to Put a Stop on the Robocall Epidemic With DoNotPay
Are most of your incoming calls coming from unknown or hidden numbers?
According to Business Wire, you are likely to get 14 of these unsolicited phone calls every month, and if you decide to pick up, a computerized voice making its sales pitch will wait for you on the other end. 
This massive outreach technique, where an automated system calls millions of people, is robocalling, and the incidence of spam robocalls is increasing. According to the Hiya's Biannual "State of the Phone Call" Report, Americans received 54.6 billion spam calls in 2019, and it doesn't look like there is a definite end in sight for the national epidemic of robocalls.
Why Is the Epidemic of Robocalls Spreading?
Robocalls are computer-generated calls that usually deliver a pre-recorded message. The robocall scam is often designed with the purpose to "hook" the recipient into interacting with the caller—by pressing specific keys on a keypad or answering yes/no questions. 
Automated phone scams are technology-driven operations. Caller ID spoofing became the technology of choice once it became apparent that people had stopped answering calls from unknown numbers.
Caller ID spoofing—the technology that enables scammers to mask calls to look like they are coming from local numbers or legitimate businesses—is pushing the rapid increase in robocalls in America. Scammers now use these techniques in two major ways: 
Neighbor spoofing

happens when scammers disguise their number as one from your area code, so it seems that an incoming call is coming from your friend or a family member, which increases the chances of you picking up the phone

Company spoofing

means the scammers pretend to call from a legitimate business or a well-known organization, usually with an urgent request for a bogus overdue payment
What Is Being Done About the Robocall Epidemic?
While new technologies are causing an upward trend of spoofed robocalls, national agencies are struggling to keep up.
Pallone-Thune Telephone Robocall Abuse Criminal Enforcement and Deterrence Act (TRACED) was signed into law at the beginning of 2020. The TRACED Act gives more authority to the Federal Communication Commission (FCC) in pursuing robocallers. The Act authorizes the FCC to pursue civil forfeiture penalties against the worst robocallers. This legislation also allows the FCC to push telephone providers into adopting call authentication technologies. 
The FCC has also made some progress with developing a Caller ID authentication system, called STIR/SHAKEN. It is a protocol aimed at combating spoofing by digitally validating calls, allowing the phone company to confirm that a call is coming from the number displayed on Caller ID. 
Both the STIR/SHAKEN protocol and the TRACED Act are making a significant impact on the epidemic of robocalls. Spoofing is slowly being downgraded and could be reduced to a minimum once the phone companies start implementing those measures fully, but it could be a while before that happens.
Are Robocalls Illegal?
According to Business Wire, spam calls are up 108% compared to 2019. The rough estimate of 54.6 billion spam calls in a year can be broken down into categories:
| | | |
| --- | --- | --- |
| Type of Robocall | Estimated Number of Robocalls | Estimated Percentage of Robocalls |
| Scams  | 22.82 billion | 39% |
| Alerts  | 13.46 billion | 23% |
| Payment reminders  | 11.07 billion | 20% |
| Telemarketers  | 10.53 billion | 18% |
Organizations with pre-recorded informational messages and reminders that are of direct interest to you, as well as institutions conducting public studies, surveys, and service announcements, are allowed to call you. Political polls and campaign calls are lawful as well. Calls from charities are legal as long as the charity is conducting the robocalling themselves. 
Companies can also contact you as long as you have subscribed to them previously.
What is illegal under federal law is to place sales calls without the recipients' written consent. This means that calls containing a sales pitch or asking for your payment information are not legal, especially if they are coming from hidden or spoofed numbers.
Popular Scams in the Epidemic of Robocalls
Scammers will try to work any angle to gain profit, unbothered by how personal the subject may be to you. By making their schemes related to a specific topic, organization, or area, they are trying to target as many people as possible. 
Some of the robocall scams that were popular among these con artists and are still happening are:
IRS Robocalls
To implement this scam, criminals make unsolicited robocalls to their intended targets,  fraudulently claiming to be from the local IRS offices.
The scammers claim the recipient is late on tax bill payments and request immediate payment via gift card, prepaid credit card, or wire transfer.
Social Security Robocall
Scammers trick people into believing their Social Security number is suspended due to criminal activity and that immediate action is required. They push their targets to disclose sensitive and private information, which they claim is needed to restore the victims' Social Security numbers.
Blue Cross Blue Shield Robocalls
Blue Cross Blue Shield fraud is just one of the many health insurance scams that pitch inexpensive insurance and affordable health plans. These scams are active during the entire year but peak during the open enrollment season.
Credit Card Services Robocalls
Scammers propose to get the credit card rates of their targets down. The supposed transaction includes some "processing costs," which should be paid instantly through the prepaid card or a gift card.
These scams always come with assurances that the new reduced rates will minimize the time needed to pay off credit card debt.
National Grid Robocalls
Utility robocalls are the fear-factor scams. They are based on the fact that people are afraid of their electricity being disconnected and will make a payment without questioning the request.
National Grid consumers have been getting automated calls supposedly coming from this company, which threatens immediate shutoff of services if payment for imaginary overdue bills is not made instantly.
Debt Collection Robocalls
Calls coming from legitimate debt collectors are concerning, but those from "phantom debt collection" are genuinely scary.
Scammers will autodial their target, pretending that the call is from a debt collection agency and insist on immediate payment. They may even threaten legal actions if payment is not made promptly.
Robocall Epidemic Prevention Measures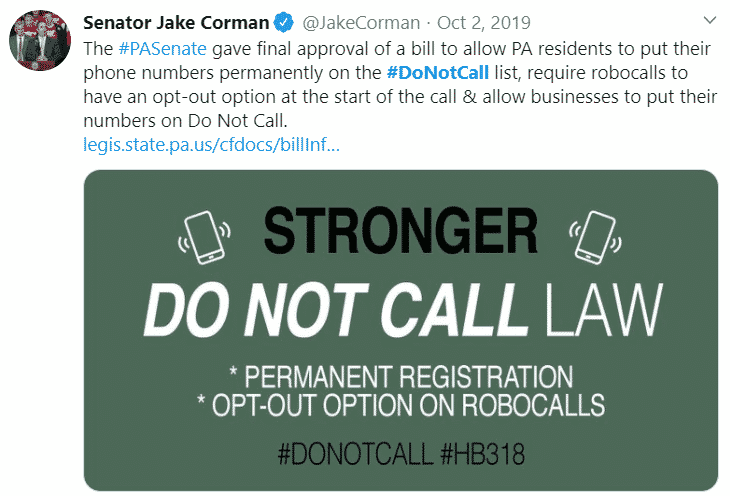 The FCC offers some guidance on how to keep yourself safe from spam calls. The main thing is to not give personal information over the phone—like your name, Social Security number or birth date—to somebody who calls you out of the blue, whether it's a robocall or not.
Some other things you can do to fight back against robocalls are:
Add your number to

the Do Not Call list

Don't answer unknown numbers

Keep the interaction to a minimum

Contact your phone services provider

Report the call
The Do Not Call List
The FTC launched the Do Not Call list in 2003, aiming to limit the number of unsolicited calls in America. If you add your number to the list, it officially becomes illegal for most companies and organizations to call you without your consent, though there are some exceptions.
Once you add your number to the Do Not Call list, the registration never expires. To be sure you registered successfully, you can check if your number is on the list by visiting the Do Not Call website or calling 1-888-382-1222.
Don't Pick Up
If you don't recognize the number on your screen, your best bet is not answering the call. It is unlikely that the automated system will dial the same number twice in a few minutes. If you don't respond and it is an important legitimate call, they will call again.
Don't Answer Any Questions
When you do answer a call from an unknown number, avoid answering any questions, particularly a yes/no question. Scammers will often ask something like, "Are you the homeowner?" or "Can you hear me?" Answering yes is dangerous because a recording of your voice can be used for further criminal activities. If you are unsure about the validity of the call, the best thing to do is hang up.
Free Call Blocking Services
Most service providers offer free call blocking options for their customers. They might be basic— ones that only filter out blacklisted numbers—so you shouldn't rely on them to protect you from all scam attempts. 
Reporting Robocalls
There are several options to report robocalls. Both the Federal Trade Commission (FTC) and the Federal Consumer Commission (FCC) dedicate a part of their operations to addressing customer complaints. The FCC even reported that unsolicited calls are the biggest consumer complaint they receive, with over 200,000 complaints each year.
The Federal Trade Commission—an independent agency working on protecting consumer rights in America—developed robocalling reporting service that can help simplify the process. 
You can reach either agency through their website or phone lines for customer complaints. 
The Federal Trade Commission

offers you an option to report a robocall through

the FTCs Consumer Complaints Center

or by calling 877-382-4357

The Federal Consumer Commission

also provides a

robocall reporting service

and gives you an option to contact them at 888-225-5322
Why Did the Scammers Pick You?
You registered your number on the Do Not Call list, so why are you still getting so many robocalls?
Well, scammers don't care about the Do Not Call list. 
Every time you enter your number in any online form, such as an online contest or survey, you risk making your info available to the scammers. The company behind the contest or survey could be a legitimate one, but your number can still end up on the scammers' lists if the company doesn't keep their data safe. It could also be just a bogus company, created to get your info through the fake survey. 
Scammers use numbers from illegally purchased number databases, so by entering an online contest, you put yourself back in that data pool. Once your number is on their list, they will call you repeatedly, phishing for you to answer. 
And what happens if you answer a robocall? Scammers register your number as a responsive one, meaning they will bother you with increased frequency. Sometimes, just answering the call is enough to get on their "future victims" list, but more often, the bot will try to engage you further. Advanced robocalling operations have an end goal to get you to talk to an actual human since even they know that bots are not yet as persuasive as humans can be. VoIP enables scammers to reach as many people as possible and sort through the ones that don't answer. But once you do, they will push you to interact. Scammers do this by driving you to press a digit to get further info, which will then transfer you to an actual person. 
Robocalling is random, and you are not explicitly targeted. But once the scammers manage to put their hooks on you, they are not likely to let go. 
Blocking the Epidemic of Robocalls
Whether you are being spammed on a cellphone or landline or both, investing in a robocall blocker could be a good option. 
With a landline, you are limited to the hardware call blockers and services that your provider offers. There are a variety of hardware tools that you can connect to your landline. These devices usually work regardless of your phone service provider and can help with filtering out the suspicious calls. Some even offer advanced services such as blacklisting and whitelisting numbers and automatic caller ID of problematic callers.  
Most phone companies will offer call-blocking services free of charge. Depending on your company, the services could include call screening, call blocking, blocking calls from the company's blacklist, and alerting you of attempted scam calls.
With a cellphone, third-party apps have the biggest range of features for screening and blocking unwanted calls. Most apps are available for iOS and Android. 
Some of the popular apps are:
App

Features

Automatically blocks robocalls

Sends unwanted calls straight to voicemail

Offers "Robocaller" ID for suspicious numbers

Records blocked calls

Scans blacklists of spam phone numbers

Protects against spam texts

Works as an ad blocker

Assists with robocalls reporting

Offers area-code blocking

Identifies spam calls

Identifies spoofed numbers

Blocks telemarketers as well as scam calls

Offers spam alerts

Stops specific types of spam calls

Offers manual and automatic call blocking

Auto-filters spam calls

Reports spam calls to a public database

Answers automated calls with pre-recorded messages

Offers Caller ID

Blocks spam calls and texts
Get Revenge on Robocalls With Donotpay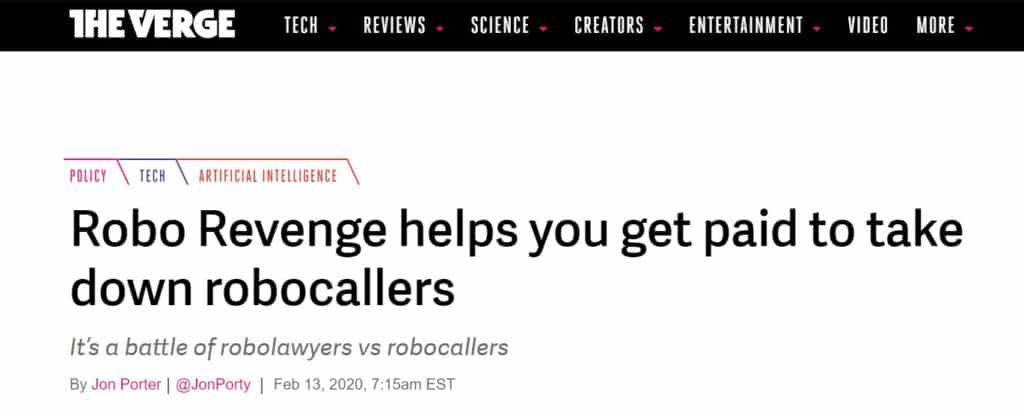 Preventing, reporting, and somewhat blocking unsolicited calls can reduce the influx of robocalls. Should that be enough? You can stop robocalls and put an end to the epidemic while getting your robocall revenge and up to $3,000 in sweet compensation cash.
DoNotPay— an app that specializes in protecting consumer rights and guiding its users through various legal processes— has a new feature called Robo Revenge that can help you fight back against robocalls. 
Here is how:
Wait for the next robocall scammer to hit

Open DoNotPay in

a

web browser

Use the Robo Revenge to create a

free virtual credit card

— when the scammers request your payment info, give them

virtual credit card

details

Once the scammers try to collect the payment, DoNotPay will receive their info, which you can use to create a letter demanding compensation
If the scammers refuse to pay, use the app to initiate a robocall lawsuit.
Check Burocratic Items Off Your To-Do List With DoNotPay

DoNotPay is your pocket robot lawyer that can help reduce the number of administrative tasks on your agenda to a manageable pile. The app is diverse and can assist you with any issue, whether it is paying or lowering your bills, learning about your airline passenger rights, or canceling any subscription from Weight Watchers to Xbox Live.
By accessing DoNotPay through the WebApp, you can bypass the research process related to your problem and go straight to solving what's been bothering you. 
Some of the bureaucratic tasks DoNotPay can help you with are:
Disputing traffic tickets

Fighting speeding tickets