Looking for a Free Virtual Credit Card With No Deposit? DoNotPay Is the Way to Go!

Did you know that in 2018 alone, 1244 data breaches exposed over 445 million records! The cybercriminals got their hands of credit card details of over 65 million people. With that in mind, it doesn't come as a surprise that one of the major concerns of American citizens has become finding a way to protect their personal information online.
A lot of online retailers and websites that offer subscription services store your banking information and use it to charge your account automatically each month. The trouble is, some online service providers charge you even if you did not opt to subscribe for the service.
Free trials are a perfect case in point. How many times have you found out that you have been charged for a service you did not use, and then figured out that the provider auto-renewed your free membership and turned it into a paid one?
Enter DoNotPay and virtual credit cards. DoNotPay's Free Trial card is the perfect solution to these kinds of marketing tricks. With our free VCC (virtual credit card), you will never again get charged for a service you are not using. We have found a way to make free trials genuinely free! All you have to do is open DoNotPay through a and select the VCC service.
What Is a VCC
and How Does It Work?
Put simply, virtual credit cards are virtually disposable replacements for physical credit or debit cards.
VCCs are provided by almost all major credit card issuers, as well as third-party financial service providers. Typically, you would use your provider's website or application to generate a virtual card and use it for online purchases.
Every virtual credit card is essentially a credit card with no deposit. You don't transfer money from your bank account to the virtual credit card to make a VCC payment. Instead, a virtual credit card is linked to your chip credit card, but the merchant doesn't have access to your banking information. What this means is that neither fraudulent merchants nor cybercriminals will have access to your personal information, so your data is 100% safe.
When you set out to create a virtual credit card through your issuer's app, you will get a new random card number, CVV, and expiration date. This information is usually linked to a single transaction, meaning that fraudsters, even if they do manage to grab your transaction details, will not be able to do anything with it.
What is great about VCCs is that they are extremely flexible and convenient to use. You can set a maximum charge limit on them, lock them to a single online retailer, as well as cancel them in a matter of seconds.
DoNotPay, unlike most other VCC issuers, does not even require you to link your physical credit card to the virtual one. We offer a free trial VCC card that you can use to try out any online service, the same way you would with your actual card, but without ever disclosing any personal information.
How Does DoNotPay's Free Trial Card Work?

Our virtual credit cards operate in the same way as other VCCs do, but with a few interesting twists.
When you use our app to generate an instant approval virtual credit card, we do not ask you for any banking information. You can use whichever name, available card number, and expiration date you want. We will even provide you with a temporary email address that you will be able to use for various online subscriptions, so your actual inbox doesn't get flooded with spam emails.
This temporary email will forward the messages directly to your real email address, but without any security risks. All tracking information, including your location, will be removed from the communication!
To sum things up, here are all the things that our free virtual credit card does for you:
Generates a completely random card number

Automatically approves billing pages and free trials

Cancels subscriptions for you

Prevents subscriptions and additional charges
What Are the Biggest Advantages of Virtual Credit Cards?
By now, you have probably realized that virtual credit cards provide an outstanding level of data security. That is true, but that's just one of many benefits you'll enjoy if you opt for a VCC:
Virtual credit cards allow you to experience a free trial without fear of subsequent charges

In cases of data breaches, your personal information is 100% protected

VCCs allow you to set a fixed charge limit on your account, preventing additional charges from occurring

Some card issuers allow you to set the expiration date up to one year in advance in case you want to use the virtual card for recurring monthly purchases

VCCs can be linked to a single online retailer, and they will only allow transactions with that particular merchant
Virtual Credit Cards Aren't Perfect
We would love it if we could say that there are no disadvantages to virtual credit cards, but that simply isn't true.
Though there are much more upsides than downsides to VCCs, it is worth keeping the following in mind:
Virtual credit cards can only be used for online purchases

Depending on the issuer, you will sometimes have to manually enable eCommerce services for your VCC (through the dashboard or by calling the issuer)

For online purchases that require physical cards as proof, such as airplane tickets, virtual credit cards cannot be used
A Quick Overview of Virtual Credit Card's Pros and Cons

To make things easier to understand, and hopefully, help you decide whether virtual credit cards are a good fit for you, let us put VCC's pros and cons side by side:
Pros

Cons

There is no risk of losing them since they do not physically exist

They cannot be used for offline purchases

You can set a maximum charge limit on your VCC

There is still no way to withdraw cash from your virtual credit card

You can link your VCC to a single online merchant

In some cases, you will have to contact your issuer to enable eCommerce services

VCCs protect your personal banking information from data breaches

Virtual credit cards cannot be used for online purchases that require physical credit cards as proof of purchase

VCCs allow you to make the best of free trial periods without experiencing unauthorized charges

You can use your virtual credit card for recurring monthly purchases and subscriptions by setting its expiration date one year in advance
Best Known Issuers of Virtual Credit Cards
Virtual credit cards have been around for quite some time now. Most mainstream banks issue virtual credit cards to their cardholders, as do many other third-party companies. If you have lost hundreds of dollars on unused subscriptions, DoNotPay is the perfect solution for you. Our VCCs specifically target the problem of quasi-free trials and make sure that you are never again charged for something you are not using! Here are some of the other best known virtual credit card issuers today:
| | |
| --- | --- |
| VCC issuer | Service overview |
| | Ezzo Card offers different kinds of virtual credit cards. One of the most popular ones is the Green Card. You can use any billing address on it, including international ones, and the card will be valid for six months. With the Green Card, you will be able to make purchases worldwide, and you will not have to pay any monthly fees! |
| | American Express is a major credit card issuer that provides VCC services. American Express VCCs are typically generated during checkouts when purchasing goods or services. This means that Amex's VCCs are tied to certain online retailers like Staples and Walmart. |
| | Another major financial institution that offers VCC services is Capital One. Their VCC platform is called Eno, and it is available only to Capital One's personal credit card cardholders. Eno functions as a web browser extension and appears as a pop-up window that allows you to log in to your account and generate a new VCC. There is no option to set a maximum charge limit, however. |
| | Bank of America's VCC platform is called ShopSafe. Every Visa and Mastercard cardholder has access to this platform free of charge. Users have the option to set the card expiration date up to one year in advance, which is ideal for recurring monthly payments. To get a Bank of America's VCC, all you have to do is log in to your online bank account and claim it. |
What are Virtual Credit Cards Most Commonly Used For?

Virtual credit cards have multiple uses, and precisely that flexibility is what makes them an extremely appealing prospect. Among other things, virtual credit cards can be used for:
Preventing auto-renewals from turning free trials into paid memberships

Setting up a recurring monthly subscription

Purchasing products from a single online retailer
Free Trials Are Finally Free
DoNotPay's Free Trial Card is the ultimate solution to unexpected subscription charges appearing on your credit card statements. Our virtual credit card generator will create a short-term card number that will get linked to a single subscription. This way, you will gain access to the provider's free trial period, but as soon as they try to charge you for the subscription fee when the trial period expires, our app will automatically decline it.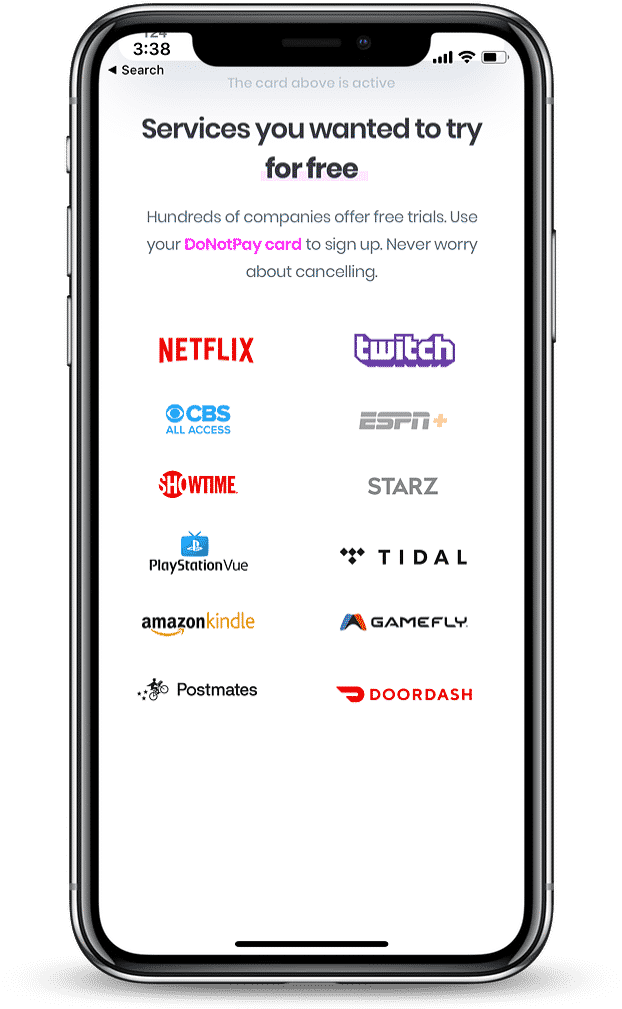 Here are a few services that offer free trials for which you can use DoNotPay's Free Trial Card:
Apple Music Premium

Postmates

Netflix

Doordash

Spotify Premium

Disney+

Kindle Unlimited

HBO
Setting up a recurring payment plan with a virtual credit card
A lot of people use virtual credit cards as a means of setting up recurring monthly payments for various products and services. Though not all issuers provide this feature, it is a great one nonetheless. For example, if you want to subscribe to a particular service, but want to keep your personal information protected, you can use a virtual credit card to set up recurring payments a number of months in advance.
Tie your account to a single retailer
Some virtual credit card issuers allow you to link your randomly generated credit card to a single online retailer. Plus, you can set a fixed maximum charge limit as well. This feature is awesome if you have found a trusty provider of products, and you want to make sure that only they can charge your account. Because VCCs keep your banking information secure and protected, you will not even have to worry if the retailer gets hacked.
In case you are still wondering what the main differences between static credit cards and virtual credit cards are, let us refresh your memory:
| | |
| --- | --- |
| Physical credit card | Virtual credit card |
| Credit cards are a liability in cases of data breaches | Virtual credit cards keep your banking information and identity secure no matter what |
| Unauthorized charges can happen with physical credit cards | VCCs keep unauthorized charges and other fees off your card statement |
| Credit cards can lose you hundreds of dollars each year | You will not lose a single dime with VCCs |
| Credit cards reveal your personal information | VCCs keep your personal information hidden |
More Than a Virtual Credit Card Issuer
We are proud of the fact that we are not just a virtual credit card issuer. Our span of services is constantly expanding, and that is why we are thrilled to inform you that you can rely on DoNotPay for:
Disputing traffic tickets

Fighting speeding tickets