New Phone, Who Dis? Tips on How To Fake a Phone Number
In this day and age—when we post where we go, what we eat, and who we hang out with—it has become normal to give our phone number, email address, and credit card info to numerous companies. More and more people want to put a stop to this practice and keep their phone numbers to themselves but still enjoy different services and online platforms. How can we do that? By using fake phone numbers.
Why Would You
Fake Your Phone Number
?
Your personal phone number should remain private. You should get to decide who knows your number, not big corporations. In 2019, Instagram confirmed that users' phone numbers were leaked. Facebook also had a security issue when 267 million names and phone numbers were disclosed online.
How can having a fake phone number protect you? Check out some of the benefits of getting a fake phone number:
Where Can I Find Fake Phone Numbers?
Fake phone numbers are not as easy to come by as you might think. Even if you find one on the first website Google lists out, chances are—someone has already used it, or that website is blocked by the service you are trying to sign up for.
Whatever your reason for acquiring a fake phone number is, go over the pros and cons of all methods before deciding what the best solution is:
Methods
Advantages
Disadvantages

Use someone else's phone

It will work for phone verification since it's a real number

You can borrow it without spending money

This phone number may already be used for a different account

You will reveal another person's phone number

Google fake phone numbers

You can find many websites offering fake numbers quickly

These websites are not reliable and could be blocked by companies

You may receive unwanted phone calls and messages since these numbers are available to anyone

Use Google Voice

You can use Google Voice for free

It allows you to choose a number based on the area code of your choice

You have to provide your real phone number

Many services block Google Voice numbers

Phone scammers

use Google Voice

Purchase a burner phone

It will get you through phone verification

You can use it to communicate with people you don't want to know your real number

You have to buy another device and a prepaid plan

Burner phones can be expensive

You could still receive robocalls and spam texts

Download fake phone number apps

These apps are useful for online dating, phone verification, and business calls

They reroute calls and messages to your real phone, so you don't need an additional device

You have to link your real phone number to the app

These apps have subscriptions that auto-renew

They cost a lot of money

The number you get could be blocked
How Can You
Fake Your Phone Number on Caller ID?
When you want to hide your number from caller ID, you can use caller ID spoofing services. Just googling "how to spoof a call" or searching your app store provides many results. You should be aware that caller ID spoofing may be illegal, depending on the circumstances.
How To Call From a Fake Phone Number
Aside from using someone else's phone to call a person, the best option is to purchase a burner phone. You won't have to worry about forgetting to cancel a fake phone number app or wondering if the number is already used or blocked. Burner phones are easy to come by. Many stores sell them, such as:
Most phones come with a SIM card, but sometimes you have to buy it separately.
DoNotPay Is the Best
App To Fake Your Phone Number

When a company asks for your phone number to sign you up, or it blocks your account until you provide a phone number, you don't have to comply! Use DoNotPay—the only burner app that doesn't require your real number!
Click a few times, get our temporary phone number, and bypass phone verification on YouTube, Facebook, or Snapchat safely.
How To Fake Your Phone Number
With DoNotPay
DoNotPay generates a fake number as many times as you want. There are no additional or hidden costs. You don't have to use credits or in-app purchases. This is all you need to do:
Open DoNotPay in your

Choose the

Burner Phone

feature

Type in the service that's requesting your number

Tap on

Create a Temporary Number

Click

View My Text Message

once you see the phone number
Then you'll get the verification code for the account you need to verify. This number and code last for ten minutes, and then we deactivate it, keeping your privacy intact. Should you need another number for a different service, repeat the steps above.
DoNotPay's Virtual Credit Card Protects Your Money and Your Privacy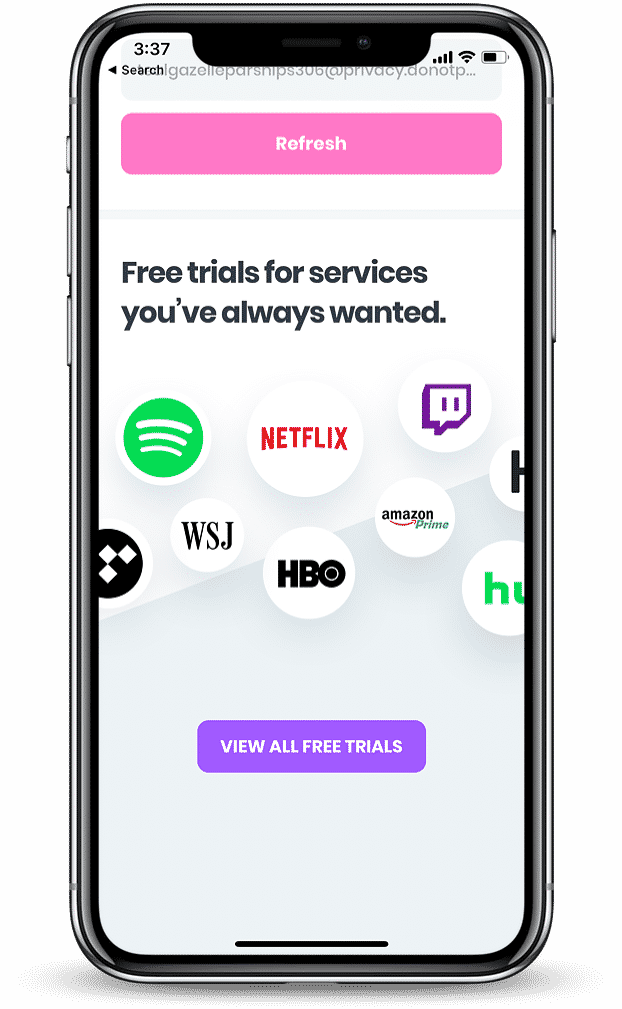 Starting free trials has become increasingly more challenging since companies ask for your credit card information along with other personal details. How can you safely enjoy a Netflix, Spotify, or PlayStation Plus free trial when these services have your credit card at their fingertips and can start charging you as soon as the trial expires? DoNotPay strikes again!
Thanks to our virtual credit card generator, you can keep your personal info to yourself! DoNotPay creates a virtual credit card that is a series of random numbers that look like a real credit card. Along with the virtual credit card with no deposit, we provide you with a fake name and email address to use when you sign up for a free trial. Since this free virtual credit card has no funds, the company won't be able to charge you, and it will cancel the subscription immediately.
DoNotPay Doesn't Phone It In—We Resolve Numerous Issues

Myriads of legal, financial, and administrative problems are a thing of the past for people who use DoNotPay. Some of the inconveniences we have dealt with are preventing harassment in the workplace, fighting online sexual harassment and reporting consumer cellular robocalls.
By visiting DoNotPay in your , you'll access our learning center and be able to do the following:
Appeal your traffic tickets

Fight your speeding tickets