Find Out How To Verify a Google Account Without a Phone Number in a Few Steps
It's next to impossible to create a new account on popular platforms such as Google, Facebook, or Instagram, without giving your phone number. This is a problem because the majority of Americans—80% to be exact—believe that companies and the government track their private information. This is partially true—we all know that Google uses our search history for target advertising.
You can customize the ads that Google presents you with and make sure that you see only relevant ads. For some people, this isn't enough, though. They want to leave as little information as possible on Google and other websites.
DoNotPay is here to help you with phone number verification. You don't even have to leave your phone number again because we'll generate a fake one for you instead!
Why Is
Google Asking for
a
Phone Number To Verify
an
Account
?
The main reason why Google requires your phone number is to protect your privacy. With the phone number, Google can verify your identity. Once it connects the account with a real person, the account is difficult to hack because any time someone tries to access your account, Google will alert you and send another verification code.
Google needs your phone number to:
Verify you're human

—There are robots and automated programs searching through Google, and that's why Google needs to make sure you're not some spam bot. This is also solved through a Completely Automated Public Turing test to tell Computers and Humans Apart (CAPTCHA)
Prevent identity theft

—If a hacker tries to steal your account, they won't be able to if you've turned on the phone number verification. Your phone will get an SMS with the code, and you'll know that someone is tampering with your Google account
Recover accounts

—You can recover your account faster if you turn on the phone number verification. You can also change your password faster
Can You
Verify
a
Google Account Without
a
Phone Number
?
There are a few ways to verify a Google account without providing your phone number. Find them in the table below:
How To Skip Phone Verification on Google
You can leave the phone number field empty and skip the phone verification on Google, but you'll do it at your own risk. If you decide to skip this step, you might have an issue later—if you need to recover your account, it will be more difficult without the phone number verification.
Follow these steps to create a Google account without a phone number:
Go to

Gmail

Click on

Create an Account

Enter your full name and Gmail username

Create a strong password

Tap on

Next

Leave the phone number field empty

Enter the recovery email address (optional)

Finish setting up your account
You can set up a number verification with a burner phone and protect your personal one.
How To
Skip Gmail Phone Verification
With a Burner Phone
A burner phone is a prepaid phone you can get without signing a contract with the service provider. You can check with AT&T, T-Mobile, and Verizon if they offer burner phones.
You can use burner phones to:
Protect your identity

Verify your account on various services

Protect your private phone number

Protect yourself from

robocalls

and

spam text messages
Getting a burner phone won't help you get rid of spam calls and texts for good because they will be redirected to the burner phone. Your prepaid phone number can expire if you don't top it up regularly.
Bypass Gmail Phone Verification
With DoNotPay's Burner Phone Feature

Using a burner phone might sound cool, but it's a more expensive option than generating a fake temporary number. DoNotPay wants to keep your private information private! This is why we've developed a burner feature of our own.
With DoNotPay, you'll get a temporary phone number that will be active for 10 minutes, which is enough time for you to get a verification SMS. After 10 minutes, the number will be deactivated. You can keep your personal phone number private and still verify your identity.
To get your new fake temporary number, open DoNotPay in any and follow these steps:
Log in to your DoNotPay account

Open the

Burner Phone

feature

Type in

Google

as the company you need the fake number for

Click on

Create a Temporary Number
DoNotPay will generate a burner number immediately. You can also use this number when signing up for dating apps and other services that ask for your number. After your fake number is deactivated, the text message will be deleted too.
The Best Part About DoNotPay's Fake Phone Number Is Its Versatility
Plenty of apps and services require phone number verification. While two-step authentication is a great way to ensure that nobody else can log into your account, you may not always feel comfortable giving something as private as your phone number to big corporations.
If you want to test out the service, but are reluctant to provide your actual phone number, you can use DoNotPay's randomly generated phone number instead. Here are some instances in which DoNotPay can help you bypass phone verification:
Use Our Virtual Credit Card To Sign Up for Free Trials Without the Risk of Unwanted Charges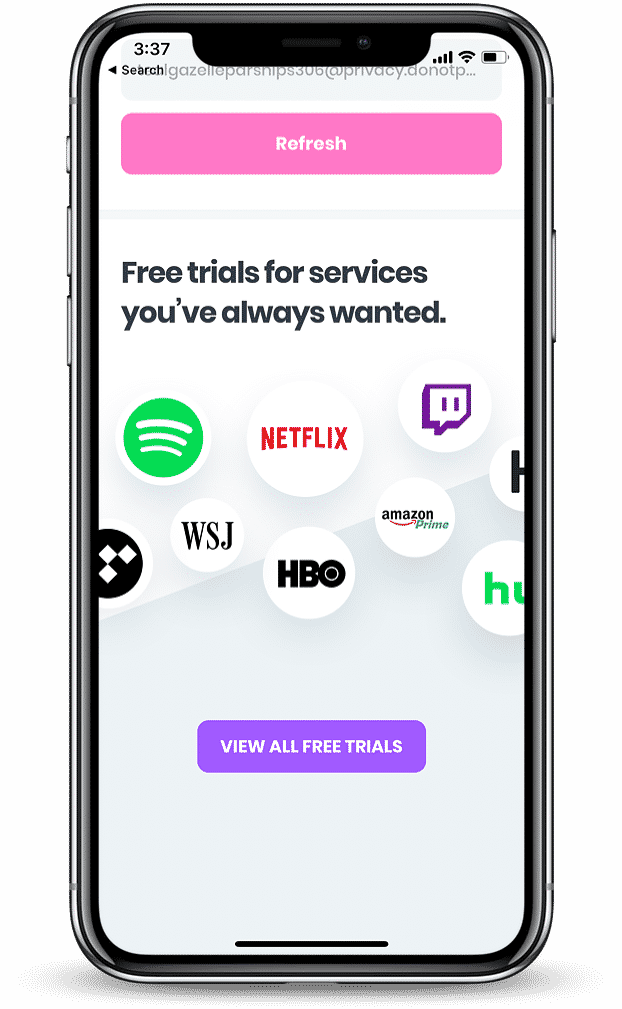 If you are one of the many people who forget to cancel a service before the free trial expires, then you will find virtual credit cards useful. A virtual credit card is a unique card number that appears authentic to the vendor and gets instant approval. It is created through a virtual credit card generator and can be used only for services that don't require an authorization hold. This is because DoNotPay's virtual credit card has no deposit.
Our free virtual credit card isn't connected to your real bank account, so your money will be safe at all times. Here's how our virtual credit card works:
DoNotPay generates a random credit card number and expiry date

Your new card is approved on the service's billing page automatically

The company tries to charge you after the free trial expires but can't because your card holds no funds

The company cancels your subscription automatically
You can access this feature on DoNotPay or after you create a temporary burner number. Our app will ask you if you want to have a randomly generated virtual credit card too.
With DoNotPay, You Can Bypass Your Administrative Issues

Our app is here to protect you from all kinds of dangers that lurk on the internet. With DoNotPay, you can protect yourself from Google spam email and learn how to block emails on Gmail. We can also show you how to cancel Google Adwords, Google Play, Google Drive storage, and Google Store Financing.
Open DoNotPay in your , create an account, and get help with:
Disputing traffic citations

Fighting speeding citations