Looking for
Burner Phones
at
Target
? DoNotPay Can Help!
Our phones are full of apps that often request us to provide our phone numbers. While many companies and services refrain from the abuse of sensitive information, some use your data for advertising purposes. We are also witnesses to frequent security breaches on social media, email web clients, and other online platforms. 
Most Americans worry about the security of their information, including passwords, phone numbers, email accounts, or credit card details. An increasing number of people are looking into various methods to protect personal data. Some of the most popular options for protecting phone numbers are burner phones and fake phone number apps. 
Target Burner Phone
s Explained
Even if you haven't used a burner phone so far, you have probably seen one, at least in TV shows or movies. Burner phones in Hollywood scripts usually serve to hide a shady individual's identity and end up in dumpsters after secretive calls.  
While using burner phones, in reality, is not so dramatic, it serves a similar purpose—to conceal your identity from all kinds of abuse. Burner phones are usually cheap and disposable and use a prepaid SIM card. They can be of great help if you need to:
Have a back-up phone 

Open an account on online dating websites

Avoid

robocalls

and spam texts with dangerous links

Sell something on

Craigslist

  
You can look for burner phones in any cell carrier store. Because burner phones are not limited by contracts, you can find them in major convenience stores, including Target, Walmart, or Amazon.
Besides the device, you will need a prepaid plan, but the good news is that you can usually find prepaid SIM cards at the same place where you buy your burner phone.   
Where To Buy Burner Phones
at
Target
Target is a good choice when looking for disposable prepaid phones. They carry burner phones by all major phone brands and have a wide selection of prepaid phone cards. This big retailer offers several delivery options:
Standard shipping

Order pickup at the store

Drive Up service

for orders placed in the Target app
Browsing for burner phones on the Target website is not complicated:
Open the Target homepage in any web browser

Click on

Categories

in the upper-left corner

Select

Electronics

,

Cell Phones

, and then

Prepaid Cell Phones

Pick a phone that you like and proceed to checkout
Target allows you to sort the phones by brand, price, color, service, features, or guest rating.
If you're not a fan of online shopping, you can always visit your local Target in person. You can easily find the nearest store using its Store Locator option, where you can search for locations by zip code or city. When you find the nearest Target, you can check its business hours on the same page.  
What Is the
Cheapest Burner Phone at Target
?
While prepaid phone prices usually start at $20 or $30 for devices with basic features, you can splurge on a burner phone by top smartphone brands for well over $1,000. Such phones might have all the cutting-edge features like your primary smartphone, but you probably don't need a fancy disposable phone. 
The table below includes the cheapest burner phone options available at Target:
Phone
Features
Price

Cricket Prepaid Debut Flip (4GB)

Basic 2MP camera with quick-launch side button

Long-lasting 1,450 mAh battery

Expandable storage of up to 4GB and up to 32GB with microSD card

Preloaded with Google Assistant, Google Maps, and YouTube

$29.99

Cricket Prepaid Alcatel Glimpse (16GB)

Decent 5MP camera

Powerful 3000 mAh battery

The internal memory of  16GB and up to 128GB expandable memory

$39.99

AT&T Prepaid LG Phoenix 5 (16GB)

Dual camera 13MP + wide 5MP

The basic internal memory of

up to 16GB

Power-efficient 3,000mAh battery

$49.99
The quoted prices are subject to change. You can always wait for a major sale and get a burner phone at an even lower price, or you can check out how DoNotPay can help you protect your privacy without an additional device. 
DoNotPay's Burner Numbers Are Where It's At

Out with the old, and in with the new! Why get a burner phone, charge it, and pay for minute refills when you can get a burner number? DoNotPay utilizes cutting-edge technology and makes classic burner phones as redundant as they're old-fashioned. 
Getting a fake phone number with DoNotPay is easy—just follow these simple instructions:
Open a DoNotPay account in any

web browser

Choose the

Burner Phone

feature after logging in

Choose the service you need the burner number for and click on

Create a temporary number
Our temporary phone numbers can help you: 
Avoid text message verification when signing up for various services

Prevent robocalls, spam texts, or cold calling

Protect your privacy in the case of dangerous data leaks
DoNotPay burner numbers last for ten minutes, and if you need to receive a text message to that number, you can access it on our platform. 
With our help, you will be able to take more control of who has your phone number without switching between two separate devices!
Protect Your Privacy Even More With Our Virtual Credit Cards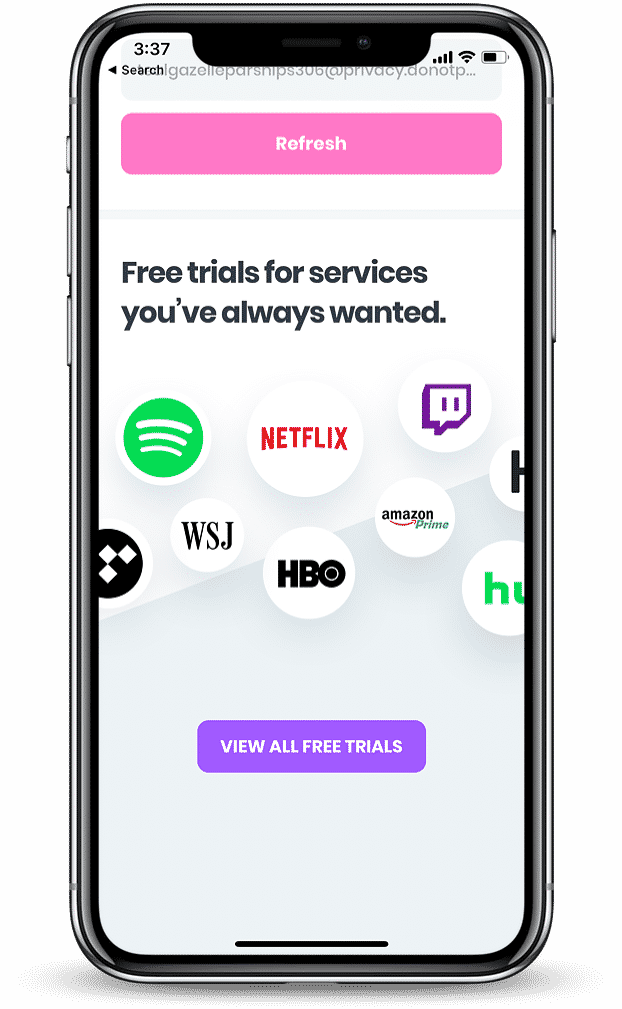 Another great feature of our platform is the Free Trial Card that goes hand in hand with our burner numbers. The Burner Phone option keeps your phone number safe from prying eyes while our virtual credit cards protect your finances. 
This feature is perfect for using free trials without any risks. Many apps and websites ask you to verify your identity by entering a phone number and put down your credit card info before letting you make the most of the trial period. 
DoNotPay offers seamless integration of these two valuable tools. After creating a burner number, the app will give you a chance to create a virtual credit card as well. You can use the random number to sign up without worrying about what may happen when the free trial ends.
Since there are no funds on virtual cards, companies like Netflix or Spotify can only fume and cancel your free accounts with no repercussions.   
Explore Other Useful Features of DoNotPay

DoNotPay is called the world's first robot lawyer for a reason. Our platform utilizes the power of artificial intelligence to minimize paperwork and fight annoying administrative issues that take too much time or money. 
If you end up dissatisfied with your purchase, DoNotPay can help you navigate the intricacies of the Target refund policy. Securing refunds is just one of the many useful functions of DoNotPay—get ready for more!
You can sign up for a DoNotPay account in any web browser you use. After logging in, you will be able to make your life much more comfortable than before as you learn how to:
Dispute traffic tickets

Fight speeding tickets