Burner Phone Walmart: A Better Option Than Fake Number Apps?
Buying a cheap burner phone at Walmart can help you keep your personal information safe. Walmart carries a wide range of prepaid and burner devices. The store offered some of the most affordable burner phones in 2019. The prices of burner phones at Walmart change from time to time, and you should always check updated prices before committing. How do burner phones from Walmart with no contract compare to other services?
Why Would You Need a Burner Device?
If you're looking at a burner phone, it's probably because you want to keep your personal information safe. Many online subscriptions and services require your phone number, and you don't always know who will be able to access your sensitive data. At the very least, you're opening yourself up for incessant spam messages and calls from telemarketers.
Subscriptions that usually ask for your number include:
Dating apps such as Tinder and Grindr

Social media, including Facebook and Instagram

Free trials for software or subscriptions. These also often require your credit card details
If you don't provide your information, you won't be able to sign up for many of these services. If you use a burner device, you can provide a number without running the risk of receiving endless spam.
Reasons Companies Ask for Verification
Being relentlessly badgered for the personal information you're unwilling to disclose is annoying for prospective consumers, so why does it happen? Many companies often ask for personal details—it's not only limited to online services and apps. Some of the reasons why a company asks for your phone number include:
It's an excellent method to generate leads for

marketing

purposes. Once a company has your number, they can let you know about special offers and improvements to their services

Some companies sell your information to marketing agencies such as telemarketers

Companies like

Google

use your number as part of their two-step verification method since it adds extra security to your account

Banking apps also enhance the security of your account by using the two-step verification method to confirm transactions
If a company wants to use your information for security purposes, you should consider providing it because you will gain several benefits. These benefits include:
Getting notified about any actions taking place in your account

Quick action if your account was accessed without your authorization

Two-step verification makes it much harder for anyone to hack into your account
You should make sure that they won't use it for anything else by reading their privacy policies.
Why Would You Buy a Burner Phone From Walmart?
Walmart burner phones are generally affordable. The devices start at about $30, and there are many brands to choose from. Keep in mind that you don't sign a contract when you purchase a burner, so you have to buy minutes and data whenever you need to use the phone. Buying prepaid packages regularly can quickly become expensive.
Walmart has phones from specific carriers and unlocked phones that will work with any provider. You can buy a SIM for the burner device, and Walmart will deliver it to your door if you shop online. Take a look at this comparison of the most affordable devices available from Walmart:
There are many other phones that you can consider. Depending on your budget, you can get a decent Walmart burner phone at a good price. Most of the phones are connected to a specific provider, but you have the option to ask for any phone to be unlocked, as long as you pay the full price.
Other Methods To Keep Your Information Safe
If a Walmart temporary phone doesn't appeal to you, there are other methods that you can try to keep your personal data private. These include:
Your Google Voice account

Fake number apps

Websites that generate fake numbers
Each of these methods comes with its own set of problems since companies have started catching on. Many apps expect payment, which can become expensive, and there's no guarantee that they will work. There's also a chance that you can become the victim of phishing and scams. For instance, there have been many reports of Google Voice accounts that were hacked, and scammers used the number to scam others.
DoNotPay Lets You Sign Up for Any Service Without Giving Your Number

DoNotPay is a subscription service that will generate a fake phone number when you want to sign up for any service. There's no limit to the number of companies for which you can generate fake details. DoNotPay is linked to your phone, so once you've activated the temporary number, the messages won't be sent to your number, but you'll still be able to read them on your phone. DoNotPay doesn't keep any of the information you received when using the fake number service.
Once you've started your subscription with DoNotPay, you can follow these easy steps:
Access DoNotPay from any

Choose the company that you need to give a number to

Click

Create Temporary Number

Wait for the verification text that the company will send to the burner number
Each temporary number is valid for ten minutes, after which DoNotPay will automatically delete the text and deactivate the number.
Using a Virtual Credit Card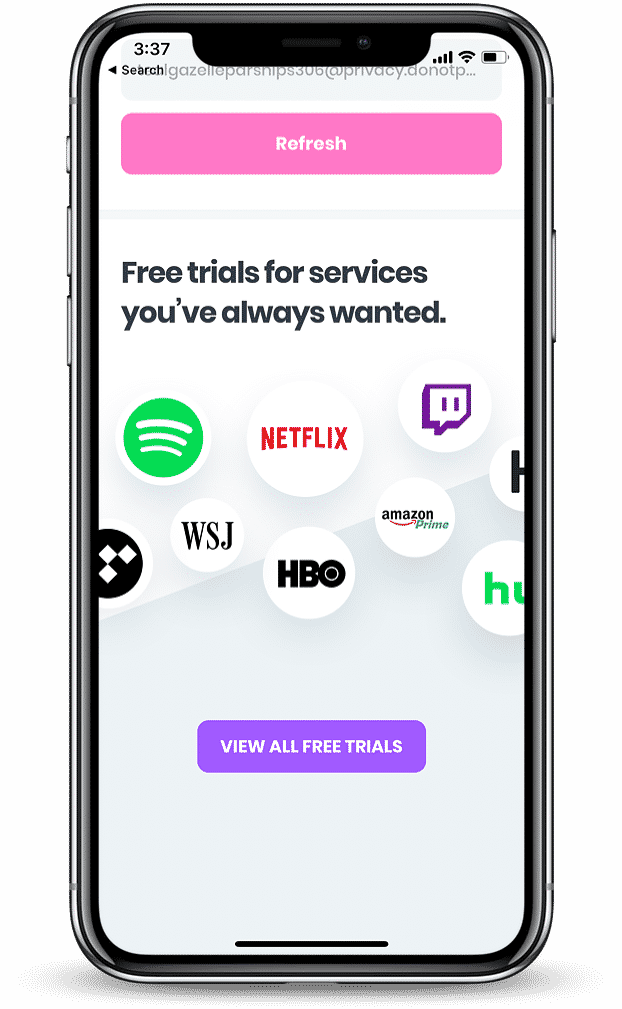 When you have a DoNotPay subscription, you can pair the burner number service with a Virtual Credit Card. A burner device can't help when you need to provide payment details, which are even more sensitive than your number. DoNotPay will give you a temporary fake credit card number to make payments online. With this service, you don't have to give your credit card details or even your real name. You don't have to give any personal information, which keeps you completely safe.
A Virtual Credit Card is excellent when you have to give credit card details to sign up for a free trial. Once the free trial period is over, your credit card can't be charged if you forget to cancel the service.
What Else Can DoNotPay Do?

A DoNotPay subscription is much cheaper than fake-number apps and gives you a multitude of services. If you're unhappy with the burner phone that you purchased from Walmart, DoNotPay can help you get a refund. You can also request refunds from Amazon, Target, eBay, and many other companies.
You may have signed up for a free trial or subscription that you no longer use. DoNotPay will help you cancel these. The app can even make your DMV appointments for you so that you can skip the long wait.
There are many other things that your personal robot lawyer can do to make your life easier. Turn to DoNotPay if you need help with:
Fighting traffic tickets

Disputing speeding tickets