How To Bypass Grindr Phone Verification the Easy Way
Phone verification has become a regular part of account security checks, as many companies around the world don't let you finalize your account creation without this step. Grindr, the world's first and most famous gay dating app, also demands this method of authentication.
The platform boasts over 27 million users worldwide, but it still struggles with security and spam issues, which is why phone verification is the only way to free the community from unwanted content or fake user profiles.
If you are interested in hearing more about bypassing the tedious verification procedure on Grindr, we will show you how to do it without spending a bunch of cash on burner phones or fake phone number apps.
Why Do People Use Burner Phones?
A phone number is considered sensitive information, and if you expose it publicly or share it online, it can be misused in many ways. Such situations can be harmless yet irritating, but they could also endanger your privacy.
Burner phones are the easiest solution when you want to keep your real phone number private and avoid sharing it online. A device is connected to a temporary phone number, which you can use to sign up for any service and deactivate it once you are done.
Your data remains protected, and you don't need to worry about unknown persons having your contact details.
Burner phones might come in handy in cases when you want to:
Avoid numerous spam text messages or annoying robocalls

Communicate safely with sellers/buyers while shopping online

Keep in touch with other users on dating websites or apps without risk

Make sure your details won't be compromised in the case of information leaks or similar incidents
Ways To Bypass Phone Verification
You might believe that you won't become a victim of scams and abuse online, but the reality may unexpectedly convince you otherwise.
Identity theft cases and security breaches made people cautious and more interested in using alternative ways of phone verification. Here is a table showing several popular methods:
Method
Features

DoNotPay

Cost-effective

Quick procedure

User-friendly platform

Fake Phone Number Apps

Costly solution

Questionable efficiency

Many available options

Fake Phone Numbers on Google

Easily accessible

They may have been already used for the same service

Physical Burner Phones

Costly

Efficient identity protection

Additional costs per minute

Google Voice

Free to use

Available in the USA only

Requires your phone number so the calls can be redirected to it
Why Does Grindr Require Phone Verification?
Grindr has a history of security breaches and safety concerns. According to TechCrunch, researchers reported the security system vulnerability on several occasions. They discovered that it was enough to know somebody's email address to trigger the password change process and take over their profile, which could compromise millions of accounts. This irregularity was corrected in 2020, but certain users still hesitate to relax regarding this matter.
Such concerns aren't the only reason why phone verification became necessary on this app. Like many other social networks, Grindr also attracts a huge number of spammers and bots who swamp users with unwanted messages.
The main purpose of phone authentication is to prevent such profiles from spreading over the platform, but it also helps with detecting potential abusers and terminating their accounts. By verifying your phone number, you confirm that you aren't a robot but a real person and get to enjoy the app without any fuss or further checks.
How To Bypass Grindr Phone Verification With DoNotPay

Grindr phone verification can't be bypassed or skipped, but you can avoid risking your privacy by replacing your real phone number with a temporary one generated by DoNotPay.
Our app creates burner numbers for one-time use, which can be used for any phone authentication. They last for ten minutes, giving you enough time to request and receive the verification code. Here's how the procedure works:
Open DoNotPay in your

Pick the

Burner Phone

feature and select the merchant or service you need the code for

Click on

Create a temporary number

Type your new number in the Grinder phone verification field and request the code

Go back to the app and click on

View Text Message
After ten minutes, the number will disappear, as well as the message you received.
Not only does this solution help you not to compromise your privacy, but it's also cost-effective. You can create several burner numbers, which is more convenient than buying a physical burner phone or starting pricey app subscriptions.
The Best Part About DoNotPay's Fake Phone Number Is Its Versatility
Plenty of apps and services require phone number verification. While two-step authentication is a great way to ensure that nobody else can log into your account, you may not always feel comfortable giving something as private as your phone number to big corporations.
If you want to test out the service, but are reluctant to provide your actual phone number, you can use DoNotPay's randomly generated phone number instead. Here are some instances in which DoNotPay can help you bypass phone verification:
Enjoy Free Trials With Zero Worries Thanks to DoNotPay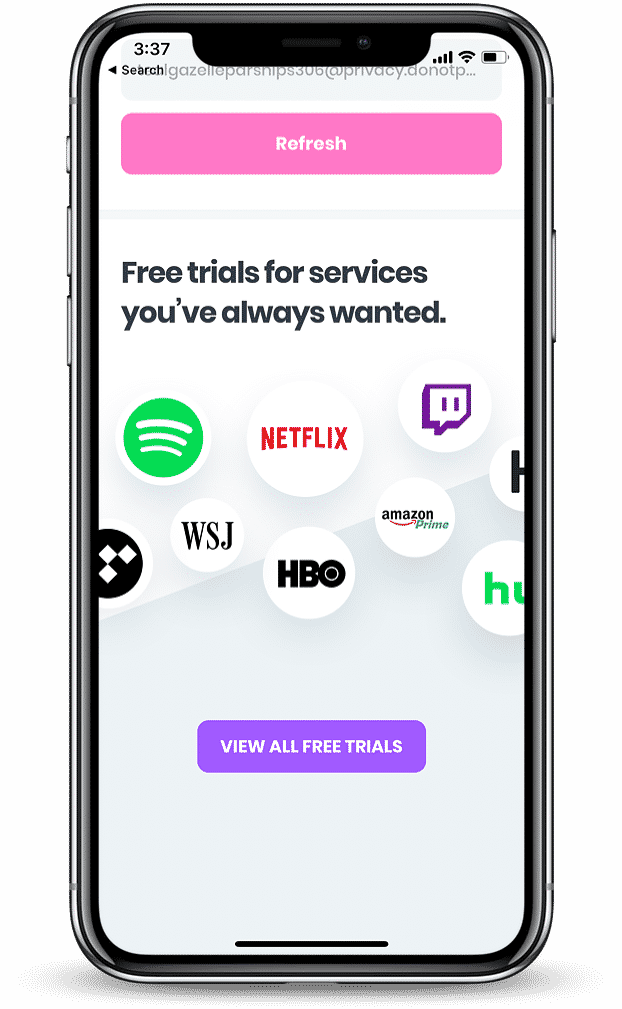 When you want to start a free trial, companies usually ask you to confirm your credit card number in addition to your phone number. It looks like a standard security check procedure, but most people feel uncomfortable leaving their bank details online.
DoNotPay has taken care of this issue by designing a virtual credit card generator. This amazing tool helps you create fake credit card numbers you can use instead of the real ones and protect yourself from unfair charges.
Here's how this feature functions:
We create a virtual credit card linked to a fake name, email address, and security code

You use your new credit card number when starting a free trial

When the trial expires, the merchant can't charge you as your virtual card isn't linked to your real bank account, and there are no funds on it

You get unsubscribed automatically without losing a penny
Taking advantage of this feature will save you from paying for services you don't want to use. Our Free Trial Card enables you to test other dating websites and apps, including Match.com and Tinder Gold.
More Tedious Tasks? DoNotPay Has Your Back

Not so happy with Grindr? Access our platform from your and find tips for canceling this app and countless similar dating platforms, such as Badoo, Tinder, eHarmony, or OkCupid. If phone verification is still your weak spot, learn more about bypassing it on Discord, MeetMe, Facebook, Instagram, or Craigslist.
If the issues you are struggling with don't have anything to do with authentication methods, we have a wide spectrum of tools to help you:
Fight speeding tickets

Dispute traffic tickets