Virtual credit card — What is it, and how does it work?
Virtual credit cards (VCCs) are credit card numbers that can be used for online shopping. They are not actual physical objects, meaning that—instead of a plastic card—you are using a number sequence that serves as a payment method.
With a few global hacker attacks that left people wondering about the safety of paying over the Internet, a need arose for a secure way of transacting online without exposing personal data of the consumer. VCCs proved to be exceptional at keeping your information hidden from third-party breaches.
Since many people are still not sure what VCCs are and how they work, let's try to answer some of the common questions users have about virtual credit cards.
What is a virtual credit card?

A virtual credit card is a series of randomly generated numbers that serve as an online payment method. The VCC number is similar to an actual card number, but it is not attached to a real physical card. It is linked to your bank account or your credit card, so you can use it to buy products or services on the Internet.
Although they are linked to valid funds sources, VCCs are an independent payment method, which means that a merchant will not be able to access your data. With this extra security feature, virtual cards are the best way to purchase things online without jeopardizing your account.
How do virtual credit cards work?
Virtual credit cards work in the same way traditional credit or debit cards do. Once you fill your online cart, you provide your card details and the merchant charges for the goods or services that you chose.
The difference is that VCC is usually a one-time token that is generated for that particular purchase or online retailer. Each time you make a payment, a virtual card number is created, and you use it for the purchase.
To a merchant, it will appear as a regular card number with all the details required, but no data will be stored, and no additional purchases or charges can be made with that number. Since your VCC is connected to your account through a secure network, you will be charged in the same way you would be if you paid with a regular credit card.
Are there different types of VCCs?
There are different types of virtual credit cards and which one to opt for depends on your needs. You can get:
Single-use virtual credit card

Multiple-use virtual credit card
Single-use virtual credit card
When you get a single-use VCC, you receive a one-time token that you can use for a single purchase. This means that once you provided the number to a merchant, it will not be eligible for any additional activities. These cards are excellent if you want to make sure that your information remains safe and unavailable.
Multiple-use virtual credit cards
You can use multi VCCs more than once, which saves you the time in obtaining and entering a new number each time you make a purchase. These cards also protect your data as they will not disclose it to the merchant. You can set limits on this VCC so that:
It can be used only for a designated online service provider

It can have a predetermined expiry date of your choosing

It can be restricted to a specific amount of money
You should be aware that no VCC is valid for more than a year.
Where can I get a virtual credit card?

Many issuers provide virtual credit cards as they are becoming increasingly popular. Since the Internet is threatening to become the dominant retail market in the world, the need for efficient and secure online paying methods, prompted all big credit card companies to start issuing VCCs.
You can check with your bank or your card company whether they provide such a service and what are the terms of use. You should know that you will need to ask for a VCC number every time you are buying something online, so it does include a couple of additional steps.
Some issuers offer a web extension, but some don't, which means that you will have to visit their web page and generate the number when the time comes to provide your credit card details to the retailer. You may also be asked to set the expiry date on your card, although that is not always the case.
What are the best U.S. virtual credit cards?

Apart from DoNotPay, there are a couple of options you can choose from if you want to get a virtual credit card in the States. Two stand out as the most prominent and popular:
Citi virtual account numbers

Capital One Eno
Citi virtual account numbers
Citibank offers its virtual account numbers service if you have a regular account at the bank. You can create a virtual credit card via Citi web-based tool or a program that is available for download on PCs.
You have an option of setting limits and expiry dates on your VCCs, and the system allows you to view transactions, check remaining balances, and close virtual accounts. Citi virtual account numbers are valid only for online and telephone purchases.
Capital One Eno
Capital One provides virtual credit cards through a web extension called Eno. Generating a virtual credit card is relatively easy, so you don't have to worry that paying will drag on forever. Once you create your VCC and use it, the transactions will show up on your regular statements.
You can check your virtual accounts on the Capital One page, so managing all your existing VCC is simple.
Where can I use virtual credit cards?
VCCs are eligible for all online payments and registrations. They appear to an online merchant as regular credit cards, so there are no restrictions on their usage. You don't have to generate a new VCC if a particular merchant is familiar, and you use their services regularly.
For iffy online businesses, try to stick to single-use virtual credit cards, at least until you check their privacy and payment policies. Even if a particular online shop is not dodgy, it can be a victim of a third-party breach, so one-time VCCs will guarantee the safety of your data and money.
You should be aware that you won't be able to use a virtual credit card for in-person shopping. Since you will not get an actual plastic card, you can only use the virtual card number for online transactions.
What are the benefits of virtual credit cards?

Using VCCs for paying on the Internet is efficient and safe, so it's an ideal payment method that keeps your personal and account information protected. You will need to get used to the process of obtaining the virtual card number, but once you do, the procedure becomes quite easy.
These are the main advantages of virtual credit cards:
They protect your data

They allow you to set limits in terms of amounts, expiry dates, and merchants

They allow you to test new online retailers without the fear of jeopardizing your bank account
In case you have been a victim of fraudulent activities, you are aware of how fragile the security systems of individual online merchants are. Although you are not responsible for unauthorized purchases, getting money back into your account takes a while, and you may need it for other valid transactions.
VCCs make sure that your funds are safe. While you may still fall as prey of predatory online service providers, at least the only amount that is in danger is the one you designated for that particular transaction. Other resources on your account and credit cards cannot be touched.
Are there any potential drawbacks to virtual credit cards?
As great as they are, VCCs have a couple of minor drawbacks that you should be aware of. The biggest issue is that you can use them for online payment only. Additional limitations do apply to them, and you shouldn't use virtual cards for all online purchases.
Don't use a VCC if there is a possibility that you will ask for a refund

Don't use VCCs for buying airline tickets

Don't use your virtual credit card for subscriptions in case you are sure that you will continue the service
Virtual credit cards and refunds
In case you would like to get a refund for a product or service that you bought online, you may encounter a problem if you paid for it with your VCC. Some retailers will ask to swipe or verify the card you used for the original purchase to put the money back into your account. If you used a single-use card, you wouldn't be able to comply with such demand, and you may have to settle for a voucher or store credit.
Paying for airline tickets with your VCC
This may also be a bad idea, especially if you are traveling abroad, or if it's the first time you are using the services of a specific carrier. Some companies require the actual card that was used to buy the tickets as proof of identification. In case you used a VCC, you will not be able to provide it.
Before you buy the tickets with your virtual card, make sure that your passport or another photo ID is enough to get you boarded. You should also print out your ticket and bring it with you to avoid any inconvenience.
Subscriptions and virtual credit cards
In case you have any ongoing subscriptions that you would like to continue using, consider paying for it with your permanent card. Subscriptions often require monthly or quarterly renewals. If you paid with your VCC and you forget to update the details, your subscription may get canceled.
You can set up a virtual card just for that service provider, so you don't have to disclose your actual account details. Our advice is to leave the expiration date to one year from the beginning of the subscription. That way, you don't have to bother with generating a new VCC every month.
Check out the table below for an overview of the pros and cons of virtual credit cards.
| | |
| --- | --- |
| Upsides of using a VCC | Downsides of using a VCC |
| Protects your account and personal details | Not suitable for in-store shopping |
| Allows you to set limitations according to your preferences | Not suitable for setting permanent accounts with online service providers |
What is the difference between a mobile wallet and a virtual credit card?
Although many people confuse mobile wallets with virtual credit cards, they are two completely different things. Some of their features may intertwine, but fundamentally they are not used for the same purposes.
A mobile wallet is a piece of software that stores your credit card or bank account details on your smart mobile device (phone, tablet). It allows you to buy goods or services by enabling the merchant to scan your phone. You can only use it with retailers that have smart payment terminals.
While the idea behind a mobile wallet is that you don't have to carry cards or cash with you when you go shopping, VCCs are not eligible for in-store shopping. You can use your virtual credit card only on the Internet. You can potentially store your VCC on your digital wallet, but this is dependent on the bank policies.
What does a virtual credit card number look like?

VCC number looks like any other card number, and it follows the same pattern in creation. Once you obtain your virtual credit card, you will notice that it has 16 digits, just like any other plastic card. You will be given a security code to go with your VCC.
In case you are wondering if the numbers on the card are entirely random, the answer is no. They are randomly generated but still follow a specific pattern, so the card can be validated during the transaction. This is what the numbers stand for:
First six digits are the major industry identifier (MII) and serve as the identification of the issuing company

The last digit is called the check number and is essential in the verification process

The remaining digits are your actual account number
You can recognize the issuer of the card by MII. For example, Visa starts with four, Mastercard with five, and AmEx with either 34 or 37. Card issuers use a software called the credit card number generator to create card numbers. Although each number will be unique, they all follow the same mathematical formula and respect the protocol of marking the issuer properly.
Can I create a virtual credit card number?
You can create a virtual card number by using the credit card generator. Various software options are available online, so you can generate VCCs on your own. You should be aware that these will be dummy numbers, and that you won't be able to use them for actual purchases.
Fake VCCs are excellent if you want to test websites, or their payment policies without risking any real money. The VCC generator will provide all the necessary card details, and the cards will appear as valid to online merchants, but only for registration purposes. Once an actual payment has to be made, the dummy number won't pass the test despite the security code it usually comes with.
Are fake virtual credit cards illegal?
Fake VCCs are not illegal if you use them for testing purposes only. In case a merchant states that they will use your card for registration only, you can freely use a dummy number. It allows you to check websites and figure out if their policies are legitimate or not.
Since there is no bank account or credit card linked to a fake VCC, you don't have to worry that you will be a victim of a scam. If a merchant states that fees or charges apply to the service, don't use a fake virtual card because that will be viewed as a fraudulent activity, and you may be subject to prosecution.
What is the Free Trial Card from DoNotPay?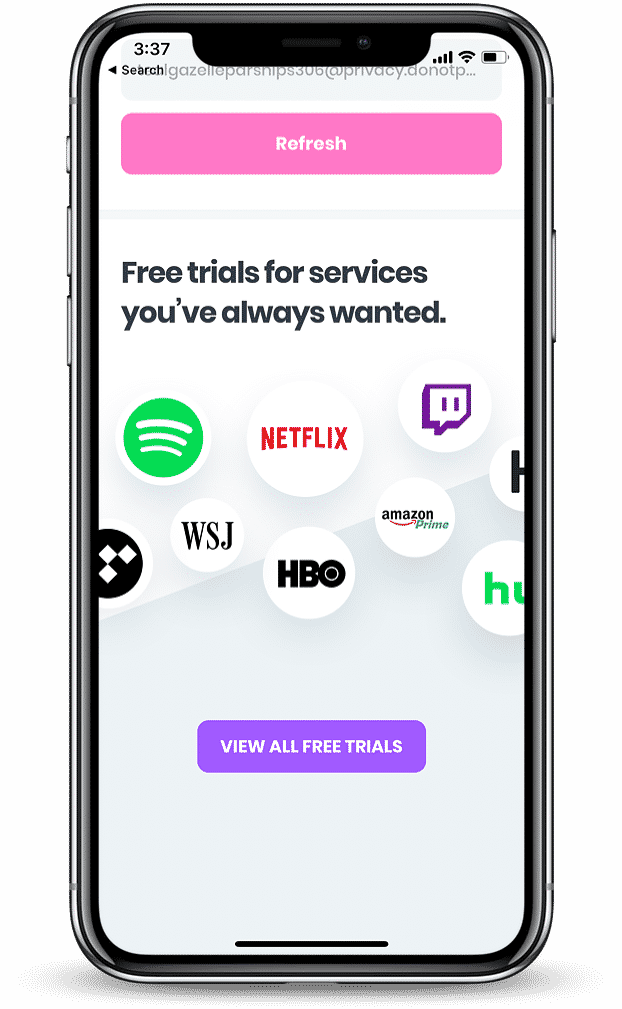 The Free Trial Card created by DoNotPay helps you take advantage of one of the most popular services on the Internet—free trials. While they sound fantastic, free trials come with a lot of strings attached. The worst part is that you are usually unaware of them until your test period expires.
It is not uncommon to sign up for a free trial, only to find yourself subscribed to a service you don't want to use. You can get caught in an incomprehensible maze of the cancelation procedures that are simply too complicated to work out. Sometimes, you keep seeing subscription fees on your bank statements, although you canceled the service more than once.
DoNotPay designed a solution to these annoying problems. The Free Trial Card is a dummy virtual credit card that you can use for free trials without having to worry that you will be stuck with a particular service even if you don't like it.
This virtual credit card will look like a regular card to any service provider, but it will not be associated with your bank account or credit card. Once the free trial is over, you are free from any obligations, unless, of course, you choose to continue using the service.
Check out some of the benefits of the Free Trial Card in the table below.
| | |
| --- | --- |
| Regular credit card | DoNotPay virtual card |
| Your account details are available | All your data is hidden |
| The merchants can charge your account | No charges can be made |
| Susceptible to automated subscriptions | Safe from unwanted subscriptions |
How does the DoNotPay virtual card work?

When you decide to start a test trial online, you will be asked to provide your credit card details. That is the time to log on DoNotPay through your and get the Free Trial Card. The app will generate a virtual card number, together with the security code and expiration date. Use that information to sign up for any test trial you like.
What's great about this specific card is that it will:
Verify if the service is a free trial

Cancel it immediately if it's not

Block any hidden or automated subscriptions

Keep your money safe because it is not linked to any source of funds
You should know that the DoNotPay card is valid only for free trials and cannot be used for any actual purchases online or in person. Also, if you decide that you would like to continue the service after the free trial is over, you would need to provide your real credit card details to the provider.
Where can I use the DoNotPay Free Trial Card?
The DoNotPay card will work with all major streaming services during their initial free trial periods. What's great is that it comes with the U.S. billing address, so you can unlock the features restricted to the American market, in case you are not residing in the States.
Feel free to use the DoNotPay virtual card if you are starting a free trial with:
ESPN Go

Showtime

Apple Music Premium

Postmates

Netflix

Tidal

Spotify Premium

Disney+
What else can DoNotPay do for me?
DoNotPay is a free app that helps people deal with administrative tasks, unfair fines, unresponsive customer services, and much more. We use AI to make your life easier. If you are in dire need of a lawyer or any other consultant, but you can't afford it, ask DoNot Pay to help.
We created the world's first robot lawyer to help you cope with any of the following:
Disputing traffic tickets

Fighting speeding tickets