Need a Burner Phone for Subscriptions? DoNotPay Comes to the Rescue!
Most apps and services require you to subscribe, and many of them will ask for contact info, such as your email address and phone number. While most people are comfortable with disclosing their email (and even have a separate address for subscription purposes), they tend to feel differently about their phone numbers. 
One of the possible solutions to this problem is buying a burner phone with a number designated for signing up for services and confirming identities. Is this the best course of action, though?
What Is a Burner Phone?
A burner phone is a prepaid phone with a prepaid number, and it's usually a cheap, outdated device. Don't let crime movies fool you—in most cases, people don't throw it away when the minutes expire, opting to buy extra ones instead.
The appeal of burner phones is obvious—since you don't sign a contract, you gain anonymity that you can't have with a regular phone. If you pay for the device in cash, it gets almost impossible to connect you to that particular number and device.
Why Would You Need a Burner Phone?
When you sign up for services, many companies require a phone number verification. You probably don't want to give them your real number because you want to avoid unwanted marketing texts and keep your activity private. Regardless of how reluctant you are to provide your phone number, it's often unavoidable, especially when signing up for: 
Free trials 

Dating apps

Social media

Online chat rooms

Online competitions

Subscriptions to certain services
Most of these services carry risks—you could receive relentless spam, or the wrong people could get your information. When you use a burner phone, you don't provide your real phone number, which helps you keep your personal information safe.  
Why Do Companies Require Phone Verification?
Companies use verification codes for security and marketing purposes. Here are some examples:
If you want to sign in to your account from a different device, you need to prove that you're the one trying to sign in

Two-step verification has become popular with apps that have sensitive information

You need to type in a verification code when changing your password for most accounts

By obtaining your phone number and email address, companies can flood your inbox with their ads
How Do You Usually Avoid Verification?
If you're serious about keeping your information private, you could avoid verification by:
Purchasing a burner phone 

Using Google Voice

Searching for fake phone numbers on Google
Burner Phones
One of the methods you can use to avoid providing your personal number is using a burner cell phone. Since you have to buy minutes and data that you only use to verify your account, this method can become expensive. You could install a burner app on your phone, essentially turning your Android or iPhone into a burner. While burner apps might seem like a practical solution, they are seldom free, and they usually include annoying ads.
Google Voice
You can use your Google Voice number to verify accounts and subscriptions. Recently many people have become victims of scams through this method.  
Fake Number Websites and Apps
There are numerous sites dedicated to providing fake numbers you can use when verifying your account. While searching for fake numbers might seem like an easy solution, you should be aware of the disadvantages: 
More and more companies are catching on to websites that create fake numbers and ban them

Fake number apps and websites can use your information to spam text you like any other company

You usually have to meet certain requirements before you can get the fake number

 

Most of these apps aren't free 
DoNotPay Will Help You Sign Up for Any Service Without Using Your Number
DoNotPay has developed a feature that creates a temporary phone number you can use to avoid verifications when registering for various services. The number you get is intended for one-time use, and it's accessible for ten minutes. To bypass phone number verifications with DoNotPay, follow these steps:
Open

DoNotPay

Choose our

Burner Phone

feature

Indicate which company you want to use this service for

Click

Create a Temporary Number

and use the number we generated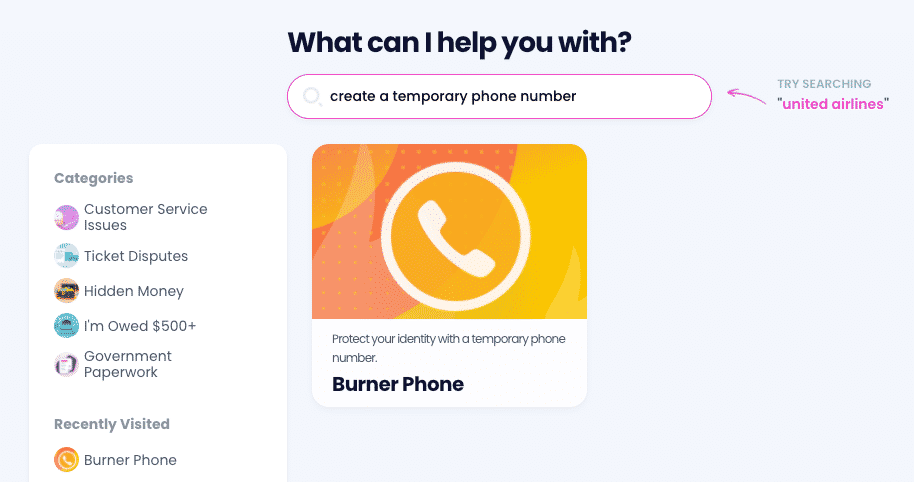 DoNotPay generates a new number each time you use our feature. The number doesn't appear anywhere on your profile, and all data is automatically deleted after ten minutes. With our feature, you can safely sign up for any service, including:
Using this service means that you don't need to waste money on a real burner phone or pay high prices for fake number apps. The DoNotPay burner phone product is included in your monthly subscription fee. It's fast, easy to use, and cheaper than most burner apps on the market: 
| | | | |
| --- | --- | --- | --- |
| How To Avoid Verification | Effective | Affordable | Safe |
| DoNotPay | Yes | Yes | Yes |
| Burner Phones | Yes | No | Yes |
| Google Voice | Yes | Yes | No |
| Fake Number Apps and Websites | Not always | Not always | Yes |
Why You Should Use the Virtual Credit Card From DoNotPay
Security is of the utmost importance when you pay for something online, and our virtual credit card ensures your info stays safe. DoNotPay has integrated the Free Trial Card system into the Burner Phone feature. This allows you to use a virtual credit card when making a payment to the company you're using the temporary number for. 
More of What We Can Do for You 
Our multifaceted app can call and record the conversation with the customer service of the company that just won't let you go! If you are having trouble canceling an unwanted service via the traditional channels, use DoNotPay to get it over and done with!
We can help you stop the persistent robocalls and robo texts from the nagging company and request a refund for unused services in a matter of minutes.
We'll also lend a helping hand in stopping spam mail—whether it's electronic or paper. Our Spam Collector product unsubscribes you from unwanted emails and cleans up your physical mailbox too!
DoNotPay Can Do Your Paperwork for You! 
Feeling like you're in bureaucratic hell? Our app will draft the paperwork you need and get you out of any hurdle before you know it! 
We can compose most of the documents that you require for any administrative purpose in your jurisdiction, most notably: