How To Get an Affordable Fake Phone Number for a Survey? We Can Help!
Does it ever frustrate you when a service or a survey asks for your phone number only to start sending you countless spam text messages? Whenever we tick the box "I agree," we expose our private information such as email, phone number, and a full name. We never bother to read what the company states in Terms and Conditions and Privacy Policy.
There are many ways to protect your privacy, and one of them is a fake number generator. You can use a fake number to stop spam SMS and telemarketing calls, but most importantly—you don't have to give your private number to anyone who might abuse this information.
DoNotPay has the most affordable and easy-to-use fake phone number generator. Use our app to protect your privacy!
What Is a Burner Phone?
A burner phone is frequently associated with criminals and drug dealers, but regular people use them too. It's an inexpensive and disposable mobile phone that you use temporarily. You can buy burner phones with a prepaid sim card, which won't require you to sign any contracts. If you pay in cash, your privacy will remain intact—no one will be able to track your data.
Unfortunately, phones can be pricey, but there's a solution to that problem too—fake phone number apps. You can generate a temporary phone number with the help of a smartphone app, and use it to fill out surveys and sign up for services.
Why Use a
Fake Random Phone Number
in the
U.S.
?
People use fake numbers and burner phones, in most cases, to protect their privacy. 80% of Americans believe that someone is tracking their personal information online. Companies collect our data for targeted advertising, but this can sometimes scare us. We feel like we're being watched and have no more control over our private information.
Other reasons why people use fake phone numbers are:
They're using a dating app and don't want to give out their real number yet

People have a business, and they want to keep their private life separate

They want to sell or buy merchandise on Craigslist or other websites

People don't want to give their real number when they sign up for a service

They want to apply for different kinds of jobs
Are There Apps That Can Generate a
Fake Phone Number for a Survey
?
We live in the 21st century—there is an app for everything, including fake phone numbers. It's much less expensive to use an app on your current phone than to buy a prepaid plan and an AT&T or T-Mobile burner phone. Check out some of the most popular apps for using fake phone numbers:
App
Price
Features

Burner

Starts at $4.99/month

MMS

Voicemail

Voice control

Call forwarding

Built-in app lock

Hushed

Starts at $3.99/month

MMS

Call forwarding

Paying with bitcoin enabled

Messages encryption

Built-in app lock

CoverMe

Starts at $99.99/year

MMS

Do not disturb

Voicemail

Vanity numbers

Call forwarding
The apps that generate fake phone numbers are too expensive, but don't worry because the best and most affordable app is right here! You can use DoNotPay to generate a fake number and save money.
Get a
Fake Phone Number for
a
Survey
With the Help of DoNotPay

DoNotPay enables you to get a burner number in a few clicks and protect your privacy. You can use the temporary phone numbers that DoNotPay generates for you to bypass any verifications in surveys, on social media websites, dating apps, and a variety of other services that need to verify your phone number.
The number that our app will create for you is temporary—it's active for 10 minutes, and it's for one-time use only. When you give your fake phone number to a company, you'll receive a text message with a verification code or other information through DoNotPay. When ten minutes pass, we will delete your text message and deactivate your number.
Access this feature on DoNotPay from any , and follow these steps to create a fake phone number for a survey:
Open the

Burner Phone

feature on DoNotPay's website

Type in the name of the company you want to give your fake number to

Click on

Create a Temporary Number
These three steps are all you need to do to get a fake phone number. The best part about our fake number generator is the price—DoNotPay doesn't charge extra money for this service. The full service is included in your monthly subscription! You may create multiple different numbers per month and not just one.
If the service asks for credit card information, don't fall for it! Use DoNotPay's free virtual credit card instead!
Use Our Virtual Credit Card To Protect Your Privacy and Money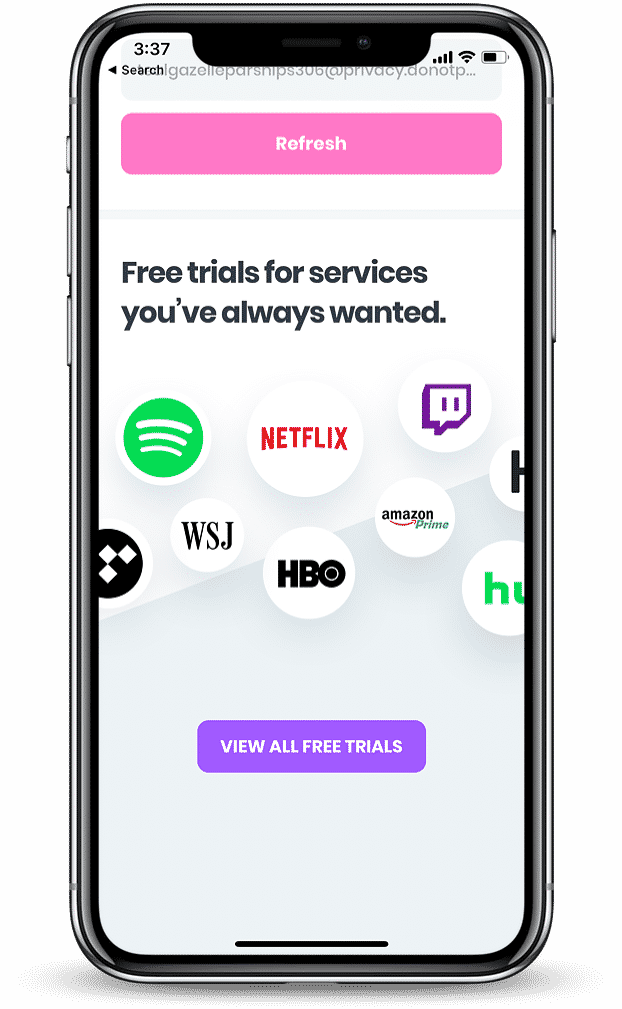 Virtual credit cards are randomly generated credit card numbers that enable you to protect your privacy and hide your real information from potential scammers. They have the same information as real credit cards like the CVV and the expiration date. You can also use DoNotPay's free virtual credit card that has no deposit to sign up for free trials on any service like HBO, Hulu, Netflix, and numerous others.
No need to worry about losing any money because our virtual credit cards are in no way connected to your real bank account. After a free trial expires, the company won't be able to charge you, and they'll cancel your account automatically.
You get a virtual credit card for free either by opting for it during your Burner Phone installation or by accessing it from the DoNotPay's website.
Here's what will happen once you opt for DoNotPay's virtual credit card:
Our app will use a

virtual credit card generator

to create a random card number

The credit card will get

quickly approved

by the vendor

Recurring payments and charges won't be possible since the virtual card contains no funds

The company will cancel your account once they try to charge you and fail
Here's How DoNotPay Can Help You With a Variety of Other Everyday Tasks

DoNotPay will become your favorite app once you see all that we can do for you. We have an abundance of features that will make your life easier since DoNotPay strives to come up with the simplest solutions to complicated issues.
We can help you verify your phone number on Paypal, Snapchat, Tinder, Craigslist, Instagram, Facebook, and many more, without leaving your actual private one.
The purpose of DoNotPay is also to protect the rights of people who were wronged and help them get justice!
Open DoNotPay in your , and we'll assist you with:
Disputing speeding citations

Appealing traffic citations