DoNotPay's
Virtual Credit Card
—Start a Free Trial Without Disclosing Your Personal Banking Information
How often does this happen – you sign up for a free trial, input your credit card details, and then forget about it? The next thing you know, you've been charged for a service you never even used, and have forgotten that you applied for it altogether! You go over your transactions, and you see a subscription for that new streaming service, that fitness program you never used, or the VPN service you forgot exists. Those extra $20, $80, or $100 can take a significant toll on your budget if you're not a gazillionaire, and even if you were, why would you pay for something you never used?
This scenario is well-known to people all over the world. To avoid wasting money, when you sign up for a free trial, instead of using your real card – use a virtual credit card!
Since we live in a fast-paced world and have no time to waste on setting reminders for each trial we sign up for, DoNotPay has developed a new and convenient way of saving money and time – the Free Trial Card! Access DoNotPay through any web browser. 
What Is a
Virtual Credit Card
?
Virtual credit cards are basically unique, randomly generated credit card numbers that you can use to sign up for a free trial service with a company or make online purchases. They are connected to your actual credit card, but have their own "fake" credit card info—a randomly generated virtual credit card number, expiration date, and CVV. 
Virtual credit cards allow you to make "transactions" without revealing your real banking information. On top of that, VCCs can be tied to a single vendor and you can set a maximum charge limit to ensure you don't get charged automatically for services you don't plan on using. You can think of a virtual credit card as a one time use credit card or a burner card, if you will. 
What this means is that you can sign up for all the free trials you want without worrying that you will be charged a ridiculous amount after it's over. The vendor won't have access to your actual banking information, so they'll essentially be unable to charge you automatically. 
Joshua Browder, the founder and CEO DoNotPay, said that he got the idea for the DoNotPay Free Trial Card after he was charged for a gym membership he never used. Many companies use deceptive methods of charging free trial users. Free trials are not really free if they demand your credit card information when you just want to test the service before you commit to a monthly subscription. 
DoNotPay's temporary credit card lets you avoid unwanted charges and gives you peace of mind. 
The beauty of virtual credit cards is that, to the merchant, they look like a regular credit card. That way, you can try out their services without the fear of having to pony up for the cost of a yearly membership when you forget to cancel the trial or figure out that you were supposed to cancel it only one day after its expiration date.
How Does DoNotPay's Virtual Free
Trial Card
Work?
Virtual credit cards work very similarly to standard chip credit cards. When you use a chip credit card, a merchant receives a single-use token that is changed every time you use a card. This means that, if you're dealing with a fraudulent merchant, they are unable to misuse your card since they only have a single-use token, valid only for that one single purchase you made with them.
Virtual credit cards are more or less the same. A virtual credit card utilizes a random credit card generator to create a temporary account number, so if the fraudster tries to misuse it, they are unable to do so. The virtual card cannot be used for unauthorized purchases since it is usually limited to one transaction, one merchant, or one spending amount you decide on.
When you use the DoNotPay's Free Trial Card, you can use any address or name and the virtual credit card number and expiration date provided by the DoNotPay app. You basically get free credit card numbers and can use the VCC to sign up for a free trial of any service, the same way you would with your chip credit card. 
The DoNotPay app offers an additional perk—a temporary email address you can use to sign up for these services. Access DoNotPay through any web browser.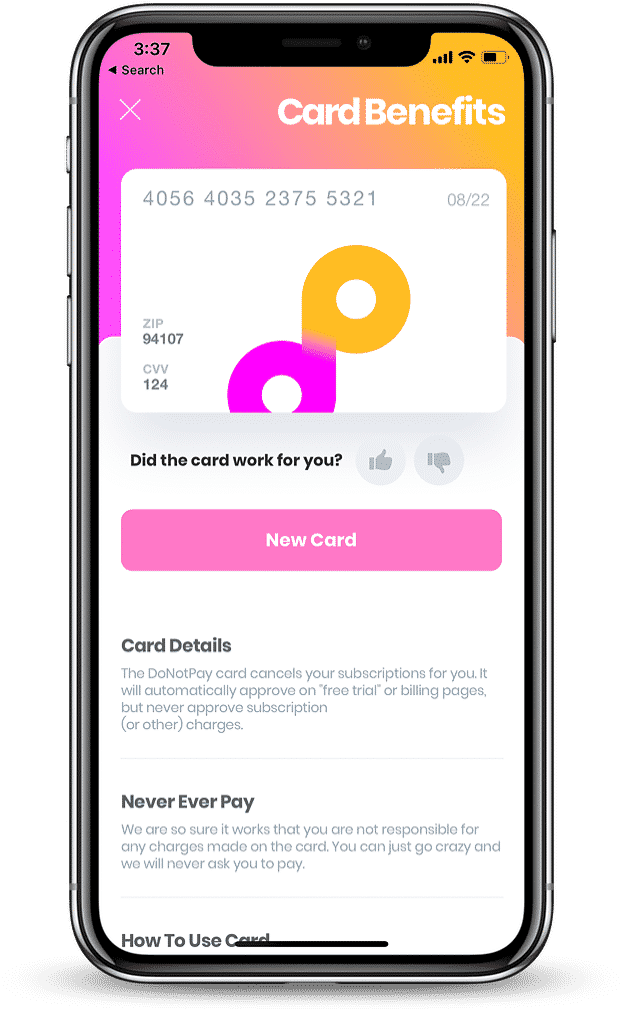 The app will generate a random email address and forward the messages to your real email, but removing all the tracking regarding the location and other data companies use to market their services to you.
This means that you will be absolutely protected when you sign up for services. Not only will your credit card information and real name be hidden, but you will also protect your email address and avoid being placed on email marketing lists companies use to advertise their services and convert leads to paying customers.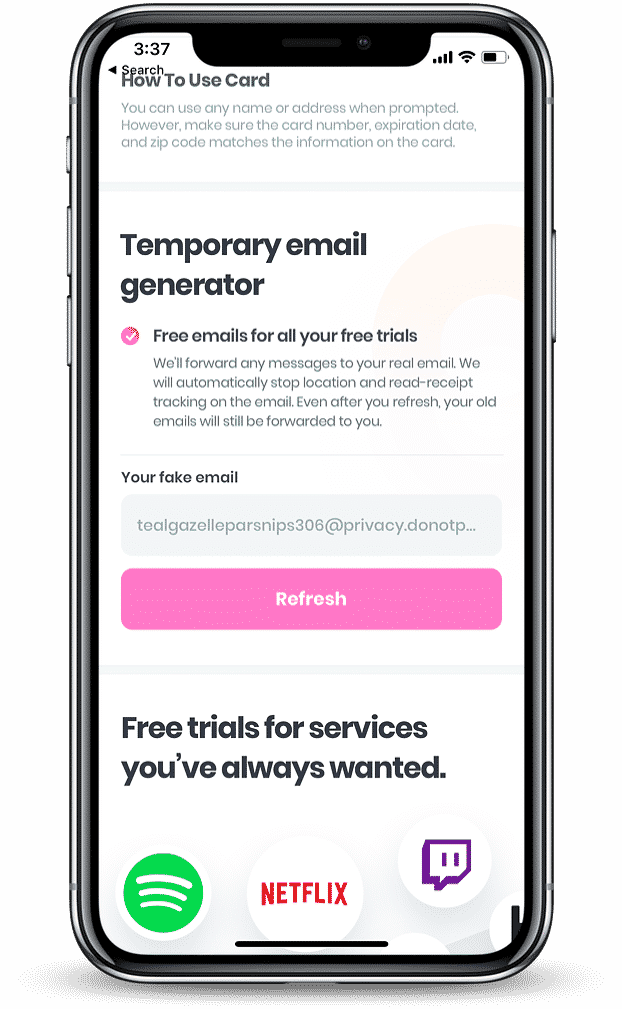 The DoNotPay Free Trial Card helps users save time and money by:
Generating a random credit card number

Approving on "free trial" or billing pages automatically

Not approving subscriptions or other charges

Canceling subscriptions for you
The Method Behind Virtual Credit and Debit Cards
When you use DoNotPay to generate a virtual credit card, the app's algorithm does all the work for you. When you click the "purchase" button, the DoNotPay system gets the ping and looks up the code request to check if it is for a free trial. If not, the app will decline the transaction, meaning that no money will ever leave your pocket.
You cannot make real purchases with the Free Trial Card, but it is, nevertheless, an actual card that will work for free trial signups.
Access DoNotPay through any web browser.
Is It Safe To Use a Fake Card Number To Sign Up For a Free Trial?
Many companies fail to notify their free trial users that they will start charging them for the services they provide after the trial period ends. Some companies make the cancelation process very complicated, and some even renew your plans even after you cancel the trial!
This is a big issue that many people are complaining about since they are usually unaware of these charges until they check their transactions and credit card records, often months after the charges started. Hundreds of dollars can be charged to one's credit card before they realize that this is happening, and for this reason, DoNotPay has developed the Free Trial Card.
With DoNotPay, you'll never again have to worry about being charged for a service that you aren't using since our Free Trial Card doesn't and cannot hold any actual money. You don't have to fear those sneaky merchants that try to trick you into paying for their service after the free trial period. Instead, you can input the free credit card info DoNotPay provides and rest easy knowing your actual bank account is protected from unauthorized charges.
It's important to understand that the DoNotPay Free Trial Card isn't a fake credit card and cannot be used for online purchases. If you want to keep your bank account information private and secure while making online purchases, you can consider applying for a virtual credit card with one of the major U.S. banks or financial service providers: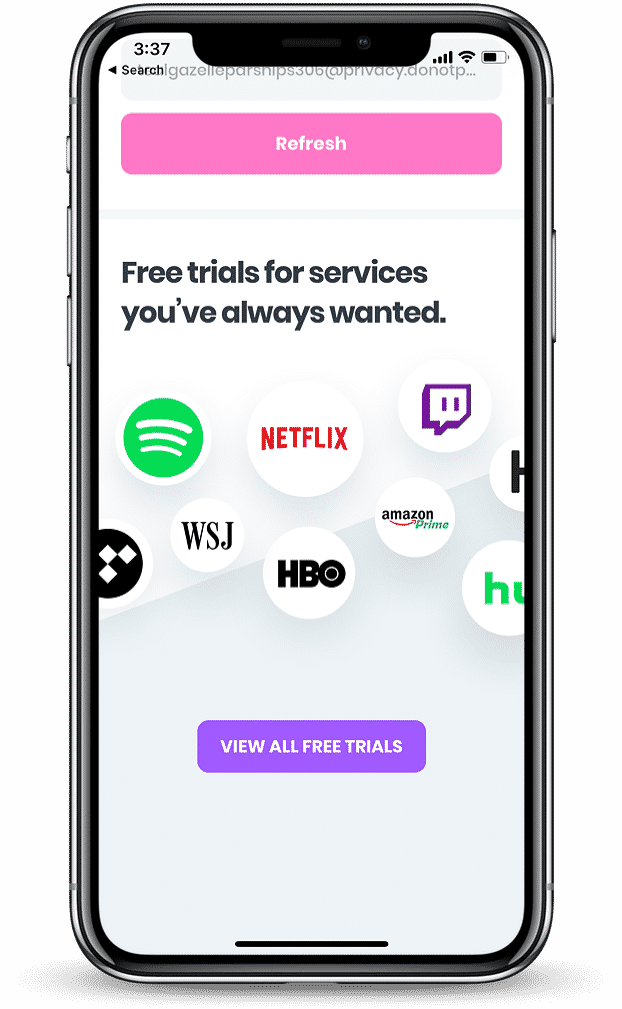 So, what can you use DoNotPay's Free Trial Card for?  DoNotPay allows you to sign up for free trials for services you always wanted. They include:
After your trial expires, the DoNotPay app automatically cancels it, and, since you used a virtual credit card, you can rest assured that no charges will be placed on your actual card.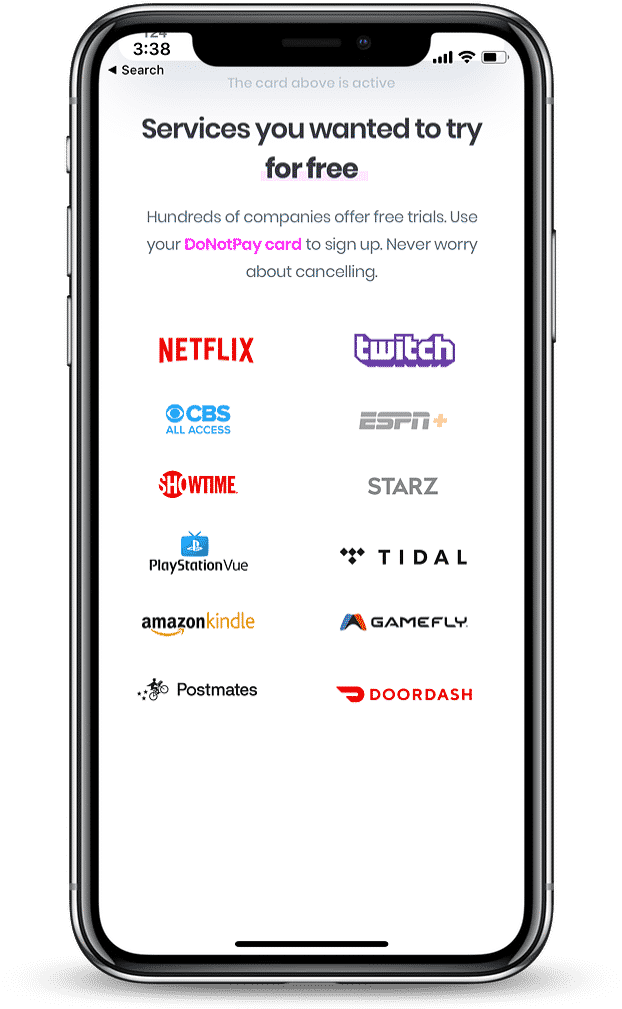 Let's see how using the Free Trial Card compares to using your regular credit card when you sign up for free trials:
| | |
| --- | --- |
| Real credit card | DoNotPay's Free Trial Card |
| Revealing your credit card information | Protecting your info |
| Charges can be made | Charges cannot be made |
| If the website is hacked, your credit card can be compromised | If the site is hacked, your credit card is not compromised |
| Potentially thousands of dollars lost | 0 dollars lost |
DoNotPay Helps You Claim Your Money
Our virtual assistant app makes sure you get back funds that are rightfully yours. 
Whether you need to claim insurance, warranties, or your property held by the state, we will help you do it in minutes.
DoNotPay can also help you initiate a chargeback on any transaction you disagree with. We can help you secure compensation from airlines, robocall and text scammers, or in case you've been a victim of a crime.
In case you are dealing with an unfair company regarding your subscription cancellation or any other matter, we can help you get your money back by suing them in small claims court.
Bypass the Administration With DoNotPay
There's no more need for extensive research, abundant paperwork, or endless phone calls with customer service reps. 
DoNotPay brings the administrative nonsense to a minimum.
Book DMV appointments fast and easy, appeal your parking citations, sign up for free trials without disclosing your credit card info or phone number, or reach your loved ones in jail—all in less than five minutes.
We also generate any legal document, provide full access to public records, offer DMCA protection, and reduce your property taxes with a few clicks.