A
T-Mobile Burner Phone
From A to Z
Keeping your phone number to yourself is becoming more difficult each day. Only a few services won't request a phone number upon registration. Even if they don't ask for your number right off the bat, they will request it later. With numerous data breaches and compromised accounts, as was the case with Yahoo, Instagram, and Facebook, acquiring a fake phone number is a wise choice.
We'll help you compare the best T-mobile burner phones you can use to protect your privacy. We'll also suggest other options that may be more convenient.
Why Would I Need a
T-Mobile Temporary Phone
?
Other than having a backup phone so as not to reveal your main one, there are several other reasons why getting a burner phone could come in handy. A burner phone could help you:
Bypass phone verification

Stay private on dating websites

Get rid of unwanted calls and texts

Have a separate number for ads or business calls
What
T-Mobile Burner Phones
Are the Best?
Burner phones at T-Mobile are called prepaid phones. T-Mobile sells prepaid phones and prepaid plans that can be used with the phones. You can buy one or the other without a contract.
T-Mobile prepaid phones are quite expensive, especially if all you need is a backup phone. T-Mobile won't run a credit check on you, and you don't have to sign a contract, but spending a lot of money on an additional device and plan seems excessive.
If your heart is still set on a T-Mobile prepaid phone, check out your options:
Phone
Price
Features
Alcatel GO FLIP 3

$100

4GB memory

Large keypad

Google assistant

T-Mobile REVVL 4

$120

32GB memory

12MP camera

Reliable 3500 mAh battery

Motorola moto e

$150

32GB memory

13MP dual camera

3550 mAh battery
You can purchase a burner phone at T-Mobile in three ways:
Buy a phone online and ship it to your address

Order a phone online and choose in-store pickup

Purchase a phone at one of its stores
The Pros and Cons of a
Burner Phone
From
T-Mobile
Before you decide to buy a burner phone or turn to a different option, take a look at the advantages and disadvantages of T-Mobile prepaid phones:
Pros
Cons

Doesn't require a contract

Isn't connected to your main number or phone

Is useful for traveling and signing up for services

Is expensive

Requires a SIM card or a prepaid plan

Receives unwanted calls and messages anyway
How Else Can I Bypass Phone Verification?
Using your burner phone number isn't the only way to verify your account on various services and social networks. Check out other options to bypass verification without the need for an additional device:
Option
Advantages
Disadvantages

It's easy to set up

It's free

You can receive calls on your main phone without the caller knowing your real number

You have to register with your real number

It's unreliable for phone verification

Phone scammers

use it

These apps have the features of a burner phone without an additional device

You can have multiple numbers simultaneously

You must reveal your real number to the app

Many websites and services block these apps

They are expensive

These apps are subscription-based, so you have to commit

Fake phone number websites

You can find many fake numbers easily

You don't have to pay for a phone or an app

These sites are not reliable

The numbers are most likely blocked or already used by other people

It could be dangerous to use these numbers
Why Companies Require Phone Numbers
You may be going through a lot of trouble to keep your number to yourself without being told the reason why companies request a phone number. These reasons vary depending on the company.
Twitter asks for your number so that you could find your contacts on the platform. Instagram wants to block hackers and prevent spammers from creating multiple accounts.
Other common excuses companies have are:
Changing your password faster

Proving your identity and that you are not a robot

Recovering a compromised account easily
DoNotPay Has Phone Verification Down to a T!

T-Mobile phones are pricey, and you end up paying for a device you don't need. Fake phone number apps have too many bells and whistles and tie you down with their subscriptions. These apps and Google Voice require your real phone number anyway, so you're not really protected. Don't give up yet—DoNotPay is the answer!
Our cutting-edge technology lets you get a reliable temporary phone number. You can use it to sign up for a service, verify your account, or add it to a dating website. Your real phone number stays safe and sound, as it should.
How Does DoNotPay's Burner Feature Work?
DoNotPay doesn't require your phone number, only a few clicks. Here's how to generate a temporary number:
Open DoNotPay in a

web browser

Navigate to the

Burner Phone

feature

Enter the name of the service asking for your number

Click on

Create a Temporary Number

Hit

View My Text Message
The message will give you the verification code to use for the account you are verifying. DoNotPay's temporary number will deactivate after ten minutes. This way, it has fulfilled its purpose and is no longer necessary. If you need more numbers for different services, feel free to repeat the steps, and bypass any phone verification.
Our Virtual Credit Card Keeps You Safe During Free Trials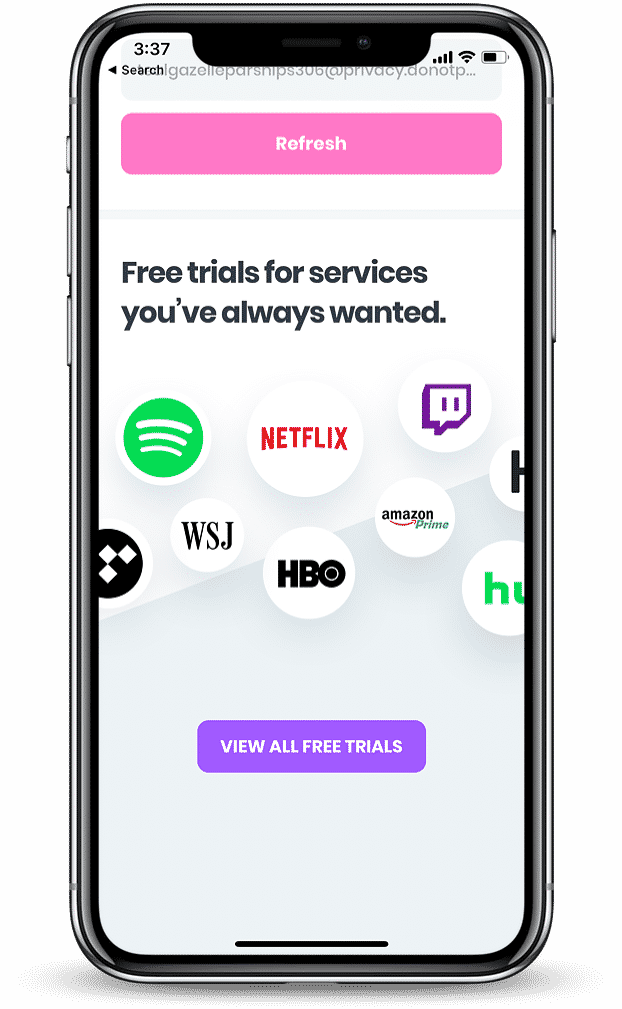 With no additional fees, you can acquire a fake phone number, as well as a free virtual credit card. Why would you need a virtual credit card? Since you want to protect your privacy and not reveal your phone number to companies, you will benefit from preserving your credit card info.
DoNotPay's virtual credit card is a fake credit card you can use to sign up for free trials. It is a common practice for companies to ask for your credit card info before you start a free trial. If you forget to cancel it, they can turn the trial into a paid subscription and charge you until you cancel it yourself.
DoNotPay's mission is to save consumers from this greedy practice and provide you with an alternative. Our card is essentially a set of random numbers that make up a credit card lookalike. Apart from the card, you get a fake name and email address, making it possible to sign up for a free trial the usual way.
You can enjoy free trials and not worry about being charged because our card has no deposit. After the free trial expires and a company tries to bill you, this will be impossible. Your account or subscription will be canceled, and the company won't bother you.
Are You Having Trouble With T-Mobile? We Could Help!
DoNotPay can tackle other T-Mobile issues as well. We can help you:
Find Guides, Solutions, and More in DoNotPay's Learning Center

DoNotPay is a source of great tips, hacks, and solutions. We aim to make your life easier by being the best pocket-sized assistant in the world. If you need help reporting harassing phone calls from your ex, getting rid of robocalls threatening legal action, or stopping political text spam, you can rely on DoNotPay to get things done.
Access DoNotPay in your web browser, browse our Learning Center, and check out how to:
Appeal your traffic tickets

Fight your speeding tickets