Don't Stress Over the Sweetwater Return Policy
Is your new music gear from Sweetwater a bit of a let-down? We understand how having to deal with defective or mediocre equipment can give you a bad case of the blues. While the Sweetwater return policy declares their returns to be a no-hassle game, certain customers feel misled and mistreated when they initiate an actual return.
If the nagging thought of a return procedure is throwing you out of your rhythm, you can always for help. Our maestro AI lawyer app can manage your return and get you your refund in no time!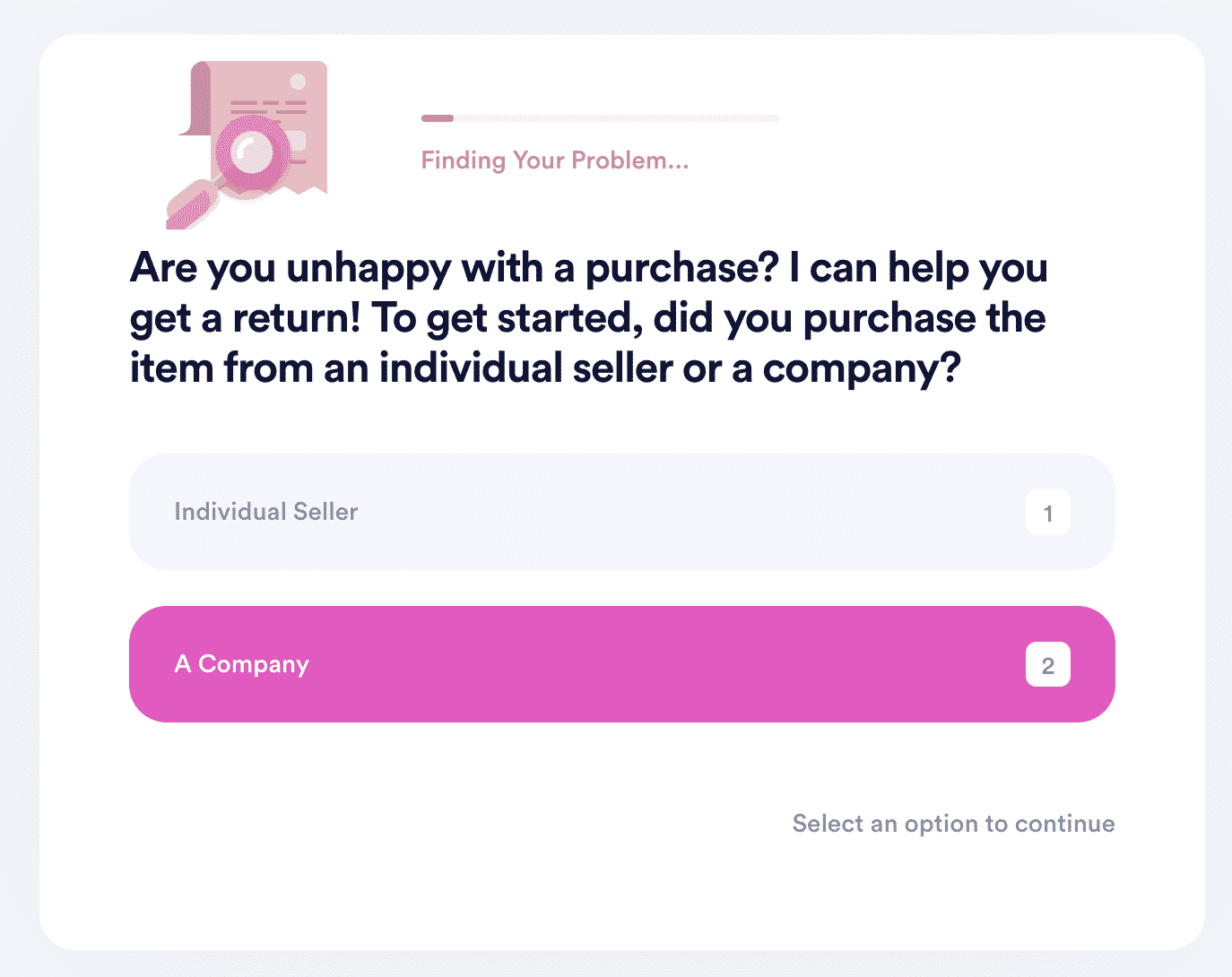 The Standard Sweetwater Return Policy Explained
Sweetwater's standard return policy applies to all new purchases. If any product doesn't live up to your expectations—for any reason whatsoever—you are free to return it within 30 days of purchase. The item must be returned in as-delivered condition, complete with all documentation, accessories, and packaging.
Upon successful approval of the return, you will be eligible to claim one of the following:
A refund—lowered by any restocking fee or a previous free shipping expense
An in-house credit
An exchange for another Sweetwater item
Sweetwater adjusts the refund or credit value with a sanitization fee for the return of certain musical instruments. Here's an overview of such items:
| | |
| --- | --- |
| Product | Sanitization Fee |
| Woodwind and brass instruments | $10 |
| Mouthpieces priced under $299 | $5 |
| Mouthpieces priced over $299 | $10 |
Sweetwater Return Policy—Defective Products
Sweetwater identifies the return of purchases with defects as warranty returns. You can return your faulty products up to 90 days after purchase. The policy states different return rules based on when your product malfunctions after purchase.
Product Fails Within 30 Days of Purchase
Sweetwater offers free shipping within the U.S. to replace a product that was found to be defective within the first 30 days of purchase. You can also claim a refund or in-house credit if desired.
Product Fails Within 30–90 Days of Purchase
As the largest online retailer of musical equipment, Sweetwater ensures that its return policy is never exploited. If you seek to return a malfunctioning product between thirty and ninety days of purchase, your product will be liable for inspection.
A Sweetwater sales engineer will examine the product to ensure it has not been abused or misused. Upon passing the authenticity check, the product will most likely be classified as used gear.
All eligible used gear can be returned for an equivalent refund or in-house credit. You will be asked to pay all to-and-fro shipping charges for such returns.
Sweetwater Return Policy—Items Ineligible for Return
Sweetwater cites a non-exhaustive list of items that will not be accepted for returns. The policy explains that these items are inadmissible for returns for specific reasons—which have not been disclosed to the public.
Let's take a look at the items that are currently disqualified for returns:
Tubes
Speakers
Styli
Oversized or overweight items
Items from special orders
Discontinued products
Ineligible used gear
Software
Personal items like earphones, harmonicas, recorders
Authorization keys
Turntable cartridges
Open-box reeds
Control vinyl
Sweetwater Return Policy—How To Start a Return
One of the most limiting aspects of Sweetwater's return policy is its return mechanism. Browse this table to understand the various return modes available for your Sweetwater item:
| | |
| --- | --- |
| Can You Place a Return Request Via | Yes/No |
| DoNotPay | Yes |
| In Person | No |
| Email | No |
| Letter | No |
| Website | Yes |
| Phone | Yes |
Website Return Requests
Website returns work through a generic multipurpose form that serves as the basis for case-to-case support remedies. This is how you proceed to return your item via their website:
Visit the website to access the Tech Support option
Sign in to Tech Support and fill in the online support request form
Wait for a support executive to contact you
Phone Return Requests
Follow these steps to place a return request via phone:
Call a Sweetwater sales engineer to explain your return issue
If your item is approved for a return, ask for a Return Authorization (RA) number
Print the RA number to be used for shipping
Pack the item in the original box in its default format so that the Universal Product Code (UPC) is intact
Avoid using duct tape or adhesive that leaves a residue on the package
Write the RA number on the shipping label only and not on the packaging
If you ship the item using a self-purchased shipping label, Sweetwater recommends getting the package insured to cover for possible en route damages.
Save Time and Simplify Your Sweetwater Return With DoNotPay
Executing a full-fledged Sweetwater return can be an exhausting and time-sapping ordeal. If you are wrestling to find relevant support, you can count on DoNotPay to handle your Sweetwater return for you. Our app's user-friendly interface is a breeze, while our reliable tools can kickstart your return in a matter of minutes!
You are four steps away from initiating your Sweetwater return:
Select the Item Return Request feature
Use the chatbot to answer order-related queries
Hit Submit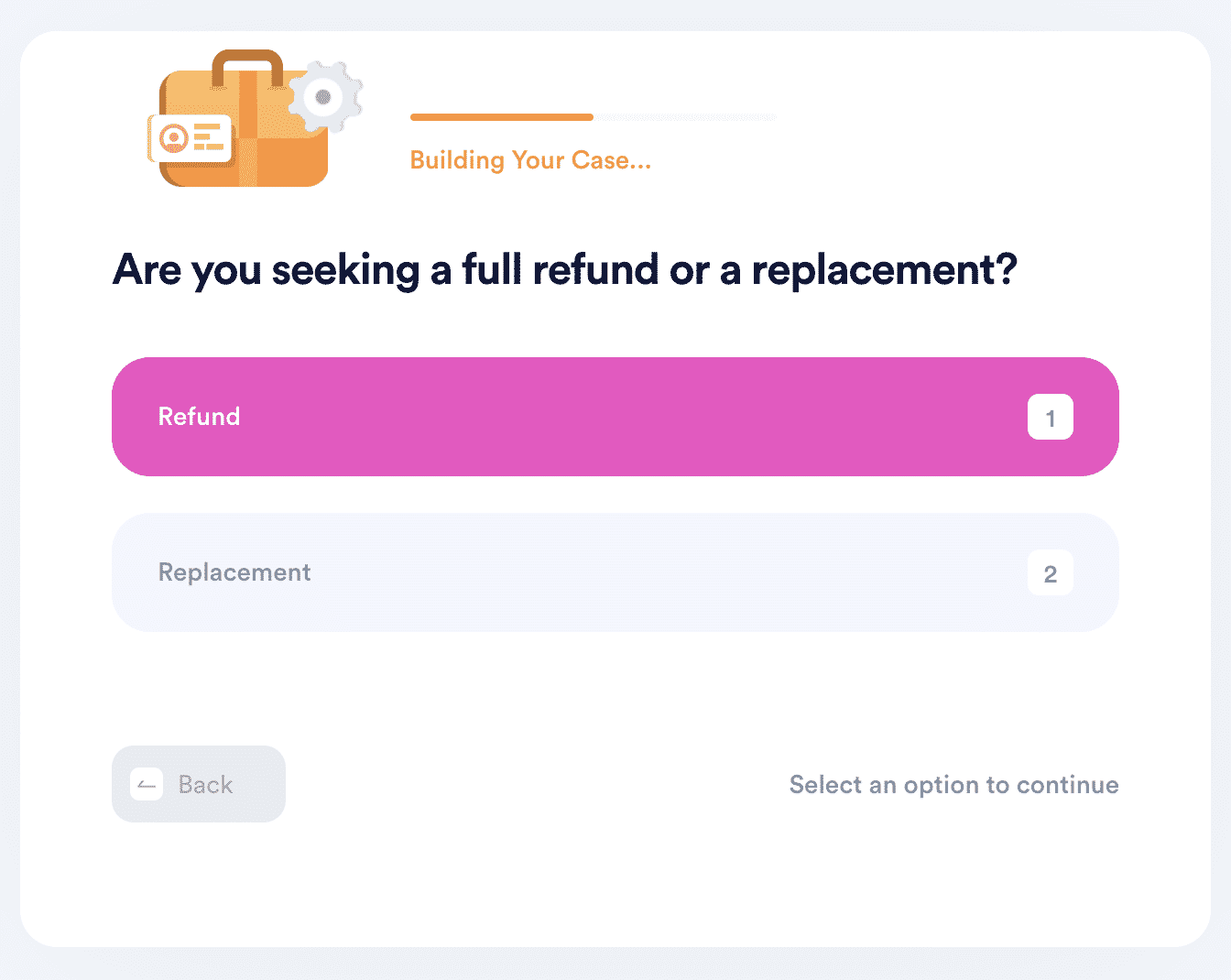 Once you click on Submit, DoNotPay will generate and forward a customized product return request to Sweetwater. Our interactive return mechanism lets you pick a deadline to enable the time-sensitive processing of your refund, exchange, or in-house credit. You can secure a free prepaid label with DoNotPay and ship off your unwanted item without breaking a sweat!
DoNotPay Won't Rest Until Your Return Is Resolved
After the successful receipt of the returned item, Sweetwater takes 2–3 business days to credit any refund. DoNotPay will not only monitor your refund status but also step in to prevent unreasonable delays or other unforeseen complications.
If you feel wronged by Sweetwater at any point, we can help you claim your rightful dues through the available legal means.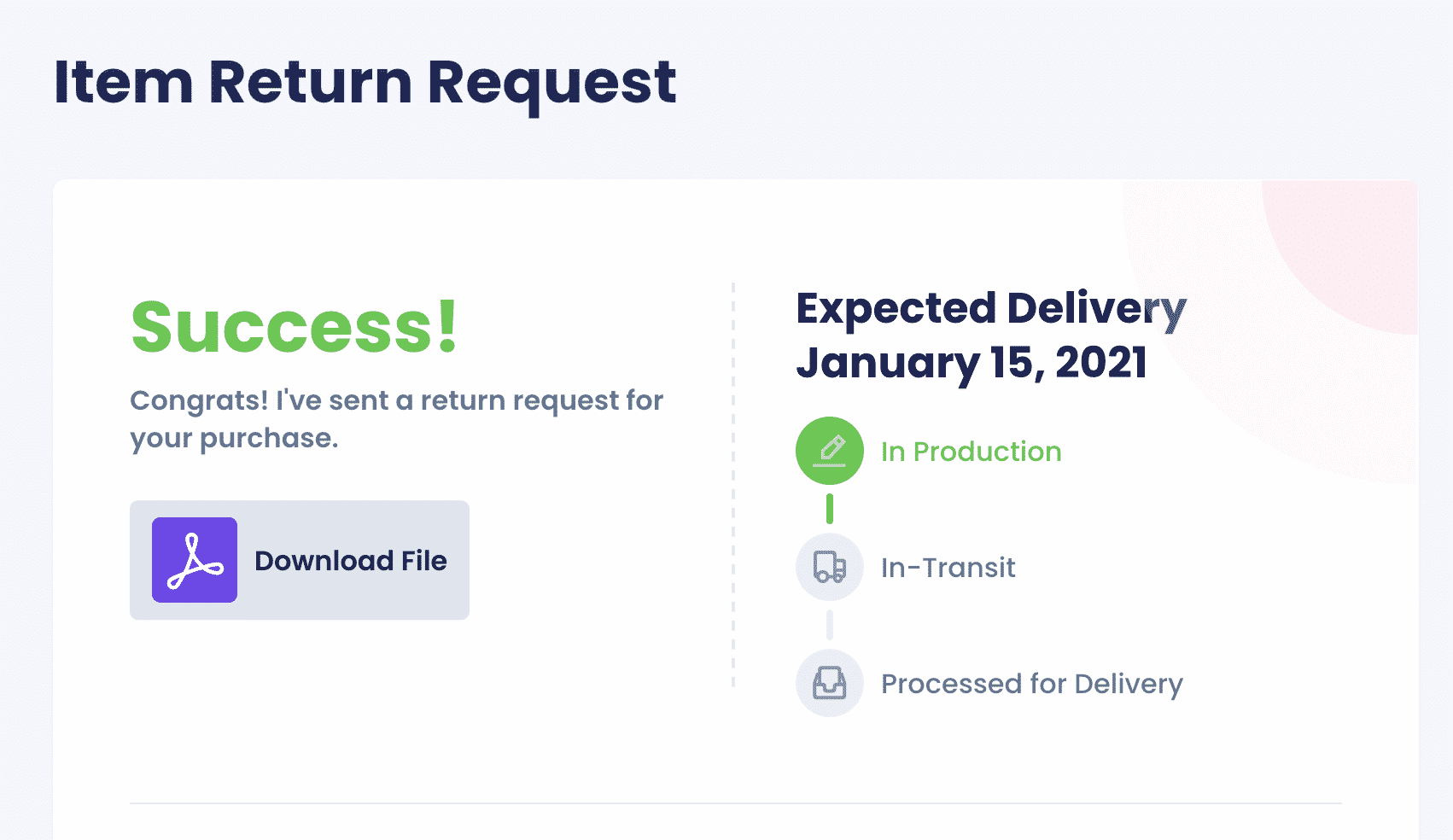 DoNotPay—Your Personal Return Buddy
Don't let your day-to-day life be undermined by major or minor return policy troubles. DoNotPay's learning center can help you tackle the complex return policies of numerous companies. You can find a bunch of them in this table:
Returned Your Faulty Item? Discover Other Nifty DoNotPay Products!
Apart from being your shortcut through returning your faulty items to merchants, our app can do so much more! From helping you request a refund, get extended warranties, file insurance claims, and find clinical trials in your vicinity to assisting you in creating legal documents, getting them notarized, and faxing them—DoNotPay can do it all.
Do you think you're eligible for a victims of crime compensation program? Our app can help you apply for it. Do you want to get revenge on persistent robocalls, report someone for stalking or harassment, or get your noisy neighbors to be quieter? We got your back!
You Don't Have To Waste Time in Endless Lines
Returning an item may require you to wait in endless lines, but if you sign up for our AI-driven app, you will be able to skip all kinds of queues! You won't have to spend ages waiting in lines at the DMV or in customer support phone queues because DoNotPay will provide an easier way to get what you need.
If you want to skip the hassle of waiting on the phone when canceling a service, requesting refunds or compensation from airlines, requesting a college fee waiver, or connecting with a loved one in prison, you can count on DoNotPay to provide easy solutions.